With a mix of cobblestone pathways, winding canals, and romantic scenery, Amsterdam is the quintessential European city. It is known as the home of Rembrandt and coffee shops.
As the largest city in the Netherlands, Amsterdam is a hub of tourist activity year-round. Its biking culture, tulip-laden streets, and eccentric recreational activities draw thousands.
Amsterdam's climate is moderate compared to other Northwestern European countries. The city isn't prone to extreme temperatures. This makes planning an itinerary relatively simple because of the weather's predictable patterns.
There are a few things to consider when asking: when is the best time to visit Amsterdam? So let's dive in and explore some of these factors.
Best Time of Year to Go to Amsterdam
The best time of year to visit Amsterdam hinges on the theme of your planned activities and how long you intend to stay. However, you also need to take the climate into consideration.
For example, Amsterdam tends to get foggy in Autumn. Spring means clearer skies, but it's more humid outside. This means adapting your desired activities to suit the atmosphere. Some activities are better suited to the warmer months. Visiting the tulip fields or cycling through the city, for instance.
During the winter, Amsterdam gets windy and cold. However, temperatures rarely dip below zero. Perfect weather for visiting an ice-rink or hunkering down in a café over a warm brew.
Ultimately, your plans will determine when it is the best time of the year for you to visit the Dutch capital.
Best Month to Visit Amsterdam
Amsterdam is the go-to for a Dutch holiday. However, depending on the month, you can expect to experience different sides of the city.
What to Expect in Spring – March to May
Spring in Amsterdam lasts from March to May. The city starts warming up during this three-month period. Daytime temperatures rest between 9°C and 17°C. The nights can get pretty chilly. Temperatures tend to drop as low as 2°C.
Since the city is interspersed with canals, the air is usually humid. This weather is appropriate for going cycling to explore the city, or for taking in the atmosphere on a sidewalk terrace café. At the height of spring is when the city's flower beds start blossoming. Until mid-May, the city is covered in hyacinths, daffodils, and tulips.
What to Expect in Summer – June to August
The summer months are the warmest of the year. Expect a mix of clear skies and scattered rainfall. Summer arguably offers the best weather in Amsterdam.
As pleasant as summer is, it's also the busiest season. The ideal weather conditions draw in huge crowds, so expect to deal with long queues here and there. More people means increased prices. Because Amsterdam is a major metropolitan area, the price increases can be as much as double their original price.
On the upside, the summer months are ideal for outdoor activities. Summer coincides with the peak of canal cruises and excursions – be sure to book one. Summer is also the perfect time to visit popular sights such as the Vincent Van Gogh Museum or the Anne Frank Residence.
If you're planning to drift along the outskirts of Amsterdam, then summer is the best time to do so. It makes for a brief foray from the busy city.
What to Expect in Winter – December to February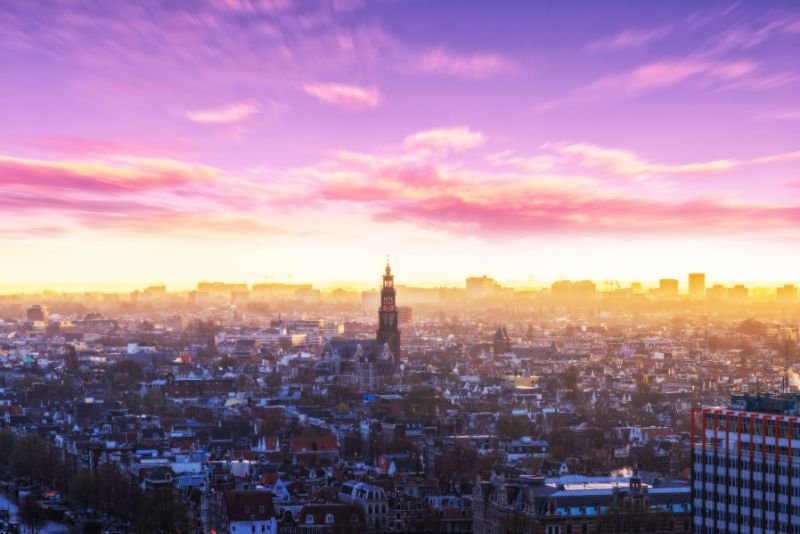 Winters in Amsterdam are windy but temperatures rarely fall below freezing. Normal winter temperatures rarely drop below 3 or 4°C.
Because it's less crowded, prices in Amsterdam go back to their normal rate. The scattered crowds mean cafés and restaurants are more intimate and authentic.
In terms of activities, winter is great for canal skating. Amsterdam hosts unique seasonal markets throughout the year. So, winter Christmas markets can be on your list to visit during this season.
What to Expect in Autumn – September to November
The weather in Amsterdam is pleasant for most of the autumn months. The daily temperature ranges from 9°C to 18°C.
September is the warmest of the autumn months. October and November tend to get windy and this is when most of the yearly rainfall occurs.
With everyone indoors, the autumn months have a more intimate feel than the rest of the year. This is when you'll get to attend many film, music and art festivals. For example, the annual Afrovibes Festival takes place in October.
When Is the Best Time to Travel to Amsterdam?
Choosing the best time to visit Amsterdam also involves travel and accommodation costs. As your itinerary takes shape, you'll have to take into consideration the state of your finances.
Cheapest Time to Travel to Amsterdam
The cheapest time to visit Amsterdam is probably between the autumn and winter months. This is when the summer crowds dissipate and free up room in the city.
During this period, prices begin to fall. This usually happens around November, and prices remain low until late February, at the start of spring. If you're lucky, then prices won't increase until well into April – the height of spring.
In terms of travel, the winter months are when you'll find the most affordable flight deals. Mid-October to early December is the best time to fly to Amsterdam. Summer is the most popular time of year for tourism – so if you travel in winter, airline fares will be less expensive given the decrease in demand.
Winter is also when hotel prices are at their lowest. So, finding accommodation is easier as there are fewer crowds of people looking for somewhere to stay.
Indoor activities are also cheaper because of the fewer crowds. Fewer people mean shorter queues to places like the Rijksmuseum and the Anne Frank residence.
However, you need to be careful with your timing in winter. As expected, the weeks leading up to Christmas get busier. The excitement of the festive season and influx of people make Christmas almost as crowded as the summer period.
New Year is also a crowded time. Cafés, bars, and restaurants tend to liven up. The streets become crammed with people celebrating new beginnings. This means that prices will stay up for a couple of weeks following Christmas day.
So, the cheapest time is generally towards the end of autumn and a few weeks prior to Christmas Day.
Best Time to Go to Amsterdam – Activities & Weather
Technically, there isn't a bad time to go to the Dutch capital. However, sometimes you have a set idea of what you plan to do.
And the weather limits some activities to specific times of the year. For example, you can't go canal ice-skating during summer and spring (and maybe autumn).
Have a look below and decide on your best time to go to Amsterdam.
Winter and Autumn Activities
Museums are perfect for winter activities. The cold weather means staying indoors is preferable.
The Van Gogh Museum is famous for its year-round exhibits of Vincent Van Gogh's paintings. It is one of Amsterdam's most popular tourist attractions and draws millions of visitors every year. However, its popularity means that tickets sell out really fast. Be sure to book a ticket to the Van Gogh Museum in advance.
The Anne Frank House is a memorial to the diarist Anne Frank who hid from the Nazis in Amsterdam. There are a few tours of Anne Frank's residence available. You'll get to learn about the dangerous conditions of Amsterdam before and during World War II. The tour also features information about Anne Frank's diaries that were later compiled into a book after her death.
Depending on the conditions, you'll be able to skate over the frozen canals. However, this varies from year to year. Some years, the canals don't freeze over.
Christmas markets open during the festive season. For example, the Amsterdam Ice Village hosts an annual market where you can skate and shop under the twinkling Christmas lights.
Autumn is when the crowds start to dissipate, meaning Amsterdam's many parks become less crowded. During the fall, Amsterdam's Vondelpark is covered in shades of red and gold. You could spend time biking through the beautiful open space, reading a book, or just taking it all in.
Summer and Spring Activities
With the warm weather comes opportunities to soak in as much of Amsterdam as possible. Summer and spring are great for exploring the city either by foot or by bike.
A canal cruise is ideal during the warmer months. Gliding through the waterways on a relaxing cruise is an ideal way to view the city's surrounding scenery.
You could also go on a bike tour of central Amsterdam. This way you'll get to experience the rhythm of the city and discover some hidden gems.
Or you could explore Amsterdam on foot on an hour-long city walking tour. A walking tour is a great introduction to the city. You get to learn about the city's history as you wander the streets and alleyways.
Summary: When Is the Best Time to Visit Amsterdam?
Amsterdam is a thriving and culturally diverse city. Its seasonal changes give any time of year a unique character.
There are a few things to think about when planning your trip. In the end, everything comes down to your particular interests and what you want to do while you're there.
Given how the seasons change in terms of temperature and what's available, you'll have lots of options. There will be something for you whether you go in the summer or the winter.