Barcelona is the capital city of Spain. This Mediterranean metropolitan is bursting with history, culture, cuisine, and adventures all year round. With so much on offer, it can be tough to know the best time to visit Barcelona.
The city has an adventure around every corner and  is one of Europe's party capitals! Barcelona is a city that can cater to almost every traveler's taste. By exploring Barcelona season by season, you can see the best time to visit Barcelona to get your best experience.
Quick Tip: Barcelona is the capital city of the Catalan region. There are some differences between Catalonia and other regions of Spain in terms of language, cuisine, and culture. It would be a good idea to familiarise yourself between Spain and Catalonia.
Best Time of Year to Visit Barcelona
The best time to go to Barcelona depends on what you want to experience. As a general rule of thumb, the best outdoor months in Barcelona are September to November, whereas the best months for sightseeing are April, May, September, and October.
For those budget travelers, the best months are November through February. The tourist peak season in Barcelona is May to September, so for those wishing for a quieter visit, the best time to visit Spain, Barcelona would be outside of those periods.
Barcelona Weather by Month
Barcelona has a Mediterranean climate, which means the summers are hot, clear, and dry, and the winters are cloudy, rainy, and cold. But no matter which season you are traveling to Barcelona, this bustling city always has something to offer.
Winter in Barcelona – December, January, February
Winter in Barcelona is cool and rainy but with generally clear days. While there is a chilly sea breeze, Barcelona does not get as cold as other European capital cities.
December in Barcelona is a festive month. As the first month of winter, it is not as cold, and the average temperature ranges between 56.1°F (13.4°C) and 47.3°F (8.5°C).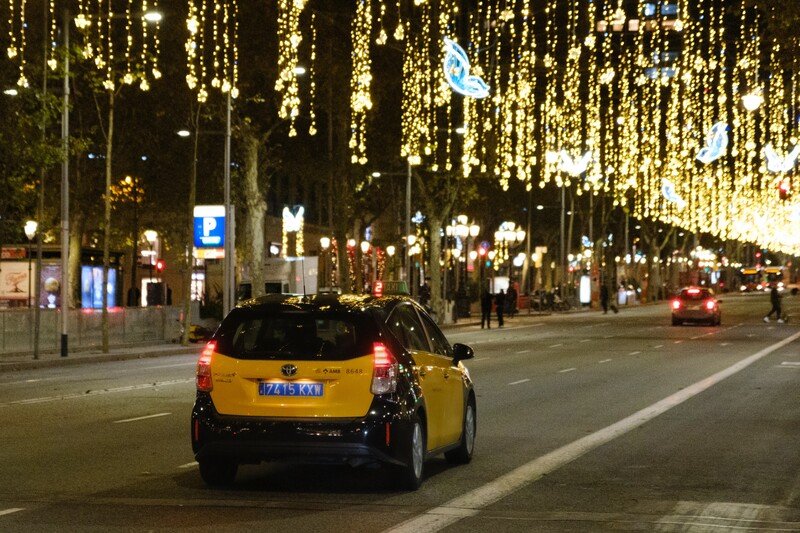 Barcelona in January is cool, with clear sunny days and a few rainy days. While there may not be snow in the city, snow can be seen in the Pyrenees mountains.
February is one of the coldest months in Barcelona, with an average temperature of between 44.8°F (7.1°C) and 55.6°F (13.1°C). It is one of the months with the most snowfall.
Spring in Barcelona – March, April, May
Spring in Barcelona is windy with some rainy days. However, the temperature warms up, and it is one of the loveliest seasons to visit Barcelona. During this season, it is best to carry an umbrella for unexpected showers and to wear layers that you can take off during the day.
March in Barcelona is the first month of spring and is still relatively cold, but with warmer days and still cooler nights.
April in Barcelona is one of the rainiest months, but with a comfortable average temperature of between 52.3°F (11.3°C) and 63.1°F (17.3°C).
May in Barcelona brings clear skies and sunny days. The temperature is slightly warmer, but the sea temperature is still not ideal for swimming, and there are still some rainy days here and there.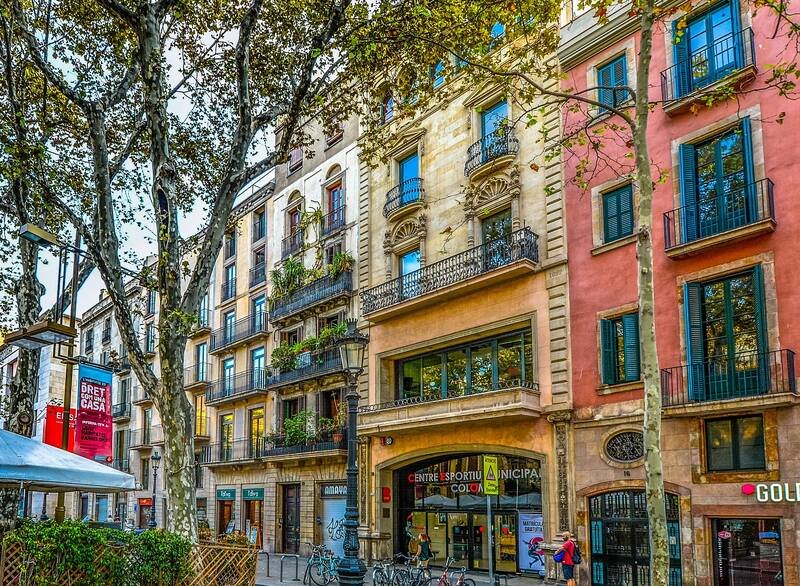 Summer in Barcelona – June, July, August
Summer is the peak season in Barcelona. The weather is hot, dry, and clear, and the sea is warm enough to swim in. It is arguably the best time of year to go to Barcelona.
June is the first summer month in Barcelona and is a pleasant average of between 64.9°F (18.3°C) and 76.1°F (24.5°C).
Barcelona in July is hot and busy. The temperatures can rise to an average high of 81.1°F (27.3°C). The sea temperature is also warm enough for some swimming.
August is Barcelona's busiest and warmest month, with the warmest sea water at a pleasant average of 77.5°F (25.3°C).
Autumn in Barcelona – September, October, November
Although autumn in Barcelona is the rainy season, it is still pleasantly warm. A light jacket and umbrella are recommended while out venturing during this season.
September is the first month of Autumn in Barcelona. The days are still warm, and the sea is still pleasant to swim in.
October is slightly cooler, though still enjoyable, with an average temperature of between 60.8°F (16°C) and 70.7°F (21.5°C), with some rainy days.
By November, Barcelona experiences rainier and overcast days, with cooler evenings. By this time, the sea is also cooler and not ideal for swimming.
Image from Pxfeul.
Best Months to Visit Barcelona?
Barcelona is one of the top destinations in Spain. Finding the best month to visit Barcelona is important for your trip. The peak summer season of June to August is the city's busiest. While some may say it is the worst time to visit Barcelona, it is the best weather to visit the beaches.
One of the best periods to visit is from March to May and September to October. These periods fall just before and after the peak season and are generally quieter while still having pleasant enough weather to explore everything Barcelona offers.
Cheapest time to Travel to Barcelona
Summer in Barcelona is one of the most expensive and busiest seasons to visit. So if you are wondering when to visit Barcelona as a budget traveler, it would be in Barcelona's low season from November to February. This is the winter season, and the streets are often empty, with the prices for accommodation dropping significantly.
However, if you are looking for slightly warmer climates that are still cost-effective and quiet, then your best months would be spring or autumn when the weather is still warmer, and the city is not as busy. These periods before and after the peak season also offer great flight and accommodation deals.
Best Time to Visit Barcelona – Activities and weather
Finding the best time to travel to Barcelona not only depends on what weather you prefer, but also what activities are available to you, and when is the most cost-effective time to go.
Summer and Spring Activities
Spring in Barcelona is a beautiful time to explore the city and some of its more unique outdoorsy attractions. With the weather not being too hot, you won't be exhausted by taking a hike or a walking tour through the city.
Spring is the best time to tour the monastery in the Montserrat mountains. Learn more about the monastery's history while taking in the breathtaking views of the mountains, and afterward, enjoy lunch with some wine.
Summer is the busiest season in Barcelona, with bustling streets and a high volume of tourists for almost every activity. Being busy also means that the city's nightlife is exceptionally vibrant. It is also the best season to visit the beach and do some water sports and activities.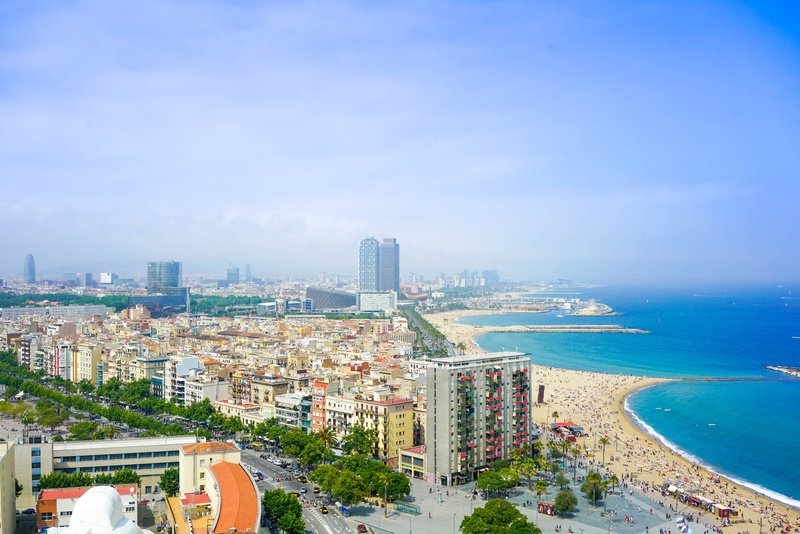 Summer is perfect for a two-hour Midday or Sunset sailing cruise. On board a luxury yacht, you can sail along Barcelona's coastline for a unique view of the city, away from the crowds, equipped with snacks and drinks.
Autumn and winter Activities
Autumn is a pleasant month to do some sightseeing within the city. Barcelona has a rich history and a vibrant culture, meaning that there are many must-visit monuments, historical sites, and museums.
Autumn is one of the best opportunities to visit the Sagrada Familia – one of the city's famous landmarks. The Basílica i Temple Expiatori de la Sagrada Família is the largest catholic church in the world and was designed by renowned Catalonian architect Antoni Gaudí.
Many of the architect's buildings can be spotted dotted throughout the city. While the church is unfinished and still under construction, its enormity and beauty make it a sight worth seeing.
Quick Tip: Skip the ticket line and take a tour of the Sagrada Familia.
Winter in Barcelona is very quiet but can be pretty chilly. It is also a great time to do some sightseeing of the city's monuments and architecture due to lack of ques. This is also an opportunity to explore the city's local cuisine.
Greet the morning with churros and liquid chocolate and end the evening with tapas and sangria at the local cafés and restaurants.
Winter in Barcelona is also very festive, and many cultural events entertain you. Take the opportunity to have dinner and a show and experience some Tapas and Flamenco in Barcelona's gothic quarter.
Summary: When is the Best Time to Visit Barcelona?
Barcelona offers everything. So, when choosing the best time to visit Barcelona, make sure you have done your homework on what best suits you.
If you are a beach bum and love the vibe of a bustling city, the summer months of June to August are the best. If you prefer warmer weather, but don't want the crowds, then the spring months of March to May and the Autumn months of September to November would be your best bet.
Finally, If you are on a budget or want the quietest time, then the Winter months from December to February are the best.
At any time of the year, Barcelona has something to offer. This city of wide variety should be on your list of travel destinations!