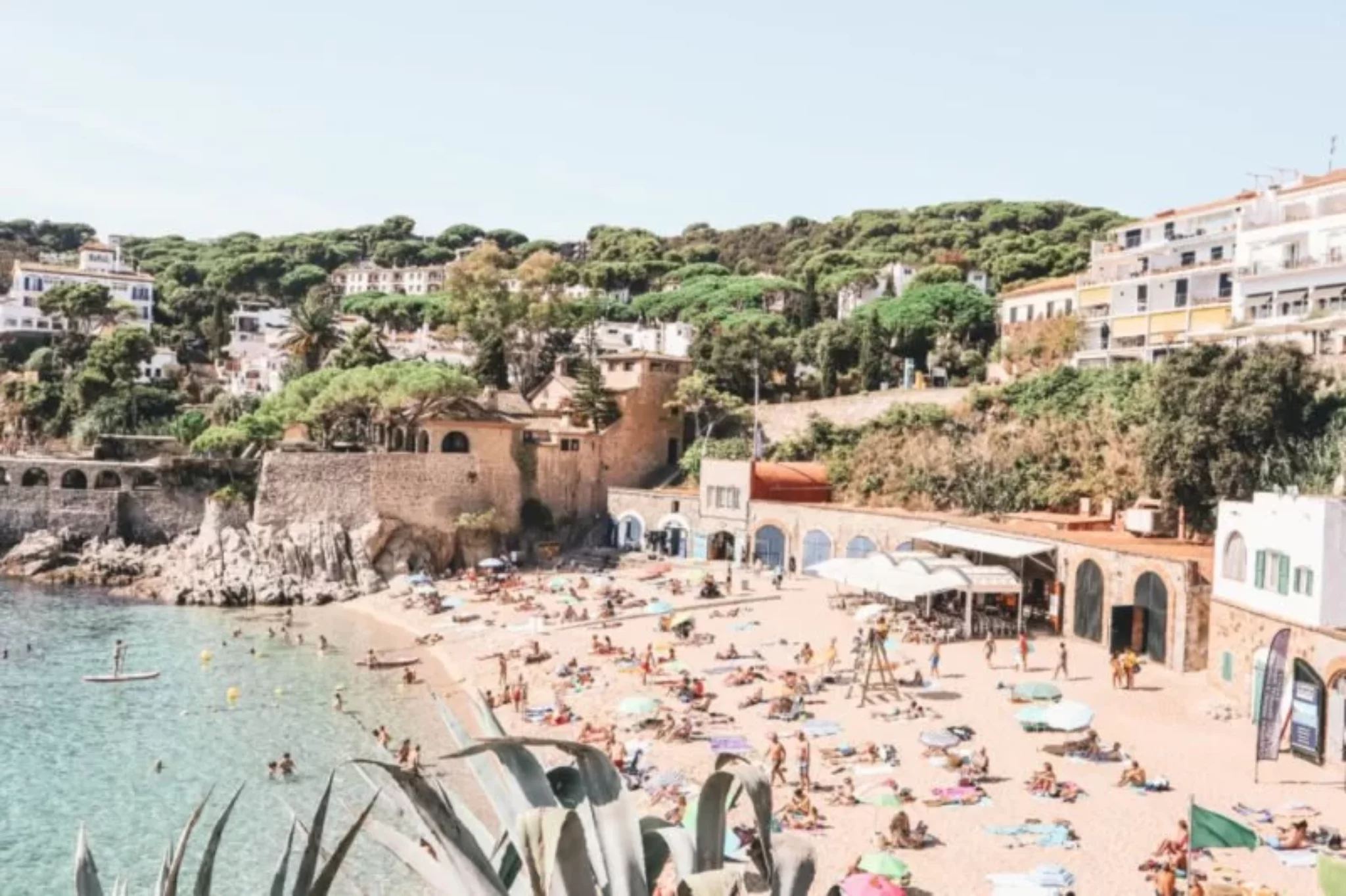 There's something special about Costa Brava. So special, in fact, that sometimes I feel we should keep the magic of Costa Brava all to ourselves. There are just SO MANY unique things to do in Costa Brava that set it apart from other beach destinations in Spain, offering visitors a chance to; immerse themselves fully in the local culture; get a real taste of Catalan food; understand the unique art scene; explore medieval towns and villages; and of course to spend lazy days on deserted beaches, and exploring the stunning coastline.
All the main places of interest are in a very compact region, making it very accessible for those visiting on a tight schedule. Following my short visit in June, and my return visit in September as part of #EuroCultureTrip, below are some of the top places to visit in Costa Brava that will ensure you have a trip to remember!
Costa Brava Map of Places of Interest
Costa Brava Itinerary Suggestions
In an ideal world, I would recommend you spend the entire summer in Costa Brava, but as we all know that's not a realistic itinerary for most people, a week or two will do just fine. You could actually get through almost everything on this list in a week – but have little time to sit back and relax. In 2 weeks, you could easily see most of the top things to do in Costa Brava on this list and even have time to do some extra exploring by yourself and of course a few lazy days by the beach.
Whether you fly into Barcelona or Girona, be sure to spend a night or two in the city of Girona as it definitely deserves your time! If all you have is a long weekend, then combining a trip to Girona with a day trip to some medieval villages and an afternoon at the beach would be the dream.
I'll be sure to include how much time you need in each place listed as I write the article, and leave a comment if you have any questions!
21. Explore the Medieval Villages
Did you know Costa Brava (and the whole of Catalonia) is home to some of the prettiest, fairytale-like medieval villages in Europe? Within minutes of arriving in Besalu, I knew Italy and France had fierce competition! The entire countryside is dotted with these quiet villages, most with the defining characters of both a castle and a church in the middle of town.
You'll find gorgeous cobblestone pathways, large arches, high stone walls, flower baskets, houses covered in dripping ivy and some cute boutique stores and gelaterias!
Some of my favourite medieval towns in Catalonia which I've included on the map above would be Besalu (the most famous), Peratellada (one of the most visited), Pubol (home to Salvador Dali's summer home) and Madremanya (the smallest with a population of 100!). All are beautiful and worth visiting in their own unique way.
Besalú Spain: Most Beautiful Medieval Village Near Girona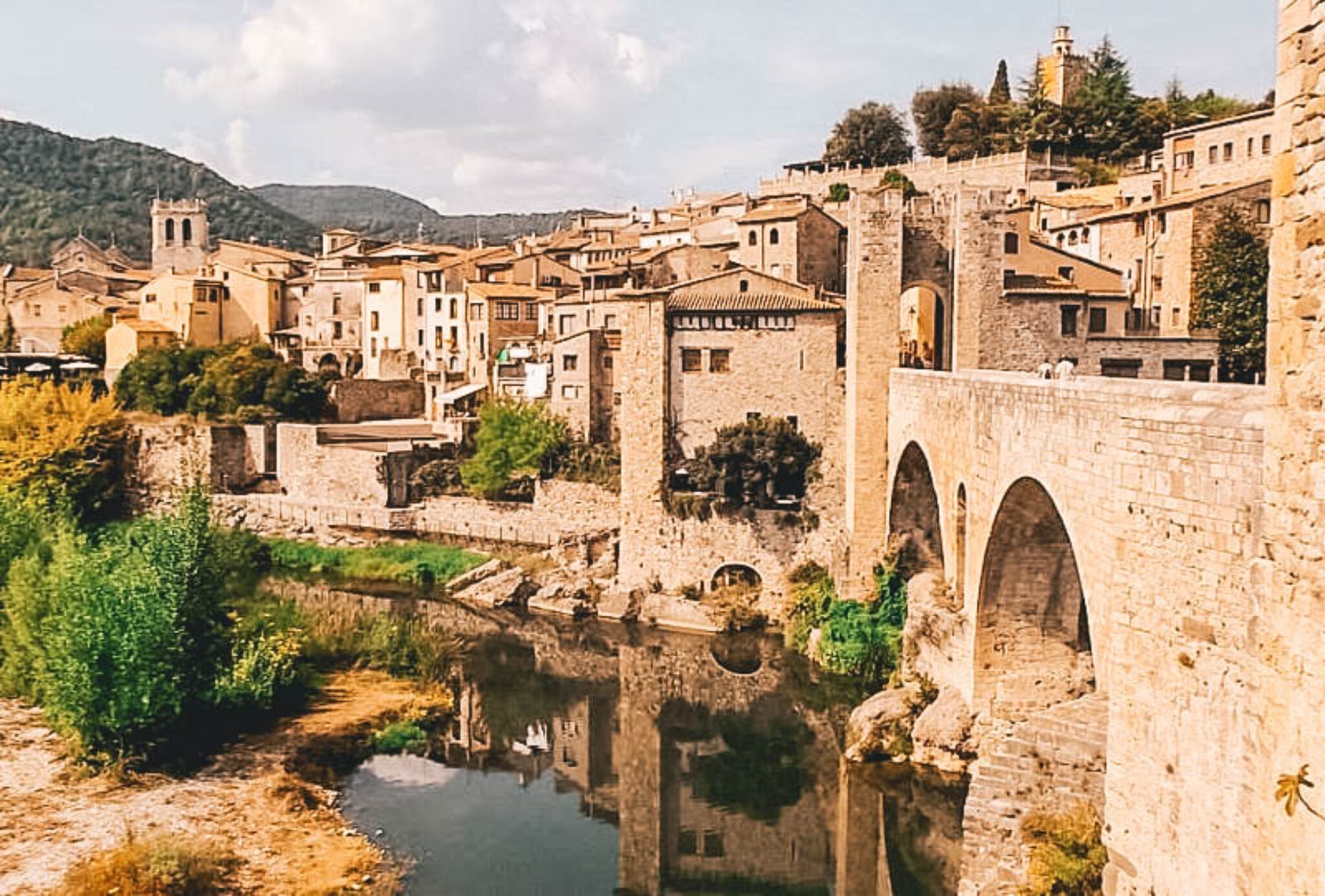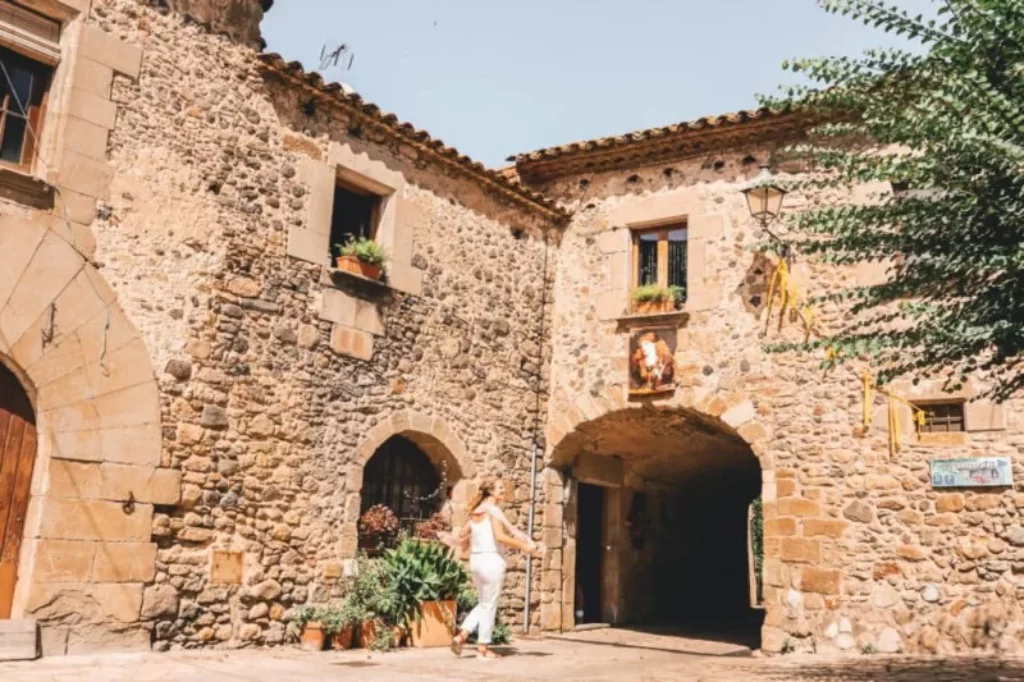 20. Walk the Costa Brava Coastal Path
Before traveling to Costa Brava, I had never even heard of this beyond spectacular 200km-long walkway that hugs the coastline and allows casual walkers and keen hikers to follow the coastline from the French border all the way down to the town of Blanes.
It's now my favourite thing about the area and no trip here would be complete without spending an afternoon on the Coastal Path. You'll not only pass stunning beaches, hidden coves, and small resort towns but you'll also find secret swimming spots, bird sanctuaries, tiny fishing villages and rocky outcrops that let your imagination run wild.
Some of the best parts of the walkway include the short 30 minutes from Palafrugell to Llafranc (pretty villages, white-washed houses, and popular stretches of beach) and from S'Agaro to Platja D'ro (where you'll find the villas of the rich and famous!).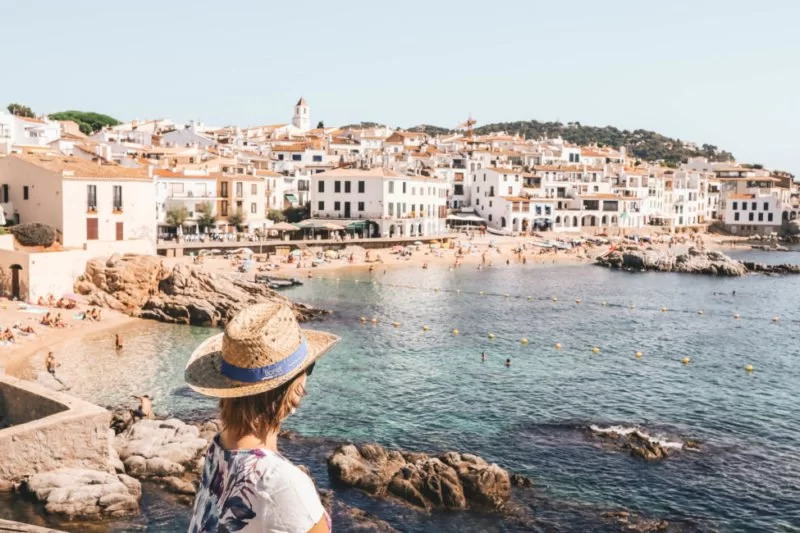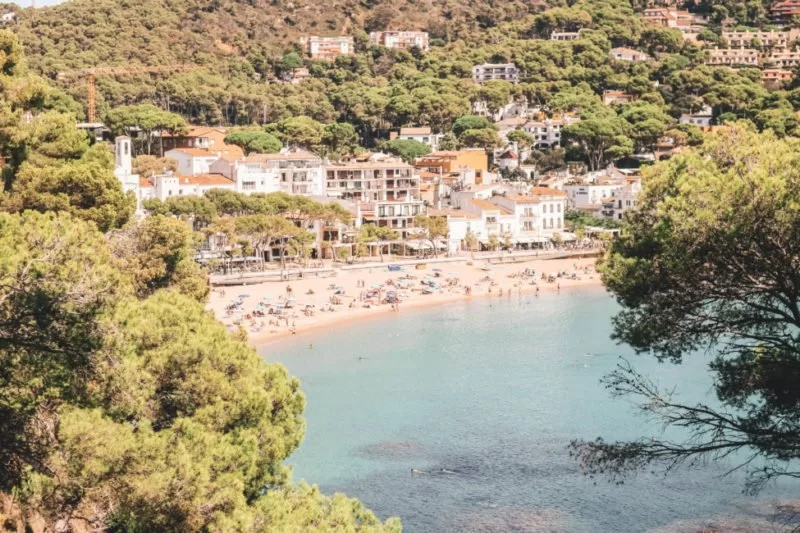 19. Do an electric bike tour
If you're looking to get active on your trip, signing up for an electric bike tour with Burricleta is a fun morning out! It was one of my favourite activities of my trip, and included cycling around the countryside of Catalonia, stopping off at a few medieval villages and ending up in Mooma for a cider tasting session and lunch.
It's especially fun in summer, as you cycle through some really tiny villages, through hay fields, past farmers, and locals ans really feel like you're immersed in country life!
18. Visit a boutique winery
You can't come to Spain without visiting a winery! While there are lots of larger, well-known wineries, I recommend visiting one of the smaller boutique wineries. We visited Mas Oller and had a very friendly and enthusiastic guide. If you have a group of 8 or more, they also do custom lunches which obviously include a delicious wine tasting of their three most popular wines; the red, the white and the rose. You also get a short tour of the vineyards and get a quick education on the wine tasting process.
If you simply want to visit for the wine tasting and no lunch, the price is just €5 and the is waived if you buy a bottle of wine! More info on their website here.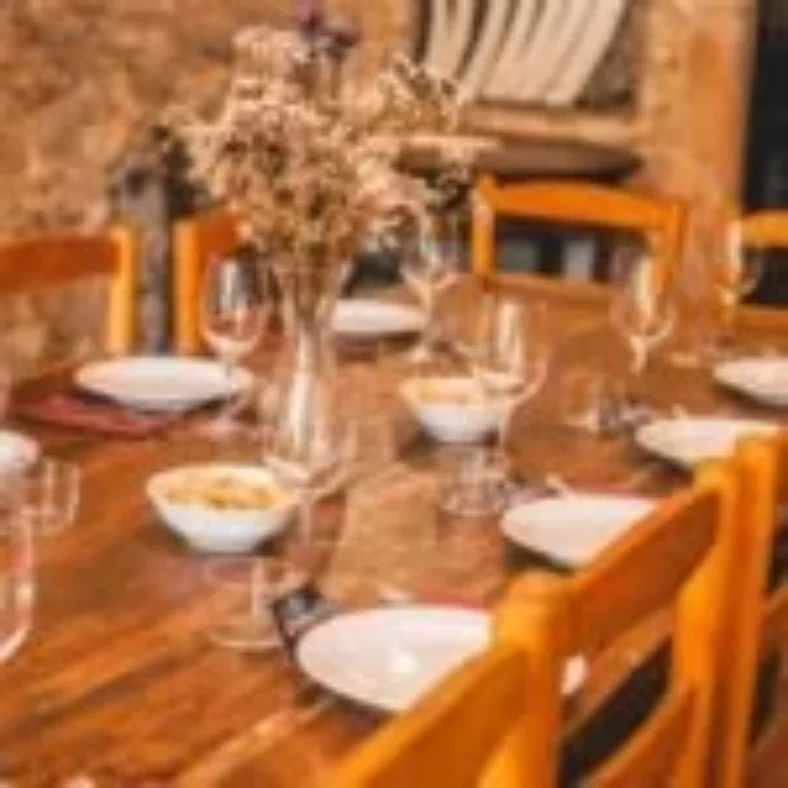 17. Eat at a Michelin Star Restaurant
There are no shortage of incredible places to eat when visiting Costa Brava. Be it indulging in late night tapas at a seaside tavern in Parafrugell, enjoying a Hollywood-themed feast at Studio66 in LLoret de Mar or splashing out on lunch with a view in Llafranc, while tasting Michelin Star delights at Casamar Restaurant and Hotel – there's certainly no shortage of choice!
I adored out afternoon at Casamar – which was the perfect end to our coastal path hike. The food was honestly to die for, so many unique combinations and flavours, and they paired it with the most delicious wine. If you're in the area and not on a tight budget, enjoying a Michelin Star lunch is a must!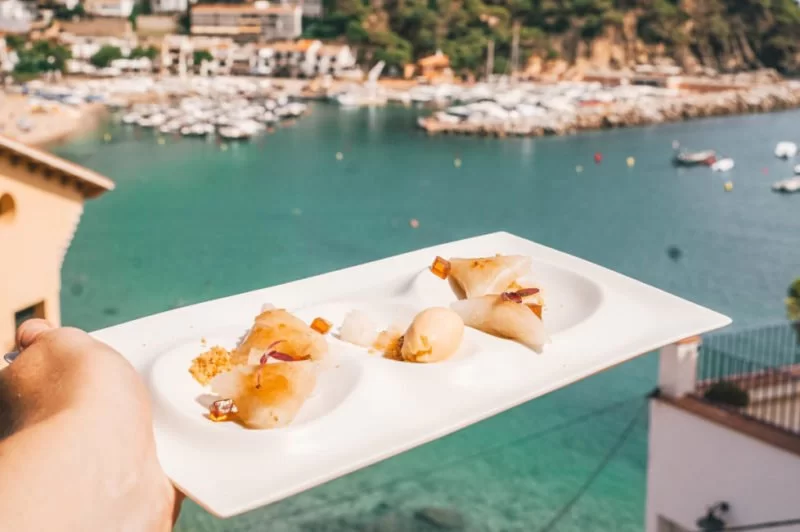 16. Do a food tour
The best way to taste as many Catalan delights as possible, and to get better acquainted with what (and how) the Spanish eat, is to sign up to do a food tour on one of your first days in Costa Brava. We did one with Girona Food Tours, and it meant we had a good understanding of where to buy food (best bakeries, markets, and meat shops), how much things should cost, where to buy local, and what typical foods we should be tasting for breakfast, lunch and dinner!
Our guide was unbelievably enthusiastic and passionate about food (her father is a chef and creates the most delicious lunches for her!!), which meant out tour was all the more special. Be it in Girona, or elsewhere, a food tour while in the region is definitely a must!
Book your own food tour on their website here.
15. Swim in crystal clear waters
From snorkeling along the coastline, learning about what underwater life one might encounter and discovering hidden coves with a local diving school, to sea kayaking and getting a unique view of Costa Brava's most impressive sea-view villas, there's no shortage of adventurous activities in the region.
Snorkeling along the coast is by far one of the most exciting things to do in Costa Brava, and will give you a unique view of the Costa Brava Coastal Path from the comfort of your boat! You'll find many adventure operators on all the main beaches, from Banana Boats to Stand Up Paddle Boarding, boat trips, Catamaran Cruises and much more.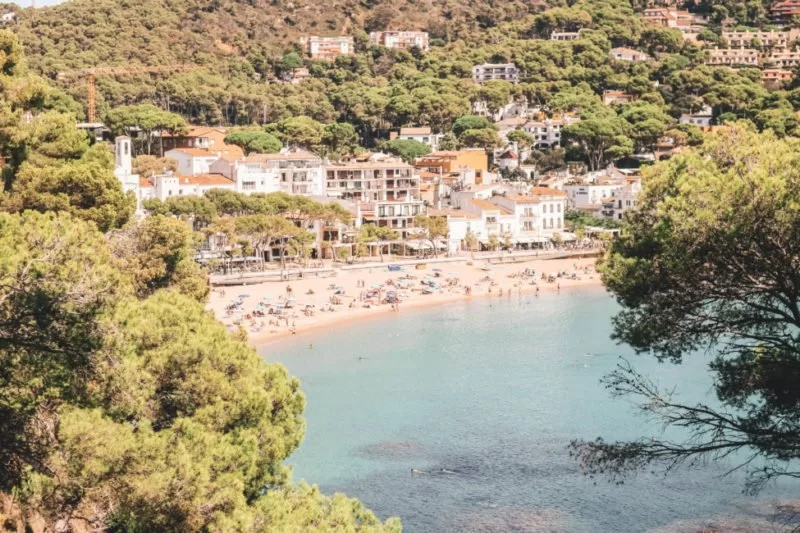 14. Be wowed at unique art galleries
Have you ever heard of L'estrambotisme? I wouldn't be surprised if you haven't, as I didn't have a clue what it was until we visited the spectacular, and quite surreal, L'Estrambotisme Gallery and Workshop just outside of Girona. So new is this art form, that the name has yet to be translated into different languages. And while it does sometimes resemble or remind one of works by Salvador Dali (unbelievable detail and a huge mic of surrealism), the artist will explicitly explain that this is an entirely different art form.
This artistic movement was founded here in Catalonia in 1974, and the father of the movement Quim Hereu (the man to thank for the 2 largest oil paintings in the world, on show in the gallery) is the man tasked with spreading the movement worldwide. We were lucky enough to meet the artist for an hour and get a better understanding of his work. The gallery, next to the D'Or Jewel Museum, is well worth a visit, especially for art lovers.
13. Visit Tossa De Mar Castle
You can't travel to Costa Brava and not visit the gorgeous little seaside resort of Tossa De Mar. Sure, it can get very busy in summer, but the charm of the old town and the spectacular castle or fort looking down on the beach makes it all worthwhile. I especially loved going for walks around the old town at sunset – and recommend you do the same!
If you're in town for lunch and dinner, Tossa is famous for its seafood – namely paella- which is served in some of the biggest pans I've ever seen! Stop off at Sa Barca for some black rice paella – and maybe even a dance by one of the waiters – these guys sure know how to entertain!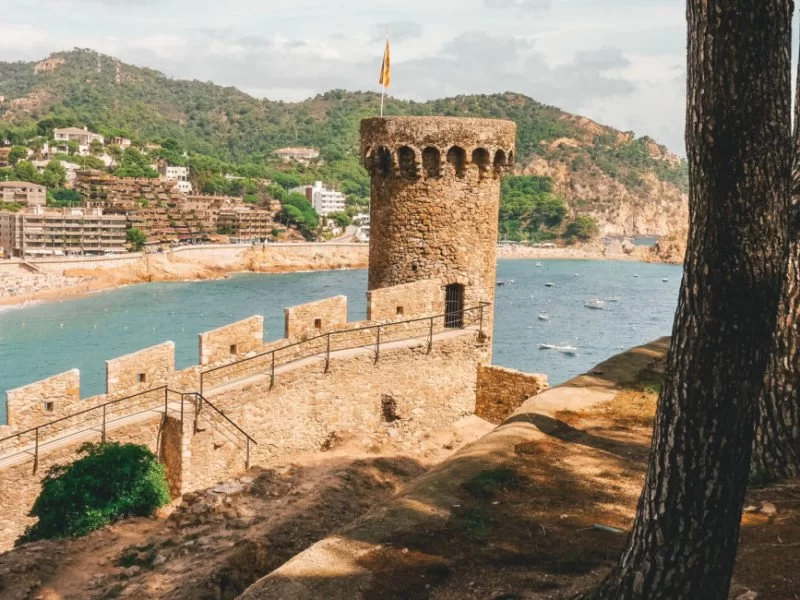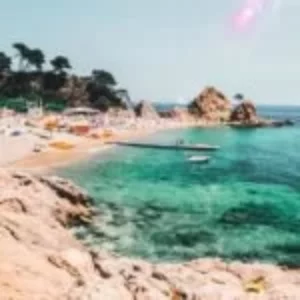 12. Relax on gorgeous Beaches
With a name like "The Brave Coast", it's no surprise that Costa Brava is home to some stunning stretches of sand. Whatever your preference; busy beach bars, private resort beaches, swimming in rock pools to beaches longer than the eye can see, there's something for everyone here. For the sun worshippers among you, here's a list of the best beaches in the area.
11. Taste award-winning desserts
Have you ever heard of the Roca brothers? They are 3 brothers from Barcelona who all grew up hanging out in the kitchen of their fathers' restaurant, with all 3 growing up to work in the food industry. Together they own a restaurant in Barcelona where one is Head Chef, one if the Sommelier and one is in charge of pastries. Together, they have one 2 Michelin Stars and their restaurant  El Cellar de Can Roca won Best Restaurant in the World two times!
Jordi Roca, the youngest brother, is also the owner of Rocambolesc, probably the most famous ice-cream shop in Catalonia and a firm favorite with the residents of girona thanks to its unusual flavours and wascky creations. I liked their take in the ice-cream sandwich the best – a warm, freshly baked bun stuffen with a 3-flavour ice-cream and various berry toppings.
10. Do a daiquiri-making workshop
Did you know the man who invented the Daiquiri came from Lloret De Mar in Costa Brava? He later left for Cuba to make his fortune and ended up opening a now-famous bar called El Floridita in the Cuban capital of Havana!
You can now enjoy a unique daiquiri-making workshop in the gorgeous Santa Clotilde Gardens, with spectacular views of the coastline and hidden beaches, including a view down on a quiet beach used by many movie and advertising directors in Spain for shoots. It even features in the closing scene of the Matthew McConaghy movie Sahara!
From the unusual mermaid statues, elaborate steps and pathways to the luxurious cliffside villa, this is definitely one of the top places to visit in Costa Brava.
9. Do a Game of Thrones tour
Girona, the main city in Costa Brava, will be a pleasant surprise. It's not as overcrowded with tourists as Barcelona, so I found there was plenty of space to stroll down the gorgeous, cobblestone streets and admire the medieval old town.
We had a lot of fun learning about all the Game of Thrones filming locations around the city and were told much of Season Six was filmed here. Most GoT's filming locations around the world are pulsating with huge groups of fans on tour, but in Girona, it's almost like its a well-kept secret!
                                                                    girona at sunset
8. Visit a family-run cideria
While most of Spain and probably all of Catalonia is most famous as a wine-producing area, it was a real treat to come across a boutique cideria just north of Girona. Mooma is a family affair, a cideria, tasting shop and incredible farm-to-table restaurant all in one.
You can taste their various varieties and flavours of both cider and apple juice, and the lunch we ate here was by far one of the tastiest of our entire trip.
7. Stand in awe at the Dali Museum
One of the highlights, for me at least, was visiting the much anticipated Salvador Dali Museum in the small town of Figueres. I'm not much a museum person, usually opting to explore the outdoors, do a food or photography tour or pretty much any option that doesn't have me cooped up inside a museum on a sunny afternoon, but this took my breath away…and definitely held my attention!
6. Stay in some beautiful hotels
Costa Brava has no shortage of beautiful hotels, from small boutique offerings to large, more luxurious 5-star properties overlooking the ocean. We spent one night in a villa in the countryside, 1 night in a beautiful hotel right in the centre of historic Girona and one in the absolutely gorgeous Hotel Santa Marta in Lloret De Mar, by far my favourite place to stay on the coast!
Expect incredible outdoor breakfast spreads, some that might even include fresh strawberries, pancakes, and glasses of Champagne, and hotel restaurants that go way above and beyond the usual hotel bar offerings. This is Costa Brava afterall, a place where food always comes first!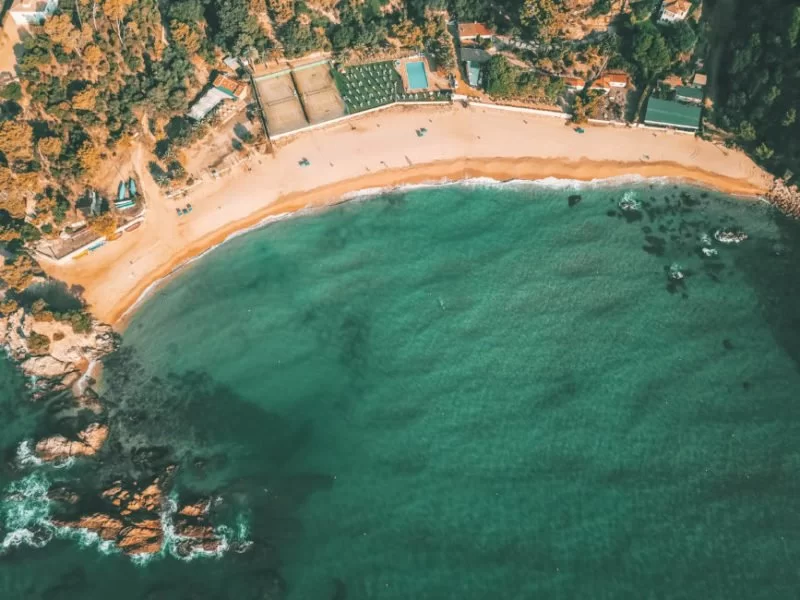 drone photo lloret de mar
5. Admire the colourful architecture
The colourful architecture is most obvious in Girona as you cross the famous Eiffel Bridge (built BEFORE the famous Eiffel Tower in Paris but with the exact same materials), and look to your left or right down the river.
The overhanging houses here have now become part of the city landscape, which means that by law they must continue to only paint the houses in the same muted reds and oranges that everyone has come to know and love.
You'll also be able to admire more muted, pastel colours in many of the coastal villages along the Costa Brava, with many towns looking quite white-washed and giving off very Greek vibes.
4. Stroll through the peaceful countryside
Who DOESN'T love fields of wild sunflowers, quaint little villages that only pedestrians and bicycles can traverse, country laneways, fields of hay bales or picking wild berries by the side of the road?! If like me you love all of the above, then you'll love exploring the Costa Brava countryside.
Be sure to put some time aside to simply drive around and get lost – this is when you'll find the true gems of Catalonia! You can easily combine this with exploring medieval villages and even paying a visit to Mooma Cideria – they are all pretty close on the map as you'll see.

sunflower field in catalonia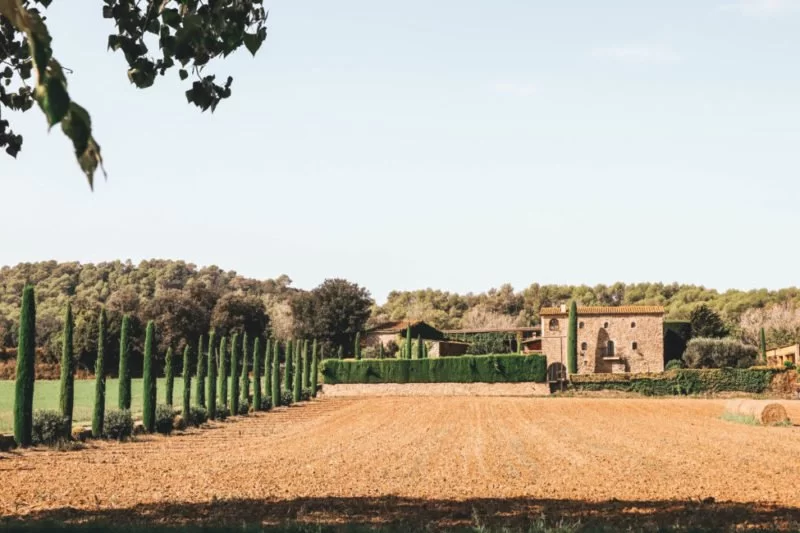 the costa brava / catalonia countryside
One of the best things about the Costa Brava is that it genuinely has not been ruined by over tourism. It has retained its small-town charm, and you'll still stumble across cute fishing villages and the boats neatly lined up by the beach, fishing nets sprawled all over the sand.
You'll stumble across pretty little houses overlooking the coast, and locals enjoying tapas in the later afternoon sun. It's this charm that makes it so special and why you'll probably fall in love, too!
houses in costa brava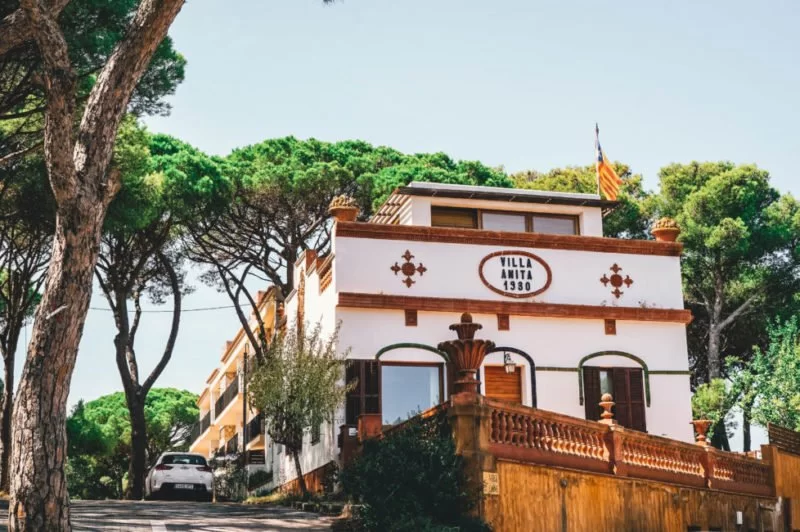 2. Do a pottery workshop
For a nice spoonful of culture while exploring Costa Brava, why not sign up for a pottery tour and workshop at the Terracotta Museum on Bisbal? The town of Bisbal itself isn't overly pretty, but it is full of cute little stores selling works of art and is home to the huge pottery-barn-turned-museum, one of the largest I've ever visited.
After completing a full tour and learning about the history of pottery in this area, you can either try your hand at making some pottery or paint your own cup and watch on as they cook it in 1,000 degree heat and it comes out looking nothing like the piece of art you worked so hard on! More info here.
1. Enjoy the company! 
Be it watching a Human Tower rehearsal (a cultural activity in this region where 100's of people come together to form a human tower), participating in a DJ workshop (there's an EDM University/school just outside Girona!), or sharing tapas and a jug of Sangria with new friends – one thing you'll find in common with the people of Costa Brava is they all welcome you in with open arms, they never seem to stop smiling and their biggest concern is always to ensure your belly is full and your heart is happy!
They say "the people make a place", and Costa Brava proves it true.
Like me? PIN ME!
EDITORS NOTE: This post was written as part of a campaign called #EuroCultureTrip – where I spent 5 days exploring Costa Brava with the Costa Brava Tourism Board and 2 fellow travel bloggers. As always, all opinions are my own.
Last updated on October 13th, 2023 at 01:55 pm