Berlin is the bustling capital city of Germany. With its countless tourist attractions and welcoming atmosphere, this city is a dream holiday destination. However, it's important to carefully plan the timing of your trip as this could make or break your holiday experience.
The time of year you choose for your holiday influences everything from activities to accommodation. Read on to discover when the best time is to visit Berlin so that you can have the most rewarding vacation possible.
When is Berlin Worth Visiting?
The answer to this question is simple: Berlin is always worth visiting. There are numerous fun things to do in Berlin and an array of attractions that tourists can explore year-round.
The city is full of culture, history, and beauty. It was a prominent site during both the Cold War and World War II. When visiting, you can view remnants of the world famous Berlin Wall — the division between East and West Berlin during the Cold War. You can also visit the Holocaust Memorial, which commemorates all Jewish lives lost during World War II.
There are also more uplifting sites for visitors to enjoy. You can experience art and culture at Museum Island – a UNESCO World Heritage Site home to five fascinating museums. Visiting the Gendarmenmarkt is a great way to appreciate some of Berlin's most impressive architecture. The square features the breathtakingly beautiful German Cathedral, French Cathedral, and Concert House.
Berlin also has many seasonal attractions, which make it a unique travel destination at different times of the year. Your options for sightseeing and entertainment will also fluctuate according to the weather.
Here's a quick breakdown of some of Berlin's most popular tourist activities throughout the year.
Best Time to Go to Berlin
Now that you know just how much Berlin has to offer, the next step is choosing when to go there. The best time of year to visit Berlin largely depends on the activities you want to do while you're there.
The weather conditions and temperatures in Berlin fluctuate with each season. This means different times of year are more conducive to certain activities than others. Below is a run-down of what each season in this vibrant metropolis has to offer those who visit.
Winter in Berlin
Berlin's winter takes place from December to February. This season is the coldest time of year. Temperatures usually range between 33° and 36° Fahrenheit (0.5 to 2.2° Celsius), with average lows of 28°F (-2°C).
You're also likely to encounter quite a lot of snow if you visit during winter. This is great for those wanting to participate in snowy outdoor sports and activities. There are several indoor and outdoor ice skating rinks, which are suitable for both beginners and experienced skaters. Other popular activities include skiing, snowboarding, or just making some good old-fashioned snow angels.
Note: When packing for a winter trip to Berlin, ensure you take lots of warm clothes and accessories. Remember to bring a waterproof jacket and a pair of sturdy shoes (usually boots) for exploring the city.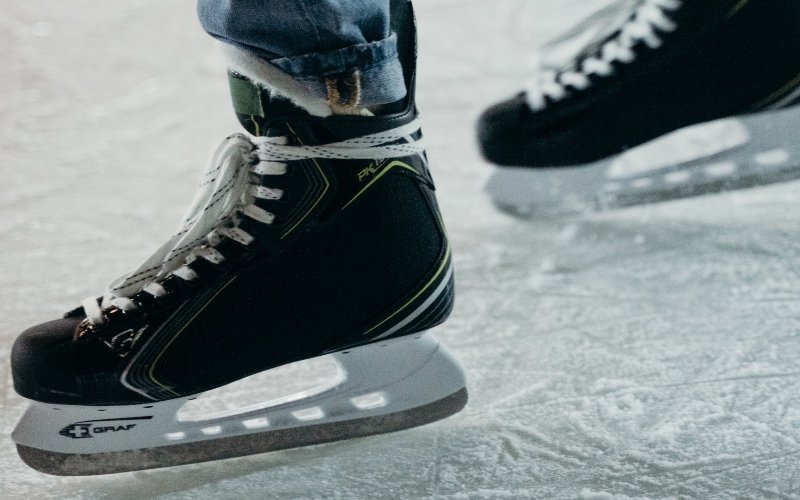 December is a particularly festive time in Berlin. Picture a gorgeous white Christmas: drinking hot chocolate in your pajamas and opening presents while snowflakes swirl around outside. This is how you'll experience Christmas in Berlin.
The city's joyous atmosphere shines through in its countless wonderful Christmas markets. With so many options, you can use this handy guide to find your ideal market. No matter which one you attend, you'll undoubtedly enjoy some music, laughter, and an array of stunning souvenir options. Stay extra warm with some delicious Glühwein, a traditional spiced mulled wine.
Quick Tip: Glühwein is alcoholic, so if you have kids or don't want to drink, why not try the non-alcoholic alternative, Kinderpunsch?
Spring in Berlin
You can experience spring in Berlin between March and May. Heading out of winter, the temperatures in spring generally fall between 40° and 58° Fahrenheit (4.4° and 14.4° Celsius). Average highs can go up to 67°F (19.4°C). This weather is ideal for exploring Berlin without having to face the extreme cold of winter.
Spring is a time when Berlin's natural beauty really starts to bloom. When planning your trip, you might not have expected the chance to be surrounded by cherry blossoms. However, that's exactly what will happen if you walk alongside Berlin's Landwehr Canal during spring.
Both locals and tourists flock to designated areas to take in the sight of these beautiful flowers. If you want a more immersive experience, why not visit the Cherry Blossom Festival at the Japanese Garden in Marzahn? This event will guarantee you some unforgettable, breathtaking sights.
As nature blooms, so does Berlin's entertainment scene. A variety of exciting folk festivals take place during the spring months. A well-known example is the legendary Berlin Spring Festival. This is great if you're planning a family vacation, as both children and adults will enjoy the entertainment on offer.
Besides providing a wonderful day of entertainment, Berlin's funfairs are also great for those on a budget, as the entrance is usually free. Experience the fun-filled rides and games and top it all off with some traditional sweet and savory delicacies.
Quick Tip: If you do visit the Berlin Spring Festival, make sure to go on a Wednesday for Family Day. This once-a-week special allows you to enjoy all the rides and carousels at half-price.
Summer in Berlin
Berlin's summer happens between June and August. The average temperature is between 63° and 67° Fahrenheit (17.2° and 19.4° Celsius). However, daily highs generally reach up to 77°F (25°C).
The warmer weather draws in large numbers of visitors, causing both plane tickets and accommodation prices to spike. This makes the summer season the most expensive time of year to visit Berlin.
Quick Tip: With a few clever hacks, you can still experience a dazzling Berlin summer. Book your tickets and accommodation in advance to secure your vacation before price increases start. This is ideal for anyone traveling on a tight budget or wanting to save some extra money.
Once you're in Berlin, there are loads of summer activities for you to enjoy. Just because the country is landlocked, it doesn't mean there aren't German versions of beaches for you to explore. Visit Strandbad Wannsee to tan beneath the glowing sun or go for a refreshing swim.
Next, we turn to a fan-favorite: beer. You've probably already heard about how popular this beverage is in Germany. Proving this point is one of the best little-known facts about Munich — the city actually classifies beer as a food type. While Berlin hasn't gone that far, it still takes its beer pretty seriously.
On hot days, it's common for locals to grab a drink at their nearest beer garden. There's no better time to join in this tradition than when you're on a summer holiday in Berlin. Relax in the shade while sipping an ice-cold beer at Prater Garten, one of the city's oldest and most charming beer gardens.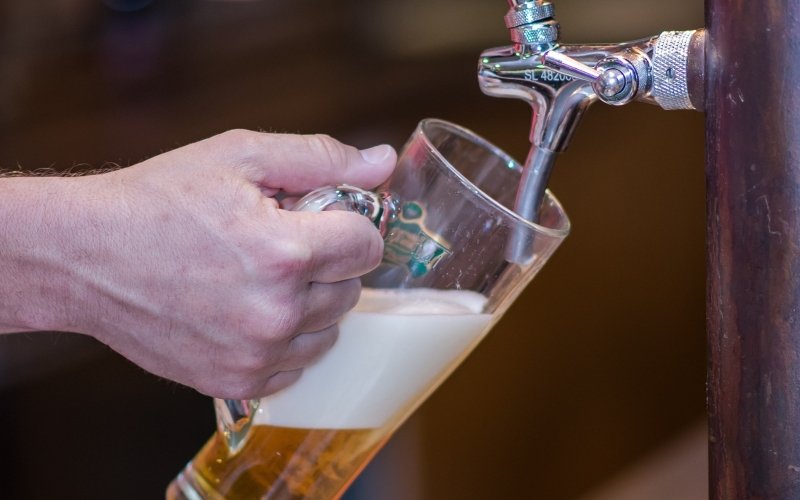 Autumn in Berlin
Lastly, we turn to Autumn. The months of September, October, and November have an average temperature between 41° and 60° Fahrenheit (5° and 15.5° Celsius). As winter approaches, the months become colder. Berlin in September is the best time to experience slightly warmer weather without the hassle of high summer prices and crowds of other tourists.
Autumn in Berlin is a time of art and culture. The city's Festival of Lights is a hit with locals and tourists alike. During this annual event, various sites around the city are lit up at night to display colorful, out-of-this-world projections. You don't want to miss these mesmerizing illuminations. Besides brightening your day, they'll make the perfect background for some unique vacation snapshots.
Another fun autumn activity is the world-famous Oktoberfest. Although the festival is usually associated with Munich, Berlin certainly does its fair share of celebrating too. Experience Germany's rich culture by partaking in the revelry while enjoying some traditional German food and, of course, beer.
Lastly, be sure to check out Berlin Art Week. Not just for art critics or seasoned gallery-hoppers, this festival is for anyone to enjoy. The week consists of various exhibitions and performances celebrating numerous local and international contemporary artists. This unique experience showcases Berlin's diverse culture and its role as a hub for all things creative.
Berlin in Months | An Overview
Here's a quick summary of some of the advantages of visiting Berlin at different times of year.
December to February: The coldest, but most festive time of the year.
March to May: The best time for family-friendly holidays.
June to August: The most popular and expensive time to visit Berlin.
September to November: The perfect time for creatives and beer-lovers.
Best Time to Visit Berlin | Final Thoughts
With its multitude of attractions and activities, there's no doubt Berlin is one of the best places to visit in Germany. However, when planning your trip, it's essential to assess what kind of holiday you're looking for.
Each season has different weather and offers unique activities for you to enjoy. Now that you've read this article, you can decide on the best time to visit Berlin for your ideal vacation experience. We hope that you'll have a wonderful time.
Quick Tip: Berlin's weather patterns are similar to those throughout Germany. This means that knowing when to visit Berlin is helpful in deciding the best time to visit Germany overall.