Scandinavia is not known for its warm weather, but that doesn't make it any less appealing as a destination worth a visit. Different Scandinavian countries like Sweden and Norway have varying desirable things to offer, but one excellent country is Denmark.
This small country is well known as having the happiest people in the world. A possible contributor to this joy is the Danish "hygge". This is a quality of coziness that creates a feeling of contentment.
Hygge is a part of Danish culture that endeavors to have a person surround themselves with things that bring them contentment. This could be spending quality time with family and friends. You can embrace this culture and find contentment in your own life.
There is much to learn from Danish culture, and you can have a worthwhile experience visiting the country. But when is the best time to visit Denmark? Keep reading to find out.
Best Time of Year to Visit Denmark | Seasons Breakdown
It is important to consider Denmark's weather year-round when deciding on the best time to go to Denmark. Different seasons in Denmark can influence the type of experience you have when visiting the country. You want to choose a time that suits you best. Here's a breakdown of the seasons in Denmark.
Spring in Denmark
Spring (March to May) begins a slow progression into warmer weather. In March, cooler weather prevails. There is still frost at this time and the month has a minimum average of 30°F (-1°C) and a maximum average of 41°F (5°C). It also experiences around 9 days of rain.
By the end of the season in May, the numbers are higher. The temperature throughout the month ranges from 44°F (7°C) to 61°F (16°C). By May there are only about 8 rainy days in the month but a higher precipitation. So, keep your umbrella handy while you enjoy the warmer weather.
This is a great time to visit if you enjoy warmer weather, but want to avoid crowds of people during the peak season of summer.
Summer in Denmark
Summer (June to August) hails in the warmest weather of the year. It is a rainy season, though, and the rainfall gets heavier as the season progresses. The summer starts off with June temperatures that range from 52°F (11°C) to 66°F (19°C). Temperatures can bequite low at night, reaching 45°F (7°C).
June does have 10 days of rain and about 1.8" (45 mm) precipitation. The rainy days continue throughout the season.
The summer temperatures peak during July, ranging from 57°F (14°C) to 72°F (22°C). This isn't the warmest summer, but it is pleasant if you enjoy mild temperatures.
July, however, has the most rain of the season with 11 days and 2.8" (70 mm) precipitation. The days are long, with sunrise being at 3:30 am and sunset at 10 pm, so you'll have plenty of time to enjoy whatever activities you decide to do on your visit.
The end of summer is still warm but it is also rainy. August has average temperatures ranging from 55°F (13°C) to 68°F (20°C). It rains for an average of 11 days with 2.6" (62 mm) precipitation.
This is the best time to visit if you enjoy warm days and don't mind wet weather.
Autumn/Fall in Denmark
Autumn/fall (September to November) announces itself with heavy rains. You can enjoy the refreshing smell of the earth as the leaves descend from their branches and the ground turns golden throughout the season.
The season starts off with the remainder of summer's warmth in September. Temperatures range from 50°F (10°C) to 63°F (17°C). The rain pours for an average of 12 days with 2.4" (60 mm) precipitation.
This is a good time to visit if you want warmer weather without the hustle and bustle of peak season.
Autumn temperatures by the end of November in anticipation for winter. The end of the season sees average temperatures of 37°F (3°C) to 45°F (7°C). It still rains for an average of 12 days, but precipitation has gone down to 2.0" (50 mm).
Winter in Denmark
Winter (December to February) does not bring an end to the rain but adds a sharp chill to the air. The sun barely shines as it is trapped behind thick clouds that press in the cold.
The season is marked by snow and harsh winds that drop the temperature further. It starts off with temperatures dropping to 34°F (1°C) and having an average maximum temperature of 39°F (4°C). There are an average of 13 rainy and snowy days to look out for.
The tail-end of the season is often the coldest month. February has average temperatures ranging from 28°F (-2°C) to 36°F (2°C). It snows and rains for an average of 10 days with 1.6" (40 mm) precipitation. The season's temperature can reach as low as 23°F (-5°C).
This is the best time to visit if you enjoy cold weather and doing things indoors.
When to Visit Denmark | Activities
You may be someone who enjoys warmer temperatures, or someone who enjoys being cozy indoors sipping on a hot beverage. There are things for you to do in Denmark no matter what type of person you are. Here are some things you could do at different times in the year in Denmark.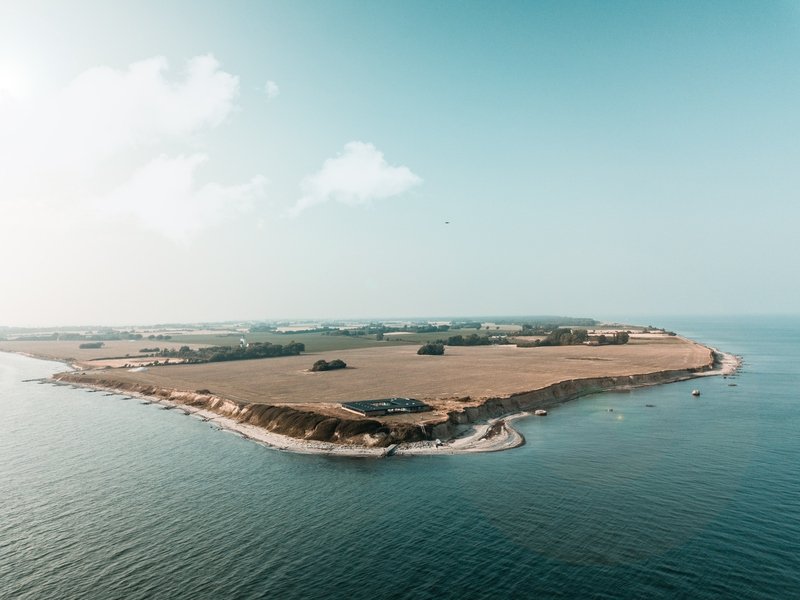 Peak Season (Summer)
Summer is the time when Danes head to the coast, and you can, too. There are many beaches you can escape to, such as the strands in Liseleje. You can even enjoy a beach party there.
Denmark has many islands that you can explore, so go island hopping in the South Funen Archipelago. There are affordable ferries that can transport you to some of the 50+ islands spread around the Baltic Sea.
Shoulder Seasons (Spring/Autumn)
The shoulder seasons in Denmark offer some of the benefits of the peak season, such as warmer temperatures, while also helping you avoid the summer crowds and prices.
Spring is a great time to watch the world come back to life after the harsh winter. You can do this by going out into nature. Take time to visit the Mols Bjerge National Park in East Jutland. You will find many rare plant and animal species on the many hills in the park.
There are cycling paths and hiking trails all over the park.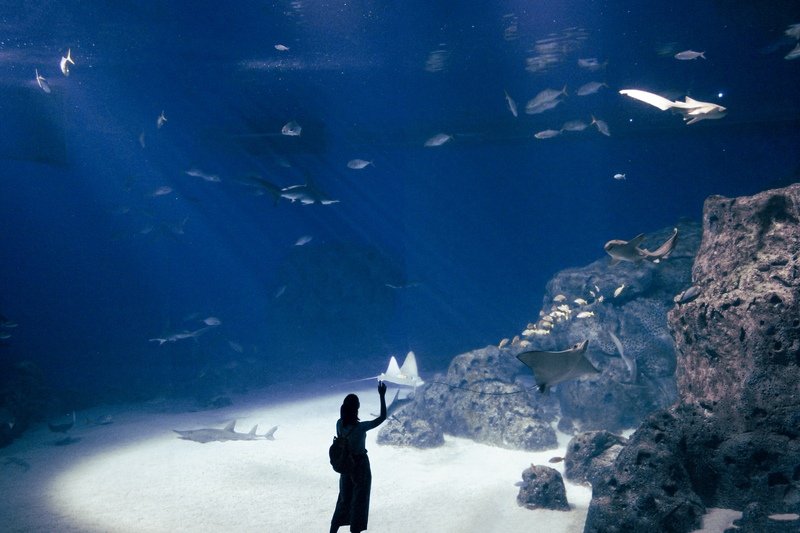 If you decide to go in fall, don't let the autumn rain discourage you from going out. A great place to go is the National Aquarium Denmark, if you still want to encounter nature without going outside.
This is the largest aquarium in Europe, and it gives you a truly immersive experience of the ocean and its natural beauty. The massive Ocean Tank lets you see hammerhead sharks and other sea creatures like eels swim around. There are other exhibits, including bird and butterfly areas.
Off-Season (Winter)
Winter is for the foodies. A restaurant festival takes place across Denmark called Dining Week, which takes place in February each year.
Each restaurant that takes part needs to create an interesting, high-quality menu with dishes from around Europe and other parts of the world. They have to produce a three-course meal within a particular price range.
People buy tickets to go to participating restaurants and enjoy a delicious meal. You can go and delight in a scrumptious meal if you are in Denmark during that week.
Best Time to Travel to Denmark | Standout Cities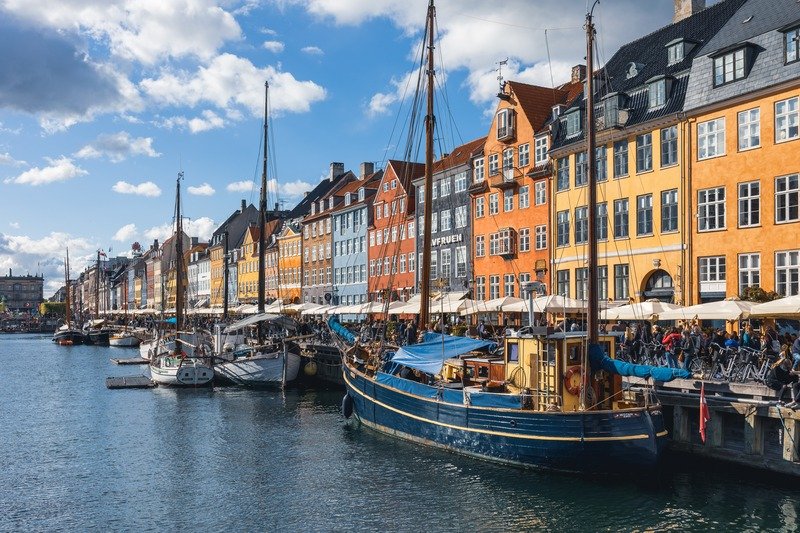 Choosing when to spend time in Denmark is also influenced by where you'll be going. Here are some cities and what they have to offer you during your stay.
Roskilde
Are you a music lover? This place is for you.
The Roskilde Festival (24 June 2023 to 1 July 2023) is a popular event for international music stars to perform, including Kendrick Lamar and Lil Nas X. It draws in thousands of festival-goers each year. This is a great time to visit if you enjoy warm summer days and attending concerts.
Herning
Something many people don't know is that Denmark is the home of LEGO. Billund is where LEGO bricks were first invented.
You can visit the LEGO House, alternatively known as "Home of the Brick." Here you can see creative LEGO displays.
The best time to go would be in Autumn because then you could choose whether you want to go when it is warm or cooler but still be indoors. You could make good memories on a rainy day.
The Best Time to Visit Denmark | Final Thoughts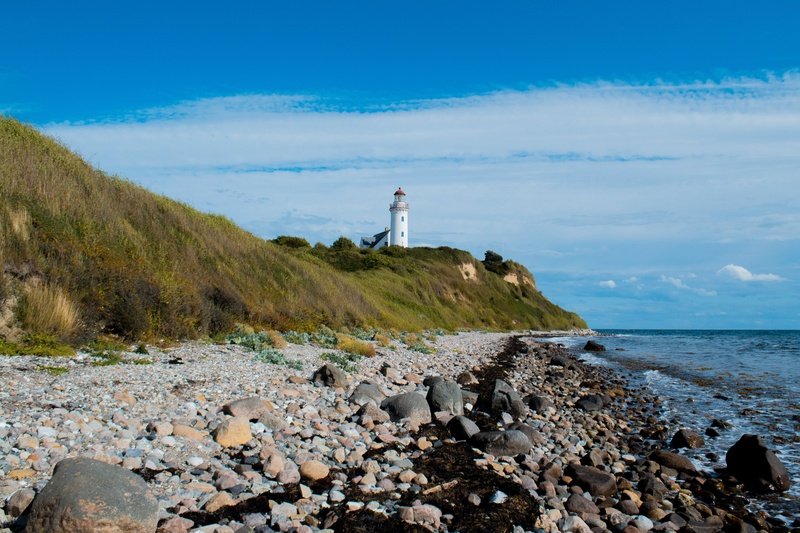 The best time to go to Denmark is during the summer months. It is at this time where you can be out and about the most to experience the open-air museums, for example. Going island hopping and chilling on the beach is always a good time so enjoy it in the sun.
You can still have a good time going during other times of the year. As they say,  "there is no such thing as bad weather, only bad clothing". So,  just be prepared for all the seasons in Denmark.
Now that you know when the best time to visit Denmark is, why not find out more about when the best time to visit Norway is.