France is a country that has something to offer for everyone throughout the year, whether it's culture, food, wine, or just simple relaxation. While asking yourself when is the best time to visit France, think about your personal preferences, interests, and the purpose of your trip.
Nevertheless, choosing when the best time to visit Paris or the south of France can be challenging. So, explore the seasons to get an idea of when to plan your perfect French holiday.
Quick Tip: When planning a trip to France, learn some French, at least on a basic level. It is generally considered polite to at least start a conversation in French, and it comes in handy when reading signs or getting directions.
Best Time of Year to Visit France
Choosing the best time to travel to France has a lot to do with the seasons and weather. During the spring season, many of the country's museums and attractions are less crowded, making it easier to take in the sights and sounds of France at a leisurely pace.
Summer is the busiest season but can be the best time of year to go to France because of the lovely weather. It is perfect for those looking to experience the country's vibrant cultural events.
Fall is the ideal time for food and wine lovers to visit, as the country is famous for its fresh produce, cheese, and wine. Winter is a magical time to visit France, especially if you enjoy the festive season. The ski resorts in the French Alps are also at their peak during this time of year.
France – Weather by Month
France is a country in Western Europe renowned for its diverse climate and weather patterns. The country has several geographical regions with varying climates. In the north, it has a maritime climate that is characterized by cool summers and mild winters. This region receives significant rainfall throughout the year and is known for its frequent cloudy days.
The central parts of France have warm summers and cold winters, and snowfall is common during winter. The southern regions have a Mediterranean climate, with hot summers and mild winters. In mountainous areas, the Alpine climate is characterized by cold and snowy winters and cool summers.
Winter in France – December, January, February.
Winter weather in France varies depending on the region, with the north experiencing colder temperatures and potential snowfall while the south remains mild. The mountainous areas, such as the French Alps, typically receive the heaviest snowfall and are popular destinations for winter sports.
Despite the chill, many cities in France, such as Paris, come to life during the winter with festive lights and holiday markets. December in France is the first winter month, and it is quite frosty. If you are in Paris, average temperatures vary between 45.1°F (7.3°C) and 37.4°F (3°C).
January is another cold month in France. If you are in the city of Chamonix or the surroundings of the French Alps, you can expect temperatures in the range of an average high of 27.9°F (-2.3°C) and an average low of 11.5°F (-11.4°C). You should also be prepared for many days of snow.
February is the last winter month in France and is still quite chilly. In the Southern region of France, in the coastal city of Nice, temperatures are between 41.9°F (5.5°C) and 48.9°F (9.4°C).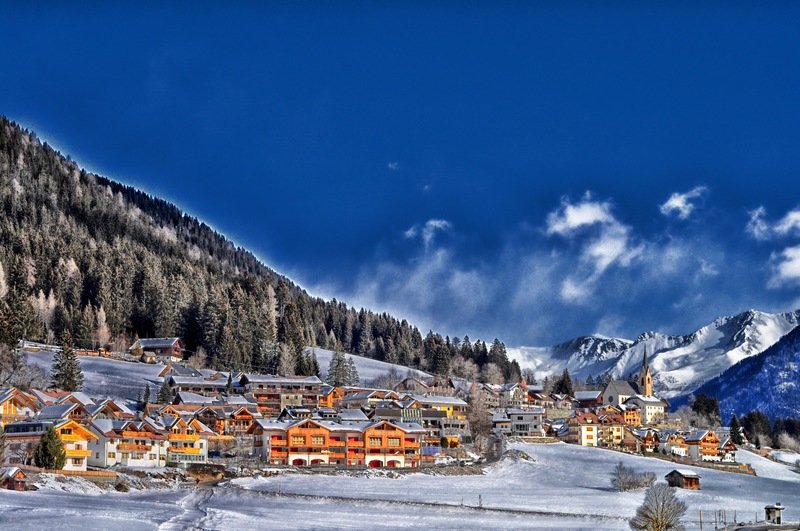 Spring In France – March, April, May.
Mild temperatures and occasional showers characterize spring weather in France. The days  become longer and sunnier, making it the perfect time to explore outdoor destinations such as gardens, parks, and vineyards. The countryside is a kaleidoscope of colors as flowers bloom and the trees become green.
March is the first month of spring in France, and the weather is still cool. If you are in Paris, the temperatures can vary between 39.4°F (4.1°C) and 53.2°F (11.8°C). There will also be some rainy days.
April in France is slightly warmer, though you can expect more days of rain. If you are in the surroundings of the French Alps, there will be fewer snowy days and more rainy days with colder temperatures.
France in May is when the weather starts to get considerably warmer, though it can still be cool in some regions of the country. If you are by the coast in the south of France, temperatures can be between 63.3°F (17.4°C) and 55.8°F (13.2°C), with a few rainy days.
Summer in France – June, July, August.
Summer has some of the best months to visit France, characterized by warm temperatures and plenty of sunshine. It is also a great time for outdoor activities, such as beach visits, picnics in parks, festivals, and cultural events. Therefore it is the best time to visit southern France.
France in June brings agreeable temperatures and clear days. In Paris, average temperatures vary between 54.5°F (12.5°C) and 70.9°F (21.6°C). July is one of the warmest months, with sunny days. If you are by the coast in the southern regions, you can experience sea temperatures of 73.8°F (23.2°C).
France in August has pleasant warm weather and sunny days. If you are in Nice or other coastal cities, you can experience temperatures of between 68°F (20°C) and 76.6°F (24.8°C).
Autumn in France – September, October, November.
Autumn in France is characterized by mild and pleasant weather with occasional rain showers. As the season progresses, the temperature drops and the skies become overcast.
France in September brings cooler temperatures. It is still a pleasant month and even still has swimmable sea temperatures of 72.1°F (22.3°C) if you are in Nice or the surrounding areas.
October is still a pleasant month, with slightly cooler temperatures and rainier days. November is the last month of fall, and the temperatures are significantly cooler. If you are in Paris, temperatures can range from 42.3°F (5.7°C) to 51.1°F (10.6°C).
Best Month to Visit France
France is a popular tourist destination and can be visited at any time of the year. The best month to visit depends on what you're looking for in a trip. June to August is France's peak tourist season. Expect busy roads, crowded beaches, and high accommodation prices during peak season.
However, with warm weather and long days, summer is ideal for beach holidays and outdoor activities. Spring and fall are good alternatives, with mild temperatures and fewer crowds. Winter can be cold and damp, but it is a magical time to visit the Christmas markets and experience the festive atmosphere in cities or to visit the best wine bars in Paris.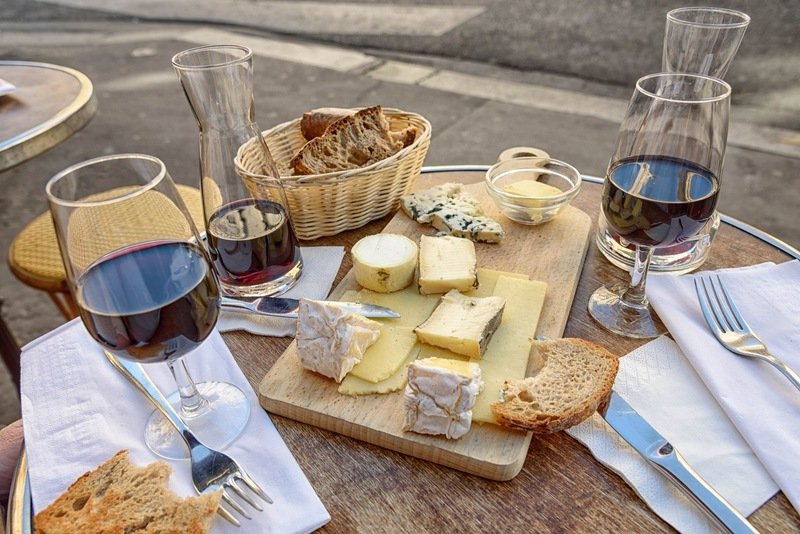 Cheapest Time to Visit France
The cheapest time to visit France is typically from November to March, excluding Christmas and New Year's holidays. During this time, the crowds are fewer, airfare and hotel prices are lower, and many attractions have discounts.
Additionally, many restaurants and cafes offer special menus and promotions during the winter months, making dining more affordable. If you are willing to brave the chill, visiting France during the off-season can be a budget-friendly option for your travels.
Best Time to go to France – Activities and Weather
The best time to visit France depends on various factors, including personal preferences, the specific regions you plan to see, and the type of activities you want to engage in.
Autumn and Winter Activities
Due to the mild weather, the beautiful orange leaves, and fewer crowds, autumn is an excellent time to visit France for some museum hopping and sightseeing. Autumn is also the best time to go to Paris, and it's a great time to visit the Eiffel Tower Summit for a stunning view.
France is beautiful in winter and is particularly great if you want to do some winter sports like skiing and snowboarding. If you are looking for alternative ways to explore the snowy French Alps, why not do a Mountain Tandem Paragliding Flight and get a breathtaking view of Mont-Blanc?
Spring and Summer Activities
Spring in France is idyllic and has pleasant weather. Spring is ideal for outdoor activities such as hiking and walking tours. It is also an excellent time to do a Grand Cru Tasting day trip in the capital of Burgundy wines.
Summer is a popular month in France for a reason. The warm temperatures and green landscapes are perfect for hiking, swimming, sightseeing, or enjoying lunch at a street café. Summer is also the ideal time to do a  cruise and lunch on a catamaran in Marseilles and other coastal cities, where you can swim, snorkel, and dine.
When Is the Best Time to go to France | Final Thoughts.
In conclusion, the best time to visit France depends on your personal preferences and travel style. Whether you're looking for a time to relax and enjoy the country's natural beauty, engage in cultural events, or experience the festive season, France has something to offer year-round.
Once you have decided on the best time to go, France will enchant you with its history, culture, and cuisine and will leave you with memories that will last a lifetime!