Best Time to Visit Lisbon, Portugal
So, you want to travel to Lisbon? Well, you couldn't have picked a more divine destination. A holiday to this Portuguese capital city will provide you with an abundance of unforgettable experiences and fun-filled travel stories.
Situated on the western coast of Portugal, Lisbon is a hub of economics, politics, and tourism. The city's rich culture and unique blend of antiquity and modernity make it a must-see for any traveler.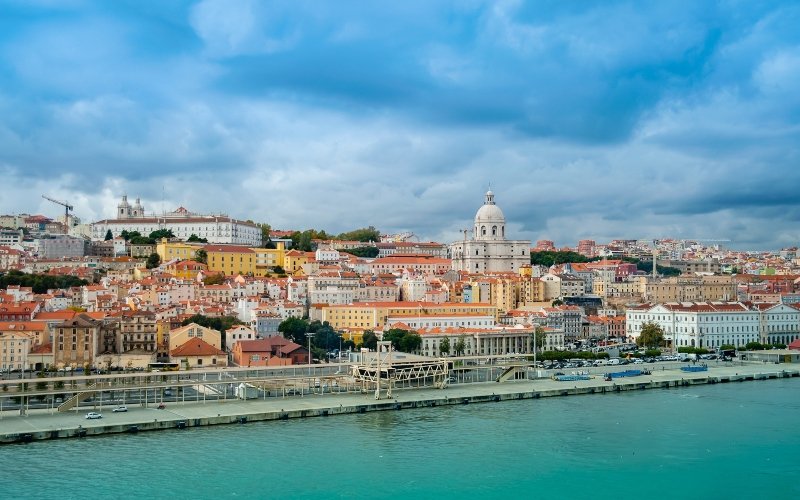 While there are numerous exciting destinations in Europe, Lisbon certainly stands out from the rest. However, before you rush to book your tickets, it's essential to think about the timing of your trip. You have to consider seasonal factors like weather and available activities.
With that in mind, when is the best time to travel to Lisbon, Portugal? Read on to find out.
Best Time to Go to Lisbon
It's true that certain times of the year are better suited to particular activities (e.g., swimming in summer). However, it's important to note there's no wrong time to visit Lisbon. There are countless breathtaking attractions like Belém Tower, which you can explore year-round.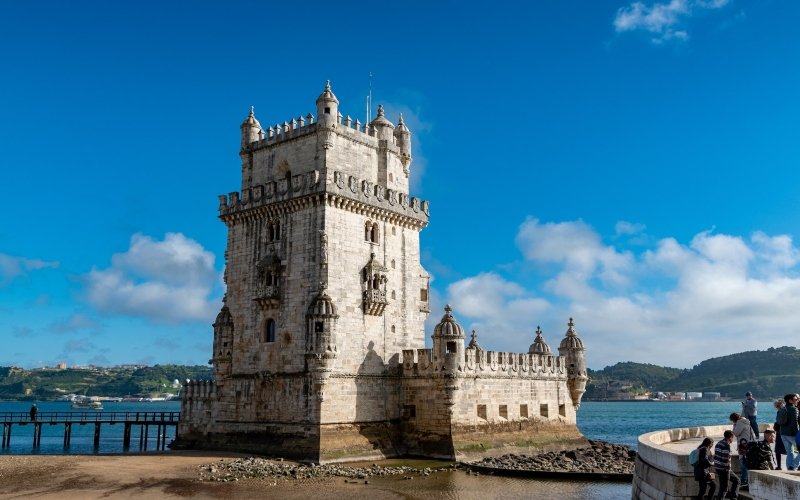 In the early 16th century, King João II ordered the construction of this famous tower along the banks of the Tagus River. The fortress served as a gateway to Lisbon and a means of defending the coastal city against incoming enemies.
Belém Tower is one of the city's most famous contemporary tourist attractions. Visitors can experience its impressive stature and distinctive Manueline (late Gothic) architectural design.
Another popular example of 16th-century Manueline architecture is the Jerónimos Monastery. This majestic structure and Belém Tower have formed a joint UNESCO World Heritage Site since 1983.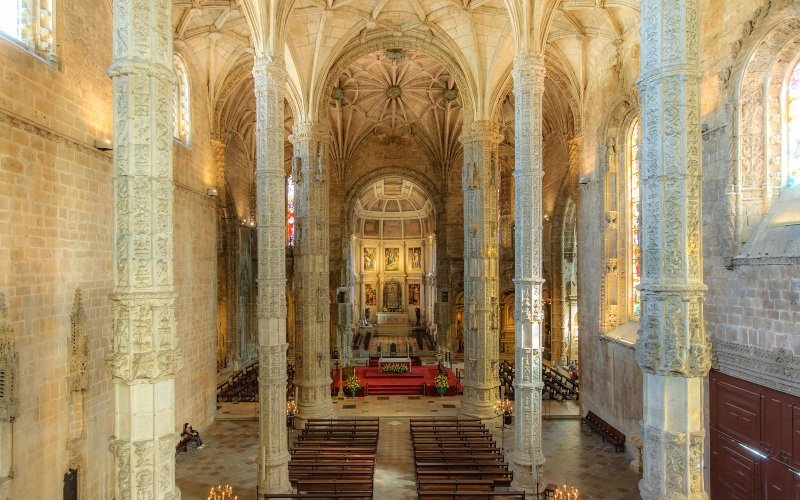 Best Time of Year to Visit Lisbon
Generally speaking, the best time to visit Portugal (including Lisbon) is when the climate is most temperate. While summer weather is lovely for exploring the city, these warmer months (June to August) mark Lisbon's busiest tourist season. This results in large crowds and increased prices for accommodation and entertainment.
It's possible to avoid these downfalls if you visit during mid-to-late spring (April to May) or early-to-mid-fall (September to October). These months are outside the primary tourist season but still have pleasantly warm weather.
However, throughout the year, there are various unique seasonal activities available. Depending on the vacation experience you're looking for, you may want to plan your trip for a specific time.
Researching Lisbon's climate and seasonal attractions can be a time-consuming process. No need to worry, though, because we've done it for you. Below is an overview of exactly what you can expect when visiting Lisbon at different times of the year.
Winter in Lisbon (Dec-Feb)
During winter (December to February), you can expect cold weather and rainy days. Lisbon in January is the coldest time of year, with temperatures in the high 40°F realm (about 9°C). However, as it gets closer to spring, temperatures increase to the low 60°F range (17°C).
This winter weather is warmer than a lot of other European countries. So, in December, you can enjoy the best of both worlds by having a magical Northern Hemisphere Christmas while avoiding freezing temperatures. You can celebrate at some of Lisbon's most well-known Christmas markets.
Campo Pequeno is one of the largest markets and the perfect place to buy unique gifts for your loved ones. Families visiting Lisbon should definitely go to the Wonderland festival at Eduardo VII Park. This event's ice skating rink and massive Ferris wheel provide perfect opportunities for shared family fun.
Rainy days are a great chance to explore museums and soak up some of Lisbon's culture. A must-see option is the National Azulejo (Tile) Museum. Portuguese tile art has been a popular form of creative expression since the 14th century. Visit this museum to take a trip through Portugal's history and experience the awe-inspiring beauty of its traditional tile art.
Spring in Lisbon (Mar-May)
At the start of Lisbon's spring, temperatures are usually in the low 50° F range (11°C). Throughout the season (March to May), temperatures rise and eventually reach around 71°F (22°C).
Lisbon in April marks the start of this warmer weather with an increase in sunshine-filled days. This is an ideal time to explore the city on foot—a truly unique experience considering Lisbon's placement on top of seven hills. However, navigating this sloping landscape can be challenging at times. Make your life easier (and avoid sore feet) by wearing sturdy shoes when out and about.
Quick Tip: Even if you have difficulty walking up hills, you can still explore Lisbon. There are several other ways to travel around the city, including the metro, trams, buses, elevators, and auto rickshaws.
Lisbon's hilly terrain provides a wide variety of stunning viewing spots. The Miradouro das Portas do Sol and Miradouro de Santa Luzia are popular vantage points. Both of these sites overlook the famous historic Alfama district and the Tagus River.
Springtime also provides visitors with numerous opportunities to appreciate Lisbon's natural beauty. The city has multiple parks and gardens for you to choose from. Why not walk through the lush Jardim Botânico da Ajuda, Lisbon's oldest botanical garden?
For a more family-friendly outing, visit the Jardim da Estrela. This quaint local park has a playground, a duck pond, and lots of shady picnic spots.
Summer in Lisbon (June-Aug)
Lisbon's summer (June to August) has lots of sunshine and warm weather. Temperatures usually start around 68° (20°C), but as the season progresses, so does the heat. Lisbon in August is generally the hottest time of year, with averages of 87°F (30.5°C).
Summer is the perfect time to experience some of Lisbon's gorgeous beaches. Just over 20 minutes from central Lisbon, Carcavelos Beach is a fan favorite that's easily accessible via public transport.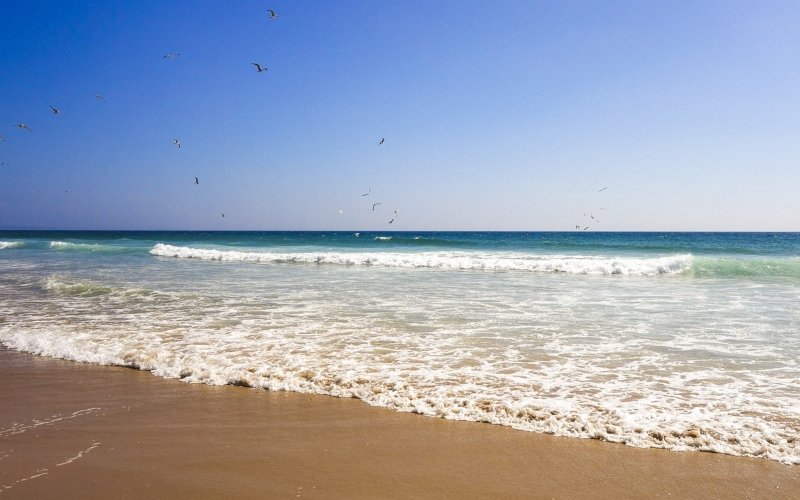 If you want to combine your beach trip with some sightseeing, why not take a day trip from Lisbon to Nazare? Nazare Beach is a well-known surfing spot, so you can catch some waves before exploring the quaint town.
Quick Tip: Lisbon's beaches are popular tourist spots that get very crowded during summer. This makes them attractive targets for petty criminals like pickpockets. To stay extra safe, avoid taking lots of valuables to the beach and closely monitor those you bring.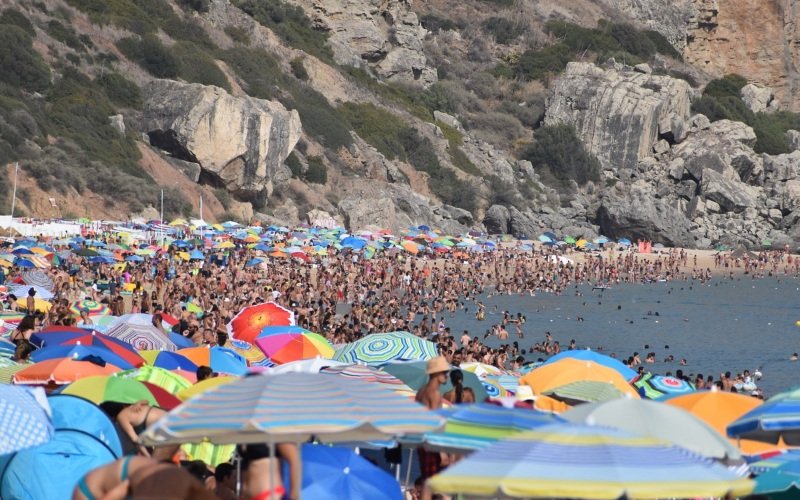 Summer in Lisbon is also an exciting time for festivals. Throughout June, there are city-wide celebrations for the days of St. Peter, St. John, and St. Anthony. One of the most famous events is Marchas Populares—a series of parades containing extravagant performances from each neighborhood.
If you're visiting in June, why not partake in some festival traditions? A particularly unique custom has to do with Manjerico (a basil plant). Join people all over Lisbon as they give their loved ones these plants along with a heartfelt message or poem.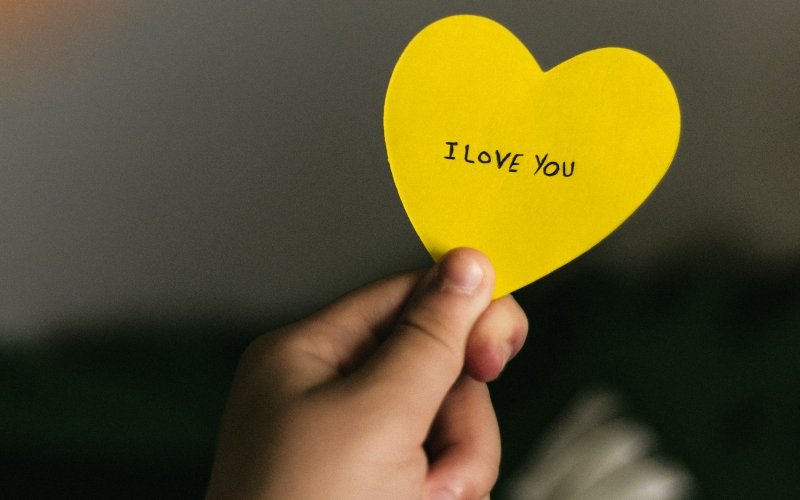 Fall in Lisbon (Sept-Nov)
Lisbon's fall season takes place between September and November. Average temperatures start around 78° or 79°F (25° to 26°C). However, in preparation for winter, Lisbon in November sees temperatures dropping toward the mid-50°F range (12°C).
Don't worry, though, because the festivities of Saint Martin's Day on November 11 will keep you warm. Although it has religious origins, this day is now commonly celebrated as a harvest celebration. Attend a local Magusto (celebration festival) and indulge in delicious roasted chestnuts and wine from the recent harvest.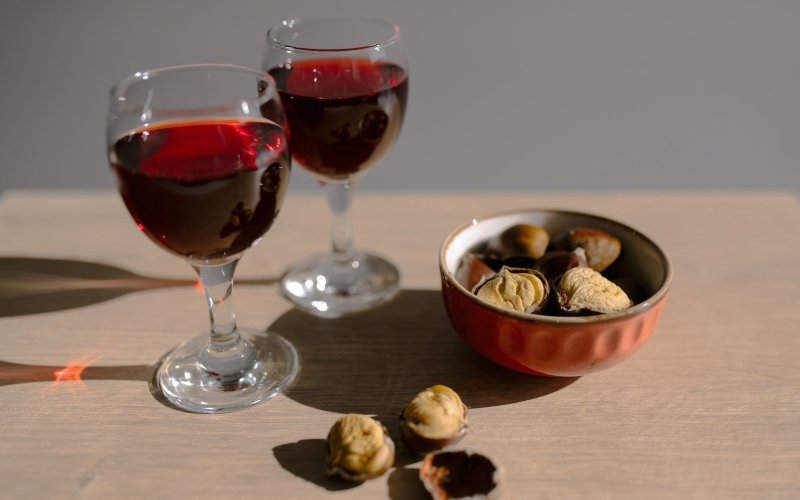 The start of fall is a great time to enjoy some outdoor tourist experiences before the colder weather begins. During this season, there are numerous water-based activities in Lisbon for you to enjoy. Particularly top-rated options include boat tours and cruises.
These unique experiences allow you to view some of the city's most famous landmarks without even being on land. You also have the option to watch the sunset embrace Lisbon in a picture-perfect golden glow.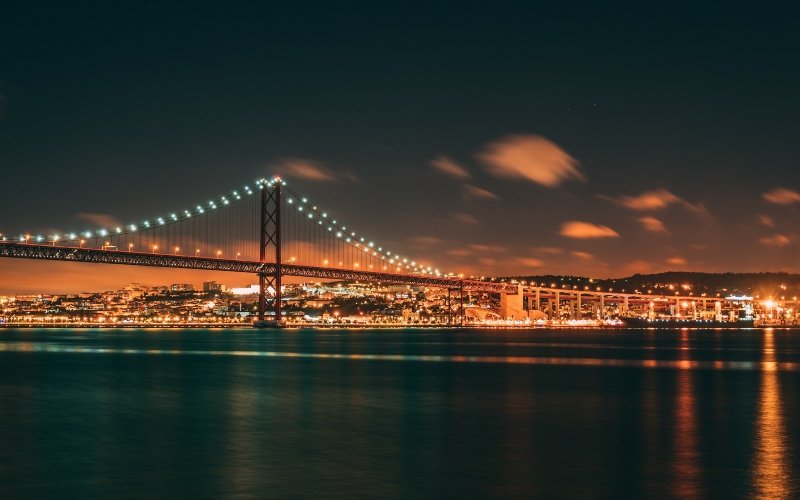 On evenings spent ashore, you can immerse yourself in the city's vibrant nightlife. The Barrio Alto district is home to a plethora of bars. However, the buildings' small sizes mean crowds generally spill out onto the street.
You can get to know some locals and fellow tourists while listening to Lisbon's famous Fado music. This genre is a quintessential part of the city's character and has even earned a place on the UNESCO List of Intangible Cultural Heritage.
Best Time to Travel to Lisbon | Final Thoughts
The time of year you decide to visit Lisbon will inevitably impact your vacation experience. The city has a wide variety of seasonal weather and related activities. By planning your holiday with this in mind, you can ensure you have the best trip possible.
If you want to know the best time to travel to Portugal, knowing when to visit Lisbon is a great start. The city's weather is similar to the rest of the country. After reading this guide, you should already have an idea of the best time to go to Portugal for your ideal holiday.
As a bonus, Lisbon's hub status makes it an excellent jumping-off point for visiting other parts of the country. If you're interested in other Portuguese destinations, consider this trip from Lisbon to Obidos, a picturesque nearby town.
All that's left now is for you to book your flight and have the adventure of a lifetime.