Full of culture and beauty, it's no wonder Madrid captivates millions of visitors each year. There are countless exciting things to see and do in the city, each one adding to the endless list of attractions in Spain. But did you know that certain times of the year are better for a Madrid holiday than others?
Weather, prices, entertainment, and accommodation—all these factors fluctuate throughout the year and will influence your trip to this popular tourist destination. So, when is the best time to visit Madrid? Keep reading to ensure you get the most out of your vacation to this enchanting Spanish capital city.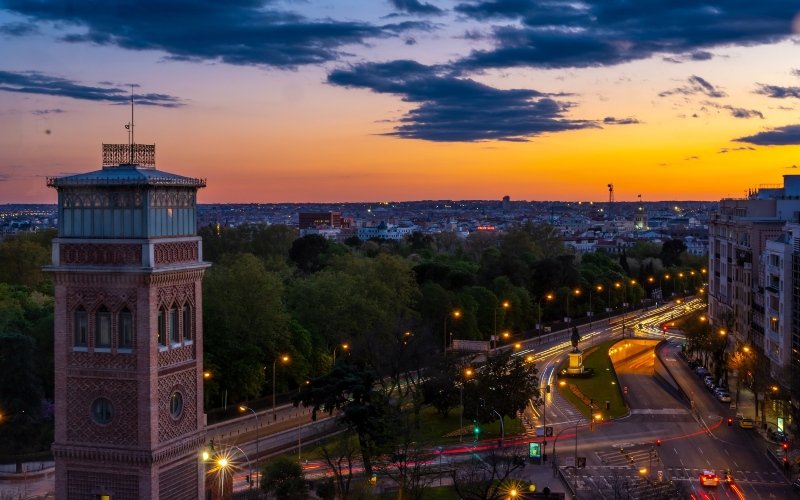 Best Time to Go to Madrid
The best time to travel to Madrid depends on how you plan your vacation. The city has a variety of seasonal activities that can shape your holiday experience.
There are also several iconic Madrid staples that you can experience no matter when you visit. Famous for its diverse atmosphere, Madrid is a European center of art and culture. It has numerous well-known museums, including the Prado National Museum.
This world-famous establishment showcases various European, and particularly Spanish, artists from throughout history. It's also home to the works of renowned artists like Raphael, Francisco Goya, and Rembrandt. The Prado Museum offers visitors a once-in-a-lifetime viewing experience that's not to be missed.
Quick Tip: The museum's popularity means it's often overcrowded, with lots of long queues. Make your life easier and skip the line by purchasing your Prado Museum tickets in advance.
Madrid Months and Seasons
Throughout the year, you'll find various seasonal attractions and activities in Madrid. Partaking in any of these will allow you to explore the city in a unique way. However, it's essential to time your trip to coincide with the pursuits you would most enjoy.
Knowing when to visit Madrid can take time and effort. To simplify this process, we've compiled some of the best-known attractions and activities available each season.
Winter in Madrid
December through February mark Madrid's winter season. Average temperatures fall within the 40° Fahrenheit range (4.4° to 9.4° Celsius). While it may be chilly, the chances of snowfall are generally low, and you can still easily explore the city on foot.
Visiting Madrid during the winter is the perfect opportunity to warm your body and soul with some uniquely Spanish delicacies. The traditional combination of hot chocolate and churros is sure to become your new favorite treat. For something a bit more filling, you can also try Madrid's iconic "cocido madrileño"— a tasty chickpea, meat, and veggie stew.
Continuing down the culinary path, New Year's Eve also has a specific food-based tradition. In Spain, it's customary for people to eat twelve grapes as midnight hits. Each grape represents a month, and eating all twelve means you're in for a prosperous new year.
This distinct New Year's Eve tradition unifies individuals throughout the country. Many people gather to eat their grapes together at midnight. A popular gathering spot is Madrid's main square, Puerta de Sol.
Both before and after midnight, crowds in Puerta de Sol celebrate the new year with gusto. There's an abundance of music, food, drinks, and dancing. If you're in Madrid for New Year's Eve, why not join in and experience the party of a lifetime?
Quick Tip: Even if large crowds aren't your thing, you can still celebrate New Year's Eve in typical Madrid style. Make a restaurant reservation to enjoy dinner, with grapes (of course), and some festive entertainment.
Spring in Madrid
Madrid in March, April, and May is a time of festivities and natural beauty. During spring, temperatures steadily increase within the 50° to mid-60° Fahrenheit range (10° to 18.3° Celsius). This temperate climate makes spring an especially pleasant time to explore Madrid.
You wouldn't be alone in booking a springtime trip to Madrid because of this enticing weather. Visitors flock to the city during springtime, meaning it's particularly crowded and pricey this time of year. However, there are numerous ways to accommodate this.
Navigate the crowds easily with a guided tour and save some money through a group booking with some fellow visitors. This Madrid tapas tour is a great way to explore the city through the international language of good food and wine.
One of Madrid's most popular springtime attractions is Easter Week (also called Holy Week). The celebrations for this religious and cultural event are a vibrant mix of religion, culture, tradition, and community.
Join the crowds as they watch various processions make their way through the streets of Madrid. With brightly colored outfits and lively music, you'll quickly find yourself immersed in the spirit of these proceedings.
Spring also provides the opportunity for various outdoor activities. Unwind with a picnic or stroll in Madrid's Retiro Park or Royal Botanical Gardens. These joint UNESCO World Heritage Sites are so beautiful, they'll make you feel like you've stepped into a postcard.
Summer in Madrid
Madrid's summer takes place between June and August and is the hottest time of year. Average temperatures fall within the high 70° and mid-80° Fahrenheit range (25° to 29.4° Celsius), while highs often reach over 90°F (32.2°C).
Staying cool during the summertime is essential in Madrid. Luckily, the city has great water-based attractions, including several public pools. Madrid also has a number of waterparks like Aquopolis that are perfect for family vacations. Both adults and children can beat the heat while enjoying the fun-filled water rides.
Quick Tip: Book your tickets on the official Aquapolis website to avoid queues and get access to special discounts.
Summer in Madrid is also famous for its many festivals and exciting nightlife. Music lovers are sure to enjoy the series of concerts featured during the Nights at the Botanical Gardens. This production takes place over a month and includes live performances by famous local and international musicians from all genres.
Another must-see event is the Veranos de la Villa. This one-of-a-kind festival lasts for nearly two months and showcases various creative pursuits. Attractions include music, dance, film, art, and theater. With so much on offer, this program has something for everyone to enjoy.
Another popular event is Madrid's Pride Festival (MADO), which begins on the first Saturday of July each year. Held in the neighborhood of Chueca, MADO is one of the best-known pride festivals in Europe.
Key activities include the pride parade and various outdoor concerts and artistic performances. This vibrant festival highlights and promotes Spain's diverse population and progressive LGBTQ+ laws.
Autumn in Madrid
The weather changes vastly during Madrid's autumn months of September, October, and November. Temperatures drop from a balmy average of around 70° Fahrenheit (21° Celsius) to somewhere within the high 40°F range (9°C). This time of year also sees the most rainfall (particularly in October and November).
September marks one of the first months in the Northern Hemisphere's football season. Multiple competitions are ongoing, including La Liga, Spain's Premier Football Championship. Considering this, there's no better time to brush up on your football knowledge. What better way to join in the spirit of things than with a Real Madrid Stadium Tour?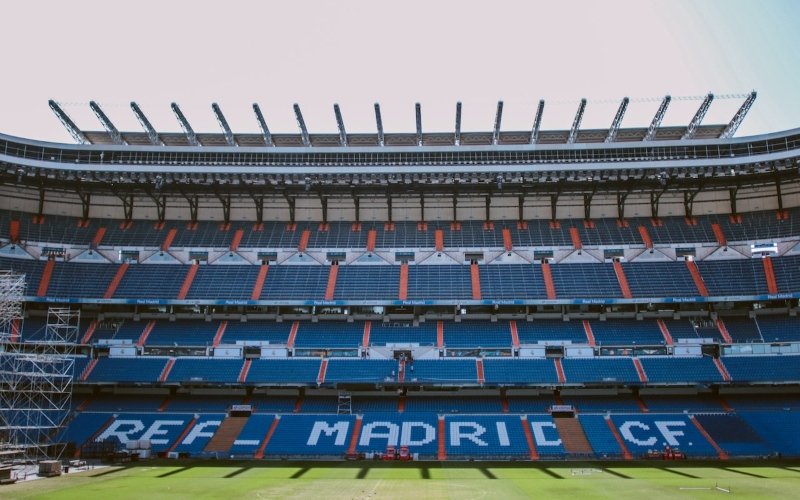 When you think of October, Halloween is usually the first holiday that comes to mind. However, Halloween itself is not a widespread celebration in Spain. More commonly, people observe All Saints Day on the first of November.
This religious holiday is a time to remember and celebrate lost loved ones by paying respects at their graves. Tourists visiting Madrid this time of year can still partake in this tradition with a guided cemetery tour. These popular tours happen from late October onward and are a unique way to immerse yourself in the spirit of All Saints Day.
A common tour site is the Almudena cemetery in Madrid. You can admire Almudena's intricately designed sculptures and monuments and visit several famous graves. Some of the most interesting gravesites include those of Niceto Alcala-Zamora (president of the Second Spanish Republic) and Vicente Aleixandre (a Spanish poet who won the 1977 Nobel Prize for Literature).
Best Time of Year to Visit Madrid | Overview
Here's a quick breakdown of some unique experiences you can have in Madrid at different times of the year.
December to February: During these months, there are several opportunities to experience Madrid's culture, food, and traditions through the festive season celebrations.
March to May: This is a popular tourist season with increased crowds and prices. The temperate weather is ideal for sightseeing and enjoying the city's natural beauty.
June to August: The hottest and most lively time of year. The numerous festivals and celebrations are perfect for anyone who enjoys music and other artistic performances.
September to November: A great time to learn about Madrid's history and celebrate All Saints Day through one-of-a-kind guided tours.
Best Time to Visit Madrid | Final Thoughts
Madrid is a wonderful destination that's sure to provide you with some truly unforgettable vacation experiences. The best time of year to visit the city depends on what kind of holiday you want to have. By taking note of the weather conditions and seasonal attractions on offer, you can easily plan your ideal trip.
If you want to explore more of Spain, Madrid's central location makes it a great starting point. A popular addition to any Spanish vacation is the bustling city of Barcelona. To see what's on offer, consult this handy guide on the best time to visit Barcelona.