Have you ever been to a city that's built across 14 islands? If not, you should immediately put Stockholm at the top of your list of must-visit destinations. 
Sweden's picturesque capital is renowned for its beautiful architecture, luscious greenery, sparkling canals, and contemporary feel. Its climate is characterized by massive seasonal changes, making choosing the right time to go rather tricky, as each season has its perks and downfalls. 
Have you heard mixed reviews about the ideal time to visit Stockholm? The best time to visit Sweden depends entirely upon your holiday objectives. To plan your vacation accordingly, we've compiled a valuable guide on the best time to go to Stockholm.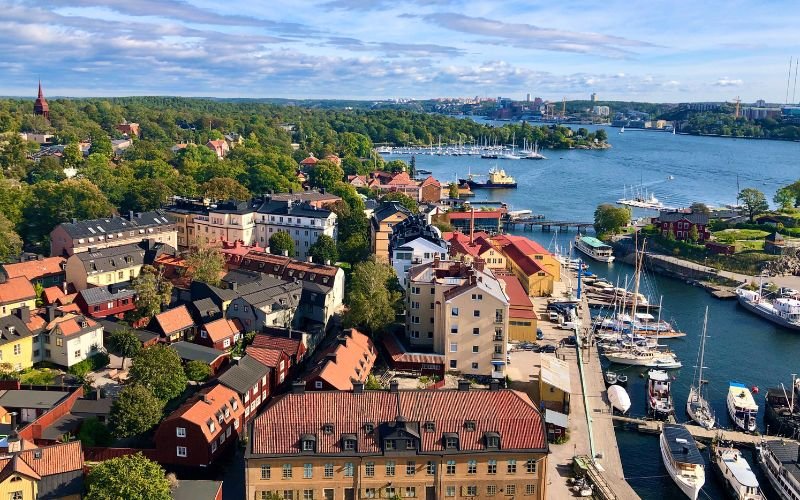 Why Visit Stockholm?
Sweden's capital is an intriguing harmonization of urban and natural wonder. Its charming architecture and gorgeous waterfront promenades are coupled with quaint alleyways and lush island parks. 
Globally, Swedes are among the happiest people, and that's not surprising given that Stockholm is one of the most liberal cities in the world. With a society built on individualism and equality, Stockholm's atmosphere is warm and welcoming. 
Stockholm is the perfect place for nature enthusiasts and city slickers alike. Known for its exquisite Nordic cuisine and centuries-old history, Stockholm is sophisticated, clean, and easy to explore, making the city every traveler's ideal destination. 
Deciding on the Best Time to Visit Sweden
Perhaps you're dreaming of having warm summer swims in the glistening waterways of Stockholm. Or maybe you picture yourself wandering through snow-covered streets to explore cozy food markets and modern art galleries.
Come rain or shine, Stockholm is a city that won't disappoint – no matter the month! Below, we've provided an essential breakdown of the various perks, weather, and activities you can enjoy each season in Stockholm.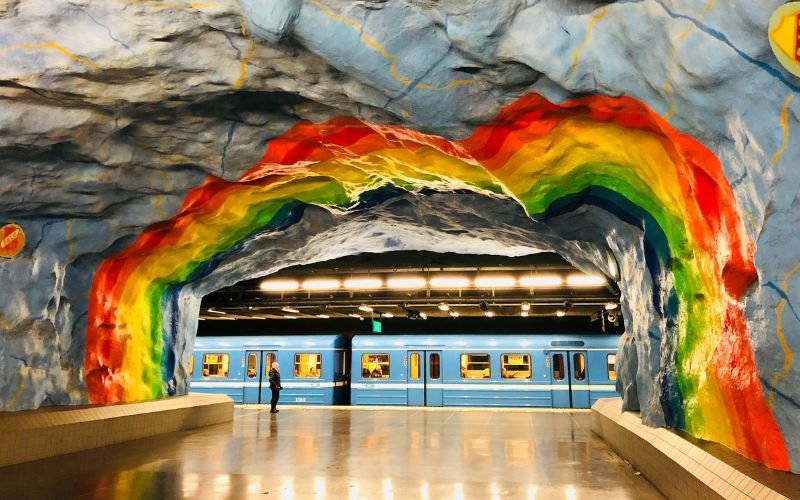 Travel Tip: Only bring a little cash to Stockholm. Many shops, restaurants, and some modes of public transport are cash-free, relying instead on card or electronic forms of payment. 
Stockholm Spring
After a long, cold, and dark winter, the Swedes greatly anticipate spring in Stockholm. In Sweden, spring officially starts mid-March and lasts until the end of May. 
Restaurants and cafes also begin to open their patios for outdoor dining. Flowers blossom, and parks come to life. The air is crisp and fresh; you can trade your bulky winter coat for a lighter jacket for walking around.  
Stockholm Temperatures by Month
March temperatures range from average lows of 30℉ (-1℃) and average highs of 41℉ (5℃).

 

Temperatures in Stockholm in April are between 37℉ (3℃) and 52℉ (11℃).

 

Stockholm in May experiences lows of around 45℉ (7℃) and highs of around 63℉ (17℃).

 
Stockholm Spring Activities
Book a Stockholm boat tour and explore the various waterways and islands that make up the city. 
Spring is a perfect time to rent a bicycle to travel through Stockholm. You can explore the city's archipelago via 472 miles (760 km) of cycle paths and lanes. Be sure to cycle to the center of Stockholm to see the glorious cherry blossom trees in Kungsträdgården Park. 
While here, celebrate Valborg in the last week of April – a traditional Swedish celebration about embracing the arrival of spring. Expect to see large bonfires and people gathered in the parks and along the water, listening to music, choirs, and speeches, all commemorating spring and its abundance. 
Stockholm Summer
During Stockholm summers, days are at their longest, temperatures at their warmest, and Swedes at their happiest. If you visit Stockholm in the summer, you'll likely experience the midnight sun – when the sun doesn't set. 
Stockholm is a green town, full of relaxing outdoor areas and summer bathing spots that make spending summer in the city not quite like you'd imagined! It is here where you can connect with nature while still enjoying the best of urban life. 
Summers in Stockholm revolve around being on, near, or in the water. This is mainly because the water surrounding the city is so clean and clear. You can swim pretty much anywhere in Stockholm – even in the middle of town. 
Sweden Summer Temperatures
The weather in Sweden in June is pleasantly warm, with average lows of 54℉ (12℃) and average highs of 70℉ (21℃).

 

Stockholm's weather in July is the warmest annually. Average temperatures range from 57℉ (14℃) in the evening and 73℉ (23℃) during the day.

 

Swedish weather in August is also lovely, with average lows of

 

57℉ (14℃) and highs of 70℉ (21℃).

 
Stockholm Summer Activities
Summer is the perfect time to cruise through the archipelago on a Royal Canal Tour Stockholm. Enjoy panoramic views of the islands and Stockholm from the water. If you're craving a beach day, visit one of Stockholm's most popular beaches on Långholmen island – a perfect spot for picnics, walks, and swimming. 
Midsummer is a cherished Swedish tradition commemorating the longest day of the year. Celebrated on a Friday between the 19 and 25 of June, enjoy traditional festivities such as folk dancing, wreath making, singing, and games around the maypole. The best place to experience the Midsummer is at Skansen Open Air Museum on Djurgården island. 
Stockholm Fall
There are plenty of reasons to visit Stockholm in the fall, when the city is arguably its most beautiful.
Although the weather may be a bit cooler, Sweden in the fall is perfect for visiting museums, spending time in nature, and adopting a fika mindset cozying up in quaint coffee shops. 
Plus, visiting Stockholm in the fall means you'll benefit from fewer crowds and eye-catching colors. 
Stockholm Temperatures in Fall
Stockholm in September experiences average lows of 50℉ (10℃) and highs of 63℉ (17℃)
Stockholm in October sees temperatures range from lows of 43℉ (6℃) and highs of 50℉ (10℃)
Temperatures in Stockholm in November range from a cold average of 36℉ (2℃) to a still chilly 43℉ (6℃).

 
Stockholm Fall Activities
History lovers should pay a visit to the National Museum. For modern art enthusiasts, make sure to check out the Wetterling Gallery. Stockholm's museums and galleries often have free entrance on certain days between certain hours. Double-check the official websites of museums and galleries to see when this may be. 
Located just 15 minutes from Stockholm is the Sörmlandsleden hiking trail. The route covers 363 miles of pristine forest and lake areas. You can start at various points along the path and cover as much ground as you'd like. The hike is moderate and very accessible. 
In Sweden, a fika is a term used to describe when friends meet over a coffee and a little something to eat – typically a cardamom or cinnamon bun. Fall is the perfect time to cozy up in Stockholm's cafes and adopt a fika mindset. 
Stockholm Winter
Winter in Stockholm is a perfect time to visit if you're looking for Christmas markets, spiced glögg, and plenty of snow-and-ice-based activities. 
Stockholm winters last five to six months and can be long and cold. If you're gearing up to experience winter in Stockholm, prepare for as little as six hours of sunlight daily. 
Even though winters in the city can be harsh, you can still enjoy many activities. The spirit of Stockholm is certainly not dimmed in winter. 
Stockholm Winter Temperatures
Stockholm in December has average temperature lows of 30℉ (-1℃) and highs of 36℉ (2℃).

 

Stockholm in January has even colder average temperatures of between 27℉ (-3℃) and 34℉ (1℃).

 

Stockholm's average February temperatures also range from 27℉ (-3℃) and 34℉ (1℃).

 
Stockholm Winter Activities
Experience all that Stockholm offers gastronomically by visiting one of its most famous indoor food markets – the Östermalms Saluhall. This world-renowned food market has been around since the 1880s. Stay cozy and sample everything from gourmet meats, cheeses, chocolates, and seafood. 
To make your trip unforgettable, warm up in a Stockholm sauna. Swedish saunas are the perfect embodiment of Scandinavian customs and culture. These are found at gyms, yoga studios, and swimming pools. If you go to a sauna in Stockholm, remember that nudity is customary, and keep your eyes up! 
Another perfect winter activity is to go ice skating at Kungsträdgården. Located in the center of Stockholm, Kungsträdgården is free and open to all, and you can rent ice skates on-site. 
To experience ice skating on a frozen lake, visit Trekanten Lake in southern-central Stockholm. Remember that this lake may only operate for ice skating at certain times of the year, depending on the temperature and weather.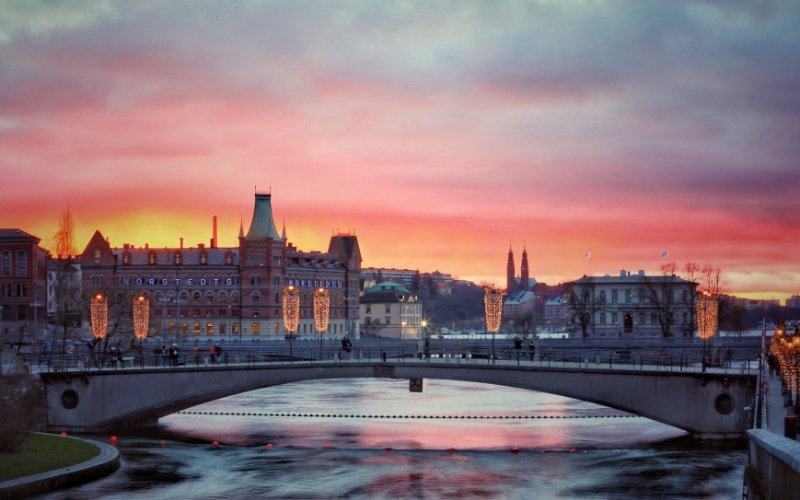 Wrapping up: When to Visit Stockholm
The high season in summer is the best time to go to Sweden for long hours of daylight, midnight sun, and warm, pleasant weather. This is an ideal time to visit if you enjoy swimming and beach-based activities. 
The shoulder season months of mid-April to May and September to mid-October are best for longer days, pleasant weather, and more affordable pricing. These shoulder seasons are also perfect for exploring the parks and forests and can be some of the best times of year to visit Sweden. 
If you're craving a white Christmas and want to experience Stockholm as a winter wonderland, visiting in December, January, or February is your best option. 
Read next to discover the best time to visit Norway for the Northern Lights.