Overflowing with culture, history, and beauty, it's no wonder Venice has inspired creative works throughout history. Known as "The Floating City", this dream destination draws in millions of tourists every year. However, it's important to note that the timing of your trip will undoubtedly influence your experience of Venice.
The city is home to some of the biggest attractions in Italy, including the world-famous Venetian canals. By planning your holiday carefully, you can ensure you get the absolute most out of your visit. But how do you do this? Read on to discover everything about the best time to visit Venice, Italy's most magical city.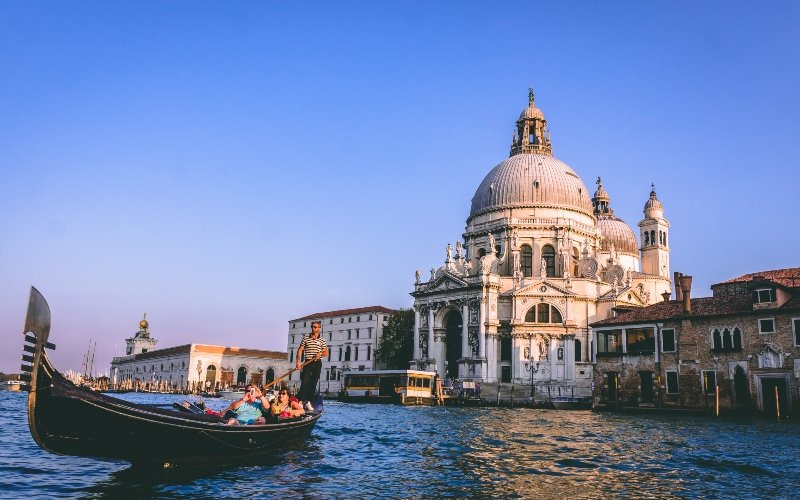 Best Time of Year to Visit Venice
Spanning 118 islands on the coast of Italy, Venice is a place unlike any other. The city has been a UNESCO World Heritage Site since 1987. As such, it has an endless array of attractions that visitors can experience year-round.
A truly fascinating place to visit is Doge's Palace. This magnificent building was originally a royal palace but is now a carefully preserved museum. Besides admiring the building's beauty, you can explore its many attractions, including the Institutional Chambers, Doge's Apartment, and courtyard.
Art enthusiasts can view the various artworks exhibited, including paintings by Vittore Carpaccio. Another point of interest is the Palace's prison from which Casanova famously escaped in 1756.
Doge's Palace is just one of the exciting attractions Venice has to offer. There's no doubt that visiting this picturesque city will provide you with some truly unforgettable experiences.
To put it simply: there is no wrong time to visit Venice. However, depending on the kind of vacation you want, certain times can be better than others.
So, when is the best time to visit Venice? Weather conditions change throughout the year, which, in turn, influences possible activities and attractions. By noting this, you can book your trip for a time best suited to your ideal holiday experience.
Quick Tip: Due to the city's many canals, you can't travel via car in Venice. Instead, the best ways to explore your surroundings are by walking or using a Vaporetto (water taxi).
Venice: Seasonal Weather and Attractions
Deciding when to visit Venice can involve a lot of time-consuming research. Don't worry, though, because we've done it all for you. Below is an overview of specific weather and activities in Venice throughout the year.
Note: While Venice's weather changes with each season, you can always be sure to experience some humidity. The city's proximity to water means there's a humid climate all year round.
Winter in Venice
December to February is winter in Venice. Temperatures usually fall between 40° and 42°F (4° and 6°C) and rarely drop below freezing. These conditions make Venice one of the most pleasant places to spend winter in the Northern Hemisphere.
However, be aware of the possibility of "acqua alta"' (high tide). When the Venetian Lagoon's water levels increase, the streets of Venice often flood. No need to panic, though — this only occurs a few times per year and isn't serious. The water usually rises about 43 inches (110 centimeters) above ground and subsides after a few hours.
On the off chance acqua alta does occur during your visit, the city has elevated platforms on which you can walk. You can also pack rain boots for some extra waterproof protection.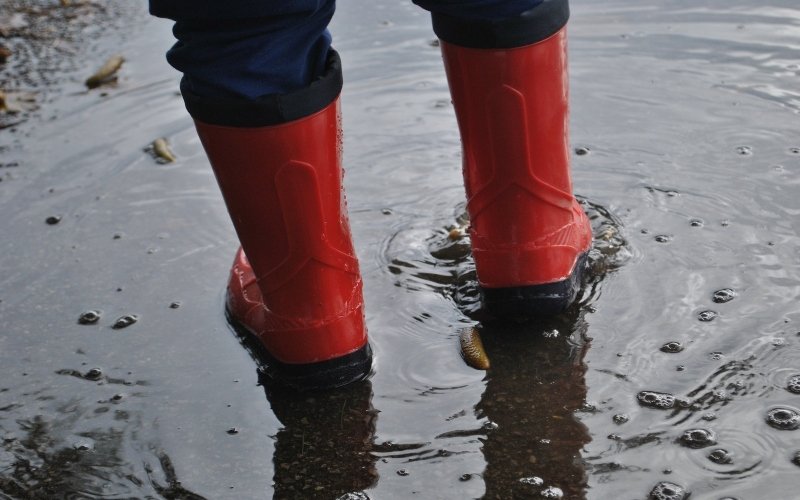 There's a wide variety of exciting things to see and do when visiting Venice in winter.
However, the season is Venice's least popular time for tourists. This makes it perfect for visitors wanting a less expensive, crowd-free holiday.
One of Venice's best-known wintertime events is Carnival. This 10-day religious festival usually happens in early February. While the start date varies each year, Carnival always ends on Shrove Tuesday before the start of Lent.
No matter the timing, this extravagant festival inevitably transforms Venice. Masks and costumes are a key part of the celebrations. Enjoy the vibrant colors and beauty of the countless street processions, performances, masquerades, and parties.
Spring in Venice
Spring occurs in Venice in March, April, and May. Over these months, average temperatures increase from around 48° to 66°F (8.8° to 18.3°C), and rain turns into sunshine.
A springtime holiday is ideal for tourists who enjoy spending time outdoors. The Mystical Garden of the Discalced Carmelites is one of the city's greatest hidden gems. This picturesque and serene garden is located within a centuries-old convent and makes for a perfect place to commune with nature.
A significant spring holiday is Easter. If you visit Venice during this time, you'll get to celebrate in traditional Venetian style. The week leading up to Easter consists of various religious customs.
Watch one of the captivating Via Crucis parades that take place throughout the city. Afterward, indulge in some delicious traditional Easter food like bussolai (butter cookies) and fugassa (sweetened flatbread).
Another great attraction is St Mark's Day on April 25th. This uniquely Venetian holiday celebrates the city's patron saint. It also links to a romantic tradition based on a tragic ancient love story.
In this story, a young maiden dies on April 25th while holding a bloodstained rose from her beloved, who had recently died in battle. This rose came to represent the couple's pure and everlasting love. As such, it's become a Venetian custom to present those you love with a red rose on April 25th.
Summer in Venice
Summer is Venice's busiest tourist season. From June to August, the weather is hot, sunny, and extra humid. Average temperatures fall between 70° and 80°F (21.1° to 26.6°C), and highs easily exceed 85°F (29.9°C). Beat the heat with light, airy clothing, and protect yourself from the sun with lots of sunscreen.
A great way to spend summer in Venice is by enjoying the city's Lido. This beach area is perfect for suntanning, swimming, and appreciating the ocean view. The water is very shallow unless you go far out. This makes the Lido an excellent place for families because children can safely splash about near the shore.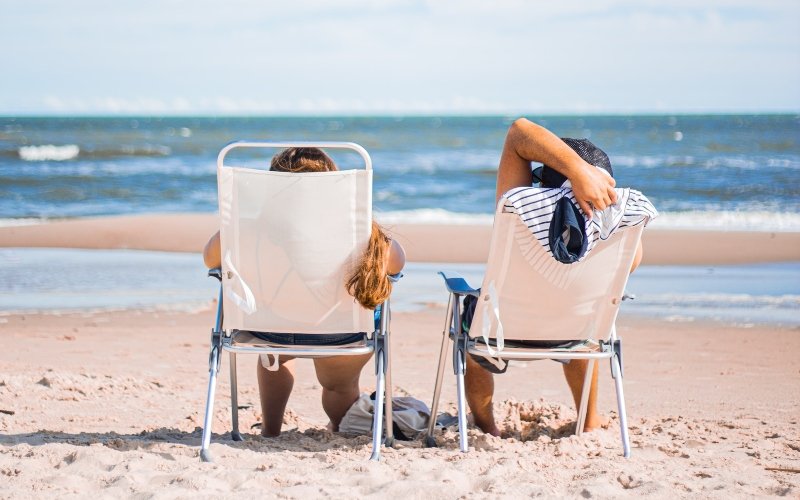 If you're looking for world-class entertainment, why not attend the annual Venice Film Festival at the beginning of September? This spectacular event is right near Venice's Lido, so you're in for an evening of great entertainment combined with gorgeous ocean views.
This Festival will make you feel like you've just stepped foot into Hollywood. Besides being able to catch glimpses of your favorite celebrities, you can also buy tickets to attend certain screenings. So, sit back, relax, and enjoy some of the best new movies from across the globe.
Quick Tip: Crowds of tourists exacerbate Venice's summer weather. Extra bodies mean extra heat, especially in cramped spaces. It's easy to become dehydrated in these situations, so drink lots of water throughout the day.
Autumn/Fall in Venice
Venice's autumn takes place between September and November. During this time, average temperatures decrease from the high 60s to around 50°F (between 20° and 10°C). The season starts with sunny days that gradually become rainier as winter approaches.
September's temperate weather makes it easy to catch a vaporetto to Burano, Torcello, or Murano — the islands of the Venetian lagoon. Each island has beautiful attractions for you to explore. Murano in particular is famous for its hand-blown glass creations. For a unique, hands-on experience, why not book a Murano glass factory tour?
You can also immerse yourself in Venetian culture, art, and history by visiting some of the city's famous museums. Besides Doge's Palace, St Mark's Square also houses an array of other interesting sites like the Oriental Art Museum and National Archaeological Museum.
When visiting Venice in November, you can experience the traditional Feast of the Madonna della Salute. This religious holiday links to an important moment in Venice's history. In 1631, a plague was ravaging the city, and locals prayed to the Virgin Mary (Madonna) for aid.
Miraculously, the plague soon subsided. In honor of this, the Doge ordered the construction of the Madonna della Salute Church. On November 21st, Venetians flock to this church to commemorate and joyously celebrate the events of 1631.
Quick Tip: Skip the queues and save money with a Venice Museum Pass. This pass gives you easy and free access to all Venice Civic and St Mark's Square museums.
Summary of The Best Time to Go to Venice
December to February: This is Venice's coldest time of year with the fewest tourists. These are the ideal months for travelers looking to avoid crowds and save money.
March to May: The best time to appreciate Venice's natural beauty. An excellent season for visitors who are keen to spend time in nature.
June to August: There are Venice's hottest months with the most tourists. They're the perfect time for those who love spending days at the beach and don't mind crowds.
September to November: The easiest time to explore Venice. An excellent season for tourists wanting to immerse themselves in Venetian culture and tradition.
Best Time to Visit Venice | Final Thoughts
Venice is a one-of-a-kind holiday destination that's not to be missed. When planning your trip, take note of seasonal weather and attractions to ensure your vacation aligns with all your wants and needs.
Once you've figured out the best time to go to Venice, Italy is your oyster. "The Floating City" is a great starting point for further Italian adventures. If you need some extra inspiration, why not check out the best time to visit Rome, Italy's glorious capital city?