Austria's capital, Vienna is known for its incredible culture, from Sachertorte to the Hapsburg dynasty. Its impressive music and history feature notable characters such as Mozart and Sigmund Freud. Needless to say, Vienna has a rich past, featuring everything from coffee and cake to groundbreaking psychological beginnings.
Do you love snowy Christmases, lush parks, and some of the most delicious coffee in the world? Or are you interested in soaking in the glorious 13th-century architecture of Hofburg Palace? If that's not your speed, then you may fall in love with the Naschmarkt open-air market.
Navigating weather, costs, and activities can be tricky with so much to do year-round. But with the correct information, you'll come to realize Vienna is a gem, much like the crown jewels of its previous empire. To discover the best time of year to visit Austria's capital, keep reading to find out.
Best Time to Go to Austria's Capital Vienna | Seasons
You might be wondering when to visit Vienna and which season will suit your needs the best. Knowing the right season and month to see is crucial when planning your trip. There are also the peak, shoulder, and off-tourist seasons to think about when it comes to costs and available activities.
The capital belongs to the central European transitional climate zone that experiences both oceanic and continental weather. That means you can expect warm summers and cold winters with some wind and rain.
Throughout the year, you can see variable weather changes, such as overcast days, unexpected rain, and snow in winter.
The following section breaks down each season, to help you find the perfect time to plan your trip.
Tip: Always pack an umbrella and waterproof jacket during the rainy season (May to September) to avoid being uncomfortable when you're out and about.
Vienna in Spring
Springtime in Vienna is relatively chilly in the beginning and warms up nicely by the end of the season. In March, you'll find the weather is still cold, with an average low of 32°F (0°C) and an average high of 48°F (9°C).
April warms up considerably as spring is in full force, with temperatures reaching a low of 39°F (9°C) and a high of 57°F (14°C). May is the warmest spring season that averages high and low temperatures of 48°F (9°C) and 68°F (20°C), respectively.
This shoulder season follows the off-season of winter, and tourism begins ramping up once again during this time. So you have the benefit of better weather, fewer crowds, and cheaper prices. There is plenty to do during these months.
Some notable events and activities include the Easter markets hosted around Vienna in March. Then there is the Blues Spring Festival in April which hosts regional and international blues musicians like the Eamonn McCormack Band. Finally, in May, the Genuss Festival hosted in Stadtpark showcases the best food in Vienna.
Vienna in Summer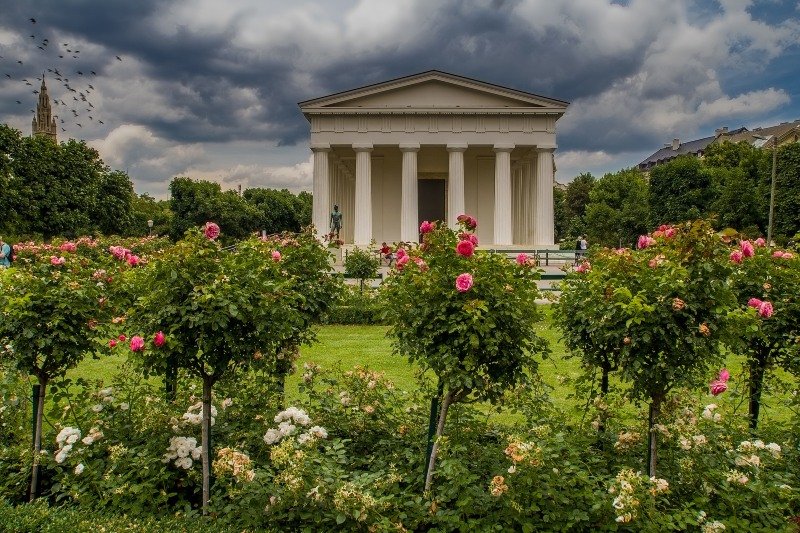 Summer is the peak season in Vienna and can be more comfortable for those who prefer warmer temperatures. However, prices are at their highest at this time and finding accommodation can be nearly impossible if you don't book in advance.
In June, you'll find temperatures averaging 55°F (13°C) and 73°F (23°C). However, this is the rainiest month of the year, with 74mm of precipitation over about 14 days. July and August are the hottest months of the year, averaging highs and lows of  57°F (14°C) and 75°F (24°C).
One of the must-do activities in summer is visiting a Viennese park like Buggarten, Augarten Park, and Stadtpark. You can kick back and relax in these beautifully maintained and safe parks. Some events in summer include the Summer Night Classical Concert and Donauinselfest (Danube Island Festival).
Note: Viennese summers can range from comfortable to humid. If you can't stand humidity, check predicted weather forecasts in advance if you decide to visit in summer.
Vienna in Fall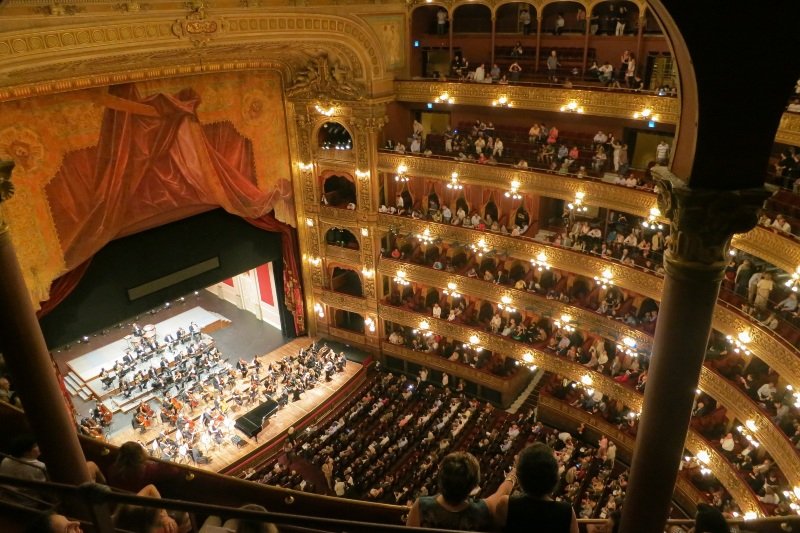 Fall is the other shoulder season, but don't let the reduced prices for accommodation and food fool you. Fall is a popular time to go to Vienna so you might still encounter a high number of tourists. The weather is still mild until November, and there is far less rain than in spring and summer.
September's average high and low temperatures sit at 50°F (10°C) and 66°F (19°C), respectively. October is the last relatively warm month of the year, with average temperatures of 43°F (6°C) and 57°F (14°C). November temperatures begin the descent into winter with averages of 36°F (2°C) and 45°F (7°C).
Why not take advantage of the colder temperatures and watch a classical concert during the fall? If you're a Ludwig van Beethoven fan, you'll love Annakirche Church. The church is used as a concert hall that features works by Beethoven, Mozart, and Hadyn on a regular basis.
Afterward, you can settle down at a local tavern where you can enjoy Viennese classics like Wiener Schnitzel and Glüehwein.
Vienna in Winter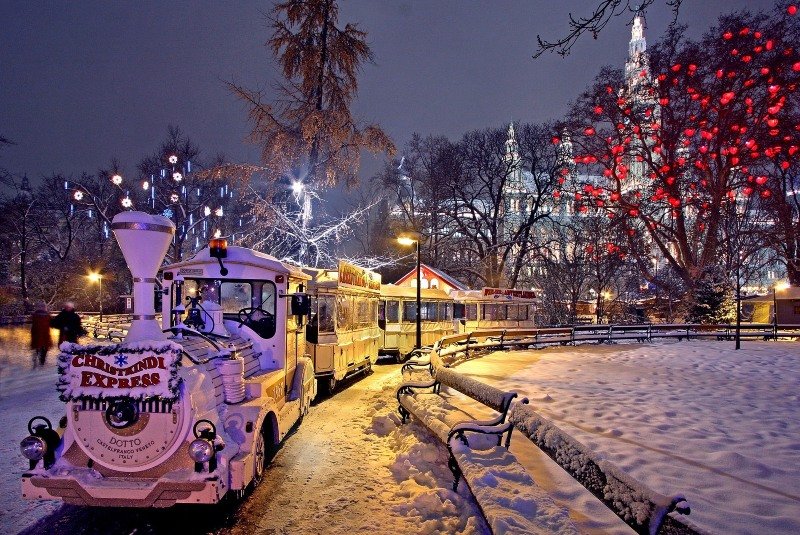 Winter in Vienna is undeniably cold, but it's one of the most popular times to visit because of the Christmas markets and New Year's Concert. December often gives Vienna a white Christmas as snow falls most of the winter.
The average temperatures for December range from 27°F (-3°C) to 36°F (2°C) and it's dark for most of the day. January is the coldest month of the year, with an average high and low temperature of 25°F (-4°C) and 36°F (2°C). February is the last month of winter and has average temperatures of 28°F (-2°C) and 39°F (4°C).
While tourism declines after December, there is nothing stopping you from visiting during January and February. The weather may be frigid, but you can go skating at Vienna Ice World and slowly defrost at Café Central. Coffee and cake culture is huge in Vienna, so make yourself at home in any of the many cafés around town.
Tip: Vienna's colder months can be uncomfortable if you're unprepared. Make sure you pack plenty of layers when visiting in winter.
Best Time of Year to Visit Vienna | Key Activities
Now that you're more familiar with Vienna's seasons, you're probably wondering which events to choose when planning your trip. It can get overwhelming researching all of the most popular attractions and narrowing them down.
While Vienna hosts plenty of captivating activities and events annually, there are two standout attractions you must visit. Saint Stephen's Cathedral and Schönbrunn Palace are some of Vienna's most magnificent pieces of Gothic and Baroque architecture.
Saint Stephen's Cathedral
Saint Stephen's Cathedral, also known as Stephansdom, is a marvel in its construction and history. This cathedral is a patchwork of reconstructions over the centuries in a Gothic style.
Originally built in the 12th century, the first iteration of the cathedral is no more. Pieces of the original building remain in the new iteration today. After surviving WWII bombings during the Battle of Vienna, the cathedral caught fire in 1945 and was rebuilt in 1952.
Today Stephansdom is an easily identifiable landmark to anyone in Vienna. The cathedral is known for its multi-colored tiled ceiling, towering spires, and Baroque features.
Note: While part of the cathedral's interior is free to view, you'll have to pay an entry fee to see everything.
Schönbrunn Palace
Previously inhabited by the Hapsburg royal family as a summer palace, Schönbrunn is now a UNESCO world heritage site. The palace was built in 1695, finished in 1711, and boasted 1400 rooms. The site also contains the original decor and furniture owned by the royal family.
The palace was a sign of imperial power that lasted from the 17th to early 20th centuries. The grounds also featured the world's first zoo, constructed in 1752. The construction of the site and its gardens is an example of Gesamtkunstwerk, which means the mastery of many art forms.
Schönbrunn Palace is now one of the most popular attractions in Vienna. When visiting, you can view the palace and zoo and stroll around the Privy Gardens to view the flowers.
Surrounded by perfectly manicured gardens, tourists and locals can relax in the gardens and take in the beautiful Baroque architecture.
Best Time to Travel to Austria's Capital Vienna | Final Thoughts
Vienna is a city of wonder. With so many unique events, historical sights, and kind people, you can't go wrong when choosing to visit. The weather may be more important for some, while budget and experience matter more to others.
Remember essential factors like booking accommodation and tours in advance during the peak season. And pack waterproof shoes and jackets for the rainy season. Being prepared is half of the battle when making big travel plans.
But whatever you decide, Vienna will have so much to offer you once you arrive. And if you're hungry for more traveling, why not visit the rest of Austria?
Last updated on October 2nd, 2023 at 02:42 pm