Let's put the clichéd "dazzling, white beaches with crystal clear water, stepping into a postcard" description to one side for a second and let me give you an honest and clear review of my week in beautiful Boracay. It may have been voted "best island in the world" but it comes with it's own problems. Here's my quick and clear Boracay Travel Guide, an island that seems to be on almost every Philippines itinerary these days,
Getting there
Getting to Boracay is a MISSION. I am a seasoned traveller so I always say "getting there is half the fun", and this is at least half-true when it comes to The Philippines. It took me a 20 minute walk in -20'c, 3 taxis, 2 flights, 2 subways, 2 mini buses, 1 train, 1 boat and 1 tuk tuk ride to get to the island. That was 36 hours of travelling including one night in what may have been the dirtiest, dingiest, worst kept hostel in the world in a city (Manila) not exactly known for its cleanliness or charm.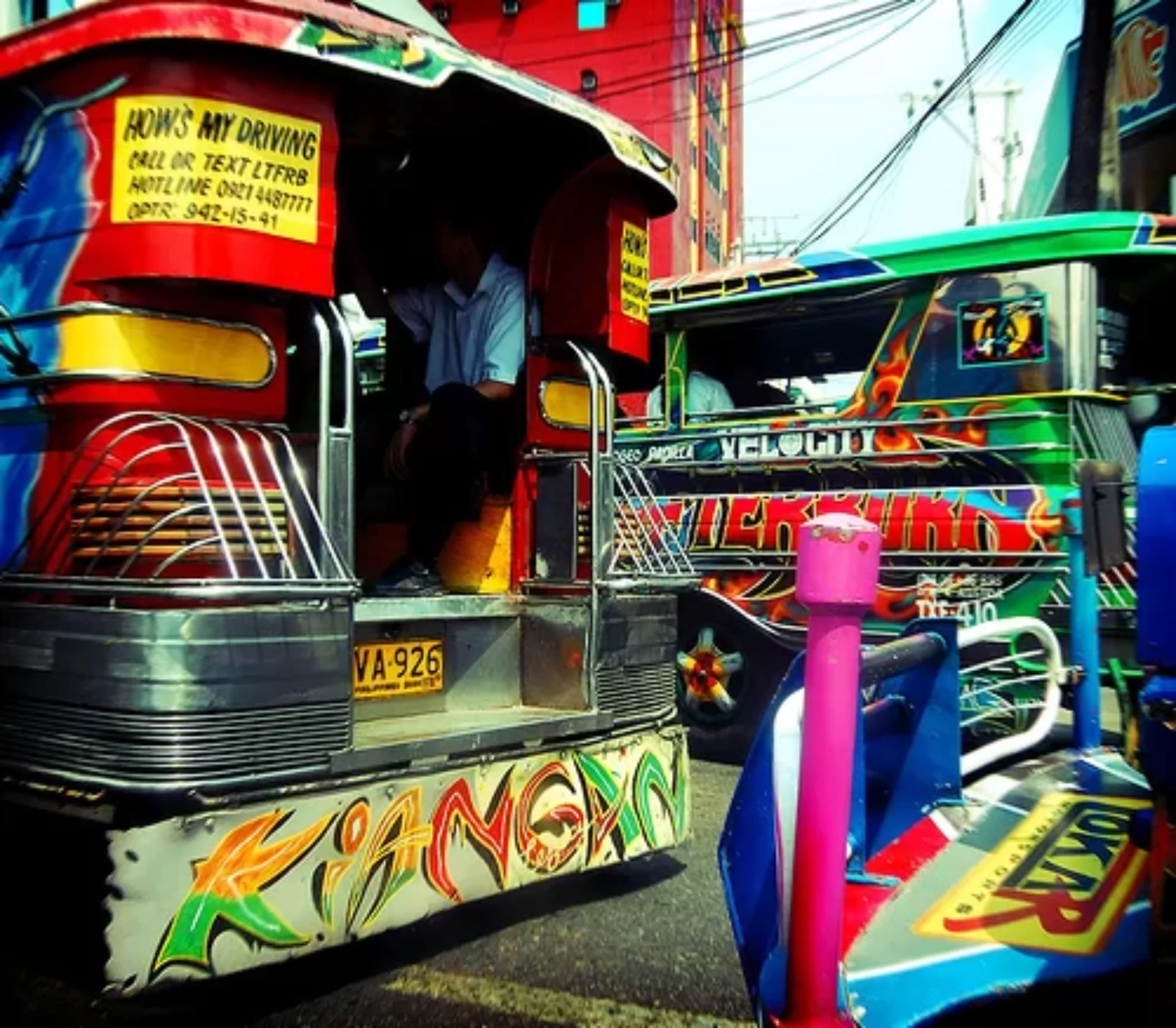 Hidden charge in the Philippines
Despite the long hours, we met lots of cool people along the way and got to see a bit of the countryside. The worst thing, in my opinion, about The Philippines is all their hidden charges. The first taxi we hopped into settled a price then demanded we tip him higher at the end of the journey.
We felt we got nailed with all the "terminal fees"; 200 pesos to leave Manila, 40 to leave Kalibo airport, 50 for usage of the ferry terminal and a WHOPPING 750 pesos (17 dollars!!) to leave the country. Next we had to fork out for an "environmental fee" each time we took the ferry.
I would not have minded paying the charges if they were simply all lumped into the price of the ticket or even into one ticket, which we thought we had done. We bought and "all-in" bus and boat pass for 200 pesos to get us from the airport across to the island. However the ticket did not include terminal fee and environmental fee which have to be paid at separate booths.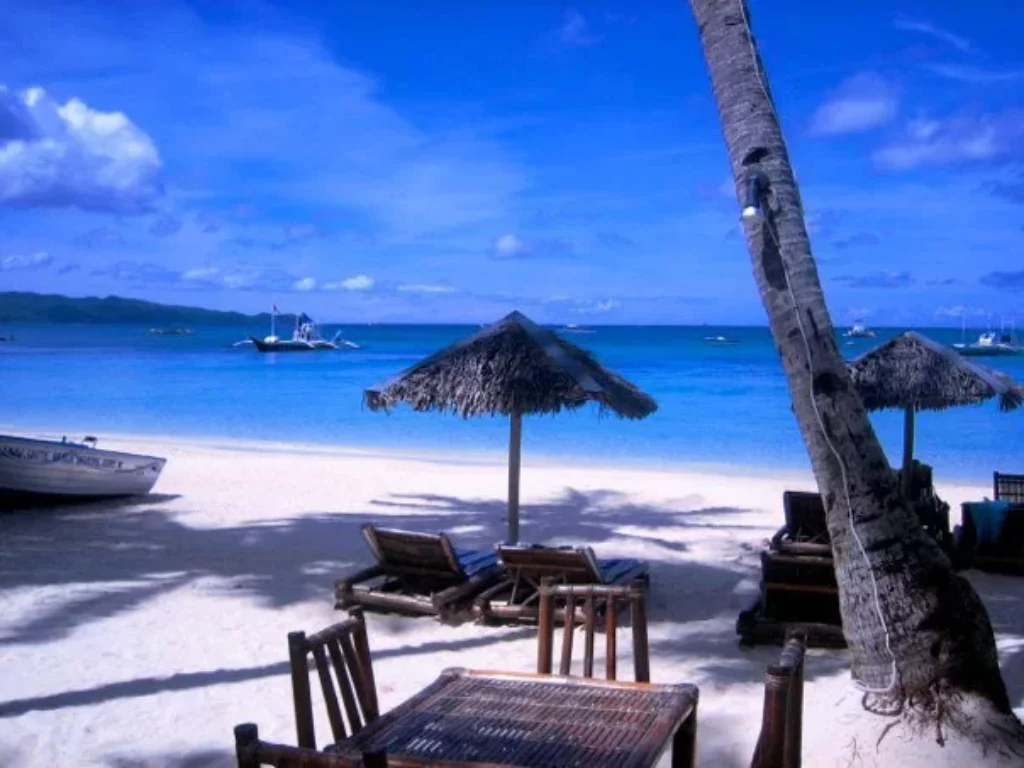 Okay back to business though. Apart from the above "what grinds my gears" side points about a trip to beautiful Boracay, let's talk about why Boracay is a picture perfect, laid back paradise within the Pacific, true heaven on earth. And it's not ALL about the beach!
Where to stay in Boracay
From the moment we checked into our hostel, "Bonzai resort" all our worries simply drifted away. Strolling down the main walkway by the beach, looking out over the ever-changing colors in the sky as the sun began to set was nothing short of magical. Sitting in a chilled out beach bar, sipping sweet cocktails (2 for the price of 1) at a fifth if the usual price while listening to Bob Marley look-a-likes strum along on their guitars and we realized the journey was totally worth it!
Live music @ MINT Bar, Boracay
Beach Bum Bar, Boracay- Cocktail Time!
Our "hostel" (which was more like a set of bamboo cabins set back from the beach) was an absolute bargain at only 9 dollars a night. Granted we only had cold water and the toilet seat was missing, the service and the hammocks awaiting us on our balcony each evening made up for any short comings.
The choice of food on Boracay is endless. The long stretch of White beach all the way from station one to station 3 is jam-packed with bars and restaurants to suit all tastes and budgets.
Our favorite drinking hot spots were Deja Vu bar (owned by a fellow couch surfer) MINT, (with its amazing mojitos and cool Kiwi owner) Epic (gourmet food by day, happening dance club at night), JUICE (where, despite the name, you are more likely to have tequila shots) and Summer Place (the strips only night club).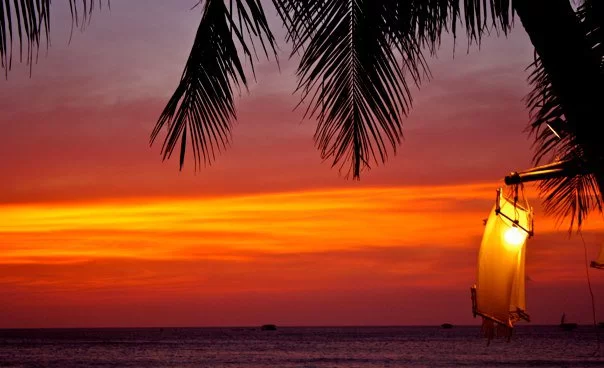 Sunset on Boracay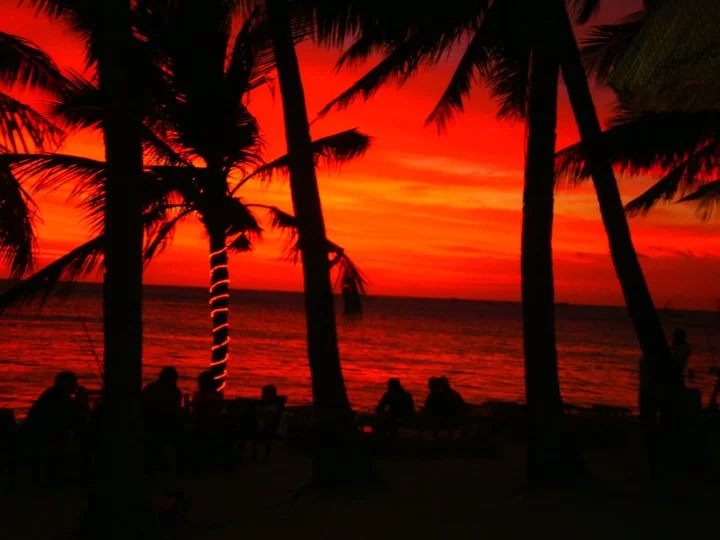 Boracay Sunset, Picture perfect
Our group of 5 (Samy, Lee, Elaine, Ali and I) grew each day as we made new friends from newly weds Holly and Tom to Kim, a 21 year old well traveller german, and Vivian another german couchsurfing with Kim
while on holidays from her internship in textile design in Shanghai. We also became very friendly with various bar owners! (Nothing new there!!)
With only 5 full days on the island, our time in Boracay was way too short. The weather, sadly, was not the best either with 2-3 days which were very over cast. Despite this though, a tropical paradise where a bottle of rum is cheaper than a bottle of water, will always keep a place in my heart (or liver!) so if you have some vacation days left don't think twice and get on the next flight/train/boat or even better escape the dirty recession, get yourself a loan and invest in a little slice of paradise!
Further reading: Enchanting Paradise in The Philippines