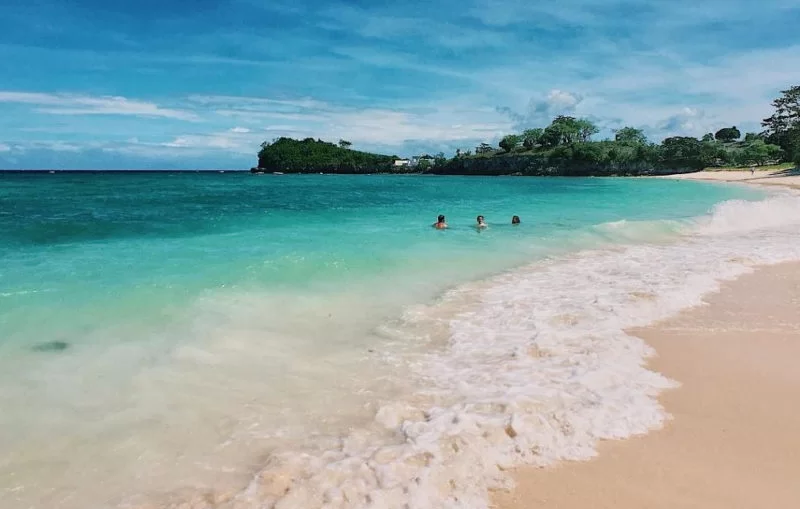 Cebu, with its abundance of outdoor activities and the verdant landscape, is one of the most popular tourist destinations in the Philippines. The city is full of promises for every kind of traveler and is regarded as one of the most attractive localities in the Philippines. Here we show you all the reasons to visit this beautiful destination and the most unique things to do in Cebu on your next visit, a must add to any Philippines itinerary!
Get ready to enjoy Cebu's famous sunny days and those immaculately clean beaches with powder-like white sands and crystal clear ocean waters. There is plenty to do and see here; one could island hop or explore the wealth of opportunities for tourists such as snorkelling, swimming, and diving. There are multiple waterside activities to enjoy for the whole family such as dolphin watching, fish feeding or having sunset dinners. Once you're done here, head on over to Palawan, another beautiful Filipino destination!
PRO TIP: If you're planning to travel to the Philippines, be it on a budget or on a luxury tour, I can't emphasise enough how important it is to have decent travel insurance – especially if you plan in taking locals buses or travelling by scooter. I always use World Nomads, as they're known as the best insurer for backpackers and long term travellers.
8 unique things to do in Cebu
1. Visit Malapascua
Malapascua got its name way back in history from the Spaniards, who arrived here, sailing in the 16th century. Unable to reach their homes in time for Easter, they decided to celebrate Easter as the bad Easter on the island, and this is what "Mala Pascua" means the "bad Easter." Malapascua is a popular destination in Cebu renowned for diving and snorkeling. If you would like to see Thresher sharks, then you are just at the right location.
You can rent a small Banka boat and take a trip around the island to find the best spots for diving and snorkelling. The best way to explore Malapascua is on a kayak. Or, you can paddle around and take your breaks whenever you want. Malapascua Island may be less developed as compared to Boracay and Alona beach, but this is the right spot for complete relaxation and enjoyable day.
2. Stay in the Plantation Bay Resort
One of the best things about visiting the Philippines is that you can stay i the most incredible 4 and 5 star resorts for a fraction of the price it would cost in your home country. The Plantation Bay Resort is a 4 star with outdoor pools so large you would be forgiven for thinking you were jumping into a lake or even the ocean! Seriously, the pools are SO BIG you can go kayaking in the swimming pool!! The hotel is also situated right on the beach which means you'll get to enjoy some spectacular sunsets that Cebu is famous for. One of the most luxurious things to do in Cebu for sure.
3. Enjoy a sunset in Mactan
Close to the Cebu International Airport, Mactan City is well famous for its beaches and sunsets. For those always fascinated with nature and sunsets, Mactan will definitely not disappoint them. Sunset remains on the greatest miracles of nature, and each sunset and its experience are indeed different. There are so many unknown gems to explore in Island.
There are awesome beaches, great water activities and amazing marine sanctuaries and more. The coral island offers some of the best diving and snorkeling experience as the waters around Mactan are teeming with rich biodiversity. The local restaurants often have themed dinner nights where you can enjoy the flavors of both East and West. Enjoy some of the best seafood with your favourite drink and gaze at the sun setting down on the horizon. If you're looking for the best place to stay in Mactan, we recommend the Movenpick Hotel Mactan. A little pricey, but oh so beautiful!
4. Go camping in the mountains
Cebu is a hit with the local and foreign travel junkies as everything is so easy to access and within reach. Whether you are looking for an experience of modern city comforts or want to try out some adrenaline-pumping experiences or are looking for a breath of fresh air, Cebu has everything.
Its beaches and mountains are just perfect for camping. Some of the most recommended mountains for camping in the island of Cebu are Osmeña Peak, which is just perfect for beginners and makes for an easy climb.
For those looking for one of the most unique activities in Cebu, Sirao Peak makes for one of the best choices and just 20 minutes away from the city. You could take the challenging trail and then wind up with a quick dip in Kabang Falls, before camping at the peak. Chalet Hills in Busay is another favorite spot for camping because of the cool mountain climate and a great view. Another popular area in Cebu for camping is Mt. Naupa which offers a breathtaking view of the Cebu countryside.
5. Visit the famous Kawasan Falls
One of the most famous waterfalls in the region, and top things to do in Cube, Kawasan Falls boasts clear turquoise waters that gush down from the mountain springs. The waterfall is about 130 km away from the Cebu city, and one will need to Trak for about a kilometre and a half from the main road to reach the water fall. Well famous as the pearl of the Philippines, the waterfalls make a perfect spot to take beautiful pictures to upload at Instagram or Facebook.
You can feel and see the coolness and freshness everywhere, whether it is the aquamarine water, the stone vaults or the lush tropical greenery surrounding the waterfalls. You can take a swim in a hidden lagoon in Kawasan River. If you want you can even stay the staying right in Kawasan Falls at the resort. The three-layered waterfall system is a must see attraction, and the magical landscape looks like an ideal paradise for those in love with nature.
6. Visit the stunning Aguinid Falls
The lovely Aguinid Falls features a plethora of amazing water compositions and mysterious rock formations.  The seven levels waterfall with is magical surrounding environments is just right for an amazing adventure. Aguinid Falls are located at about 150 kilometers away from Cebu City, and the natural wonder is unique because it is not a single waterfall but a system of seven waterfalls.
The multi-tiered waterfall system is easy to access from the main road and is different as well as beautiful. You can easily climb to the top via those steps carved into the wall of the rocks. There are eight levels of cascading waters that one needs to pass through to reach the top.
7. Visit Osmeña Peak
Osmeña Peak on Cebu's highest mountain draw every tourist because of its raw and rugged beauty. It's quite similar to Chocolate Hills in Bohol and thus a great spot for camping too! Located in Mantalongon, it is unbelievably easy to get to Osmeña Peak.
Trekking through will take you through grassy mountainsides and vegetable farms. You are likely to meet the locals carrying baskets of fresh vegetables. After you've been walking a few minutes, the landscape will start to change, and you will be able to see towering cliffs enveloped in moving mist and stunning 360° views of the scenic surroundings. It is best to schedule your hike during the afternoon and the morning times are a bit foggy.
8. Taste some delicious street food
Cebu is not just a booming tourist destination in the Philippines but is also famous for its delicious and affordable street food. You will come across culinary delights in every corner inspired by the native Cebuano dishes or the Chinese.
There is an eclectic collection of street vendors and stalls selling Humba, which is sweet pork and it's served with rice. You can enjoy it for just 50 pesos or $1! Cebu has a street food to tackle every kind of taste but whether one is in a mood for something spicy, sweet or exotic, they are sure to find it on the streets of Cebu.
Other popular street foods in Cebu are Kwek Kwek, deep-fried batter-covered boiled egg, Bakasi – a sea eel dish or Ngohiong, the Cebuano version of spring roll. Tuslob Buwa remains one of the best street foods in Cebu. Steamed rice is another popular Chines dish. Eating on the street is definitely one of the top things to do in Cebu when visiting!
Author Bio
This is a guest post written by Ruben and Rachel of GaminTraveler, a travel blogging duo of adventurous love birds who have travelled extensively in the Philippines.  Follow their travels on Instagram, Facebook or their travel blog.
Last updated on October 13th, 2023 at 01:14 pm