The charming Cotswolds is an area in south-central and south-west England. Spanning roughly 800 square miles in the countryside, it's an area known for its scenic, unspoiled beauty.
Numerous towns and villages dot the landscape. They're characterized by uniform honey-colored buildings, narrow country lanes, rolling hills, and picture-perfect scenery. Can you think of anything more traditionally and aesthetically British?
If you're planning a trip to the Cotswold, driving is the way to go. You'll have the freedom to explore the area and make your own schedule. There are quite a few towns and villages and each contains its own special attractions and highlights.
To make the most out of your time, here is everything you need to know about taking a Cotswolds road trip.
Tour of the Cotswolds: How Many Days Do I Need?
Given the relatively close distance between the towns and villages, you could easily take a Cotswolds day trip. However, a 3-5 day trip will give you more time to explore each stop and cover the main highlights.
What if I Can Only Take a Day Trip to the Cotswolds?
If you're short on time, planning a Cotswolds day trip is still worth it. Each village and town is relatively small, and most are clustered together. You can easily hit a few spots in one day.
How to Get From London to the Cotswolds by Car
Combining a London itinerary with a Cotswolds trip is a popular option for a lot of people. The distance between the two is about 77 miles, which takes a little less than two hours by car. The route is straightforward and passes along major motorways.
If you do take a Cotswolds day trip from London, make sure to leave early so you'll have as much time as possible to spend exploring the area.
What is the Best Season to Plan a Cotswolds Itinerary?
Weather is definitely something you'll want to take into account when touring the Cotswolds. Spring and summer are the most beautiful seasons to visit. The temperatures are pleasant and outdoor exploring is very enjoyable. This is considered the peak tourist season.
In autumn, the weather starts to get a bit nippy, but the landscape is covered in beautiful orange and red foliage. The Cotswolds in winter is crisp and cold, and with that comes fewer tourists and cheaper accommodation rates.
If you're looking for a cozy English Christmas, this is definitely the place to be. Several villages and towns host annual Christmas markets too. Snowfall and rain are common in winter, which is something to keep in mind when driving.
Self-guided Cotswolds Trip by Car
Let's jump into the top towns and villages to visit. This guide is organized to reflect a road map of the Cotswolds, with each stop in the order that makes the most sense for driving. It follows a loop-like pattern around the different stops.
Burford
Burford, commonly referred to as the 'Gateway to the Cotswolds', is the perfect place to start your trip. This quaint medieval town enjoys a picturesque location along the River Windrush.
The town's famous High Street is lined with Georgian townhouses and shops. You won't find any chain stores here, but rather antique shops, boutiques, and a wide variety of restaurants, pubs, and tea shops.
The 16th-century Tolsey building was once a meeting place for medieval wool merchants. Today, it houses the Tolsey Museum, which showcases Burford's cultural, social, and industrial past.
Stow-on-the-Wold
Next, drive 15 minutes (10 miles) north to Stow-on-the-Wold. This market town is popular for shopping, with many gifts and crafts stores, antique shops, and art galleries.
The town's medieval St Edward's Church is a beautiful piece of history. It's noted for having stunning stained glass designs and a unique tree-framed doorway. This unusual entrance supposedly inspired J.R.R. Tolkien when creating the entrance to the mines of Moria in The Lord of the Rings series.
There aren't too many other notable attractions in town. If you're only planning a Cotswold day trip, you could skip this stop, or just plan a quick visit.
Moreton-in-Marsh
Moreton-in-Marsh is about 8 minutes (4.5 miles) north of Stow-on-the-Wold. This small town hosts the Cotswolds' largest open-air street market every Tuesday.
The Four Shire Stone is on the outskirts of the town. It marked the old meeting point for four Cotswolds counties: Gloucestershire, Warwickshire, Worcestershire, and Oxfordshire. Although, following the re-organization of boundaries in the 1930s, it now marks the connection of just three counties: Gloucestershire, Warwickshire, and Oxfordshire.
This site also has Tolkein ties. It's believed the stone was an inspiration for the Three-Farthing Stone in the Lord of the Rings series. And, Tolkien himself also used to regularly play visits to Moreton-in-Marsh.
If you need to grab something to eat, the Yellow Brick Café is a cozy eatery with fresh, locally sourced ingredients. The food is mostly traditional British cuisine, with a few innovations. If you're thirsty, The Bell Inn is a popular local pub with a great selection of wines and cask ales.
Bourton-on-the-Hill
Continuing on, head five minutes (2.5 miles) west to Bourton-on-the-Hill. This hillside village offers stunning views overlooking Moreton-in-Marsh and the valley below. There aren't that many attractions, so you won't need to budget too much time here.
The Bourton House Garden is the highlight of the area. The gardens and topiaries reside inside a 1700s estate. The landscape contains many unique and colorful plants. It makes for a great outing on a sunny day.
Chipping Campden
Chipping Campden is 10 minutes (6 miles) north of Bourton-on-the-Hill. It contains one of the most elegant High Streets in the Cotswold. There are a host of different architectural styles, with some buildings dating back to the 14th century. It features an unbroken line of honey-colored specialty shops, restaurants, pubs, cafes, old inns, and hotels.
Around the center of the High Street stands the town's historic Market Hall. It was built in 1627 to shelter merchants and farmers selling their products. With splendid arches and open sidewalls to let in light, it's definitely worth a walkthrough.
St James Church is another one of the town's highlights. It was built in the 15th century but includes elements of another church that's been on the site since around 1180. It's located away from the main street and provides a quiet place to take a walk and appreciate the town's deep-rooted history.
Broadway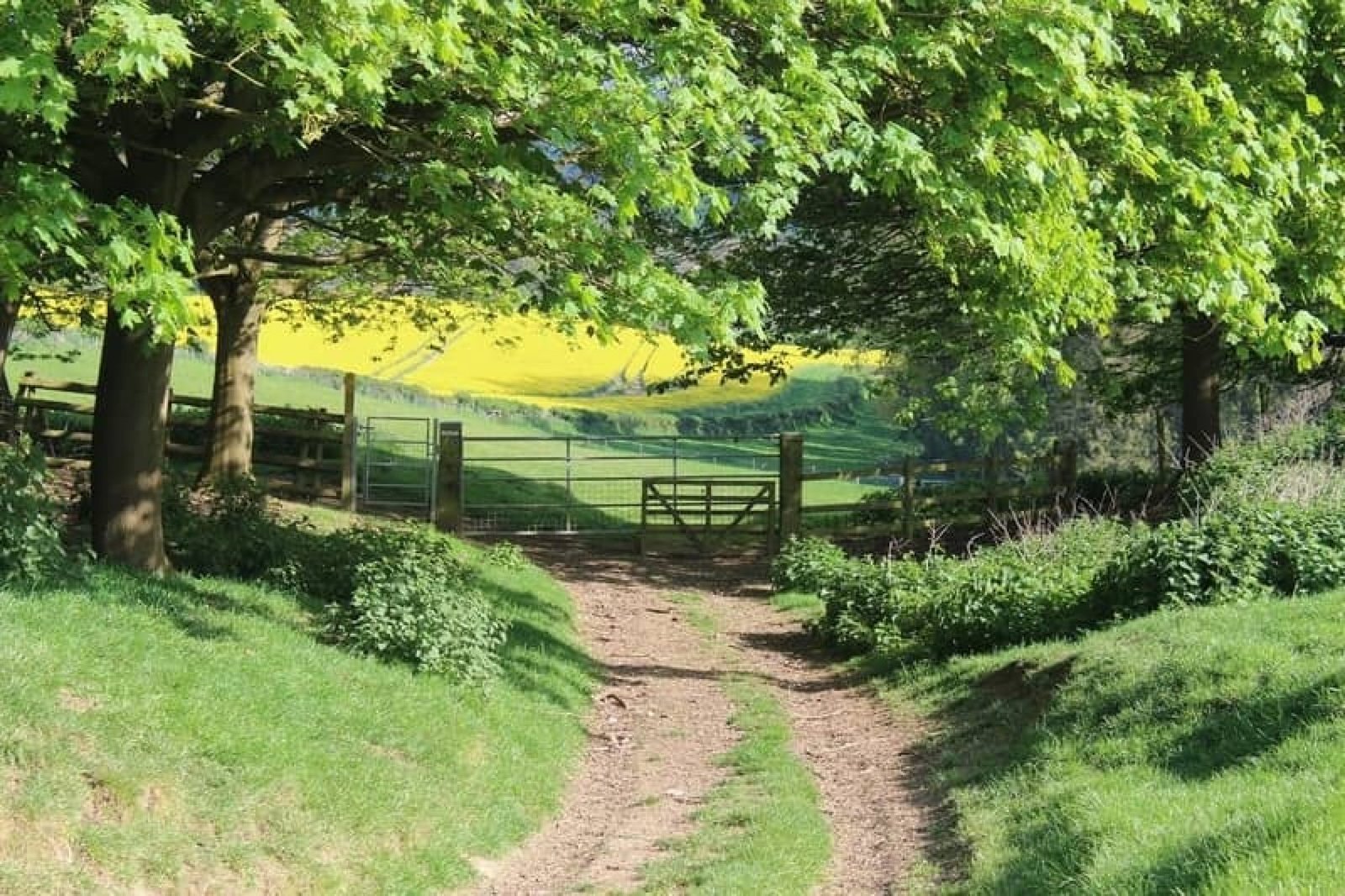 Broadway is 11 minutes (4.6 miles) from Chipping Campden. This Cotswolds village is on the larger side, with a long main street lined with independent shops, antique stores, a local distillery, and plenty of quaint eateries.
Broadway Deli has a lovely range of locally sourced products. It's a great place to pick up snacks or groceries. You can also stop in for a casual meal or coffee. They have everything from cakes to sandwiches to full meals.
The village also lies along the "The Cotswold Way", a walking trail that runs from Chipping Campden to the City of Bath. For a nice bit of exercise in the English countryside, spend an hour or two traversing the local path.
When you're done exploring the village, head 7 minutes (3.7 miles) to Broadway Tower. Built-in 1799, this attraction is one of the coolest places to visit in the Cotswolds. It rises 312 meters above sea level, making it the second-highest point in the Cotswolds.
For a fee, you can check out the different levels of the tower; each is filled with interesting displays. The top of the tower has an open roof, which provides spectacular views in all directions. On a clear day, you can see clear through to 16 counties.
Snowshill
From Broadway Tower, head seven minutes (2.3 miles) south-west to Snowshill. This small sleepy village is named for its stunning snowy landscape in winter.
The main attraction is Snowshill Manor, a sixteenth-century manor house that contains an eclectic collection of thousands of objects. View things like old toys, clocks, musical instruments, and Samurai armor. Guests are also free to explore the spacious grounds.
If you need a break, Snowshill Arms is a traditional country pub that's been around since the 15th century. It's located in the heart of the village. They serve a range of ales from the Donnington Brewery and offer a menu of classic English pub food.
If you're a fan of the movie Bridget Jones's Diary, several Christmas landscape scenes were filmed in the village. A local house was also featured as the home of Bridget's parents.
Snowshill is easily one of the most gorgeous places to see in the Cotswolds in winter.
Winchcombe
Winchcombe is 25 minutes (8.3 miles) from Snowshill. Like most towns in the Cotswolds, the main street is full of charming local shops, historic pubs, and cozy tea rooms.
What makes this town so special, however, is the 15th-century Sudeley Castle, which lies just outside of Winchcombe. Step back in time as you explore the different rooms of the castle and the spacious colorful grounds. There are 10 sumptuous gardens in total, each with its own unique design.
The Katherine Parr Exhibition contains rare copies of original books written by Parr, the sixth wife of King Henry VIII. She was the first queen to have her own work published. The on-site chapel, St. Mary's Sudeley, also contains a marble tomb housing the remains of the late queen.
Upper Slaughter & Lower Slaughter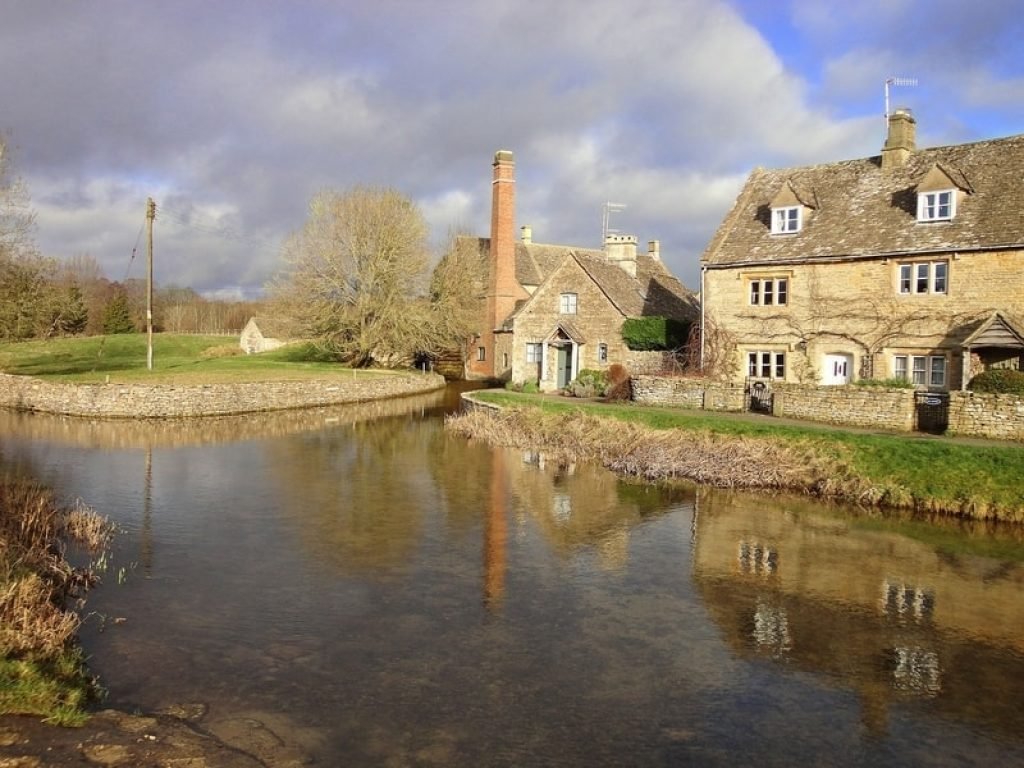 Upper Slaughter and Lower Slaughter are 35 minutes (14 miles) from Winchcombe. Although these are two different communities, they're only one mile apart.
What might strike visitors the most about these villages, are their names. But don't worry, they're not as grotesque as they may sound. The name derives from the Old English term "slough" meaning "wetland". This is appropriate given they're located next to the River Eye.
Both of these villages perfectly represent the picturesque and idyllic aesthetic of the Cotswolds.
The Old Mill Museum in Lower Slaughter is the main thing to see when you visit. It's quite small but showcases some interesting things associated with the village mill. It includes a gift shop filled with quirky keepsakes.
It also houses an ice cream parlor featuring homemade organic ice cream. And a tea room and cafe. There is plenty of outdoor seating overlooking the river which is especially enjoyable in the summer sunshine.
Upper Slaughter is less visited among the two, but no less attractive. Given the villages are so close together, it's worth it for at least a quick stop. You can even walk between them in about 25 minutes.
Make sure to visit St Peter's Church. It dates back to the 12th century and is a gorgeous old place of worship that sits within one of nature's most charming landscapes.
Bourton-on-the-Water
Bourton-on-the-Water is 10 minutes (3 miles) from the Slaughters. The village is situated on the River Windrush and many waterways and low bridges fill the town center. Because of this feature, it's commonly referred to as the "Venice of the Cotswolds".
See the village in miniature form at The Model Village. This outdoor attraction contains a one-ninth scale replica of Bourton-on-the-Water. It will be a quick stop, as you can walk through the whole area in about 20 minutes. But it's interesting to see and admission is only £5 (6.50 USD).
The Cotswold Motoring Museum & Toy Collection is another fun stop. It has a cool retro feel and showcases the motor history of the 20th century.
The Rose Tree Restaurant is one of the best places to relax and soak in the picture-perfect riverfront views. They serve a tasty fish and chip with mushy peas as well as other traditionally British items.
Even if you're only planning a Cotswolds day trip itinerary, this quaint village is a must-see.
Best Hotels to Stay at While Touring the Cotswolds
During your tour of the Cotswolds, you'll need somewhere to stay the night. Here are some wonderful choices that are spread throughout the different areas you'll be visiting during your trip.
Cotswold Gateway Hotel
The Cotswold Gateway Hotel in Burford resides in a former 18th-century inn. The beautiful old building features 20 bedrooms fitted with modern facilities, like tea/coffee makers, a TV, and WiFi. Breakfast is included in your room price and the on-site restaurant is available for your other meals. There is also a bar that serves up traditional ales and a coffee shop.
The hotel has a spacious and secure private car parking. Burford's charming town center can be reached in just 5 minutes on foot.
White Hart Royal
The White Hart Royal is right in the town center of Moreton-in-Marsh. Set in a former 17th-century coaching inn, the hotel is traditionally styled and includes modern features. The flat-screen TV has satellite channels and an electric kettle for making tea or coffee.
The Courtyard Restaurant serves a traditional British menu made with fresh, local ingredients. There are also two-period lounges for guests to socialize. In addition, there is a fair amount of free public parking available next to the hotel.
If you're a history buff, you'll appreciate knowing that the hotel has Royal connections. It was used by King Charles to take shelter during the English Civil War.
Noel Arms – "A Bespoke Hotel"
The Noel Arms is a 16th-century hotel in the market town of Chipping Campden. The rooms are individually styled and feature elegant furniture, private bathrooms with a bath and a shower, and free toiletries. One of the rooms has a four-poster bed that dates back to 1657!
The Noel Arms restaurant offers a varied menu, including award-winning curries. Breakfast is included in your room price, and some rooms also include dinner. The spacious conservatory and terrace are lovely places to enjoy lunch or cake from the on-site coffee shop.
While you're staying here, you'll have access to the award-winning Cotswold House Spa. There is also free on-site parking.
The White Hart Inn
The White Hart Inn in Winchcombe is less than a mile from Sudeley Castle. You can walk there in about 15 minutes. All units come with a wardrobe, a flat-screen TV, free WiFi, and an electric kettle.
The on-site restaurant serves a continental breakfast each morning that is included in your room price. There is also a small cozy bar that serves classic British dishes. Free on-site parking is also available.
The Lamb Inn
The Lamb Inn is located just outside of Bourton-on-the-Water.  The accommodation has a rustic theme, with beautiful exposed Cotswold stone walls. Choose from a range of double rooms or spacious suites with king-size beds. TVs with streaming services and tea/coffee facilities are standard features in all units.
The country-style restaurant and bar has a relaxed atmosphere. A complimentary breakfast is offered each morning. There is also free parking and WiFi.
Final Thoughts on Touring the Cotswolds by Car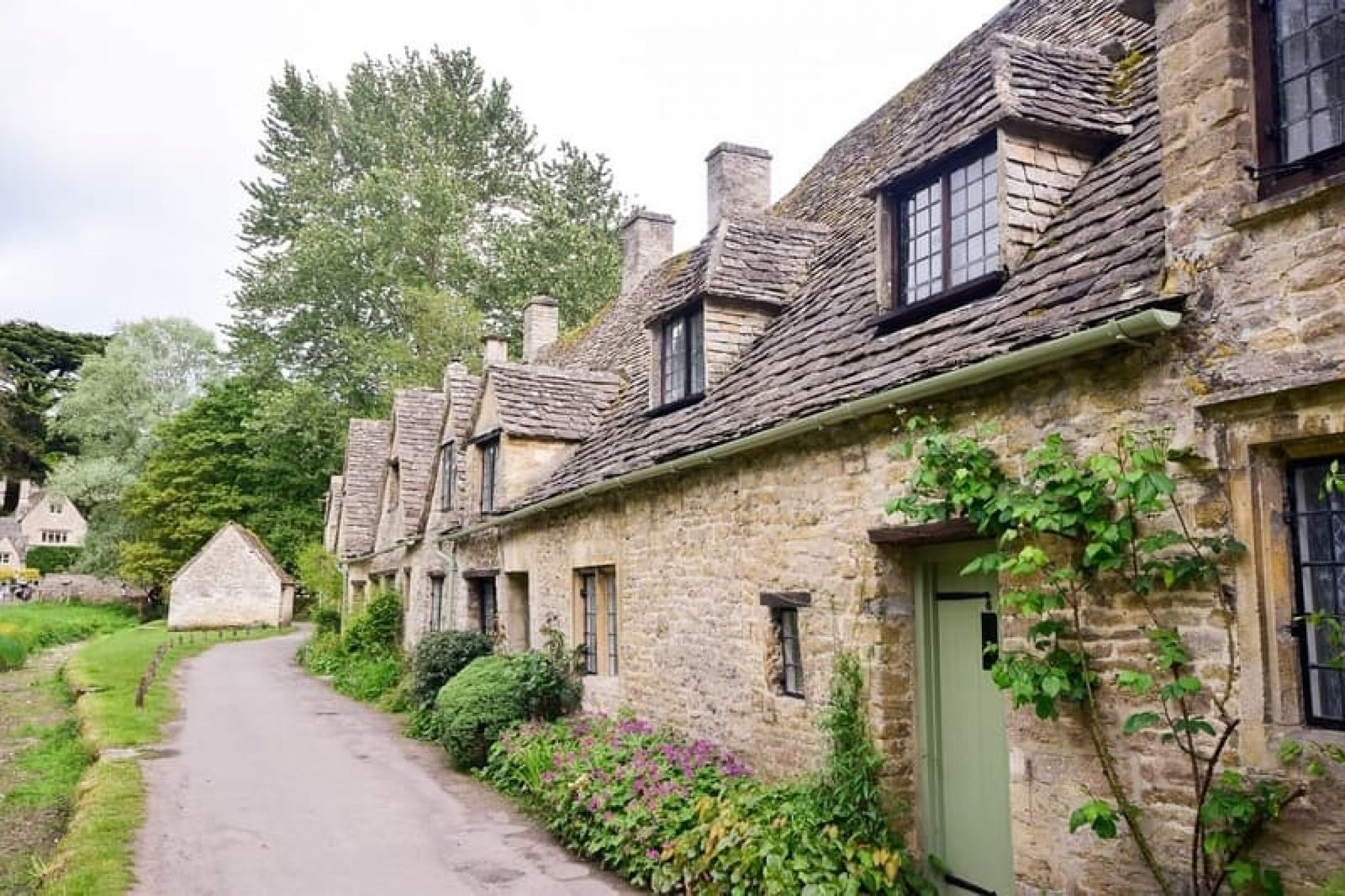 The charming Cotswolds towns and villages have remained largely unspoiled for centuries. They offer a glimpse into the past and hold the key to simple living. Although each shares similarities, they are all so very uniquely different.
Whether you're taking a quick day trip to the Cotswolds from London, or planning a week-long vacation, this self-guided tour includes all of the highlights. Hopefully, you'll be able to check off each stop on this list. But even if you don't, there's always next time. This is an area of England you'll want to visit over and over again!