New Orleans is known worldwide for its great party atmosphere, friendly locals, and abundance of fun activities for the whole family. There is always something to do, from exploring its many hidden gems to learning about its fascinating history. 
However, if you've been living in New Orleans for your entire life you've probably explored everything that the city offers. This is why day trips from the city have become so popular. 
Day trips are ideal for when you want to take a mini-holiday without traveling too far. If you are looking for great day trip ideas in and around the New Orleans area, we have gathered a list of some of the most popular and affordable options. 
Day Trip From New Orleans
The next time you suddenly get the urge to pack your bags and go on a holiday, don't look for expensive or extravagant destinations. Instead, look for places to visit that are closer to home. This way you'll be able to save money while still feeling like you're on holiday.
Here are some of the best day trip ideas for when you're looking for a change of scenery. 
Learn About Space at The INFINITY Science Visitor's Center
If you're looking for something fun to do with the whole family, the INFINITY Science Center is the perfect option. Located just an hour away from the state border near the Mississippi River, or 43 miles away from the city, you'll be entertained for the entire duration of your trip.
From visiting the legendary Apollo 4 Capsule to learning about how hurricanes are predicted, the INFINITY Science Center has interactive and educational exhibitions that the whole family can enjoy. Best of all, it won't cost you an arm and a leg to experience it! 
An adult ticket will set you back $15, while a kids ticket will cost $10.  
Interact With The Animals at Global Wildlife Center
Nothing calms the soul quite liking watching animals roam free, and that's exactly what the Global Wildlife Center offers its visitors. 
Located an hour away from New Orleans city center, or around 56 miles is the Global Wildlife Center. Here you'll the chance to see wild animals in their natural habitats while also getting away from the hustle and bustle of big city life. 
Home to over 4,000 different animals, some of which include zebras, giraffes, American bison, and even kangaroos, you'll feel at one with nature, even if it's only for the day. 
View the animals at your own pace, or book a wagon tour where you'll be able to feed and touch the animals as you make your way around to the different enclosures. 
An adult ticket will set you back $19, while a kids ticket will cost $13. 
Explore The Mississippi Coast Line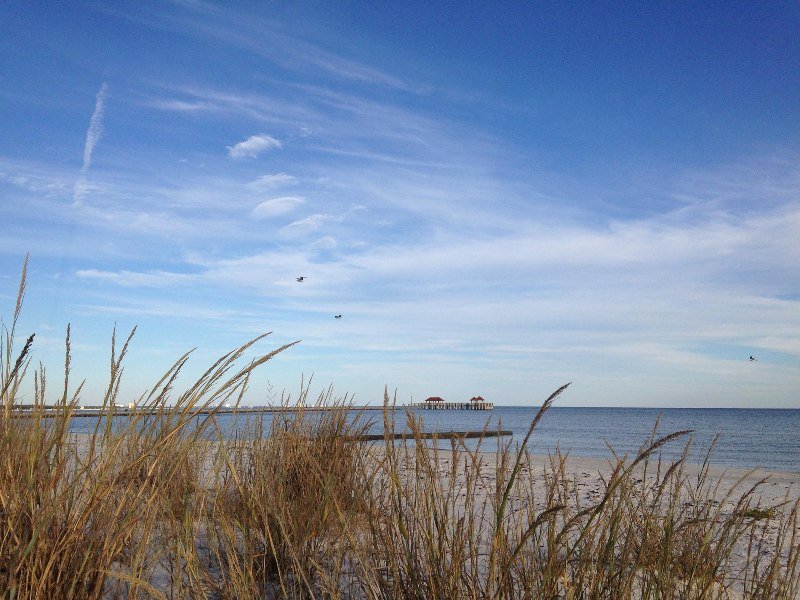 Who said you need to travel to Miami to visit a beautiful beach? New Orleans has its very own picturesque beach just 85 miles away from the city!
The beach is located along 62 miles of shoreline where the majestic Mississippi River meets the gulf coast and is the ideal place to kick back and relax. Go for a swim in the Gulf, and once you're done pay a visit to one of the many small coastal towns dotted along the shoreline. 
We suggest visiting the small town of Waveland during your day trip. Also known as "The Hospitality City", Waveland is home to a community of people who value its people and traditions above all else. As soon as you arrive, you'll be treated as one of their own. 
Due to it being a public beach, the only cost you'll need to worry about is fuel and spending money. 
Take in the Sights and Sounds at Lake Charles
Lake Charles, located three hours away from New Orleans, or 205 miles, is perfect for couples or large groups of friends who want to get a break from the big city. 
There are a number of activities to keep you entertained during your stay. From visiting Lake Charles itself to taking in the spectacular nightlife atmosphere, you'll always have something to do. 
If you're looking for a more relaxed day trip, Lake Charles has you covered. You can visit the world's largest Mardi Gras Museum or explore the wetlands surrounding the lake. Regardless of your interests, Lake Charles will have something to keep you entertained throughout your trip. 
Explore the Mysterious Louisiana Bayous
The Louisiana Bayous are deeply rooted in New Orleans folk law and history, and it's easy to see why. This vast expanse of water, vegetation, animals, and giant trees are a nature lover's dream. 
While the Bayous might seem intimidating to explore at first, once you're able to look past the towering trees, mercy water, and thick moss, you'll see its true beauty and understand why people flock here throughout the year.
Located around 90 minutes outside of New Orleans, or 56 miles, the Louisiana Bayous is the ideal location for a day trip with your friends or significant other. The best way to experience all that the Bayous offers is by a local tour guide and boat. 
We suggest going with the Oak Alley Plantation & Swamp Cruise Day Trip. This is a full-day tour that not only shows off the Bayous's many hidden gems but also takes you on a tour of the historic plantation homes. 
An adult ticket for this 8-hour tour will set you back $105; just be sure to watch out for any alligators! 
Visit the Atchafalaya National Heritage Area
If you're looking to explore nature during your day trip, the Atchafalaya National Heritage Area is the perfect destination for you. 
Atchafalaya National Heritage Area is home to America's largest freshwater swamp and is just an hour & a half drive away from New Orleans city center, or 82 miles.  
This spectacular national park is not just made up of waterways and rivers. There are also endless pathways, trails, and wetlands that you can explore either on foot or by bike. 
Once you've had enough exploring for the day, grab a bite to eat at one of the many restaurants located on the grounds or visit some of the historical buildings and sights that have been preserved in the national park. 
Stop by in Abita Springs
Abita Springs, located roughly an hour away from New Orleans, or just 44 miles, is the textbook definition of a picturesque small town. With recent estimates putting its population at just above 2500 residents, your presence will be immediately felt as you arrive. 
Aside from its small-town charm, Abita Springs' main claim to fame is its friendly residents and their love for artesian waters. In fact, Native Americans used to believe that mineral-rich water gathered from deep aquifers held special healing properties. In recent times, however, that magical water is now being used by Abita Brewing Company to brew some of the best beer that New Orleans has to offer. 
Despite being a small town, there is plenty to keep you entertained here. Abita Springs often hosts Gumbo Cookoffs, musical events, and town-wide garage sales. You can also take a tour of the Abita Brewing Company and learn about its long history.
Cruise Along the Mississippi River
There is nothing quite like sailing down the majestic Mississippi River with your significant other or close friends. So why not take advantage of the world-famous river and sail down it for the day. 
Not only is this a great way to recharge your batteries, but you'll get to see New Orleans from a totally different perspective. 
The Riverboat CITY of NEW ORLEANS (sister ship to the famous Steamboat Natchez) offers an excellent Evening Jazz Cruise that will make you feel like you've been transported to another country.    
As part of the Evening Cruise, guests will be treated to a buffet dinner, drinks at the onboard bar, live entertainment by the Grammy-nominated 'Dukes of Dixieland Jazz trio,' and unrivaled views of the nighttime New Orleans skyline.
In addition, guests will also be taken on a tour of the ship, including rare access to the engine room, a part of the ship that very few people have ever seen. 
Tickets for the Evening Jazz Cruise will cost $50.00 and $89.00 if you select the Evening Jazz Cruise with Dinner. The cruise is available Monday to Sunday, meaning you'll be able to hop aboard whenever you get the urge. 
Final Thoughts on New Orleans Day Trips
Day trips are an excellent way to get away from the hustle and bustle of big city life without breaking the bank. 
There are countless attractions, towns, beaches, and tours — all just a stone's throw away from New Orleans. So the next time you need a holiday, avoid expensive holiday resorts and plane tickets and do some local exploring.  
Stunning day trips arent reserved for New Orleans either, check out our list of day trips and tours for Bristol, England.