Is there anything more incredible than seeing wild elephants, grazing and bathing in their natural habitat? How about seeing a herd of 200 of them?! Luckily for anyone travelling to this beautiful island, there are many excellent National Parks where you can see wild elephants in Sri Lanka. Now that I've visited Sri Lanka three times (and love it more and more each time!) I thought I would compare three of the biggest National Parks in the hopes of helping you decide which one is best to visit.
I will also briefly talk about other places in Sri Lanka where you can see wild elephants, such as elephant orphanages and sanctuaries that I've been to, and why I think you're better off NOT going to these places. Two out of three of these parks are located near Sigiriya, one of the top places to visit in Sri Lanka. If you're unsure where to go, check out my super detailed Sri Lanka itinerary post.
Top Places To See Wild Elephants in Sri Lanka
Yala National Park
I visited Yala National Park two years ago and it was my first time seeing wild elephants in Sri Lanka, or anywhere in Asia for that matter! Now that I've visited a few other National Parks in Sri Lanka, I still think Yala National Park is by far the top one to visit. While you won't see massive herds of up to 80 or 100 elephants like you do in other parts of Sri Lanka, it feels a lot more authentic and like a "real safari". The best time to go is before sunrise, as that's when you have the highest chance of seeing both Leopards and elephants. Besides elephants, Yala is home to the biggest population of wild leopards in the world – making it a top place to visit in Sri Lanka.
I loved driving through Yala and keeping my eyes peeled for elephants in the bushes. At one stage we saw a mother and baby elephant bathing in a small pond, followed by two more female elephants who splashed around in the water, cooling down. An incredible moment! You are more likely to see smaller groups of elephants hiding in the bushes or behind the trees, baby elephants walking proudly after mama or even a massive bull elephant in the distance. The guides are super knowledgable and also pint out many birds and anything else lurking in the bush. My far my favourite National Park in Sri Lanka!
I still have the very vivid memory from inside Yala National Park when a baby elephant came so close to our safari jeep that I let our a small scream and had to jump on to the seat next to me as it peeked into the jeep, it's massive trunk trying to get at my GoPro camera out of my hands! Even the babies are super strong and shook our truck a little!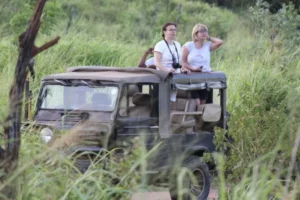 Minneriya National Park
If you want to see up to 200 elephants in one place, either walking down to the lake or bathing in the water, then Minneriya National Park is where you should go! I've been here twice now and both times were incredible. I've never seen so many elephants at one time, even despite my safari experiences in South Africa! if you're elephant obsessed and your dream is to see a massive herd of elephants, then you definitely need to visit this park.
Be warned though, that's its VERY busy and there are often queues of other safari trucks on the roads and you'll be "living your dream" along side up to 200 other tourists snapping away at the herd of bewildered elephants. While incredible, it can feel a bit strange when more and more safari jeeps keep arriving at the same spot.
If you're lucky you'll see a few elephants on their own, like a Mama elephant and her baby casually walking across the road, or a small hers eating leaves inside the bush, and this was something I loved most about this park, as it felt more natural and meant there were less safari jeeps around snapping pictures.
We also had a brief scary moment where me and two friends spent a little too long photographing a baby elephant and suddenly the mama came charging out of the bush and we had to drive VERY VERY FAST to get away from her without being elephant dinner!!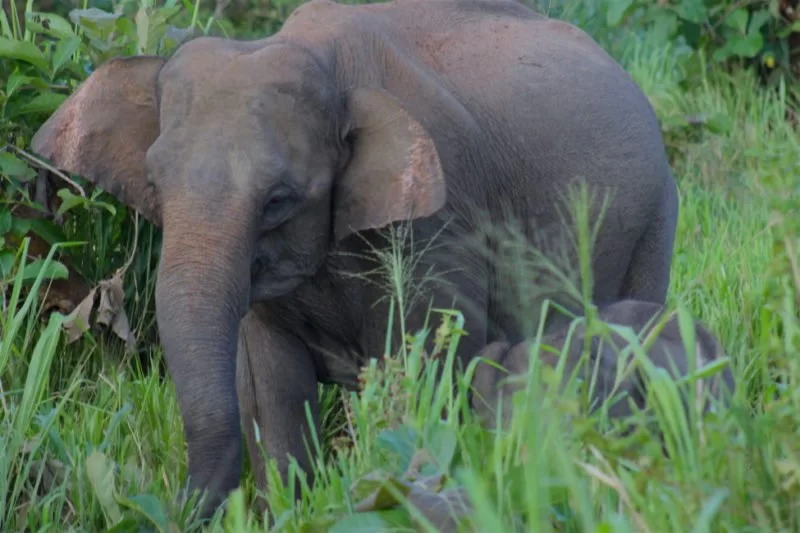 Kaudulla National Park
This was my least favourite of all the National Parks, but I feel maybe I just got unlucky on this particular trip. While the land in the area close to Sigiriya / Habarana is divided up into National Parks, apparently the wild elephants are free to roam so you will see the same herd in Kaudulla as you'll see as in Minneriya. That said, I saw far fewer elephants here than I saw in Minneriya and I felt the safari was very rushed.
We very briefly stopped at one spot, where there were already over 10 safari jeeps, stopped for maybe 3 minutes then backed out and headed to another place. Why we left so soon I've no idea but I was not a happy bunny! We then drove for about 45 minutes seeing nothing but a wild peacock until we got to a second large herd of elephants, maybe 40 all together which was cool, but our driver said this was our last stop so to take as many photos as we liked here. Just going to two places on a three-hour safari seemed a bit mean, and it really didn't feel that authentic in my opinion. We did see A LOT of elephants, so if that's your number one goal, it's still a good spot.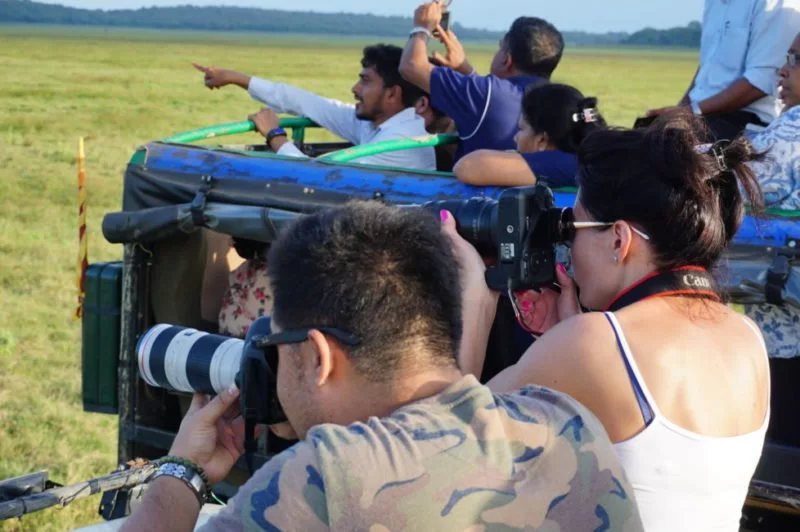 Other places to see elephants in Sri Lanka
Compared to any of the National Parks I visited, the elephant orphanages and elephant sanctuaries in Sri Lanka feel like elephant prisons. I know that may sound harsh as they rescue and rehabilitate injured or unwanted work elephants, but they have so little space, chains are used, and it's no life for a beautiful creature like an elephant.
I did visit Pinnawala Elephant Orphanage in Sri Lanka last year, and while I personally don't think it's as bad as many people make out (I wrote about the facts here) I would obviously still prefer to see all elephants in Sri Lanka in the wild and would encourage people to visit the National Parks instead.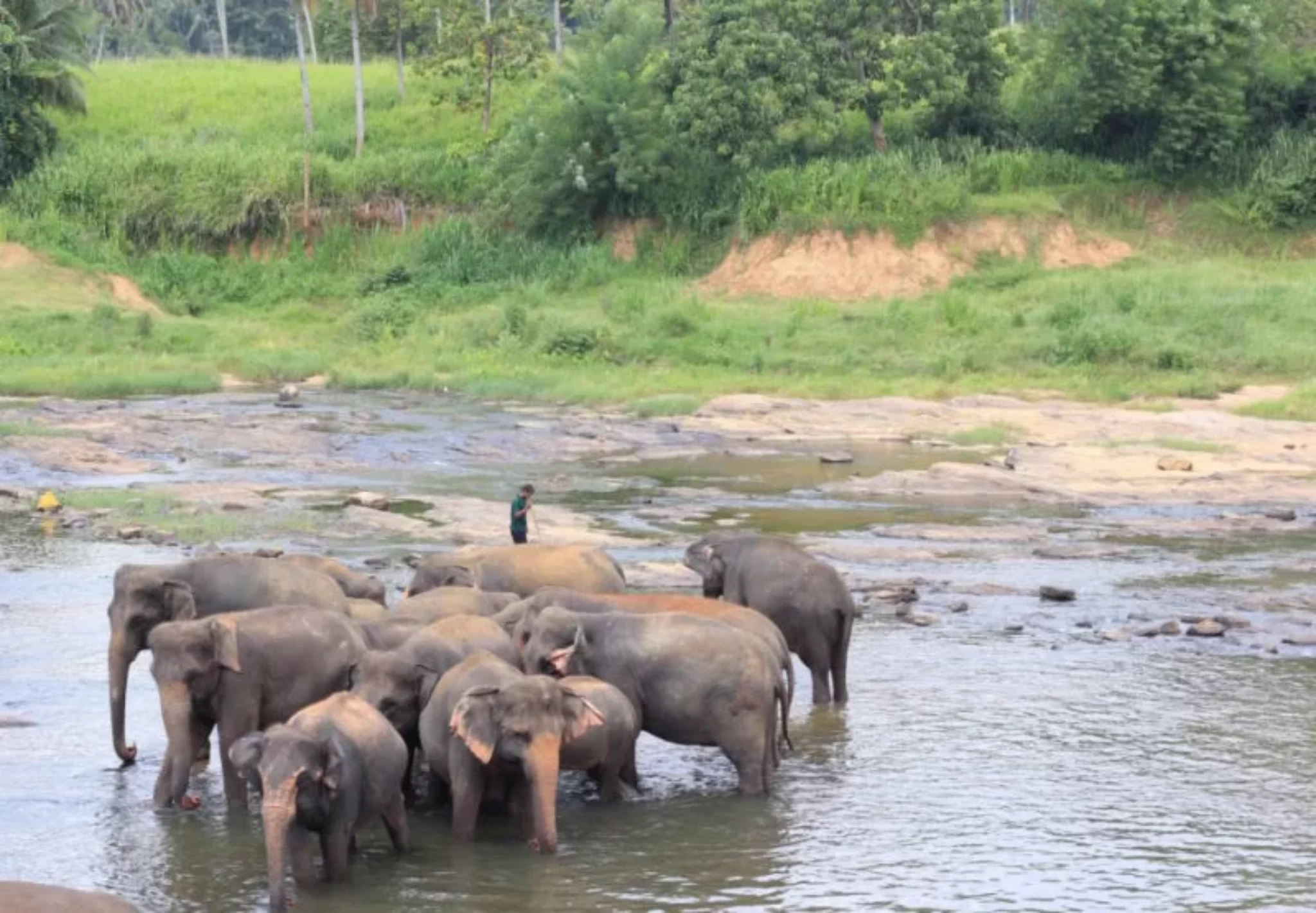 NO, you SHOULD NOT ride elephants
There are also a lot of local companies near Pinnawala offering elephant rides which I'm totally against. Many people don't know this, but riding elephants is very unethical, and they suffer a lot to be trained for elephant rides – very cruel treatment called "the crush" which takes places to make elephants safe for the enjoyment of humans. You can read why riding elephants is bad here.
According the World Animal Protection foundation, over half of elephants kept in captivity in Asia are held in terrible and cruel conditions;
"Cruelly taken from the wild or bred in captivity," the report reads, "these elephants are separated from their mothers and family groups at just a few months old. Elephants destined for the tourist industry experience great physical and mental trauma. Isolation, starving, hitting and beating are just some of the methods used to initially break their spirits and get them to behave and perform."
If you really wants to see elephants in Sri Lanka, pick a national park and see these beauties from a safe distance…I promise it will be more rewarding!