Rich in history and culture, New Orleans is a beloved tourist spot. There are so many options that sometimes it can be a little tough to decide what to do. Whether you are taking in the music playing throughout the city, eating glorious food, attending one of its many different festivals, or strolling through the French Quarter, there are many things to do in New Orleans.
While some of these experiences cost a pretty penny, there are many that cost very little or nothing at all. Read on to discover some amazing free things to do in New Orleans.
Things to Do for Free in New Orleans
New Orleans is a beautiful place that you can appreciate without spending any money. Whether you are into history, music, or art, you will be able to find something to enjoy in New Orleans for free. That makes working with a budget incredibly easy and is one of many reasons why you should visit this marvelous city.
Visit Free Museums in New Orleans
There are many free New Orleans attractions where history buffs can spend the day expanding their knowledge of the city. The Irish Cultural Museum of New Orleans teaches you about the history of the Irish who helped change the city. There is also the famed New Orleans Jazz Museum, where you don't only learn about the history of jazz but can also enjoy their live concerts for free.
Take in the Art
There is art everywhere in New Orleans, and a lot of these pieces can be seen for the low price of nothing. Artists are everywhere in New Orleans and you can often find them on public streets painting. Whether you enjoy sculptures, architecture, paintings, or drawings, you will be able to find a piece that you adore.
There are many pieces of street art throughout New Orleans, you just need to keep your eyes peeled for them. The Sculpture Garden within the New Orleans Museum of Art is absolutely free and has many works of art to enjoy. You can also take a walk through Jackson Square to appreciate the famous open-air art gallery.
Tour the Sazerac House
If you are into history and cocktails, this is the perfect spot for you. A lovely way to learn and enjoy a drink, the Sazerac House tour is entirely free and comes with complimentary samples. You will be able to learn about how the famous drink is made, its lore, and the history of America's first cocktail—all while taking in the beauty of the Sazerac House surrounding you.
Take a Tour of the French Quarter
Soak in the beauty and history of New Orleans by visiting one of its most famous neighborhoods: the French Quarter. Known as the heart of New Orleans, you can download a map of the area yourself or freely roam while taking in the splendid colorful buildings, diverse food, and people. There is never a dull moment in this neighborhood but be sure to visit it during the evening for a fantastic nightlife experience.

Enjoy Live Music
If you are a music fan then New Orleans is the perfect destination for you and your ears. New Orleans is known for its jazz, but that's not the only music they have on display. You will find musicians on almost every street corner of New Orleans. Throughout the French Quarter, there are musicians playing music for you to enjoy. If you are lucky enough to find yourself in New Orleans between March and June, you can enjoy the free concerts in Lafayette Square every Wednesday that benefit the Young Leadership Council.
Visit the City Park
The New Orleans City Park is a beautiful place to slow down and escape the hustle and bustle of the city, and the New Orleans City Park is where you need to be if you enjoy nature. With 1,300 acres of incredible wilderness, there are a number of ways to enjoy the park. You can either have a picnic and enjoy wonderful food while breathing in the fresh air or walk through and admire the beautiful flowers in the botanical garden.
Cheap Things to Do in New Orleans
While there are a lot of free stuff to do in New Orleans, you can also do a lot with a small budget. You can enjoy incredibly delicious food like beignets, drink specials that will keep you coming back, and experiences for the right price if you know where to go and what to look for. As long as you hunt for the best price and don't settle for your first option, you can easily find cheap things to do in New Orleans.

Enjoy Happy Hour
New Orleans has a vibrant nightlife that party-goers will absolutely love. Throughout New Orleans, there are many bars and restaurants that are worth your time and money, and most make it even more worth it by having a happy hour. The happy hour consists of different specials, so you would need to do some hunting to find what you want.
The French Quarter is known for its great happy hour deals for food, cocktails, beers, and snacks. Some popular happy hour deals belong to Superior Seafood every day from 4:30 pm to 6 pm, The Vintage every day from 3 to 6 pm, and the Three-Legged Dog, which has a mind-blowing 24/7 drink special.
Eat the Famous Beignets
Treat yourself to New Orleans's famous beignets, which are basically square donuts without a hole, that every tourist and local love. Indulge in the deep-fried pastry covered in powdered sugar at the iconic Café du Monde, which has been open since 1862. If the famous Café du Monde has too many customers, you can always try Café Beignet or some other fantastic cafes in New Orleans. These sweet treats price between 2.99 to 4 USD and are generally served in batches of three.
Try the Famous Hurricane
Residing in the French Quarter, Pat O'Brian's is a popular destination for tourists, and for good reason. Once a famous speakeasy, it is now a bar where you can sip on their signature rum-based drink, the Hurricane. If the cocktail wasn't enough you can also pay a little extra to keep the famed glass the Hurricane comes in to remember your visit to Pat O'Brian's. While enjoying your cocktail, you will also be entertained by the "Dueling Pianos," where musicians take requests from the crowd and fight it out with their music for tips.

Take a Ride on the Streetcars
Streetcars are another way to travel throughout New Orleans, and they will also take you to new places you may not have seen before—a perfect trip for a sightseeing tour. There are quite a few streetcars to choose from, which will take you on various routes and allow you to enjoy different things. It's a great way to see the city and give yourself a break from all the walking, and they operate throughout the day and night.
Take a Guided Tour
You can go the free route and go on a self-guided tour, but if you want to find out specific information on certain places or just hear some fun facts, then a guided tour is the way to go. It is the perfect way to learn about New Orleans and its diverse culture from people who know what they are talking about.
New Orleans offers many guided tours about a range of different things. There are tours for the haunted history of New Orleans, jazz music tours, food tours, and many more. The fact that there are so many to choose from means that you will be able to find a bargain while still learning about something you're interested in.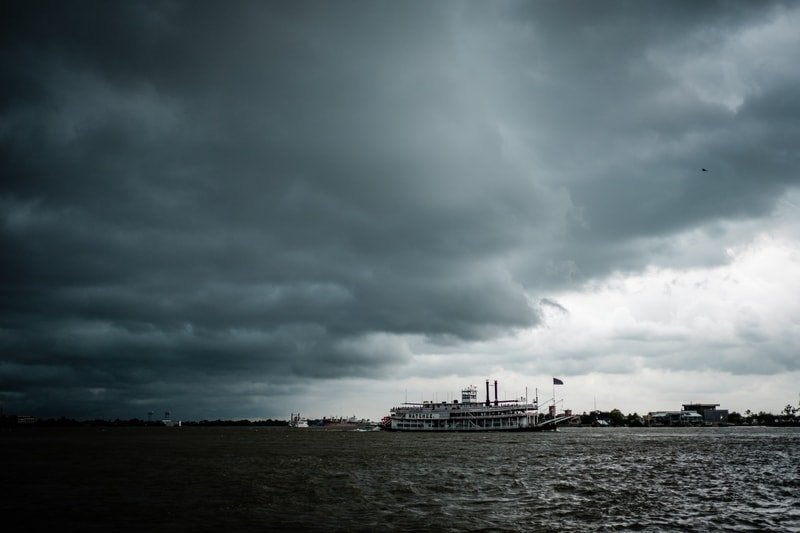 Travel on the Mississippi River
The Mississippi River is the second largest river in the United States and is a breathtaking piece of nature to behold. It flows right through New Orleans and is definitely a stop you should make to fully appreciate its natural splendor. Although you can walk along the river banks and take in the mighty Mississippi yourself while watching the sunset, there are several boat tours that you can join to learn more about the river and see it from a different view.
Final Thoughts on Free Stuff to Do in New Orleans
New Orleans is a must-see city, and it has something for every person that is fortunate enough to visit it. There is a wide variety of food for all gourmets who travel to find the best meal, a constant party for those who enjoy cocktails and bar hopping, and a rich history to discover for those who want to learn. In this jazz city, you can also always find mesmerizing music to dance along to.
We hope that this list of activities showed that you do not need a big budget to enjoy New Orleans. You can enjoy these fun things for free or for a very reasonable price.