Ever wondered, "Where is Game of Thrones filmed?" Since the original book series, "A Song of Ice and Fire", described the Seven Kingdoms in-depth, filmmakers were faced with quite a challenge looking for the best filming locations. While some scenes were shot in the United States, many were filmed in Ireland, Iceland, and Croatia.
Other important countries that played a part in creating the Seven Kingdoms are Morocco, Malta, and Spain. A studio simply wouldn't captivate the magnificence of places like Dorne or the slave cities.
Given how great each set in the show looks, it's fair to say that the filmmakers did a good job finding the perfect locations. Now fans can visit these Game of Thrones countries in real life.
11 Game of Thrones Locations to Visit
The Game of Thrones sets feature popular sites and attractions from all over the world. Below are some of the best GOT filming locations to visit.
1) Old Town Dubrovnik, Croatia – King's Landing
Most of King's Landing does not exist in real life and was shot in a studio. However, some exterior shots were taken in Croatia, namely Dubrovnik's Old Town and Split.
Dubrovnik's Old Town made its first on-screen appearance during the second season of Game of Thrones. Since airing, GOT-inspired tourism to the location grew. To this day, fans of the show flock to the medieval walled city to explore the capital of the Seven Kingdoms.
A popular site is St. Ignatius of Loyola Church, where Cercei Lannister's "walk of shame" was filmed. Another is Fort Lovrijenac, a real-life fortress that hosted the epic Battle of Blackwater.
There are also several parks and streets that appeared in GOT. So when visiting the city and discovering the best things to do in Dubrovnik, you're sure to stumble upon a few familiar places. A number of exteriors were filmed in Split. This is the largest city in the Dalmatia region of Croatia, just a three-hour drive from Dubrovnik.
2) Vatnajökul National Park, Iceland – Beyond the Wall
Where did they film Game of Thrones' "Beyond the Wall" scenes? The scenes beyond Castle Black were filmed in various parts of Iceland. This includes multiple areas inside Vatnajökul National Park, as well as the Hverfjall volcano, the Myrdalsjokull glacier, and the Grjótagjá geothermal hot spring nearby.
In the GOT show, the icy lava fields, frozen lakes, and snow-filled craters were considered uncharted territories as this was where the wildlings and White Walkers roamed. However, in reality, these beautiful landscapes are perfectly safe to visit.
While the series uses a fair amount of CGI, the natural landscapes still look similar to the Lands of Always Winter. When visiting, marvel at the ice caves, large glaciers, and geothermal areas, or grab an ice ax and trek across Svínafellsjökull like John Snow.
3) Alcázar of Seville, Spain – Water Gardens of Dorne
During the fifth season of Game of Thrones, the Alcázar of Seville in Spain appeared as the Water Gardens of Dorne, the seat of the House Martell of Sunspear.
This location is a 700-year-old Andalusian palace, a UNESCO-listed site recognized as Europe's oldest royal palace that is still in use. The upper chambers are residences for the Spanish royal family.
When visiting this location, you'll be left in awe by the intricately detailed palace. In fact, it is also considered to be one of the most well-preserved examples of Moorish-style architecture.
So whether you're a fan of Game of Thrones or architecture, a visit here is sure to be worthwhile. One of the best ways to view this stunning attraction is on a guided tour.
Address: Patio de Banderas, Sevilla, Spain
4) Bardenas Reales, Spain – Dothraki Sea
The Dothraki Sea is a vast grassland home to the nomadic horse tribes of Dothraki. In season six of Game of Thrones, it is here where Daenerys Targaryen (the Mother of Dragons) is held captive by these tribes.
This barren landscape comes across as rather mystifying in the show and gives off a similar vibe in real life. The interesting destination is found in northern Spain and is known as the Bardenas Reales Natural Park.
With around 100,000 hectares of badlands, canyons, and plateaus, this location looks as if it were on another planet. While otherworldly, you can explore these arid badlands by foot, bike, or car.
5) Essaouira, Morocco – Astapor
Essaouira is a beautiful coastal city in Morocco. While it is a UNESCO World Heritage site in real life, Game of Thrones fans will recognize this location as Astapor. It was where Daenerys began amassing her army, starting with Grey Worm and the Unsullied.
Here, the Mother of Dragons bought the elite force of warriors and had them turn on their masters. This location is also where Drogon, one of the three dragons born in the wastelands of Lhazar, incinerated the master holding its chain.
While certainly an iconic Game of Thrones destination, Essaouira offers much more than what is depicted on screen. When exploring this port city, you can expect incredible views of the Atlantic Ocean, fresh seafood, and a myriad of local artisan stores. The city is also renowned for its argan oil production and world-class surfing.
6) Trsteno, Croatia – King's Landing Palace Gardens
Trsteno is a small seaside settlement in Croatia, just 20 km north of Dubrovnik. It is admired for its natural beauty, rich vegetation, and of course, its famous Arboretum. According to archeological findings, this breathtaking site dates to as early as 1492.
While renowned for its beauty and history, Game of Thrones fans will recognize this place as the King's Landing palace gardens. This venue appeared in many scenes throughout the series.
A few notable scenes took place in season three. The first is Sansa revealing the depths of Joffrey's malice to Olenna Tyrell in episode two. Another is Varys, Master of Whispers, who conspired with Olenna against Little Finger in episode four.
This was also where the matriarch of House Tyrell plotted to position her granddaughter, Margaery, among the city's court. In real life, the Trsteno Arboretum has drawn such a strong link to the character of Olenna that it has been nicknamed the "Tyrell Garden".
7) Itálica, Spain – King's Landing Dragonpit
Anyone who's watched Game of Thrones knows how rare it is to have many of the main characters in the same place due to the many separate storylines. For this reason, the Dragonpit Summit was an iconic scene.
The long-anticipated battle for the Iron Throne between Cersei Lannister and Daenerys Targaryen saw almost every major character. This includes Jon Snow, Tyrion Lannister, Theon Greyoy, and several more.
The site for this monumental scene was the amphitheater of Itálica in Spain. These ancient Roman ruins are situated just outside of Seville. In its heyday, the amphitheater could seat up to 25,000 people, making it one of the largest in the entire empire.
While the Itálica looked incredible, serving as the Dragonpit of King's Landing, the site is just as incredible without the presence of the Game of Thrones characters.
Address: Av. Extremadura, 2, Santiponce, Sevilla, Spain
8) Grjótagjá, Iceland – Jon Snow's Love Cave
The next spot on this list features just once in the Game of Thrones series. This three-and-a-half-minute sequence shows Jon Snow and Ygritte getting together in an underground hot spring. The site for this steamy scene is Grjótagjá, a small lava cave located near lake Mývatn in north Iceland.
While you can visit this real-life geothermal pool, you cannot bathe in the hot springs due to the unpredictable temperatures. To get a feel of the water, you're more than welcome to dip your toes in.
9) Zumaia and Barrika, Spain – Dragonstone Beach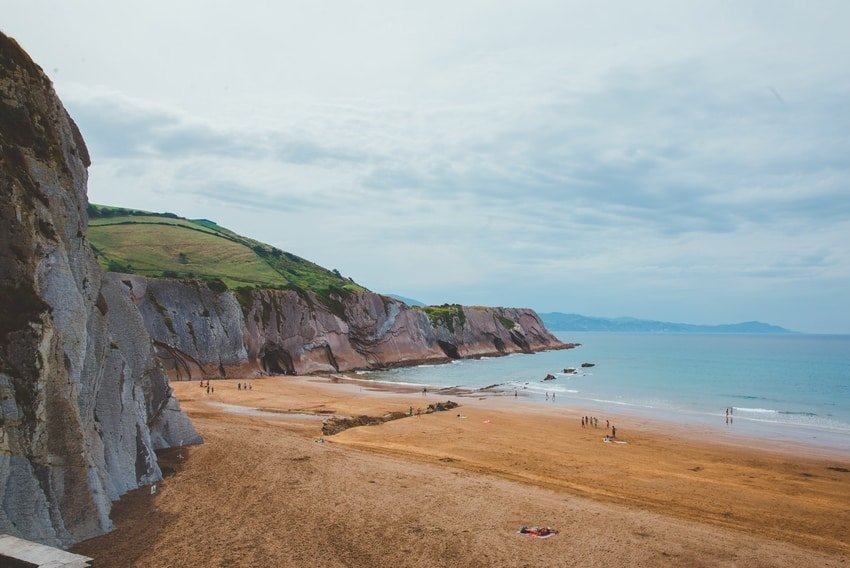 Are you wondering, "where was Dragonstone filmed"?. In the Game of Thrones series, Dragonstone Beach is the setting for several important scenes. Some scenes include the Burning of the Seven and Daenerys leaving to go home to roost in season seven.
While the interior of Dragonstone is filmed on a sound stage in Belfast in Northern Ireland, the exteriors were filmed on the northern coast of Spain. The beach, cave, and footbridge were shot at Itzurun Beach in Zumaia and Muriola Beach near Barrika.
Both Dragonstone filming locations are just as stunning in real life and can be accessed by visitors. Itzurun beach features a nearly 900-foot-long coast with golden sands. The unspoiled Muriola beach offers a remote space ideal for anyone seeking a quiet atmosphere.
10) Ait Benhaddou, Morocco – Yunkai
Ait Benhaddou is a historic ksar or fortified village in Morocco. While featuring in the world-famous Game of Thrones series is an accolade on its own, this attraction is renowned for much more.
Ait Benhaddou is a UNESCO-listed site and was once a significant stop along the former caravan route between the Sahara and Marrakech. It is also celebrated for its earthen clay homes, many of which are hundreds of years old.
In Game of Thrones, the site served as the setting for Yunkai. In season three, Daenerys laid siege to this city, freeing the slaves. Following these scenes, Daenerys is seen outside the gate of Ait Benhaddou, along with the newly recruited members of her army.
In addition to Game of Thrones, Ait Benhaddou served as the filming location for several other Hollywood productions like the Mummy, Gladiator, and the Jewel of the Nile.
11) Meteora, Greece – The Eyrie in the Vale of Arryn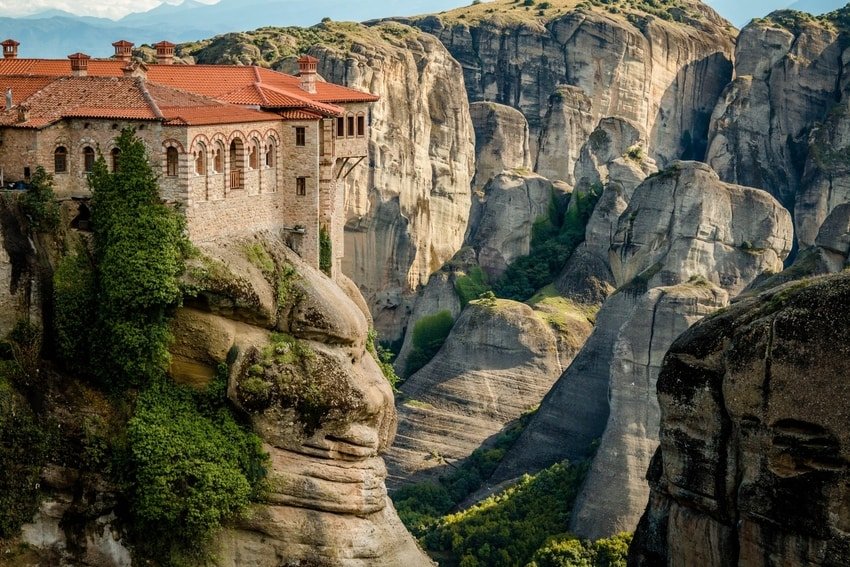 The last entry on this list is Meteora, a UNESCO World Heritage site in Greece. While it may appear as if the Game of Thrones characters were at this location in the show, they did not actually shoot here. However, it did inspire the design of the set.
Meteora's renowned mountain-top monasteries were digitally mastered into the GOT series. It appears in season one as a backdrop for the Sky Cells, where Tyrion Lannister was held captive.
Travelers are welcome to visit this stunning attraction. One of the best ways to admire the incredible views is venturing through the northern Greece Valley. You can do this on foot, on a bike, or on a private tour.
Final Thoughts
There are many filming locations of Game of Thrones for fans to uncover all over the globe. Next time you're in one of these cities, be sure to find out all about the locations mentioned and perhaps learn a few interesting facts about the show.
Have you visited any of these GOT filming spots? Let us know in the comments below.