Just a short two-hour ferry ride from the Greek capital, Athens, lies the island of Hydra.
Since the 1960s, artists, poets, and musicians have long found inspiration in the island's bohemian atmosphere and beautiful scenery. But what, exactly, are some of the best things to do on Hydra Island?
The island's timeless magic is captured in its lack of modern architecture and tranquillity – once here, you'll notice the absence of noise from the engines of motor vehicles. That's because all 'wheeled' vehicles are banned (including bicycles). Locals and visitors alike travel around by either boat, donkey, or on foot – it's quite the quintessential Greek experience.
With its heavenly beaches and hilltop villages, Hydra Island can most certainly compete as one of the best islands in Europe. So, if you're ready for your very own Mamma Mia moment, grab your comfiest walking shoes, and let's start exploring this little Saronic sanctuary.
What to Do on Hydra Island
Besides the obviously stunning beaches, glistening waters, and delicious moussaka, Hydra Island boasts many unique features and memorable activities for the curious visitor.
The small, elongated island is only about 20 kilometers in length and five and a half kilometers at its widest. Although you can make it to a few main attractions in a day, it's recommended that you spend at least two or three days here to really indulge in the island's offerings.
So, whether you're embarking on a day trip from Athens or spending a week immersing with the locals, below are seven fantastic things to consider doing on Hydra Island.
Explore the Island on Horseback
As the only car-free island in Greece, horses, mules, donkeys, and water taxis form the primary ways of getting around Hydra Island. So what better way to immerse in Hydra's trekking culture than to go horse riding around the island?
Harriet's Hydra Horses is one such family-owned business that allows you to explore the island from a unique vantage point. It's a fantastic choice for all because it's suited for novice and experienced riders alike. Choose from a number of treks that will take you past various monuments, landscapes, and natural features.
Once on horseback, you'll relax and enjoy as you sit back in your saddle, soaking in all the views. You'll ride to both the beach and the countryside, visit Hydra's chapels and monasteries, and even go for a bareback swim in the sea.
Hike the Island's Paths
From donkey trails and monastery hikes to coastal paths – there's no shortage of opportunities when trekking in Hydra. Fortunately for visitors, all trails are clearly marked with wooden signs, so your chances of getting lost on the already-small island are even slimmer.
A popular trail is the Hydra to Limnioniza Bay trail, a scenic and moderate nine kilometers that will take from Hydra town to Limnioniza Beach and back. There's also the incredible six-and-a-half hike to the Prophet Elias Monastery, which will give you a bird's eye view of the island once you reach the top.
In Hydra's harbor, there's a map showing all the different hikes you can do, so take a picture that you can keep for future reference and direction. Because there are no cars on the island, the paths are generally very well-used and well-maintained.
Tour Hydra's Museums
For such a small island, Hydra has a couple of quaintly intriguing museums highlighting its important role in Greek history. The island's glory days were considered to be the late 18th and early 19th centuries – when Hydra was famous for contributing over 150 ships to help the Greeks fight against the Turks in the Greek War of Independence.
The Hydra Museum is set in an elegant stone mansion right by the water's edge. It's filled with historical archives that give a special glimpse into what life was like on the island in the 1800s, plus unique insight into the island's naval history. There's even a rooftop terrace that hosts opening parties and weddings in the summer.
Built in 1750, the Lazaros Kountouriotis Mansion is another great historic building and museum to check out. Lazaros Kountouriotis made this multi-leveled building himself, and it's complete with old family heirlooms, including costumes, jewelry, and ceramics from 17th-century Greece.
Lounge on Pebble Beaches
The beaches on Hydra tend to be more rocky and pebbly than sandy. They're also not located in the main town, so this means you'll have to make your way there on foot, water taxi, mule, or by horse. Once there, you'll be rewarded with pristine waters and seemingly untouched surroundings.
One of Hydra's best beaches is Vlychos, a pebbly seaside stretch with lovely lounge facilities and plenty of local tavernas nearby. There are even sunbeds and umbrellas, so you can effortlessly and peacefully park off here for the day. From Hydra town, you can easily reach Vlychos on foot or by boat.
If you're after a spot to park off in the sun that's a little more alternative, pay a visit to Hydronetta. This place is more of a rocky outcrop than a beach, composed of cemented sun decks that are just perfect for tanning and diving straight into the water. Above the rocks is a small bar that serves up thirst-quenching drinks and plays ambient music throughout the day.
Visit the Island's Churches and Monasteries
The island is only 10 miles long but is home to over 300 monasteries, churches, and chapels. It's likely that every hour, you'll hear the musical tintinnabulation of hundreds of bells chiming across Hydra. The island's religion of Greek Orthodox, which dominates life on Hydra just as any other Greek island.
Although it's not quite on the scale of an Acropolis tour, a visit to the Prophet Elias Monastery will prove intimately beautiful. Plus, you'll be rewarded with some of the best views on the island, as the monastery is perched upon a high hilltop. It's the only male monastery on the island and has a rich library with valuable manuscripts. To enter, women must wear skirts, of which a basket of them is provided.
Another beautiful church to pay your respects at is the Cathedral of the Assumption of the Virgin Mary. Upon entry, dress appropriately and remember that taking photos is not allowed. Don't worry, though, as the images of pure white marble and intricate relief decorations will forever live in your memories.
Wine and Dine at the Local Tavernas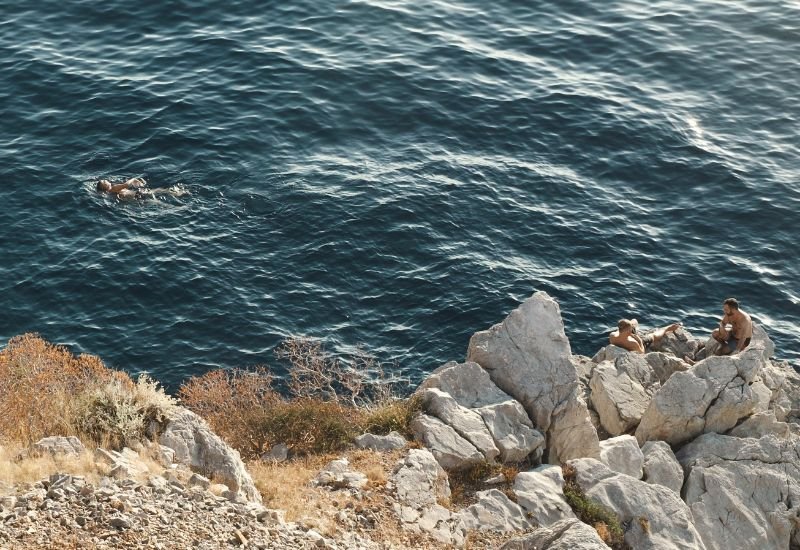 A taverna is a family-owned Greek restaurant that serves local cuisine – and there are plenty of them on Hydra Island. Generally, at these small establishments, the food is all sharing plates, the menu is the waiter, and the tablecloths are paper instead of cloth.
At a typical Greek taverna, you're in for a much more intimate and cultural experience than at a standard restaurant.
The island's traditional cuisine is characterized by fresh fish and seafood. But a very popular dish on the island is a homemade pie baked with sweet mountain greens and local lamb. For dessert, try the lalangites – traditional pancakes drizzled with honey or petimezi (grape molasses).
In Hydra town, try the seafood risotto at Paradosiakó or the aubergine meatballs at Kryfo Limani. You may have to try a little harder to find the hidden taverna of Xeri Elia Douskos. However, once you're seated under the purple canopy of wisteria dining on stuffed grape leaves with tzatziki, it will all be worth it.
Go on a Boat for the Day
Sailing in Greece is almost guaranteed, especially when discovering the hidden coves and beaches of Hydra.
Fortunately, there are a couple of boat rental companies you can hire a private motorboat from. If you have your skippers, you'll be able to drive the boat yourself. If you're unlicensed, don't worry – there's the option of having a friendly guide to drive you around for the day. Alternatively, and more affordably, you can join a group for a day cruise.
Agios Nikolaos on the Western end of the island is one such beach you can only access by boat. Here, the rugged, low mountains appear to gently sweep into the water, making for a magnificent backdrop of the Mediterranean Sea and Greek terrain. Your skipper is also bound to know some secret coves perfect for diving and snorkeling.
There are also 'beach boats' that run throughout the day, taking passengers to Hydra's various unreachable coastal spots. These boats are more like ferries, but they're a great chance to explore the island's main beaches. You'll find the beach boats opposite the Cathedral Clock Tower in Hydra Town.
Frequently Asked Questions: Visiting Hydra Island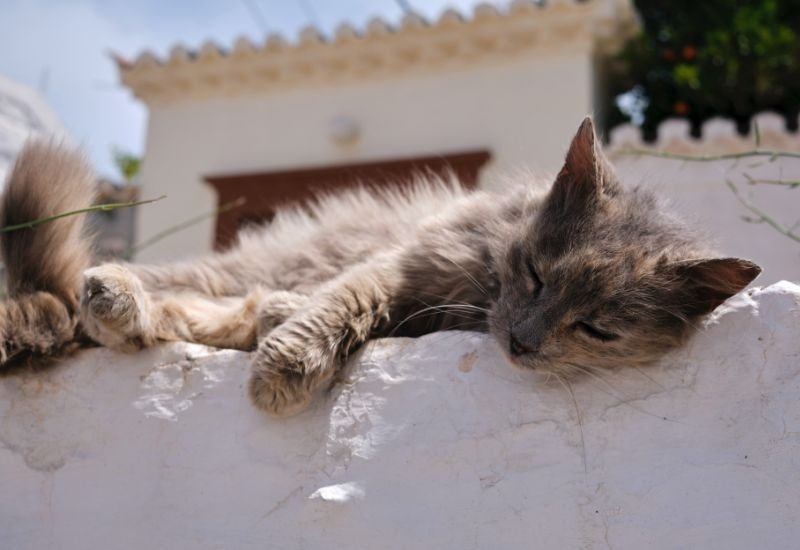 When traveling to Hydra, there are a few things to be aware of.
Is Hydra Island Expensive?
When compared to other Saronic spots such as Poros Island, Salamina, and Egina, Hydra is more expensive.
It is an island that is still sought after by the rich and famous due to its understated, sophisticated vibe. Plus, as not much is grown on the island, Hydra has to import its produce from mainland Greece and other larger islands.
Is There an ATM on Hydra?
There are two banks in Hydra's harbor that both have 24-hour access to ATMs. It's recommended that you carry around smaller notes, as some family-owned establishments may have trouble giving you change.
Can You Drink Tap Water on Hydra?
Most say that the water here is fine to drink, as the island gets most of its water supply from a desalination system that takes the salt out of the seawater. However, if you want to remain extra cautious, it's best to stick to bottled or boiled water.
Wrapping Up: Best Things to Do on Hydra Island
As you amble along the car-free cobblestone streets and take in the bobbing views of the wooden fishing boats, you'll be reminded of slowing down to Hydra's leisurely pace.
This unique island will offer you the Greek experience you've always dreamt of. From exploring the island's culture through its monasteries to sunbathing on perfect, pebbled beaches – Hydra Island will capture your heart (and your stomach!) in no time.
Overall, Hydra's authenticity creates an enchanting experience, making it a must-visit destination for those seeking serenity in the Greek islands.
Up Next: Unique Things to Do in Chania, Crete