New Orleans is known for being the spiritual birthplace of jazz music, and much like jazz music, the weather can often be quite unpredictable. You could be enjoying a day with your family when the skies open up to reveal a sudden burst of rain. 
A sudden change in the weather doesn't mean you'll have to cancel your plans for the rest of the day, especially when you're in New Orleans. There are many indoor activities for the whole family to enjoy, regardless of the weather outside. 
To help make sure you've always got something to do on a rainy day, we have gathered a list of the best indoor activities New Orleans has to offer.
Indoor Things to Do in New Orleans
It might be raining cats and dogs outside, but that doesn't mean you won't be spoilt for choice when it comes to indoor things to do in New Orleans. 
From visiting one of the city's many museums to exploring Blaine Kern's Mardi Gras World, you'll always have a fun indoor activity to partake in. 
Learn About the War at the National WW2 Museum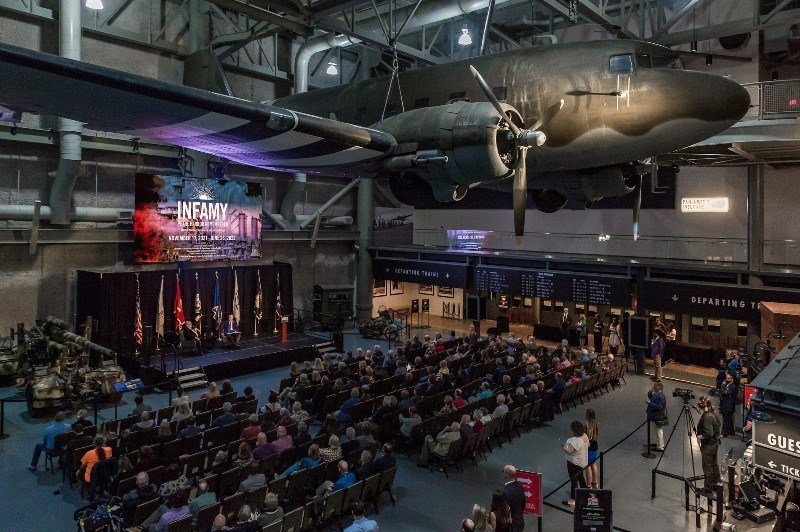 The National WW2 Museum is an excellent place to visit on a rainy day. The museum offers a great combination of immersive exhibits, an extensive collection of artefacts from the war, and personal recollections from those who fought in the war. 
Visiting the National WW2 Museum will give you insight into why the war took place and how it was won. However, it will also give you a glimpse into what life was like for the average citizen at the time. 
The 'War Affects Every Home' exhibit, for example, provides an in-depth look at how WW2 affected an ordinary American household at the time.  
Purchasing an adult ticket will set you back $29.50, and a kids ticket will cost $18.00. 
Visit the Colorful and Vibrant Mardi Gras World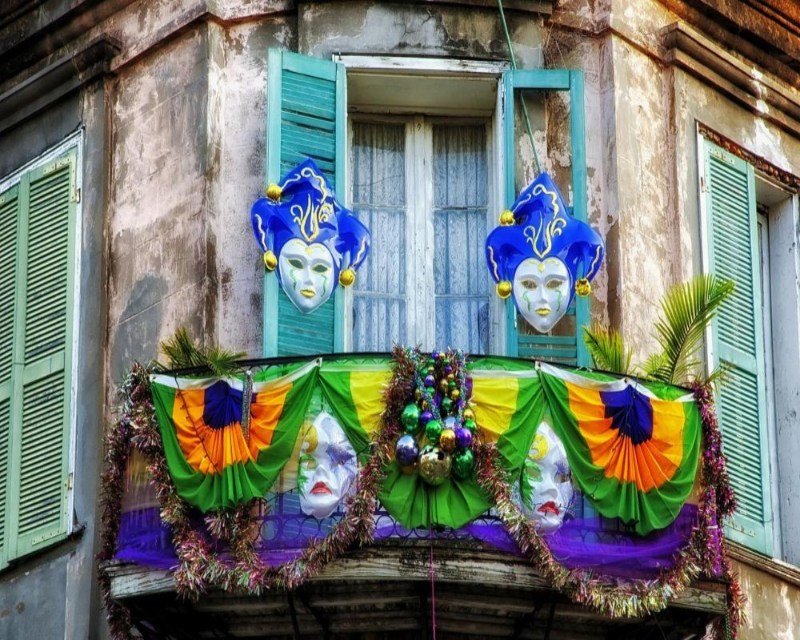 Don't let the rain stop you from getting a taste of the world-famous Mardi Gras atmosphere. Mardi Gras World was built in 1947 by legendary float designer Blaine Kern, and is the birthplace of around 80 percent of the floats used during the Carnival season each year. 
Treat your family to a tour of Mardi Gras World where you can marvel at the colorful, intricately built floats that decorate the streets of New Orleans each year. Throughout your tour, you'll learn about how the many floats are built, along with the traditions surrounding the carnival. 
During your tour you will be treated to a slice of king cake (which is a staple during carnival season), a piping hot cup of coffee, and a video explaining the history behind Mardi Gras. It truly is an outing that the whole family can enjoy! 
Most visitors spend around 2 to 3 hours exploring Mardi Gras World. Tickets will set you back $22.00 for adults and $14.00 for children. 
Take a Trip on a Streetcar
Just because it's raining doesn't mean you can't explore the city. New Orleans is home to a variety of Streetcar lines, each of which takes you on a different route around the city. 
We suggest hopping aboard the historic St. Charles Streetcar, which runs along a stunning 13-mile route around the city. Along your journey, you'll be shown some of the city's most famous landmarks. 
These include a trip down Canal Street and a drive-by of the historic Antebellum Mansions. You'll then continue your journey with a brief ride under a canopy of live oaks that seem to be taken right out of a fairytale. 
The streetcars themselves are also a thing of beauty. With rich mahogany seats and exquisite brass fixings, you'll feel as though you were transported back to the 1800s when the city first started to use streetcars.  
Tickets for a streetcar will cost $1.25 per ride, which is perfect for tourists on a budget. 
Stay Entertained at Le Petit Theater
When it comes to being entertained, few can compare to Le Petit Theater. Originally started in 1916, the Le Petit Theater has built a reputation for putting on some of the highest-quality performances and shows that New Orleans has to offer. 
From spine-chilling dramas to hilarious comedy shows, and everything in between, Le Petit Theater has entertained thousands of people over its long and illustrious history. Hundreds of the world's best performers, designers, technicians, and directors have all had their work featured at Le Petit Theater and will continue to do so for years to come. 
Le Petit Theater has shows running year-round, which means no matter the time of year, you'll always have something to watch. Click here for more information on upcoming shows and ticket prices. 
Indoor Kid Activities New Orleans
If you're traveling to a new city, especially with children, you'll need to plan some fun activities to keep them entertained. This is often easier said than done. To ensure that you always have an answer to the question, "what are we doing today?", we've gathered a list of fun indoor kids' activities to do in New Orleans. 
Pay a Visit to JAMNOLA
If there is one thing kids and teens absolutely love, it's visiting an Instagram-worthy location where they can take as many pictures as possible. Luckily for you, JAMNOLA in New Orleans is the ideal spot for this. 
JAMNOLA, which stands for Joy, Art & Music – New Orleans, is an interactive art exhibition that teaches the youth about New Orleans' extensive history in art, music, food, and theatrics. This is made possible thanks to the help of over 20 local artists and creative partners. 
Throughout your visit at JAMNOLA, you'll explore a total of 12 different exhibits, each of which has its own dedicated room. Each room has its own theme celebrating different cultural aspects of New Orleans. So not only will you and the kids get a chance to take some truly unique pictures, but you'll be learning about the city of New Orleans as well! 
Tickets to this colorful exhibition will cost $29 for adults and $20 for kids aged 3-12. 
Strike Out at Rock n Bowl
Enjoying a nice meal out with the family is always an excellent way to start off your evening. However, without the right entertainment, even the best restaurant in the world can quickly get boring for kids. This is where Rock n Bowl stands apart from its competition. 
As the name suggests, at Rock n Bowl you will be treated to some of the best food and drinks New Orleans has to offer, but you can also sharpen your bowling skills while you're there. 
Knock back a delicious meal before knocking down those pins, all while listening to live performances from local talent. What more could you ask for? 
Bowling will set you back $25 an hour per lane, with a minimum of 6 bowlers per lane. Shoe rental will cost just $1. 
Explore Audubon Aquarium of the Americas
If there is one thing kids absolutely love, it's learning about unique and fascinating animals, and the Audubon Aquarium of the Americas is the perfect place for this! 
Located along the majestic Mississippi River, Audubon Aquarium of the Americas is the ideal place to teach your children about sea life while still keeping them entertained. Home to over 3,600 animals from more than 250 different species, you'll always have something new and interesting to discover. 
Whether you're marveling at the 13,000-gallon shark and ray touch pool or watching the adorable penguins during feeding time, you and the entire family will be entertained for hours on end. 
An adult ticket will set you back $30, while a kids ticket will cost $24 for children aged 2-12. 
Go on a Haunted Carriage Ride
There are many different ways to explore New Orleans, and one of the best is via the Royal Carriage 'History & Haunts Night Tour'. 
As the name suggests, the History & Haunts Night Tour takes passengers on an extensive tour of some of New Orleans's most haunted sites. Best of all, the carriage itself has a roof, meaning bad weather won't ruin your trip!
Thanks to great insight from a local tour guide, not only will you get to see some of the most haunted places in the French Quarter, but you'll get an insightful history lesson about the area as well. 
Tickets for this unique tour will cost $60 for adults and $40 for kids aged 5-12. 
Wrapping Up Things to Do Inside in New Orleans
New Orleans is home to a wide variety of indoor things to do that the whole family can enjoy. Whether it be learning about how WW2 affected the everyday American, going bowling at Rock n Bowl, or visiting the Audubon Aquarium of the Americas, you're sure to be entertained for hours on end!