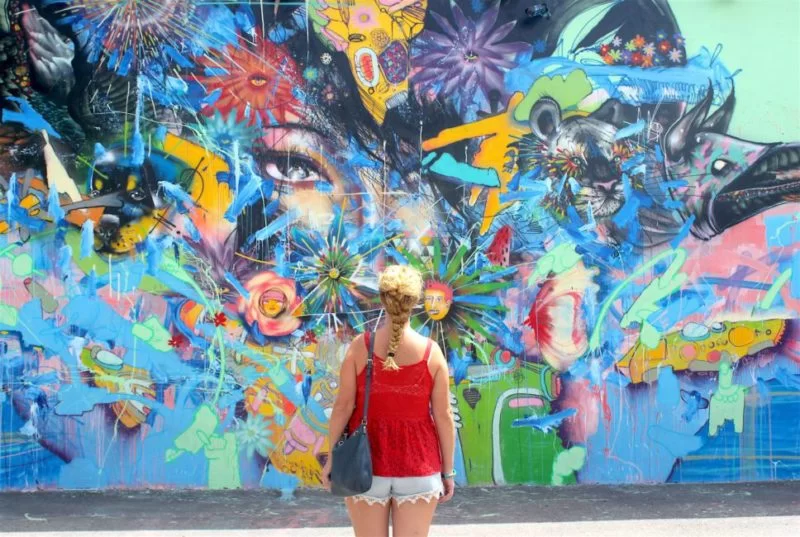 "Welcome to Miami, Bienvenidos a Miami", the captain sang out as we touched down in Miami International Airport, causing a ripple of laughter through the cabin. I could help but smile to myself, as horribly cheesy as it was. I had finally arrived.
Miami was the first stop on my "Project USA" two month trip across America and it was such a fun and vibrant city to start my travels. In a way, when you land in Miami it doesn't even feel like you have arrived in the United States yet. There are so many different languages being spoked in the streets, tourists mixing with locals (and most of the time it's hard to tell them apart) and such a mix of nationalities that it makes Miami a true melting pot of cultures.
Home to South Beach, one of the best beaches in Florida, complete with a fun vibe and turquoise waters, endless restaurants and beach bars and so much shopping you could easily empty your bank account in one weekend, it's no wonder so many people love this this dynamic and exciting city.
Considering I'm a travel blogger I am the worst travel planner ever. In fact I rarely plan anything before arriving in a new city, choosing instead to ask locals about the best places to eat, drink and be merry and taking it from there. As beautiful as the beach is in Miami, I had just flown in from week on the picture-perfect beaches of Aruba so the beach here was far from my priority.
Instead I decided to spend my days exploring other parts of town and trying to find the best of Miami street art. The woman at my hotel (I stayed in a travel-themed hotel in South Beach called Circa 39 – more about that later!) recommended I check out Wynwood Walls, an area of Miami famous for its graffiti and street art.
Wynwood Walls – the best of Miami street art
Wynwood Walls, now one of the hippest parts of Miami and even listed as one of the hippest neighbourhoods in the United States, wasn't always this cool and colourful. The area was once full of abandoned industrial warehouses and in desperate need of a makeover. That's where renowned community devitalizer (the late) Tony Goldman came in. Back in 2009 he had the idea to use the walls of these abandoned warehouses as canvases and to commission street artists from Miami and around the world to paint works of art and brighten up the area. Part of is mission was to bring graffiti and street art to the people, to help the general public to appreciate this type of art. The entire area is now one of the most colourful districts I've ever visited, just overflowing with creativity and positivity.
I spent the better part of three hours wandering around the Wynwood Walls and streets surrounding them, smiling to myself as I came across each new piece of street art. Some were just bright backgrounds, perfect for those Instagram shots everyone craved, while others were more political or at least had some sort of statement to make.
While I came to Wynwood hoping to find the best Miami street art, I ended up discovering so much more.
What started with just the Wynwood Walls in 2009 has now expanded to the entire neighbourhood almost a mile in every direction. It's hard to find a building in the area that has not been painted with bright colours or intricate drawings and messages. There are now craft breweries, clothing boutiques, organic coffee shops and a huge variety of art galleries to keep you occupied for not just a few hours but maybe even a few days.
I came for the art, but stayed for the food.
My favourite find the Wynwood Yard, a pop-up entrepreneurial hub that started with just one food truck and is now home to an eclectic variety of food, drink and design just a short walk away from the Wynwood Walls. Wynwood Yard also plays host to live music concerts, yoga sessions, Word and Wine Open mic nights and even the odd silent disco. Check out their calendar of events here. I made the most of their happy hour, sampling their sunset sangria – I could tell you about it, but best for you to try it yourself.
Back on the main road, right opposite the Wynwood Walls complex, you will Wynwood Block, a small but bust centre home to some restaurants, coffee shops and clothing boutiques. Inside head straight to Mr Block Cafe, a coffee shop that serves up some of the most delicious fruit smoothies I've ever had the pleasure to taste.
A friend of mine from Florida (who I met while living in South Korea!) told me if there is one place I must go while in Wynwood it's The Salty Donut. Apparently this donut store started the donut craze in Miami and while it was once just a pop-up store it got so popular that it is now a brick-and-mortar store in the heart of Wynwood. Demand is so high here that they are always selling out so get there early if you don't want to be disappointed!
View this post on Instagram
Where to stay in Miami – Circa 39 South Beach
If you're like me and you're looking to discover the unique side of Miami, then checking in to hit is the way to go. This was my first ever time staying in a themed hotel, and the fact that it was travel and wanderlust-inspired pretty much made it my dream hotel. Unlike many of the hotels I've stayed at in the past, especially the all-inclusive hotels in Mexico, Circa 39 Hotel actually encourages you to get out and explore as much of Miami as possible rather than stayed in the hotel all day.
They even have a website dedicated to helping you find things that will interest you the most called Beyond Circa 39. The website is basically a guide to all the local neighbourhoods in the area sp you can do some research before you head out for the day. They have maps, videos and also a guide to the best places to eat and drink – which is exactly how I planned my day in Wynwood!
Once you are done exploring you can head back to the hotel, chill out my the pool or their perfectly designed lounge area (seriously, this is an interior designers dream lobby!!) or walk the 10 steps across the road and spend the evening soaking up the sun on South Beach (they even have private sun beds on the beach just for hotel guests!).