Nevada City, known as California's best-maintained gold rush town, will have you wanting to return again and again. This unique town has a rich history, incredible food spots, and breathtaking architecture and natural surroundings.
There's always something to do, see, or try in this charming city. Whether you're a history fanatic, an aesthete, an adventure lover, or passionate about great food, you'll feel right at home in Nevada City.
While this town seems to have an endless amount of activities and attractions, the list below provides some of the top things to do in Nevada City, CA. This city is so captivating, there's a high chance that you'll want to extend your stay.
Where Is Nevada City, CA?
Nevada City is the county seat of Nevada County, in the warm and sunny state of California. The city sits 60 miles northeast of Sacramento and 84 miles southwest of Reno — both of which have international airports. If you're flying in, it's best to rent a car so that you're free to tour the county at your own pace and time.
Nevada City is a short 6-8 minute drive away from the beautiful Green Valley, which is equally worth a visit.
What to Do in Nevada City
There's genuinely something for everyone in Nevada City. Whether you're traveling solo or bringing the entire family along, you won't be disappointed by this busy town.
The list below includes activities and attractions ranging from art galleries and crafts to hiking and kayaking — and everything in between.
Adventuring in Nevada City
Surrounded by lakes, mountains, forests, and open plains, this town is an adventurer's utopia. You'll get to enjoy the following outdoor activities in Nevada City, CA.
Mountain Biking
Nevada County is the ideal spot for mountain biking enthusiasts. The mountain biking trails in and around Nevada City range from moderate to extreme and attract mountain bikers from all over. You'll come across a spirited community of bikers in this town.
To meet mountain bikers that are as passionate about mountain biking as you are, stop by the Tour of Nevada City Bicycle Shop (TONC). A group of mountain biking fanatics meets up outside this shop for weekly mountain biking adventures.
The shop staff will be able to connect you with this group and will be happy to repair or service your bike. They also have bikes for every type of cyclist available to rent.
Fun Fact: The Nevada City Bicycle Classic is the second oldest professional cycling race in the U.S. It is also considered one of the most challenging races and has been completed by the likes of the legendary cyclist Lance Armstrong. 

Tour Nevada City By Bicycle
If you prefer your adventures with a bit less of an adrenaline rush, rent a bicycle at TONC and set out on a calm, exploratory ride around town.
Make it a family excursion and settle down at the peaceful historical landmark, Hirschman's Pond, for a picnic. Alternatively, you can bring your camera along and capture the Victorian homes and natural surroundings at your leisure.
Kayaking & River Rafting
Nevada City is situated near the Yuba River. Here you can enjoy some of the best kayaking and white river rafting the West Coast has to offer. The Yuba River waters are great for all intensity levels of watersports.
Extreme adventurers will love the exhilarating Upper South Fork run on the Yuba River, while the serene Scotts Flat Lake is perfect for smooth paddleboarding and kayaking.
For a guided white river rafting experience, you can check out Tributary Whitewater Tours and H2O Adventures LLC.

Hiking
With snow-capped mountains, glimmering rivers, and tall pine trees lining the sky, you're bound to be moved by the enchanting hiking trails around Nevada City.
The city is surrounded by trails that cater to everyone from seasoned hikers to wheelchair users. The Independence Trail was the first wheelchair-friendly trail in the U.S. and was founded by John Olmsted.
The summers in Nevada City are warm and dry, so be sure to pack loads of water on your hike and avoid hiking at midday.
Skiing & Snowboarding
A winter getaway to Nevada City won't be complete without a day (or three) on the slopes. Nevada City is conveniently located near top-tier skiing destinations such as Donner Summit and the South Lake Tahoe area.
Most locations are less than an hour's drive out of town, where you'll find over a dozen exciting ski resorts.

Immerse Yourself In the Arts, History & Culture
The Nevada City community has worked hard to preserve the character and heritage of this town. While other gold rush towns have slid into the history books, Nevada City residents managed to keep this town alive and buzzing for future generations to appreciate.
Today the town has a thriving creative community and beautifully preserved landmarks that attract scores of tourists each year. Thanks to the dedication of the town residents, you'll have a long list of activities and sights to consider for your travel itinerary.
Learn About the Town's History
The entire downtown Nevada City district is recognized as a historic landmark. With a history stretching back to the 1850s, there's plenty to learn and see about this town.
Visit the Nevada County Narrow Gauge Railroad Museum to learn about the town's transportation history. The railroad was active for about 66 years, during which it hauled an accumulation of gold valued at over $200 million.
Get transported back to the past on a 35 minute round trip on the historic railbus. You'll also want to have a look at the photos and artifacts of the mining town at its peak operation. There are railroad-themed gifts and collectables available at the museum gift shop.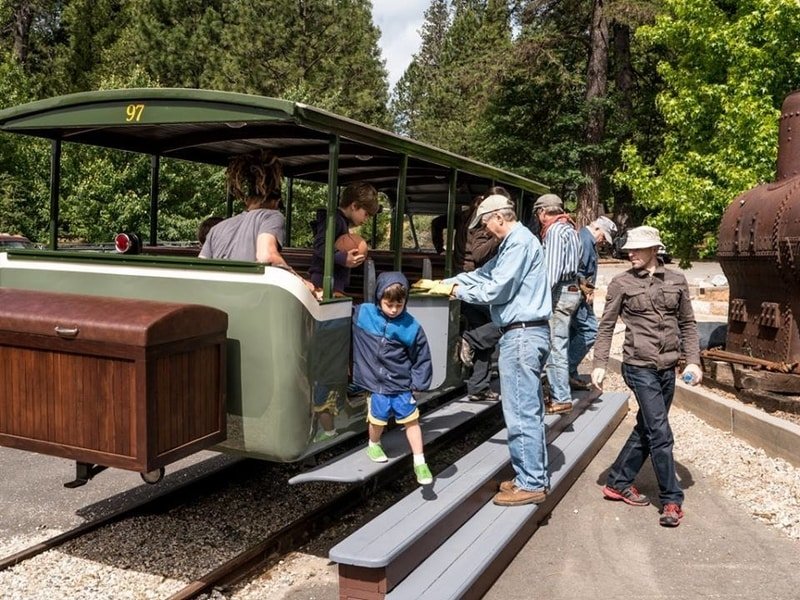 The Empire Mine State Historic Park offers another historical look into the town's lively past. This mine, which operated from 1850 to 1956, hosts yearly events like Springtime at the Mine and the Holiday Open House. The yearly Miner's Picnic has been running for over 125 years.
On the topic of food — be sure to try out the traditional Cornish Pasty introduced by mineworkers from Cornwall, England back in the day.
Other worthwhile historical sites include the Firehouse Museum and the Chinese American cemetery.
Movies & Live Theater
Being in California, it's no surprise that this town has a tremendous appreciation for film and theater.
The Nevada Theater, also known as Cedar Theater, is the longest-standing theater in California. This 200-seat theater, established around 1865, has regular film screenings, theater and comedy performances, and live music concerts.
If you're a film enthusiast, you won't want to miss the Nevada City film festival that takes place every summer. While the town may be small, the talent it produces is immense. This yearly film festival attracts thousands of visitors and has even been dubbed the "Sundance of the Sierra".
The Wild & Scenic Film Festival takes place in January and includes activist workshops, films, art shows, talks, and exciting parties. This Film Festival is the biggest fundraiser for the preservation of the South Yuba river, championed by the South Yuba River Citizens League (SYRCL).

Art Galleries
Attend one of Nevada City's First Friday's Artwalks where you'll be able to engage with established and emerging artists. You'll get to enjoy wine-tasting, incredible food, and live performances while taking in the local talent showcased throughout the historic downtown district.
First Friday's is also the perfect time to pop by the many vintage boutiques for incredible clothing and book finds.
Get Crafty in Nevada City
Letting the creative juices flow is not only fun but also a relaxing bonding activity. Nevada City has two perfect locations for learning a new craft or playing around with some paintbrushes.
The Artist Workshop on Mill street is all about fun for all ages. The workshop hosts everything from children's parties to ladies' crafting nights. Here, you'll get to paint pottery and join open studio projects 7 days a week.
The Curious Forge is an exciting center that welcomes artists and hobbyists alike to explore 15 different creative disciplines. Some of the many disciplines on offer are:
Glass blowing
Flameworking
Mixed media
Jewelry making
Blacksmithing
Ceramics
The center hosts personalized group classes where you'll get to learn a new skill with your friends or family. There are few things as impressive as coming back from a holiday knowing how to forge steel or build a bandsaw box.

Final Thoughts on Things to Do in Nevada City, California
It might be hard to believe, but this list only covers the tip of the iceberg when it comes to fun things to do in Nevada City. The town has an array of fun activities and occasions throughout the year available on their calendar of events. So regardless of when you visit Nevada City, you're guaranteed to have a memorable time.
With great adventure comes great hunger, and you're in for a treat in this town. Wind down and get to know the friendly locals over a craft cocktail and pizza at one of the many exciting bars in Nevada City. They're bound to recommend many more exciting things to do in this town.