Cairns Helicopter Tours | Explore the Great Barrier Reef in 2023
Last updated on September 28, 2023 12:09 am
Add to wishlist
Added to wishlist
Removed from wishlist
0
Add to compare
Experience the beauty of Australia's coastal city, Cairns. The city is situated in northeastern Queensland. It's home to spectacular reefs, ancient tropical rainforests, and top Australian attractions.
With exhilarating helicopter flights, Cairns provides breathtaking landscapes including the renowned Great Barrier Reef. We've listed various options for you to enjoy the thrilling adventures from above as well as a few additional activities.
Highlights:
Explore the Great Barrier Reef
Experienced guides and informative commentary
Enjoy additional activities – underwater exploration with snorkeling stops
Know before you book:
Maximum single-seat weight is 130kgs – this includes carry-on luggage
Most tours do not have wheelchair accessibility
The helicopter ride is subject to weather conditions
In Cairns, you'll encounter rich culture and history embedded within the city's top landmarks. From the Cairns Botanical Gardens' exceptional collections of tropical plants to discovering ancient rainforests, it's an ideal spot for adventure-seekers.
Cairns is a gateway to the Great Barrier Reef (GBR) – a breathtaking UNESCO World Heritage Site. The reef stretches over 2,300 kilometers with more than 2,900 individual reefs and 900 islands.
It is home to rich ecosystems with a remarkable diversity of coral and countless species of marine life. With superb species including turtles, dolphins, and sharks, it's easy to see why most tours include GBR helicopters.
So, let's dive into the top tours to take part in when visiting Cairns.
Prices of Helicopter Tours – Cairns
Helicopter tours start from around $302 USD ($406 AUD) to $384 USD ($515 AUD), depending on the type of tour, duration, and supplementary activities.
Compare the prices of Cairns scenic flights below: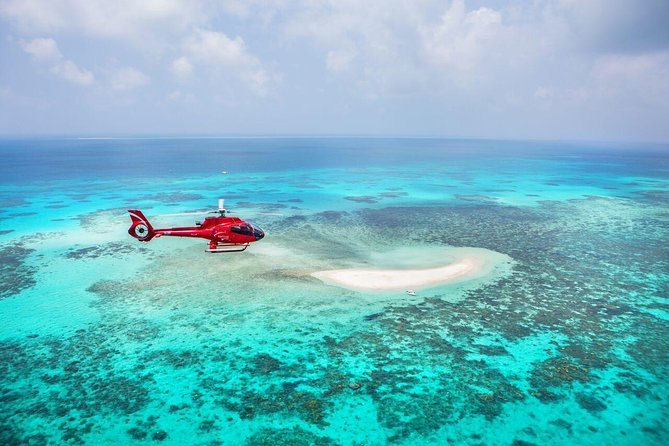 Cairns Helicopter Tours Times
Helicopter tours in Cairns operate daily and usually take place in the morning until the late afternoon. Tours typically start between 7 am and 10 am, with tour lengths varying from 30-minutes to 9-hours.
Note: Most tours provide free cancellation. You'll have to cancel within 24 hours before your scheduled booking to receive a full refund.
Best Time to Go on a Helicopter Tour – Cairns
Wondering when to book your trip? Cairns offers splendid weather during its warmer seasons. In Australia, spring and summer occur between September and February.
Quick tip: Although spring and summer provide ideal weather, it usually is the busiest time for helicopter tours. Be sure to book early and reserve your spot.
Before booking helicopter rides, it's vital to check the weather in advance. Cairns experiences its windiest weather during January, followed by February and November. Therefore, we recommend enjoying Queensland's beauty by sky during its spring season in September and October.
Helicopter Rides – Cairns Scenic Packages
If you're seeking a scenic adventure by helicopter, Cairns provides opportunities for breathtaking views of reefs and islands. Of course, there are spectacular photography opportunities. You can enjoy the Great Barrier Reef helicopter rides and discover the dazzling diversity of marine animals.
For those traveling with kids, keep in mind that it is a requirement for children aged 3 and above to remain in their seats at all times. Whereas infants can sit on their guardian's lap and travel free of charge.
Below you will find the top tours to enjoy unforgettable aerial views.
Great Barrier Reef Helicopter Tour from Cairns
This 30-minute sightseeing flight by helicopter provides spectacular aerial views with enlightening commentary. The tour is ideal for those who are short on time. You'll enjoy picturesque views of the Green Island and soar over the Great Barrier Reef.
Note: The tour requires a minimum of 2 travelers per booking with a maximum of 6-7 passengers per helicopter.
What we liked: Superior service with knowledgeable guides.
INCLUDES:
Pick-ups and drop-offs from Cairns and Northern Beaches hotels
Informative commentary during the helicopter flight
30-minute scenic ride
EXCLUDES:
Drinks and snacks
Snorkeling
Transfers to/from Port Douglas (can be purchased at $250 USD ($336 AUD) per car with a maximum of 4 passengers)
Prepare to fall in love with Australia's striking views thanks to Great Barrier Reef helicopters. This tour takes place throughout the week with departure times varying between 08:00 am and 5:00 pm.
Departure Point: 2 Pier Point Rd, Cairns City QLD 4870, Australia
Check Price & Book
Moore Reef Scenic Helicopter Ride & Cruise from Cairns
This thrilling tour offers two package options – a cruise with helicopter return or a helicopter flight with cruise return. It is perfect for those who want to experience the destination's beauty from the sky and sea.
You'll enjoy an exhilarating 6-and-a-half hour trip. This includes a 25-minute guided helicopter ride and an air-conditioned catamaran cruise to/from Moore reef. The reef is a renowned diving location 40kms from Cairns, with crystal-clear water, colorful coral, and diverse marine life.
Additional activities include guided coral viewings, snorkeling with expert instructors, and cruise facilities such as a kids' pool, showers, and a water slide.
What we liked: The tour provides a magnificent aerial and sea-level view of one of the world's must-see natural wonders, the Moore reef.
INCLUDES:
Coffee, tea, and a delicious tropical buffet
Snorkeling equipment
Free pick-up from hotels within Cairns Central Business District
EXCLUDES:
Cancellations and refunds
Other additional expenses
Insurance
This tour runs from 11:00 am to 5:30 pm. If you're looking to save on transport costs, why not consider traveling by bus. The nearest one is Spence Station at Grafton St – just an 8-minute walk from the departure point.
Departure point: Reef Fleet Terminal, LOT 996 Pier Point Rd, Cairns City QLD 4870, Australia
If a Cairns cruise interests you, check out our guide on the best boat tours in the city
Check Price & Book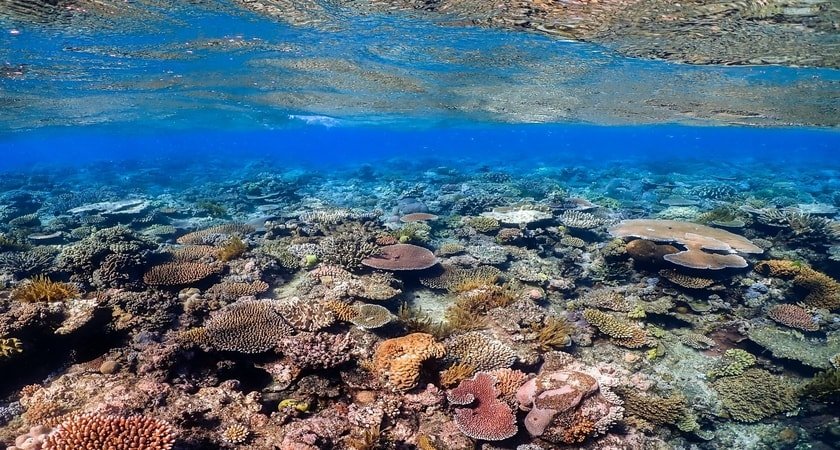 Great Barrier Reef & Rainforest Scenic Flight from Cairns
This 45- or 60-minute helicopter flight provides mesmerizing views. With views of glistening waterfalls, mountains, and a World Heritage-listed rainforest in Kuranda, this is an ideal journey for nature lovers.
Enjoy this scenic helicopter flight over the Great Barrier Reef – don't forget your camera to capture those spectacular views.
What we liked: Splendid views of the reef and rainforest from above.
INCLUDES:
Transfers to/from Cairns accommodation
Complimentary water
Commentary on sights
EXCLUDES:
Hotel pickup and drop-off from Port Douglas
Food and snacks
Snorkeling
The tour's operating hours are between 8:30 am to 5:00 pm. With pickups from Cairns hotels included in the tour.
Check Price & Book
Green Island Helicopter Flight & Cruise Return
This tour is perfect for those looking to spend the day surrounded by striking scenery. The 7-hour activity begins with a captivating 20-minute helicopter ride to Green Island and returns via catamaran.
Discover the dazzling beauty of the Great Barrier Reef by glass-bottom boat or dive in with a snorkeling trip.
What we liked: Thrilling ride with relaxing return cruise.
INCLUDES:
Snorkeling equipment
Glass-bottom boat with coral reef tour
Lunch
Air-conditioned catamaran cruise
EXCLUDES:
Hotel pickup and drop-offs
Other additional expenses
The starting time of the tour is 10:00 am. Keep in mind that you'll have to check in 30 minutes before the departure time.
Departure point: 1 Pier Point Rd, Cairns City QLD 4870, Australia
Check Price & Book
Cairns helicopter tours offer excellent ways to experience the spectacular surroundings. With the Great Barrier Reef's exceptional beauty right on its doorstep, this city is a must-see destination. Explore the awe-inspiring islands and dive into the dazzling sea, where an unforgettable adventure awaits.
PROS
Exploring the Great Barrier Reef
Most tours include snorkeling equipment
Complimentary fun-filled activities for the entire family
CONS
Most tours are not wheelchair accessible
Some tours do not include pickups and drop-offs
Helicopter flights are subject to weather conditions
Specification:
Cairns Helicopter Tours | Explore the Great Barrier Reef in 2023
| | |
| --- | --- |
| Accessible | Not wheelchair accessible |
| Duration | Depends on the individual tour |
| Includes | Guide, live commentary, Snorkeling gear, on most tours |
| Excludes | Food and drink (unless specified) |
| Suitable For | Everyone |
23 reviews for
Cairns Helicopter Tours | Explore the Great Barrier Reef in 2023
Cairns Helicopter Tours | Explore the Great Barrier Reef in 2023