The Best Horseback Riding Argentina Offers | Tickets & Prices
Last updated on November 26, 2022 5:21 am
Add to wishlist
Added to wishlist
Removed from wishlist
0
Add to compare
Traveling to Argentina and want to do something different? Are you perhaps thinking about  having a holiday on horseback? Argentina has many options for horse riding tours that are a once-in-a-lifetime experience.
Argentina is a beautiful country, rich in culture and history. The country also has a deep gaucho (cowboy) culture epitomized by Argentinian horseback riding tours. These tours go along the country's diverse and breathtaking landscapes, giving you a break from the busy cities.
Holidays in Argentina are always exciting and fun, especially if you plan on taking a horseback tour through the countryside. These tours allow you to see a side of Argentina that only so few get to experience in their lives.
Whether traveling in a group or as a couple, horseback riding in Argentina promises excitement, breathtaking views, and a glimpse into Argentinian culture.
Highlights:
A horseback ride through the Andes landscape
A traditional Argentinian BBQ with Mendoza wines
Hotel pick-up and drop-off
Know Before You Book:
This is not suitable for young children
Not wheelchair accessible
Special dietary (vegetarian, kosher, gluten-free) options are available
Argentinian horseback riding tours are perfect for anyone with a moderate fitness level who wants to experience a unique side of the country. Most tours offer a sunset tour option ideal if you're going to have a romantic getaway with your partner.
The tours generally last half a day, and you are provided with a meal after riding up to the rest site. A local, bilingual guide is there every step of the way to provide you with valuable information about Argentinian gaucho culture and the landscape you are traversing.
Must-haves:
Your passport or ID
Comfortable shoes
Warm clothes like a jacket or scarf
Sunscreen                                                                                                                                                                                                                                                         
Most tours pick you up from your accommodation and take you to a horse ranch in Argentina's countryside. If you choose the morning or lunchtime tour, you will ride for two hours until you reach the end, where you will find an authentic Argentinian BBQ.
With the sunset tour option, you get the same perks, but your dinner is accompanied by a traditional folk session complete with a demonstration of gaucho skills. After a tasty dinner, transportation will take you back to your accommodation, where you can relive your Andes mountain experience.
These tours are an ideal option if you do not have much time in Argentina, but want to experience all that the countryside offers. They are relatively short, exciting, and provide you with some of the best photo ops. The horses are also tame, and you get the opportunity to get acquainted with them before you start your ride.
Horseback Riding In Argentina Prices 2022
Prices for Argentinian horse riding tours range from 5859.67 Argentine pesos ($47 USD) to 20571.18 Argentine pesos ($165 USD), depending on the package and what it offers.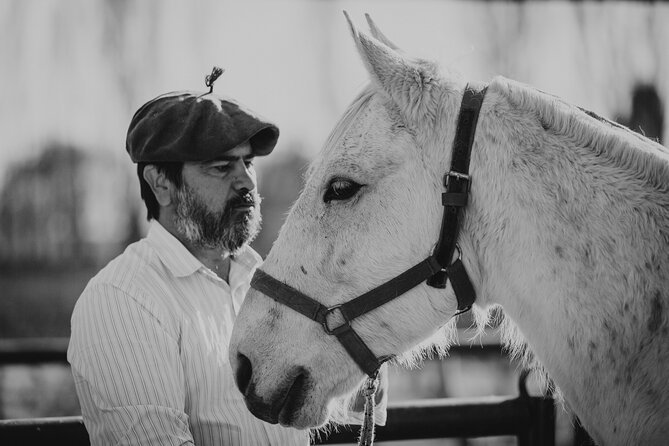 Opening And Closing Times
Depending on the tour, you have the option of an early morning, a lunchtime, or sunset tour. Each tour has its perks and advantages. Most tours run for five hours which includes the duration of the BBQ.
Best Time To Visit
The best time to visit Argentina is springtime (October to mid-December) or fall (April to mid-June). During these times, you will avoid the tourist crowds and peak season prices. Mendoza has a Mediterranean climate and is perfect for visiting all year. If you are traveling to Buenos Aires during the winter, make sure to pack your rain gear.
Here are some more seasonal details to help you decide:
Time of year- October to mid-December, April to mid-June
Time of week- Mid-week is the best time if you want a more intimate tour
Time of day- Any time of day is great, but the sunset tours are the most magical
Top Horse Riding In Argentina Tour Options
There are different options for horseback riding tours in Argentina. Most tours offer a mouthwatering BBQ at the end of the ride to top off an already wonderful experience. After you complete the tour, you'll know why Argentina is one of the best places to visit in South America.
We have listed three of the best Argentinian horse riding tours. These tours are a great way to experience the stunning Andes landscape.
Mendoza: Horseback Riding In The Andes With Authentic BBQ
This fantastic two hour horseback ride ends with an authentic BBQ lunch or dinner. If you choose to ride at sunset, you will also be treated to traditional folk music. The tour offers both Spanish and English-speaking guides.
After being picked up from your hotel and taken to Los Amigos, your guide will provide you with your necessary equipment. This is also a perfect time to get acquainted with your horse. Your guide will then take you to the riding school for a safety lesson. Then it is time for you to set off to Mirador Eagles Nest.
You will have a stop at Mirador Eagles Nest, where you can admire the views across the Andes Mountains. This is the perfect time for a photo op. Take a look back at the road you've traveled and stretch your legs. The views of Argentina's wildlife, like black eagles and condors, add to the unmissable experience.
Your horse ride continues to Aguaribay Post, where you will enjoy a delightful Argentinian Asado. The BBQ includes chorizo, morcillas, steak, grilled vegetables, homemade bread, and local wines.
If you choose a morning trip, then the BBQ lunch is optional. For the sunset tours, the BBQ dinner is included and is accompanied by a traditional folk music session. This is a fantastic option if you want to experience a little more of Argentina's culture.
What we liked: The breathtaking views
INCLUDES:
Hotel pick-up and drop-off
Bilingual guide
BBQ lunch or dinner
Check Price & Book
From Buenos Aires: Gaucho And Ranch In San Antonio de Areco
If you are in Argentina and  want to try horse riding, Buenos Aires may not be the best place for you. All is not lost though, this day tour takes you from Argentina's capital to the village of San Antonio de Areco where you can attempt to horseback ride.
The tour begins from your hotel, where you will drive two hours to San Antonio de Areco. This tiny town is known as Argentina's gaucho (cowboy) capital and is steeped in a rich history and culture. A trip to the countryside is also a relaxing break from the bustling city.
When you arrive in San Antonio de Areco, you should take a walk around the downtown area. Then head to the "El Ombu" estancia, where you can choose to either enjoy a horseback ride or a carriage ride, including traditional empanadas and beverages.
After your horseback ride, you will be given more time to rest before sitting down for a typical Argentinian BBQ. Accompanying dessert is a folklore show and a gaucho demonstration. This tour is a great option if you want to learn more about Argentina's gaucho culture or spend a day away from the busy city.
What we liked: Seeing the demonstration of gaucho skills
INCLUDES:
Lunch
A professional local guide
Hotel pick-up and drop-off from certain areas
EXCLUDES:
Drinks
Optional gratuities
Check Price & Book
Horseback Riding At Sunset
This short tour is a great option if you want to experience Mendoza's mountains, but  are visiting Argentina on a tight schedule. The tour lasts approximately four hours and provides an Argentinian BBQ with wine.
You will be fetched from your hotel just before sunset and taken 20 minutes out of the city to the ranch. There you will become acquainted with the horses before starting your ride in the Cordillera de Los Andes. It's almost like you have the mountains to yourself as you take in all the breathtaking views.
On your ride, you will reach a height of 1,200 m.a.s.l. and spot some of Argentina's native wildlife. Rounding off the sunset tour is a delicious BBQ paired with Mendoza wine. Sit back and take in the starry night as you reflect on your ride up.
This is a fantastic tour if you want to do something romantic for your holiday in Argentina. The group is relatively small, consisting of ten people, so you won't feel like the tour is too crowded. Your guides are also quite attentive and knowledgeable, answering all your burning questions enthusiastically.
What we liked: The incredible sunset over the Andes
INCLUDES:
Transportation to and from hotel
Food and drinks
Two hours of horseback riding
Check Price & Book
Horseback riding in Argentina is a fantastic way to explore the countryside. We love that the local guides are experienced, professional, and always willing to help. The highlight of the tour is undeniably the stunning Argentinian landscape.
PROS
Round trip transportation
An authentic Argentinian BBQ
Professional local guides
CONS
Requires a moderate fitness level
Not recommended for pregnant travelers
Not suitable for children
Specification:
The Best Horseback Riding Argentina Offers | Tickets & Prices
| | |
| --- | --- |
| Accessible | Not wheelchair accessible |
| Duration | 4-9 hours, depending on the tour option |
| Includes | Equipment, Professional guide |
| Excludes | Tips |
| Meals & Drinks | Included |
| Suitable For | Individuals with a moderate fitness level |
33 reviews for
The Best Horseback Riding Argentina Offers | Tickets & Prices
The Best Horseback Riding Argentina Offers | Tickets & Prices