Newport Helicopter Tour | Best Aerial Sightseeing of Rhode Island
Last updated on June 2, 2023 8:24 am
Add to wishlist
Added to wishlist
Removed from wishlist
0
Add to compare
The coastal city of Newport is located on Aquidneck Island in the New England State of Rhode Island.
This charming city is home to incredible scenery, marvellous architecture, and friendly people. Newport also has some of the freshest and most delicious seafood in the USA.
Newport has been named one of the top 12 adventure destinations in the world by National Geographic and once you're there, you'll see why.
The best way to see Newport is to take to the sky and soar high above the city. From the air, you'll get a birds-eye view of its incredible mansions, beaches, and lighthouses in a Rhode Island helicopter tour.
Price of a Newport Helicopter Tour
The price of Newport helicopter rides start at just $85 and can go up to $1050 for private helicopter tours.
Some carriers also offer charter rides to the neighbouring cities of New York and Boston, and the prices of these rides range from around $1150 to $2650.
There are also various tour packages available that combine a helicopter ride with other tours and attractions of Rhode Island which start at $106.
Newport Helicopter Tours
Newport Helicopter Tours (also known as Bird's Eye View Helicopters), is a local carrier that has been servicing Newport and the surrounding areas for over 20 years.
They have built up a reputation as the best helicopter operator in Newport, and they strive to deliver the safest and most memorable helicopter rides in Rhode Island.
They have a modern fleet, so you're guaranteed a comfortable ride. Here are some of the tours that they offer:
There are currently no helicopter rides in Newport, here are a couple of helicopter rides nearby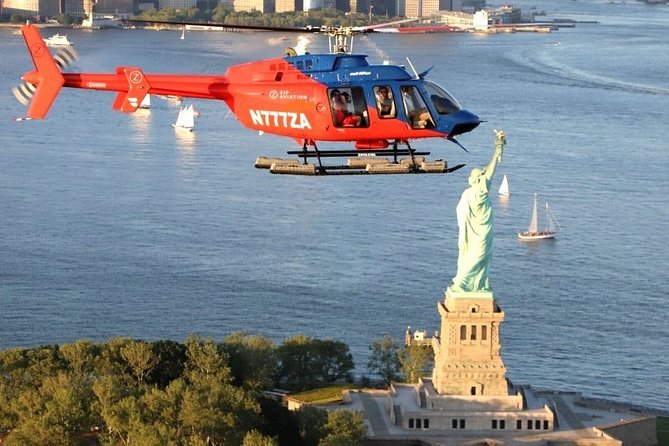 Doors-Off Flight Over Newport
This tour covers 30-miles (48km) of Newport in the sky and soars over the mansions of Newport, Pell Bridge, and stunning Ocean Drive.
As the flight passes over the Atlantic Ocean, you'll get the chance to see one of the most beautiful coastlines in America and take some amazing photos of Rhode Island.
This tour lasts for about 20 minutes and can accommodate up to three passengers. It's perfect for pro and amateur photographers looking to get some shots in Newport without any obstructions.
The Doors-Off Flight costs $175 per person. At the end of the tour, you'll be able to purchase an inflight video of your experience for $30.
Please note that you have to be 18 years or older to participate in this tour.
Mansion Tour
The Mansion Tour is an exhilarating 12-minute tour that covers 18-miles (28km) of the Newport area. Along the way, the pilot will pass by some of Newport's most iconic mansions.
Keep an eye out for the Rosecliff Mansion, Marble House, The Elms, and the Hammersmith Farm (famous for being President John F. Kennedy's summer home).
This tour is the cheapest helicopter tour in Rhode Island, costing just $85 per person. An inflight video of the tour is also available to purchase for an extra $30.
Island Tour
The Island Tour is Newport Helicopter Tours' most popular helicopter ride. In addition to spotting Newports iconic mansions, this ride takes passengers past the amazing Newport Bridge and Rose Island.
This tour also provides the most captivating views of Aquidneck Island and Newport Beach.
This tour covers 30-miles (48km) of Newport in just 20 minutes. It costs $125 per person with the option to buy an inflight video of the tour for an additional $30.
The Lighthouse Tour
If you love lighthouses, then this tour is perfect for you. In addition to seeing the highlights featured in the Mansion Tour, this tour highlights some of the most beautiful lighthouses in Rhode Island.
Be sure to keep an eye out for some iconic landmarks such as the Beavertail Lighthouse in historic Jamestown, which guarded Newport.
The lighthouse tour soars over 45-miles (72km) of Newport and lasts 25 minutes.
This tour starts at around $165 per person with an inflight video available for purchase at an extra $30.
Premier Bay Tour
The Premier Bay Tour is one of the longer helicopter rides offered by Newport Helicopter Tours. It covers 60-miles (95km) of Newport from the air and lasts for 35 minutes.
With this tour, you'll discover why Rhode Island is called the "Ocean State". This tour follows the itinerary of the mansion tour, and in addition to this, passengers get to pick whether they want to go on the West or East Bay route.
This Newport helicopter ride takes passengers past some iconic sites such as the shoreline of Wickford, Point Judith, and the farmlands of Tiverton.
The cost of this tour is $205 per person.
Sunset Island Tour
To get a truly unique perspective of Newport, be sure not to miss the Sunset Island Tour. As you soar around the city at golden hour, don't forget to bring your camera along for some photos.
As you fly over the city, you'll see some incredible sites such as the Marble House, and watch as the colours from the sky dance along the waves of Ocean Drive.
This tour lasts for 20 minutes and costs $190 per person. An inflight video of your experience is included in the price.
Please note: This tour is only available over the weekend, and availability may be limited
Providence Night Flight
The Providence Night Flight is the longest helicopter ride offered by Newport Helicopters and lasts for 40 minutes.
Watch as Newport comes to life after the sun goes down as you watch the city light up while flying over it. This tour covers 65-miles (104km) of the Newport area.
This tour is one of the pricier helicopter rides costing $300 per person, and an inflight video is not available on this ride.
Final Thoughts On Newport Helicopter Tour
The tours mentioned above are just a snippet of some of the best helicopter tours in Newport, RI. There are plenty more amazing helicopter rides that showcase the best of Newport.
Whichever tour you decide to pick, you'll definitely not be disappointed as you soar over the incredible city of Newport.
Don't forget to bring your camera or phone along, as you won't want to miss out on the opportunity to take some beautiful aerial shots.
12 reviews for
Newport Helicopter Tour | Best Aerial Sightseeing of Rhode Island

Newport Helicopter Tour | Best Aerial Sightseeing of Rhode Island