Perito Moreno Glacier Tour Tickets | Patagonia, Argentina's Best Trip 2023
Last updated on October 2, 2023 2:28 pm
Add to wishlist
Added to wishlist
Removed from wishlist
0
Add to compare
The Perito Moreno Glacier, or Glaciar Perito Moreno, in Los Glaciares National Park is one of Argentina's most prominent and enticing day trips and tourist attractions. It is roughly a 100-square-mile ice formation and represents the world's third-largest reserve of fresh water in the form of an ice field.
Tourists can visit the glacier and experience its wonder in a number of ways. This includes simply observing it from a series of constructed walkways from afar. Visitors can also opt to hike up the glacier on a trekking tour.
The closest major town is El Calafate, which can be accessed by airplane or road. The glacier experience proves popular with nature enthusiasts and couples looking for a romantic memory to share.
Highlights:
Witness the glacier from the water or walkways
Superb hiking experience on the glacier
Optional access to a national forest area
Know before you book:
Not suitable for children, and minors require written consent
Requires passport / ID to access the national park
Wear appropriate ice weather gear, including comfortable hiking shoes
This glacier in Argentina is estimated at 18,000 years old. Only the Antarctic and Greenland Ice sheets are larger in volume. This South American glacier is named after the explorer Francisco Moreno.
One of the most amazing aspects of this glacier is the fact that, unlike most other glaciers, this one is growing. Why exactly this glacier is bucking the trend is fascinating, which makes it all the more amazing to visit.
Ice regularly breaks off and falls into Lake Argentino. It is especially prevalent every five years or so when a cycle seems to reach its peak.
Argentina Glacier Tour Prices 2023
The basic cost for entry to the national park is $13 USD ($800 ARS), for foreign visitors. This is usually not included in a guided tour ticket, which will incur its own costs and can vary considerably. Prices on some of the below packages range from $100-280 USD ($12,500-35,000 ARS) or more.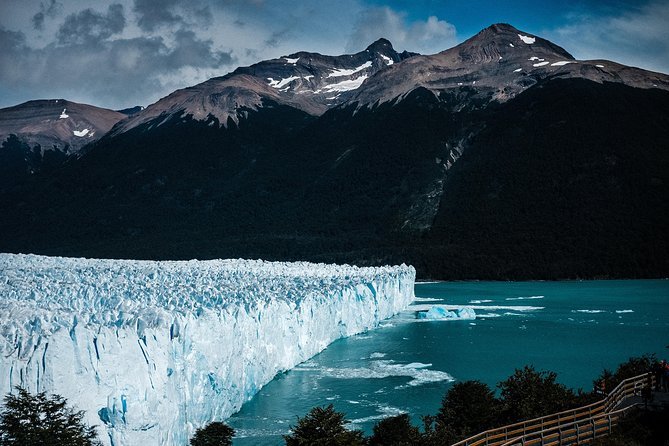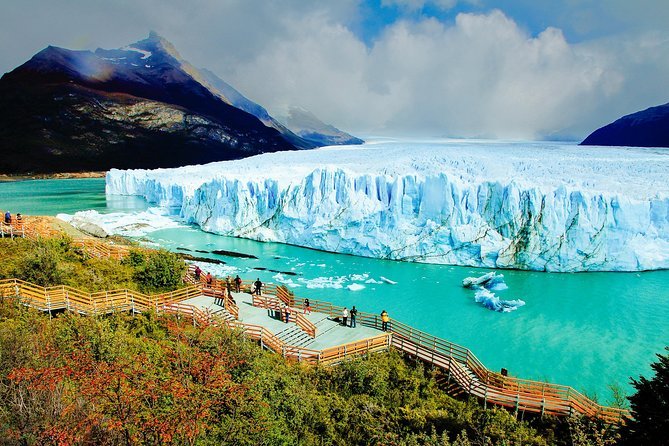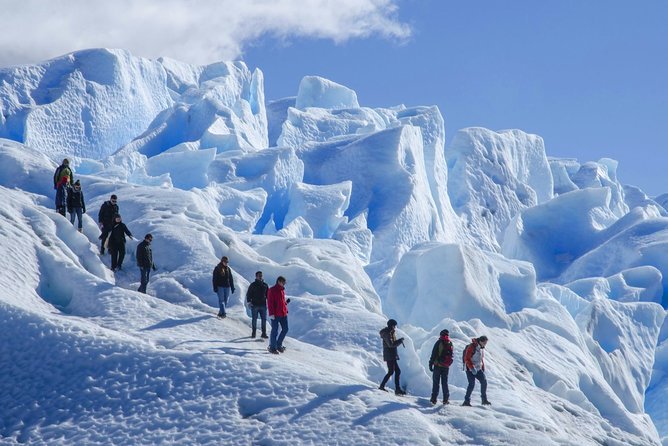 Glacier Perito Moreno Times
The glacier is open to the public most days, but the times will vary depending on the season. Summer has longer days, which allows for opening earlier and closing later. In winter, the hours are shortened for safety reasons.
September – April: 8 am – 6 pm
May – August: 9 am – 4 pm
Best Time to Go to Perito Moreno Glacier, Argentina
The Argentina glacier tour is mostly accessible to visitors between November and March. If you're looking to avoid the worst of the crowds, consider taking the trip just before, in October. Or just after, in April. Some guides may be able to take you there, providing the weather is suitable.
If you're unable to secure a less popular time that suits your needs, don't worry too much. The glacier is huge, and even a large crowd will do little to dampen the sense that you're out in a vast part of nature.
El Calafate – the Gateway to Perito Moreno Glacier
This city sits on the edge of the Los Glaciares National Park, to the south of Lake Argentino. It is considered the gateway to the national park and the glacier for most visitors.
El Calafate is an interesting stop on your way to or from the glacier. In particular, you might want to take in the fascinating Glaciarium, a museum focused on glaciers.

Top Perito Moreno Glacier Tour Packages
Among the interesting options available for a tour to the Perito Moreno glacier are some special inclusions. You might be able to jump onto a boat ride or do a fascinating Perito Moreno glacier hike. Hikes could meander along the adjacent waterway or across the glacier itself. You can also opt for a hotel pick-up on some tours.
Full Day Tour Including Optional Nautical Safari
This tour offers a hotel pick-up and an extensive travel solution for the day. It starts with a drive along Route 11 beside Lake Argentino, up the Patagonian Steppe. Along the way, you'll be able to experience views from the breathtaking vantage points of the drive, including the "sigh curve".
If you prefer, you could include a one-hour boat trip past the south end of the Iceberg Channel. Upon return, you can walk along the specially constructed walkways and paths. This is a great way to experience the three key ways to see the glacier—from the mountains, from the water, and from the adjacent land.
What we liked: Great for a variety of activities around the attraction.
---
INCLUDES:
Hotel pick-up
Optional boat trip / nautical safari
Witness ice fall from the glacier
EXCLUDES:
Lunch at glacier restaurants
Price of admission to national park
The main part of this tour focuses on walking the footbridges in and around the national park. From here, visitors get a stunning view and perspective of the glacier and glacial lake. A notable highlight is the opportunity to see chunks of ice fall from the glacier face, and into the lake.
There are two restaurants at the park, at which you will have an opportunity to rest for a welcome and tasty lunch. Note that lunch is not included on the tour ticket price, so bring extra cash for that.
You should also see a large variety of birds around the lake, and there are plenty of amazing photo opportunities to exploit.
Check Price & Book
---

Full Day Trekking Tour and Cruise
Not only will you get to set foot on the famous Perito Moreno glacier, but you'll also get to trek through a forest—all on your fancy ice-hiking crampons. In addition, you'll get to do a short boat ride on the way there and back. All of this adds to the overall thrill of spending the day out in glorious nature.
A boat will depart from Bajo de las Sombras Port, at the end of which you'll embark on a 20-minute walk to the starting point. From here, you'll join a small group to begin an ascent of the glacier, going for 90-120 minutes on foot.
The way back is through the Magellanic forest, which offers its own natural beauty to marvel at. Another boat ride takes you to the walkways network, which you'll have some time to explore as well.
What we liked: Great for getting out there and actually trekking through nature for the day.
INCLUDES:
Pick-up from some hotels
Glacier sailing
Guide
EXCLUDES:
Food and refreshments
Entrance fee to the national parks
Check Price & Book

Glaciers, as we know, are becoming more and more treasured on our planet. What could beat the thrill of seeing one in person? You can walk along it, climb it, actually see pieces fall off one end, or just take a boat ride along its edge. Whichever you choose, visiting this amazing destination in Argentina is an unforgettable day-long experience. Patagonia and Argentina themselves are superb destinations.
PROS
Gets you out in nature
Appreciate a truly magical natural wonder
Many tours offer transport from your hotel
CONS
Not recommended for kids
Longer excursions may be strenuous
Not all options are wheelchair friendly
Specification:
Perito Moreno Glacier Tour Tickets | Patagonia, Argentina's Best Trip 2023
| | |
| --- | --- |
| Accessible: | Not all tours are wheelchair accessible |
| Duration: | 6-11 hours |
| Inclusions: | Pick-up / Drop offs |
| Exclusions: | Park fees |
25 reviews for
Perito Moreno Glacier Tour Tickets | Patagonia, Argentina's Best Trip 2023
Perito Moreno Glacier Tour Tickets | Patagonia, Argentina's Best Trip 2023