Last updated on February 6, 2023 4:03 am
Add to wishlist
Added to wishlist
Removed from wishlist
0
Add to compare
Sea Life Aquarium San Antonio is a fantastic way to see and interact with the ocean's most mysterious creatures. This magical aquarium is the perfect family destination, as it's a great day trip for the entire family.
In this otherworldly indoor aquarium, you can see magnificent sea life, from the scary but mesmerizing sharks to the small and delicate seahorses. With ten interactive zones, expect to have an unforgettable time, all while learning about the variety of life that calls the ocean home.
Once you've had your fill of the beautiful aquarium, you can visit Legoland, a space dedicated to the iconic plastic toys. With so much to see and do at Sea Life Aquarium in San Antonio, it's no wonder Texas is one of the best places to visit for USA day tours and attractions.
Highlights:
Tickets include access to the indoor Legoland
Walk through San Antonio's only underwater ocean tunnel
See all your favorite ocean creatures
Know before you book:
Adults must accompany their children at all times
You can't bring food or drinks onto the premises
Being a tourist destination, it can get crowded
Since 2014, the San Antonio Sea Life Aquarium has brought people happiness and unforgettable experiences. The fantastic space also has the only ocean tunnel in San Antonio, so you can walk amongst the stingrays and sharks without getting wet.
At 33,000-square-foot, you can spend hours wandering through the magical landscapes made by the walls of water and fish. To make things even more interesting, the establishment of Legoland Discovery Center San Antonio in 2019 provides a playground for all ages.
There are more than 3,000 fish in the aquarium, from glowing jellyfish to majestic sea turtles. If you don't believe there are so many fish in one place, you can always try to count every last one during your time there. As it's an indoor aquarium, you can visit in whatever weather and still have a lovely time.
San Antonio Aquarium Tickets
The cost of tickets to the aquarium in San Antonio starts at $23,80 USD and can reach up to $42,36 USD with the Legoland combo ticket.
If you decide to join a tour of San Antonio that includes passing the aquarium, tickets start at $48,70 USD and can reach $73 USD. However, these tours tend to exclude Sea Life entrance tickets which you would have to purchase at an additional cost.
Compare prices across the ticket providers below: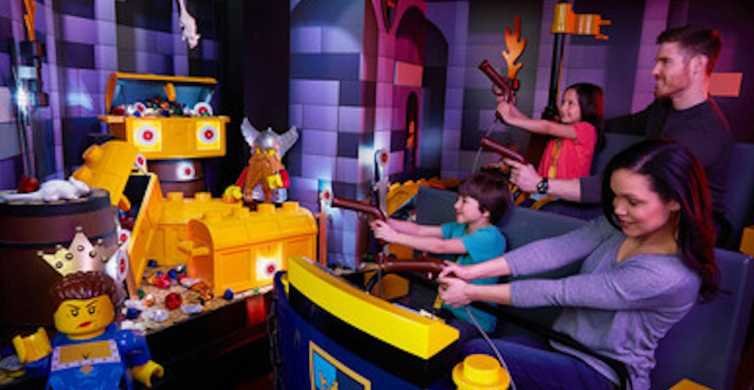 Sea Life San Antonio Times
Sea Life is open from 10 am until 6 pm every day of the week, giving you ample time to enjoy your aquarium adventures in San Antonio.
The entrance to the aquarium closes at 5 pm, but we advise giving yourself more than an hour so you can explore the space without having to worry about needing to leave.
Monday to Sunday: 10 am to 6 pm
Best Time to Go to Sea Life Aquarium San Antonio TX
Although the aquarium is open all year round, it's best to visit in spring as the weather is particularly good. It's best to walk through the aquarium during weekdays as the weekend gets jam-packed and can feel overcrowded.
With lovely weather outside and an immersive experience in Sea Life, it's no wonder Texas is one of the most spectacular places to visit in March in the US.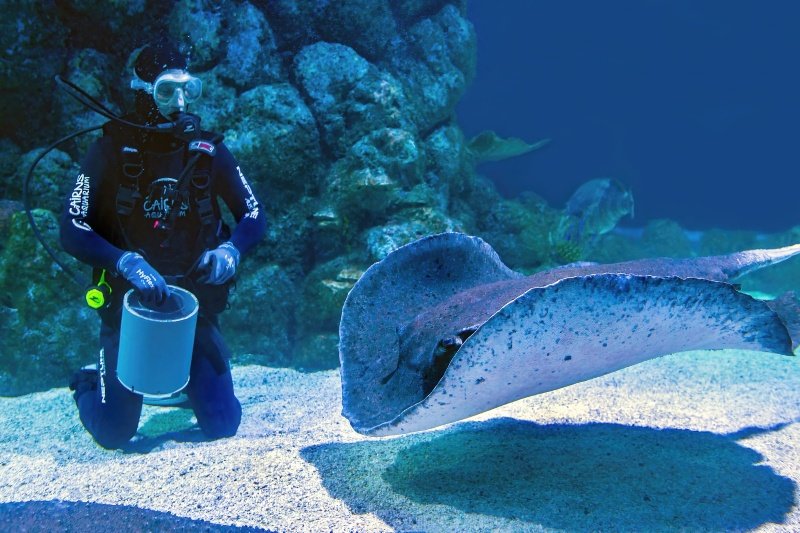 What to Do at Sea Life & Legoland San Antonio TX
At Sea Life, there are several exhibits where you can engage with and admire the diversity of marine life. Here are the top exhibits and what you can expect to see during your time at each one:
Ocean Tunnel: From the tunnel, admire all the fish, stingrays, and sharks from a whole new perspective as they swim above.
Interactive Rockpool: Look at and touch the harmless but beautiful array of colorful sea anemones and slow-moving starfish.
Stingray Bay: If you ever want to get up close to a school of stingrays, now is your chance. Admire stingrays as they swim along the tropical white sand beach and learn about these fascinating creatures from the local aquarists.
Seahorse Mangrove: Watch the tranquil seahorse bob and glide in the water with absolute ease. At this breathtaking exhibit, you may also get the opportunity to see a male seahorse give birth.
Before you think you've seen it all, dive into the world of Legoland. There are 12 fantastic exhibits for you to enjoy, but here are the top things to do at Legoland:
VR Lego World: See Lego like never before in this fun-filled virtual Lego world. Join the challenge as you steer your car or plane through the epic world and become the champion of Legoland.
Merlin's Apprentice: Zip around and soar in the sky on this exhilarating ride as you try to become the world's next best wizard.
Kingdom Quest: Jump into the world of chariots and trolls as you journey through the kingdom to save the captured princess.
Miniland: Ever think you would be able to see the whole of San Antonio in one place? Miniland is a downscale of San Antonio, where you can see everything, from your hotel room to the famous Tower of the Americas.
Sea Life Aquarium San Antonio Tickets & Tours
There are plenty of options to pick from when deciding how you would like to explore Sea Life and Legoland in San Antonio. There is a wide variety of fantastic things you can see and do at Sea Life, including talks and feedings or getting a behind-the-scenes tour.
Here are the top Sea Life, Legoland San Antonio tickets and tours for you to choose from.
Sea Life Aquarium San Antonio Entrance Ticket
This entry ticket offers you a memorable aquatic San Antonio, TX experience. Explore the boundless joys of this marine paradise, from the mesmerizing jellyfish that change color according to the lights to the cute clownfish that live amongst the sea anemones.
Sea Life San Antonio is the perfect day trip for families and makes for an exciting learning experience for everyone. The exhibits within the aquarium have facts about each fish, from their quirky characteristics to unique features.
What we liked: It is a fantastic family day outing, and you can explore at your own pace.
---
INCLUDES:
Entry fee to Sea Life Aquarium San Antonio
Entry fee to Legoland Discovery Center (If option is selected)
Children under two years can enter for free
To make your experience in San Antonio a bit more special, add the entry ticket to the Legoland Discovery Center to your purchase. This is an amazing experience that will elevate your San Antonio holiday to a whole new level.
It is essential to note that children must be accompanied by an adult at all times, and adults cannot enter Legoland without being with a child. This rule is in place to ensure the safety of all children that visit the Sea Life Aquarium and Legoland.
Check Price & Book
---
Sea Life San Antonio Hop-On Hop-Off Bus Tour and River Boat Cruise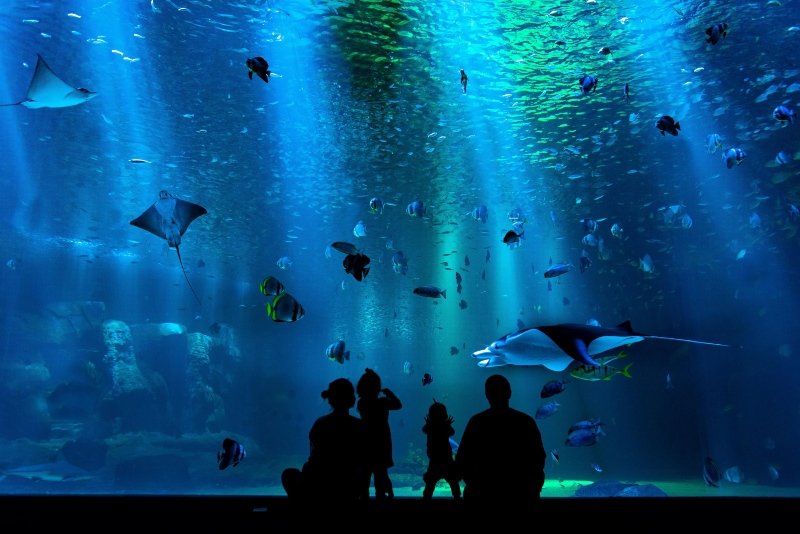 If you want to explore the entirety of San Antonio, this hop-on hop-off two-day bus tour is the perfect option. You will see all the best sites around the city, including the Sea Life Aquarium, where fish roam, and you can interact with them at the rockpools exhibit.
During your tour, take a break from the streets and walk amongst the diverse marine life at Sea Life. The bus tour allows you to rejoin any time, so you can spend as long as you like at this majestic aquarium.
What we liked: Fantastic if you want to explore Sea Life and the whole of San Antonio over two days.
---
INCLUDES:
Hop-on hop-off bus voucher valid for 48 hours
Live guide
An official river walk cruise
EXCLUDES:
Entry ticket to Sea Life Aquarium San Antonio
Food and drinks
Gratuities
This tour gives you the perfect opportunity to get memorable San Antonio aquarium photos while experiencing the diversity that Sea Life has to offer. After your exciting time at the aquarium, join in a leisurely riverside cruise, where your tour guide will introduce you to all the best spots in the city.
It is essential to know that this tour does not include the entry fee to Sea Life, and you will need to pay for this at the aquarium's entrance. While on your city tour, you will drive past one of the best waterparks in the USA, Aquatica San Antonio.
Check Price & Book
---
Editor Review
Sea Life Aquarium in San Antonio is a fantastic day excursion for the entire family. You can admire the vast array of marine life, and once you've seen it all, you can hop over to the Legoland Discovery Center for even more fun.
PROS
Ideal for children
It is accessible to everyone
Freedom to explore on your terms
CONS
Children must be accompanied by an adult
Adults cannot enter Legoland without a child
It does not include food and drinks
Specification:
Sea Life Aquarium San Antonio | Best Tickets & Tours
| | |
| --- | --- |
| Accessible | Accessible for everyone |
| Duration | 1 – 5 hours |
| Excludes | Late entry is not permitted, Food and drinks |
| Includes | Entry ticket (Unless specified) |
| Meals & Drinks | Not included |
| Pickup | Not included |
| Suitable For | Children, Families, Marine enthusiasts |
13 reviews for
Sea Life Aquarium San Antonio | Best Tickets & Tours
Sea Life Aquarium San Antonio | Best Tickets & Tours