Skip The Line: Ticket To Face Changing Sichuan Opera 2023
Last updated on September 26, 2023 8:03 am
Add to wishlist
Added to wishlist
Removed from wishlist
0
Add to compare
Sichuan, often also written as Szechuan, is a province in the southwestern part of China. The region is home to many notable landmarks, sights, and cultural activities.
The style of the Sichuan opera is available to see all over the country of China. But, you can experience an abundance of these in the province's capital, Chengdu. This city remains the cultural home of this transformative theater production.
Chengdu is in the central part of the province and China's sixth largest city. It has a population of over 9 million people and attracts millions more annually. Chengdu is known for its spicy dishes, panda sanctuaries, and Chinese mask-changing operas.
When you see the fantastic production value these operas offer their audience, you won't be surprised why it's so popular. A Sichuan Opera isn't just a show. It's an experience with multiple illusions, fire shows, comedy sketches, and, of course, opera.
Find out how you can skip the line to these Chinese opera faces performances.
Highlights:
Skip the lines to see the fantastic performances by Chengdu opera performers.
See a magical production of face-changing masks, fire breathing, shadow play, and opera.
Drink traditional Chengdu tea and enjoy a few local snacks
Know Before You Book:
Very few locals will speak English unless you're at a western bar, restaurant, or tourist place. Learn a few basic Mandarin phrases and load a translating app on your phone to help you get around.
Sichuan province gets crowded during the peak season in summer.
You may need a VPN to use your usual apps or Google-powered websites in China.
Not all tours offer hotel pick-up and drop-offs, so you may need to schedule a taxi beforehand.
Chengdu has a few cultural landmarks in the city that you cannot miss. While Beijing has cultural landmarks like The Forbidden City, Chengdu has places like Wenshu Yuan Monastery and Chengdu Cultural Park. But, not many people know of the hidden treasure in the Culture Park called the Shufeng Yayun Garden.
This outdoor venue is the best place to see a live opera performance in the city. The park also offers guests incredible views of the show among the park's lush greenery. And, if you arrive a bit early, you may get a chance to see the performers apply their make-up, put on their costumes, and pose for a few pictures.
The opera started in the 17th century during China's transition between the Ming and Qing dynasty. The performances you can see today in Chengdu blend different regions' folk music, dances, and costumes.
The opera gets its name from the performers wearing masks throughout the show. During the show, they switch out on their mask in a blink of an eye to reveal a different cover in a highly entertaining performance.
Expect to see fire breathing, smoke shows, comedy, and more throughout the hour-and-a-half show time. The performances are a fantastic treat for both young and old, with the park also offering wheelchair accessibility.
Szechuan Chinese Opera Ticket Prices 2023
Tour costs for the face-changing Sichuan Opera range begin at 145 CNY ($20) and can cost as much as 703 CNY ($102). The tour price depends on how many additional activities are included, like tea ceremonies, photo opportunities, costumes, and theater snacks.
Compare prices across the ticket providers below: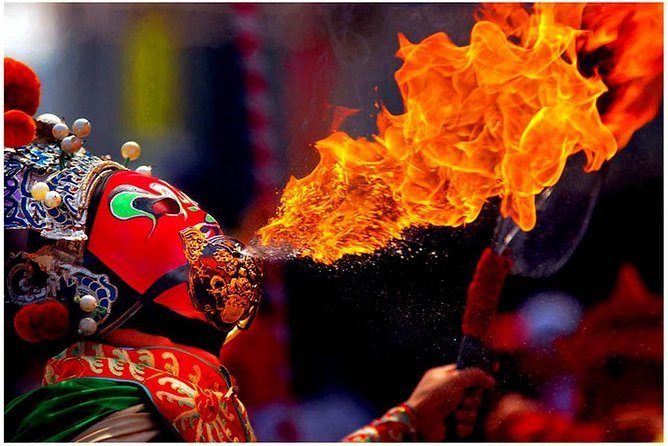 Times
There is no season for this specific theater production so you can catch a show any time of the year. Shows start at 8 pm each night and last for roughly an hour and a half. Guests should arrive at least half an hour before the show begins to collect their tickets and take their seats.
Monday – Sunday: 8 pm – 9:30 pm
Note: Some shows may not be available during Lunar New Year between January and February. This is determined by the moon cycles, so the dates change each year.
Best Time to Go
Spring and autumn are the best times to go to Chengdu for a performance. During this time, the weather is pleasant without being too hot or cold. Spring is from May to June, while autumn is between September and November.
The face-changing opera is held daily at the Shufeng Yayun Teahouse in Chengdu Culture Park, which means it is an outdoor venue. Make sure to bring a jacket for chilly evenings. It is still the rainy season between June and September so don't forget to bring an umbrella too.
Szechuan Opera Ticket Packages
There are a few great skip-the-line tickets to the face-changing Sichuan Opera in Chengdu. Many tickets also include a few extra cultural experiences too.
VIP Sichuan Culture Opera Show in Chengdu Tour
This tour is best for visitors who want to see the Chinese mask-changing secrets up front. With a VIP ticket, visitors get a front and center seat right below the main action of the entertainer. Your ticket also includes a massage, ear-grooming, and a behind-the-scenes look at the actors before they go on stage.
This show is at the Shufeng Yayun Teahouse, where you'll be able to taste the local teas of the area. This building is beautifully decorated and features bamboo seats and tables where tea masters will serve you during your tea service. You'll also receive a few local snacks to munch on before the show starts.
After the tea service, you can choose between a chair massage or a unique Chengdu ear cleaning. Or, you can get in the performer's shoes with a chance to put on a costume and some make-up for yourself.
This tour also offers non-VIP seats without additional activities if you'd like. These seat prices are slightly lower and vary depending on your position on the stage. Hotel pick-up and drop-off are not included in the ticket, but the teahouse is easily reachable by taxi or public transport.
What we liked: Visitors get a chance to see the performers apply their opera face make-up and costumes. It also allows for a photo session with the actors.
INCLUDES:
Complimentary tea service.
Light snacks.
Receive a complimentary massage, ear-grooming, or photo opportunity with the performers.
See behind the scenes of the performers as they get ready.
EXCLUDES:
Hotel pick-up and drop-off
Check Price & Book
Half Day Tour: Private Hotpot Dinner Experiences with Face Changing Show in the Theater
This half-day tour includes dinner and a show and is ideal for guests who want to have a complete Sichuan experience. This excursion takes along the city's hidden food gems at market stalls, kiosks, and restaurants.
On this tour, your English tour guide will take you through the city's many alleyways to try Chengdu's best snacks and foods. Guests will sample between seven and eight eateries that offer different snacks and street foods, like pancakes, noodles, and chilies.
While in Sichuan, you must try the province's famous spicy peppers. With this tour, you get to try it for supper in the form of a spicy Sichuan hot pot. Hot pots are a communal dish that diners share by adding and cooking different meats, vegetables, and sauces themselves. All foods come with unlimited sodas and beers included in the ticket price.
This tour starts at 5 pm, which allows you enough time to enjoy your meals. After you're properly fed, it's time to go to the face-changing Sichuan Opera in Chengdu Culture Park. Your tour ticket includes an entrance to the show and tea service.
What we liked: The tour added local snacks, foods, and drinks to the tour before the show.
INCLUDES:
Private transport
Theater tickets
Snacks and drinks
Lunch
English tour guide
EXCLUDES:
Big group tours
Not for children under three years
Check Price & Book
These skip-the-line tickets to the face-changing Sichuan opera are a great way to see the city's cultural side. The tours add fantastic activities led by local English-speaking tour guides you may have missed if you did them on your own.
PROS
Near public transport
Includes a tea service from a tea house
English tour guide
Wheelchair accessible
CONS
Not for children under three years of age
Not accessible to English speakers without a guide
Specification:
Skip The Line: Ticket To Face Changing Sichuan Opera 2023
| | |
| --- | --- |
| Accessible | No (unless specified) |
| Duration | 1.5 – 3.5 hours |
| Includes | Tea service, Skip-the-line access |
| Excludes | hotel pick-up and drop-off (unless specified) |
| Meals & Drinks | Tea, Light snacks included, Lunch |
| Pickup | Not included (unless specified) |
| Suitable For | Children, Cultural travelers, Adults |
6 reviews for
Skip The Line: Ticket To Face Changing Sichuan Opera 2023
Skip The Line: Ticket To Face Changing Sichuan Opera 2023