Taronga Zoo Tours | Discover the Wildlife of Australia 2022
Last updated on February 4, 2023 8:54 pm
Add to wishlist
Added to wishlist
Removed from wishlist
0
Add to compare
Adorned with lush, green acres and carefully constructed enclosures, the Taronga Zoo is an animal playground and tourists are merely the guests.
Taronga Zoo encounters large crowds of visitors per day and offers thrilling tours for families, small groups, and solo travelers. The tours are a fun and immersive way to experience Australia's magnificent animals of the land down under.
Highlights:
Close encounters with over 4000 animals in the vicinity
In-depth guided tours to learn more about Australia's wildlife
Cable car access with picturesque views of the city and harbor
Know before you book:
Most tours are wheelchair accessible
The tours have a specific limit and are subject to availability, so book early
Information sheets are available in a number of languages to ensure inclusivity
Nestled amongst some of Sydney's top attractions, such as the Sydney Harbor, an oasis lies. The word 'Taronga' is an Aboriginal word meaning 'a beautiful view'. Thus, the famous zoo is aptly named due to the panoramic scenes of Sydney in all its glory. A zoo with a view, indeed!
Managed by the Taronga Conservation Society Australia (TCSA), this city zoo will make any animal lover swoon. The zoo is specifically curated to ensure that its visitors experience the wild without compromising the safety and health of its furry and scaly inhabitants.
Packed with a variety of animal shows and exhibits, adventure awaits around every corner. From the African Savannah to the Seal Walk, let yourself be transfixed by the fascinating hidden world of the animal kingdom
With the excitement of an Australian safari trip situated within the best city in Australia,e zoo tours are a must. Get ready for a guided experience to the famous wild Australia in a safe and enclosed environment with interactive encounters with your favorite animals.
Taronga Zoo Tours Prices 2021
Zoo tour prices start at around $74 USD ($ 99 AUD) and go up to $97 USD ($129 AUD). The costs depend on the type of tour and what you want included in your guided excursion.
The various tour options enable you to decide which tour is the Taronga Zoo experience you are looking for. Choose your ultimate guided tour and compare prices below:
Zoo Operating Hours
The Taronga Zoo is proud to operate on a daily basis all-year. This animal haven is one of the top tourist attractions in Sydney with its scenic views and fascinating exhibits. Taronga Zoo experiences an impressive amount of visitors each day and prides itself on creating an educational yet fun environment for all ages.
The operating hours, however, are adjusted according to the season. Thus, the times may differ depending on what month you plan on visiting.
Monday – Friday: 9:30am – 4:30pm (May till Aug)
Monday – Friday : 9:30am – 5pm (Sept till Apr)
Holidays offer the same operation hours (except New Year's day, where they close at 4:30pm).
Best Months to Visit
Sydney is known for sunny beaches and being the ultimate summer vacation destination. To miss the scorching weather and large crowds, however, the right season is crucial. Try visiting around March and April for the optimal conditions for an unforgettable adventure.
Taronga Zoo Animal Encounters
Whether you view them from afar or participate in a close-up experience, animal encounters are a given here. This zoo is home to a seemingly endless variety of animals to choose from. Take a trip on the wild side and view some of the stars of the show:
Tigers
Giraffes
Lions
Koalas
Kangaroos
Elephants
And many more
Taronga Zoo Tour Options
In order to obtain a fully immersive experience in this wonderful vicinity, a zoo tour is essential. The animal encounters at Taronga Zoo will thrill and delight with behind-the-scenes entry to the everyday lives of some of the zoo's most famous inhabitants.
Embark on an extraordinary journey into the vast jungle of magnificent wildlife on your own or with your family.
Australian Animals Tour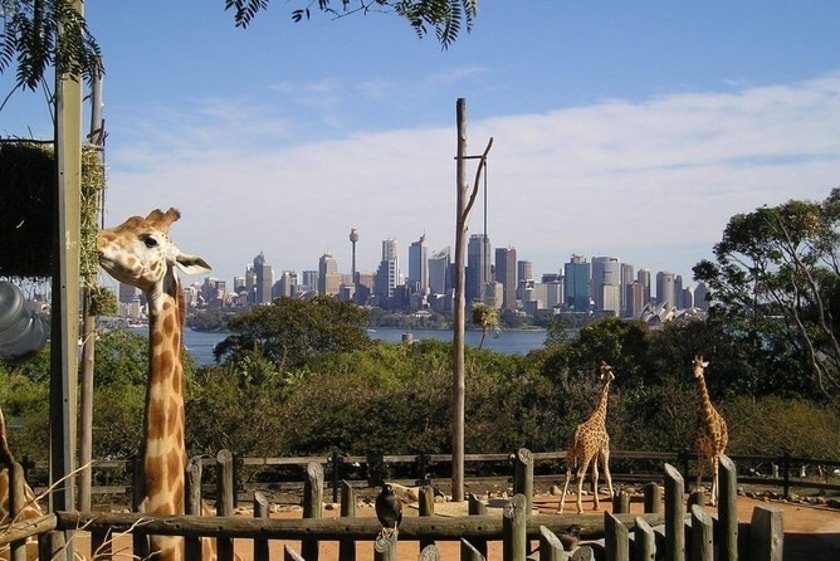 Get the VIP experience on this exclusive tour, where you can view wildlife up close like never before. You'll have ample opportunities to get interactive photos of Australia's most famous creatures, such as wallabies and wombats.
The tour includes an all-day pass to Taronga Zoo to encounter and explore the facilities at your own leisure. As well as a Sky Safari pass to take in the magnificent views of the city.
What we liked: The interesting information about animals provided by the tour guide.
---
INCLUDES:
All-day pass to the zoo
Behind-the-scenes access to various animal exhibits
Sky Safari cable car ride
EXCLUDES:
Meals and drinks
Transportation to and from your hotel
Gratuities for your tour guide
This tour is best-suited for family and small groups looking to get a personalized touch on their zoo excursion. This 90-minute tour will allow you to fully appreciate the distinct subtleties of what makes these animals so unique.
Check Price & Book
---
Taronga Zoo Wild Australia Experience Tour
Feel like one of the animals in the enclosures through the through-provoking tour of the usually restricted wildlife exhibits. This 2-hour guided tour takes you on a journey to engage with the zoo animals and gain insightful information about their history from the zookeepers. Taronga Zoo koala encounter is included in the tour, where you can snap a pic with Australia's cutest marsupials.
What we liked: The up-close-and-personal interaction with a variety of animals.
---
INCLUDES:
A guided tour by a professional zookeeper
A souvenir to commemorate your experience
Morning and afternoon tea
Sky Safari cable car ride
EXCLUDES:
Food and drinks unless specified
Gratuities for your guide
Transportation to and from your hotel
With exclusive access, you will have plenty of time to engage with a variety of iconic Australian animals, such as kangaroos and wombats. The tour is limited to eight participants per tour, which offers the perfect family outing to create a memorable vacation moment.
Check Price & Book
---
Taronga Zoo tour options are an in-depth and exclusive way to gain insightful information about Australian wildlife. The tours also provide close-up animal encounters that ensure a fun and informative experience.
PROS
Behind-the-scenes access to animal enclosures
All-day access pass to the zoo and Sky Safari
Guided experience to ensure an informative and educational experience
CONS
Hotel pick-up and drop-offs are not included
The tours have limited spaces
Food and drinks are not included unless specified
Specification:
Taronga Zoo Tours | Discover the Wildlife of Australia 2022
| | |
| --- | --- |
| Accessible | Wheelchair accessible (depending on tour) |
| Duration | Depends on the individual tour |
| Includes | All-day Pass, Access to animal shows, Guided Tour |
| Excludes | Meals (unless specified), Gratuity (optional), Hotel pick-up/drop-off |
| Meals & Drinks | Meals not included (unless specified) |
| Pickup | Not included |
| Suitable For | Most visitors can participate |
42 reviews for
Taronga Zoo Tours | Discover the Wildlife of Australia 2022
Taronga Zoo Tours | Discover the Wildlife of Australia 2022