Cairns Snorkeling Trip | Tour the Great Barrier Reef & Beyond
Last updated on September 30, 2023 4:12 am
Add to wishlist
Added to wishlist
Removed from wishlist
0
Add to compare
Cairns, in Northern Queensland, is a calm and laid-back city. This friendly destination is the gateway to some of Australia's most iconic attractions, such as the Great Barrier Reef and the Daintree National Park. Cairns is the perfect place for adrenaline junkies, adventure lovers, and passionate divers. It's conveniently located close to these activities, meaning you won't have to travel too far to enjoy them.
Highlights:
Exploring the Great Barrier Reef
Seeing vibrant marine life such as sea turtles, clownfish, and dolphins
Day trips to incredible islands
Know before you book:
If you have any health issues, please confirm with the tour provider if the activities are suitable for you
Not wheelchair accessible
Prices of Cairns Snorkeling Tours in 2021
Cairns Snorkeling Tours start from around $63 ($85 AUD) and can go up to $326 ($440 AUD), depending on the type of tour as well as the duration of the trip. Compare prices below: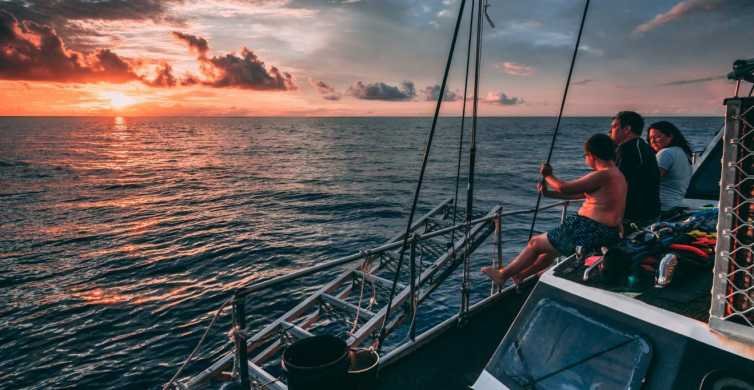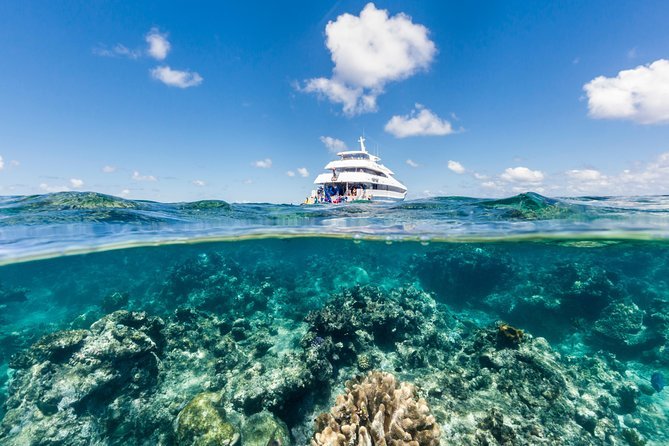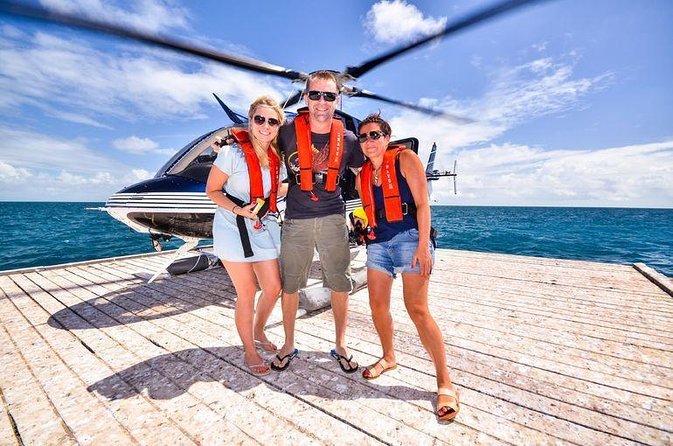 Cairns Snorkeling Trip Times
Starting times may vary, according to the availability of the trips and duration, but most snorkeling tours usually start at around 8 am.
Best Time to go snorkeling in Cairns
Cairns has a tropical climate which means that it's warm and sunny all year round; even in winter. So the best time to visit Cairns is anytime really! However, if you're looking for the best combination of dry warm weather, fewer crowds, and off-peak accommodation, the best time to go snorkeling in Cairns is either April or September.
It is important to note that in between November and May, Cairns experiences the "Stinger Season" where it's common to find jellyfish washing up along the shores. So proceed with caution.
Cairns Snorkeling Tours
Explore these various snorkeling tours including Great Barrier Reef tours and neighboring islands departing from Cairns.
Fitzroy Island Day Trip from Cairns
Fitzroy Island is located just 18.5-miles from Cairns and is situated within the Great Barrier Reef Marine Park. The area has a beautiful array of colorful sea life that includes clownfish, sea turtles, and other tropical fish. Explore the natural wonders of the Great Barrier Reef on this half-day trip to Fitzroy Island.
What we liked:You can choose between a half-day and full-day.
INCLUDES:
Use of snorkel gear (if option selected)
Use of stinger suit (if option selected)
Glass-bottom boat tour (if option selected)
Lunch (if option selected)
Return boat transfers by high-speed Fitzroy Island ferry
EXCLUDES:
 Hotel pickup and drop-off
Food and drinks, unless specified
All fees and taxes
After you arrive from Cairns by a fast ferry, you can snorkel off the Great Barrier Reef, lounge on the white-sand beach, or see the coral from a glass-bottom boat. You can upgrade to the Activity Pass Plus Lunch where you'll be provided with a picnic lunch, snorkeling gear, a stinger suit, and a glass-bottom boat tour. You can also follow the hiking trails on the island.
Duration: 5-8 hours
Departure Time: 8:30 am
Departure Point: Various depending on the tour booked.
Tour language: English
Know before you book
There are 5 main walking trails in the Fitzroy Island National Park that range from 30 minutes to 3 hours, each at varying fitness levels.
Family packages are for 2 adults and 2 children.
Child rate applies for those between 4 and 14 years old; under 4 years travel free of charge.
Smoking is not allowed
Check Price & Book
2-Day Great Barrier Reef Drive and Snorkel Boat Trip
Explore the best that Australia has to offer with this epic two-day Great Barrier Reef tour. Enjoy an overnight stay aboard the 172-square foot Coral Sea Dream yacht and explore the Great Barrier Reef from 29 moorings and 9 reef locations.
What we liked: You get to enjoy unlimited snorkeling over 2 days!
Itinerary
Day 1:
Board the vessel for morning tea and meet the crew, before setting off to the reefs around Cairns. Along the journey, the crew will conduct nature and diving briefings. You'll stop at reefs such as the following.
Flynn Reef
Milne Reef
The Three Sisters Reef
You'll encounter small reef sharks, turtles, and fish. In the afternoon you'll enjoy lunch and afternoon tea in between your dives. The crew will also offer guided snorkeling tours for those interested in learning more about the reefs. Divers who want to explore the reef at night will then be prepped. And after the dive, dinner will be served.
Day 2:
Wake up at dawn and catch the beautiful sunrise over the Coral Sea. Divers wanting to snorkel or scuba dive will be able to take an early morning dive, after which breakfast will be served. The boat will then depart for its next location after which morning tea will be served.
After morning tea, the crew will move onto the next reef. This is a great time to relax and take in your stunning surroundings. Lunch will be served just before departure. If you're lucky you may even see dolphins and humpback whales (only in the winter months though) on the way back.
INCLUDES:
10-minute introductory dive
All snorkel and dive equipment (wetsuits, stinger suits, computers)
Freshly made meals and snacks
Fresh linen and bath towel
Use of hot shower and 2 toilets (shared)
Unlimited snorkeling
EXCLUDES:
Reef levies and fees payable on-board
Camera hire (available for purchase onboard)
Certified dives (available for purchase onboard)
Dive courses (available for purchase onboard)
Introductory diving + night diving (available for purchase onboard)
Alcohol (available for purchase onboard)
Departure point: Cairns City QLD 4870, Australia
Departure time: 8 am (Boarding starts at 7:45 am)
Tour language: English
Know before you book:
This tour is suitable for people with a moderate level of fitness
The minimum age for SCUBA diving is 12 years
All snorkelers and divers must complete a medical questionnaire on board the boat. Certain medical conditions (i.e. asthma, heart disease, epilepsy) may exclude some people from diving.
The trip is weather-dependent. The local partner reserves the right to change trip locations and cancel or reschedule due to mechanical, weather, or any other unforeseen circumstances
This tour is not suitable for:
Children under 4 years
People with mobility impairments
Non-swimmer
Check Price & Book
Premium Great Barrier Reef Snorkel and Dive Cruise from Cairns
If you're looking for a luxurious escape, you need not look further than this tour. You'll board a luxurious vessel that will whisk you away to 2 pristine outer Great Barrier Reef locations. Here you will enjoy a scrumptious picnic lunch, go snorkeling, and learn from a multilingual crew.
What we liked: Not only do you get to snorkel on the Great Barrier Reef, but you can do so on an award-winning vessel. It boasts 3 large sundecks, 2 indoor air-conditioned saloons, and a spacious dive deck.
INCLUDES:
Four hours on the outer reef at two exclusive snorkel and dive locations
Morning tea or coffee
Fresh pre-packed picnic lunch
Hot freshwater showers
Detailed snorkel and dive briefings
Use of dive/snorkel equipment, including masks, snorkels, fins, and flotation devices
Use of wet and stinger suits
Prescription mask (optional)
EXCLUDES:
Environmental Management Charge and levies ($20 per person, to be paid onboard)
Snacks
Alcoholic beverages
Scuba diving
Certified diver guides
Photos
Digital camera hire
Souvenirs
Return transfers from the Northern Beaches (can be purchased for $20 per person: please advise if required)
An additional $15 for guided tours
Duration: 8 hours
Departure time: Varies depending on the tour booked
Departure Point: Varies depending on the tour booked
Tour Languages: English, Spanish, Chinese, German, Japanese, Korean, Portuguese
Know before you book:
You must fill out a travel information form
There are various tours available such as Premium Snorkeling Tour, Introductory Dive, and Premium Certified Diver tours
Certified divers: please bring a cert-card and logbook. You will also be asked to fill out and sign an Advice to Divers Form. Medical Standards differ from country to country, and certain medication / medical conditions may exclude you from diving in Australia.
Introductory Divers: if you are doing an introductory dive you will be asked to fill out and sign a medical declaration form
Check Price & Book
Cairns: Green Island & Reef Full-Day Sailing Cruise
Snorkel along the Great Barrier Reef and enjoy a complimentary snorkeling tour with a marine naturalist. You'll also get to spend time on the tropical Green Island and enjoy some of the island's activities.
What we liked:  This tour is great for families and has a wide variety of activities to choose from.
INCLUDES:
Snorkeling instruction and in-water assistance as required
Top-quality snorkeling gear including wetsuits, lycra suits, and buoyancy vests
Diving equipment (for diving included options)
Snorkeling tours with a marine naturalist
1 or 2 scuba dives (depending on option selected)
Coffee, tea, fresh fruit, and Danish pastries onboard
Coffee and tea throughout the day once moored
Fish feed
Large smorgasbord lunch
Transfers to and from Green Island beach
True sailing experience on the return journey
Tropical afternoon tea: platters of fresh fruit, cheese and crackers, and cake
Glass of wine
Port/administration fees per person, which can be paid directly at check-in
Island activities (glass bottom boat/semi sub: inform skipper onboarding and pay directly on the island)
Underwater cameras
A range of merchandise (available for purchase)
Duration: 9 Hours
Departure Point: Varies according to tour booked
Tour Language: English
Know before you book:
All potential divers will be required to fill out a medical questionnaire on board the boat to assess whether they are fit to dive
The minimum diving age is 12 years old
Introductory dives are available for guests with no previous experience in scuba diving
Certified dives are available for guests with scuba diving certification
Check Price & Book
Cairns has a number of snorkeling trips and tours with a wide range of activities and adventures to enjoy for all travelers.
PROS
Tours are suitable for the whole family
Cairns has tons of activities
Most tours offer delicious food
You get to explore one of the greatest wonders of the natural world, The Great Barrier Reef
All tours depart from Cairns
CONS
Hotel pickups and drop-offs are not always included.
Most trips aren't wheelchair accessible
Additional fees and taxes are not included in the tour price
92 reviews for
Cairns Snorkeling Trip | Tour the Great Barrier Reef & Beyond
Cairns Snorkeling Trip | Tour the Great Barrier Reef & Beyond