Add to wishlist
Added to wishlist
Removed from wishlist
0
Add to compare
It's no secret that Italy is one of the best wine producers in the world. One of the many drawcards for most dreamy-eyed travelers to this exquisite European country is the prospect of tasting its incredible array of wines.
Italy's magnificent cuisine and extensive selection of wines make it one of the best European food destinations. And there's no better place to experience all this than in the idyllic province of Tuscany.
Highlights
Take in the beautiful views from the Chianti Hills
Sample different wines along with a three-course lunch
Wine tasting with local Italian products such as olives and cheese
Know before you book
For most tours, you need to be at least 16 to participate
Not all tours are wheelchair accessible
Some tours do not cater to travelers with special dietary requirements
Tuscany is a wanderlust dream. From its rolling hills to vineyards, historic towns, and iconic Renaissance art, it's a favorite on many people's bucket lists. Whether you travel from Florence to Pisa to explore its iconic landmarks or visit some of its lesser-known destinations – a trip to Tuscany certainly won't disappoint.
If you're a wine lover, you'll no doubt be particularly interested in this fine Italian province. We've rounded up the best Tuscany wine tours for you so that you can enjoy your Italian summer vacation to the full.
Best Wine Tours in Tuscany Prices
Wine tastings in Tuscany can be as affordable as €30 ($32) and up to as much as €320 ($349). This all depends largely on the type of tour, how many locations you visit, and duration. Another important factor is whether or not the wine tastings are paired with food.
Compare prices across the ticket providers below:
Tuscany Wine Tour Times

Depending on the type of tour you select, the start time as well as the duration of the tour will differ. Full-day tours usually start at 7:30 a.m. and end at 7:30 p.m. On the other hand, half-day tours generally begin later in the day at around 2 p.m.
Each tour will differ according to the tour provider, so be sure to check this out upon booking.
Best Time to Go for Wine Tastings in Tuscany
The best time of the year to go on a wine tour in Tuscany would be between September and early October. That is when the harvest season begins, and fall starts sweeping in. The vineyards on Tuscany's rolling hills start changing from lush green to deep, warm colors of orange, brown, and red.
Best Wine Tours in Tuscany | Packages, Tickets, Experiences
Finally, we've arrived exactly where we want to be – at the best wine tours Tuscany has to offer. We've rounded up the best ones in the business. All you have to do now is select the one that tickles your fancy the most and get a booking.
Half-Day Wine Tasting in Tuscany: Chianti Wineries Tour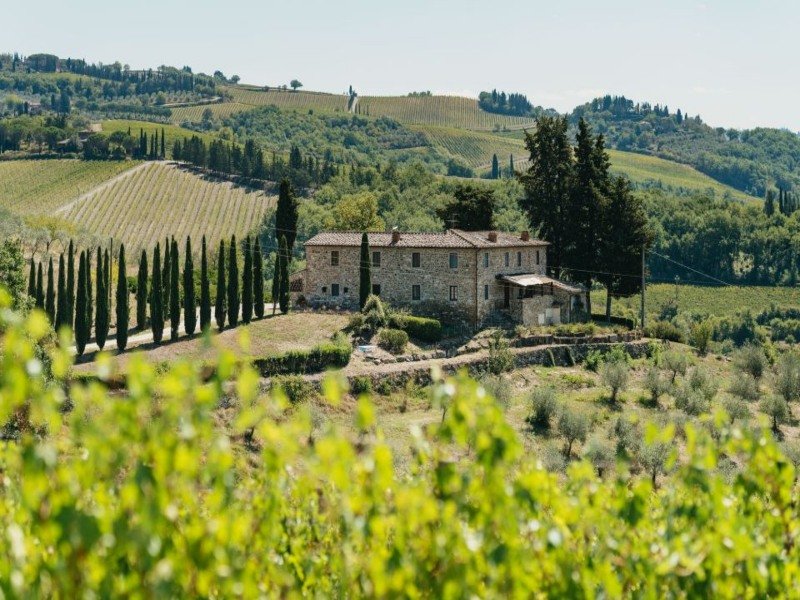 If you're after an authentic wine-tasting experience in the rolling hills of the Chianti region that's not too long – then this tour might be for you.
While it might only be a half-day tour, you'll still get the opportunity to visit two wineries. You'll get to take a leisurely stroll through the vineyards and meet the local artisans who carefully craft stunning Italian wines.
What we liked: You get to visit two wineries, try a wide variety of wines, and sample local food products.
INCLUDES:
Tastings of seven wines
Snacks that include cheese, fresh breads, olives, and salami
Transport from Florence
EXCLUDES:
Hotel pick up and drop off
Gratuities
After hopping into your transportation, you'll enjoy a scenic journey from Florence to the Chianti region. Along the way, your trusted guide will point out some spectacular landmarks and relay all the interesting facts about the area.
From there, you'll stop at the first winery, where you'll get a brief introduction about it and learn all about its history and the types of wine it produces. You'll also get a peek at how the wine is made.
From there, you'll make your way to the second winery for a guided tour. At both, you'll get to pair the various wines with some scrumptious snacks produced in the Chianti region.
After a fun-filled day, you'll head back to Florence.
Check Price & Book
---
Chianti Safari: Tuscan Villas and Vineyards Tour
If you're all about off-the-beaten-track yet adventurous tours, then you're in for a real treat with this tour.
This full-day tour takes you through the Chianti hills in a 4×4. Along with the fantastic scenery, you'll get to soak in, it will be paired with an amazing traditional Tuscan lunch and snacks.
What we liked: This Tuscany wine tour combines the best wine tasting along with a historic villa tour.
INCLUDES:
Nine samples of wine
Lunch and additional snacks
Knowledgeable guide
EXCLUDES:
Hotel pick up and drop off
Gratuities
Special dietary concessions
You'll kick this tour off with a visit to a winery owned by a prominent family in the region. From there, you'll have the fantastic opportunity to indulge in some of Tuscany's finest wines alongside olives, olive oils, and cured meats.
After having time to explore the winery, you'll head over to its restaurant for lunch. Now it's time to tuck into an oh-so heavenly 3-course Italian meal, accompanied by wine.
From there, you'll travel through the picturesque Tuscan hills, and eventually, you'll stop at an impressive villa and soak in all its charm that this part of Italy is so well known for.
Check Price & Book
---
Florence: S.Gimignano, Siena, Chianti & Wine Tasting Lunch
There's a wealth of gorgeous towns in Tuscany, so if you're hoping to visit some of them and get some wine tasting in, then we recommend this tour for you.
This lovely day trip takes you from Florence to the picturesque towns of Siena, San Gimignano, and Monteriggioni. It's one of our favorites because it combines sightseeing with wine tasting.
What we liked: An excellent tour that combines sightseeing with wine tasting.
INCLUDES:
Wine tasting and lunch
Multilingual tour
Transport from Florence
EXCLUDES:
Hotel pick-up and dropoff
Gratuities
With this tour, you'll embark on an exciting journey through three Tuscan towns from Florence. Your tour will kick off in San Gimignano, the famous walled town that looks like something out of a fairytale. Here you'll have the opportunity to walk around the town's historic center.
Your next stop will then be the hamlet of Monteriggioni, where you'll head over to a winery. After a short tour, you'll enjoy numerous wines and balsamic vinegar, topped off by a traditional Chianti lunch.
Your last stop for the day will see you end your Tuscan adventure in Siena, another idyllic walled town. Here, you'll have some free time to explore sites like the Basilica di San Domenico and Piazza del Campo.
There's also an incredible array of charming narrow alleyways lined with shops and homes. After a nostalgic adventure around these adorable towns, you'll finally make your way back to Florence.
Check Price & Book
---
Wine Tasting in Front of Ponte Vecchio
If you're not someone who wants to do a long day trip out in the Tuscan countryside but don't want to miss out on the opportunity to enjoy some fine Italian wine – then we highly recommend this tour for you!
In case you've missed it, Florence is Tuscany's stunning capital. It's the birthplace of Renaissance art and home to iconic landmarks such as the Duomo. This wine-tasting tour takes place in front of the historic Ponte Vecchio bridge, so it combines sightseeing with wine tasting. Cool right?
What we liked: This is an excellent option if you don't have a lot of time but would like to experience a wine-tasting tour.
INCLUDES:
Snacks
Tasting of two wines
A guide to help you learn more about the wines produced in the region
EXCLUDES:
Hotel pick up and drop off
Gratuities
This wine-tasting experience will take place in front of the Ponte Vecchio bridge. You'll get to try two wines. This includes Chianti, Vermentino, or Verdicchio, depending on your preference for red or white wine and finger snacks.
This sensory experience comes with a guide to help you recognize different flavors within the wines. So, you'll be somewhat of a wine connoisseur when you're done with this tour. One of the highlights of this wine-tasting tour is that it is flexible, with tasting times running from 12 pm to midnight.
Check Price & Book
---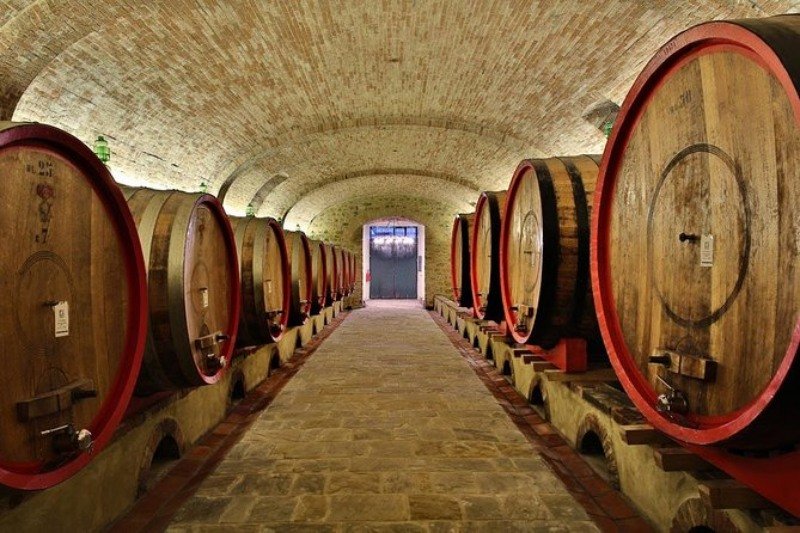 FAQs About Wine Tasting in Tuscany
Here are some quick answers to a few FAQs about Tuscany wine-tasting tours.
What Is the Minimum Age Requirement to Take Part in a Tuscany Wine Tour?
Children from 12 are allowed to go on the tour. However, to partake in the tasting tour, the minimum age limit is between 16 and 18.
Are Tuscany Wine Tours Available All Year Round?
No, most wineries close from December to February, as these months fall in the winter season when business is slow.
How Long Should You Stay in Tuscany?
Tuscany is a big province, so ideally, you'll need about five days to explore everything properly. And we would suggest setting a whole day aside for a wine-tasting tour.
This is a beautiful activity to take part in as it combines idyllic sightseeing in the Italian countryside with the best food and wine.
PROS
Variety of tour options
Pickup is included
Most tours include meals along with wine-tasting
CONS
There are no concessions for special dietary requirements
Tours are not always suitable for travelers who use wheelchairs
Specification:
Best Tuscany Wine Tours | 4 Vineyard and Tasting Experiences
| | |
| --- | --- |
| Accesible: | Not wheelchair accessible |
| Duration: | Various |
| Inclusions: | Drinks |
| Exclusions: | Snacks |
| Meals: | Optional |
| Pickup: | Optional |
| Suited for: | Most travelers |
Best Tuscany Wine Tours | 4 Vineyard and Tasting Experiences