Add to wishlist
Added to wishlist
Removed from wishlist
0
Add to compare
The mighty Victoria Falls is one of Africa's finest gems. Since its discovery in 1855, it has captured the hearts of everyone who's had the privilege of visiting it. Just looking at pictures and videos of the falls is enough to inspire anyone to book a trip and admire their beauty up close.
If you plan to tour Africa soon or in the near future, this is one natural landmark that has to be on your bucket list. There's just no two ways about it. And an exceptional way to admire them is with a Victoria Falls helicopter tour. We'll take you through everything you need to know so that you can enjoy your trip to the fullest extent possible.
Highlights:
See the mighty Victoria Falls in all its glory.
Get a unique aerial view of the surrounding Zambezi River
View other attractions such as the Batoka Gorge and Victoria Falls Bridge that divides Zambia and Zimbabwe
Know before you book:
Flights will only take place when the weather is good
National park fees into the Zambezi National Park are not included
Fuel surcharges are not included in the tour price
While David Livingstone might have been the first European to discover and marvel at the falls, the local people in the area have long known the beauty and power of the Victoria Falls.
The Kololo tribe that lived in the area called it Mosi-oa-Tunya, meaning "The Smoke that Thunders," which is a pretty accurate description as the falls create an immense spray of water. Along with that, the gushing water from Victoria Falls can be heard for many miles. More often than not, you'll most likely hear the falls before you see them.
Vic Falls is made up of a series of basalt cliffs from which the calm Zambezi River flows over and creates one of the greatest spectacles on Earth. The falls are believed to be double the height of Niagara Falls at a staggering 355 ft (108 m). Width-wise, it spans 5,604 ft (1,708 m), making it one of the largest waterfalls in the world.
With all these impressive stats, we're sure we've piqued your curiosity. While visiting the falls on the ground is a good way to experience them, we think there's an even cooler experience – from the air.
That's why we've taken the liberty of rounding up the best Victoria Falls helicopter tours, so all you have to do now is pick the one that works best for you.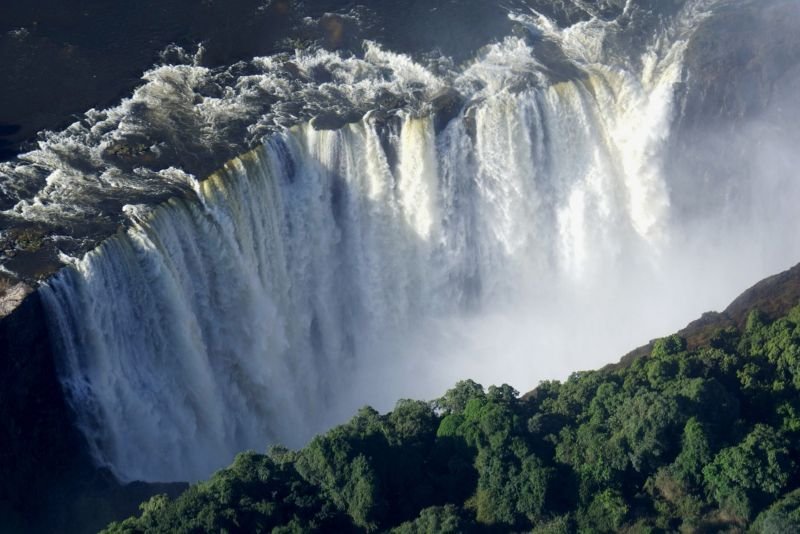 Victoria Falls Helicopter Rides Prices
The cost of Victoria Falls helicopter tours starts anywhere from $135 to $260. The differences in prices are largely dependent on the duration of the flights as they can range anywhere between 12 minutes to one hour.
We must mention that the prices listed do not include the $10 park fee to enter the Zambezi National Park or the Victoria Falls National Parks, which you'll be flying over. These fees are payable once you arrive for your tour.
Compare prices across the ticket providers below:
Victoria Falls Helicopter Tour Times
Depending on the tour operator, tours begin as early as 8:00 am and can end as late as 4:30 pm. It will be completely up to you which time you would like to go.
Best Time to Go on a Victoria Falls Helicopter Ride
The best time to go for a helicopter tour over Victoria Falls is between February and May. This is right after the rainy season, so you'll get to see the falls in all their glory. March is ideally the best month, as you can expect decent weather with minimal chance of rainfall.
Safari & Helicopter Tours
Zimbabwe and Zambia are two of the best safari countries that you can visit in Africa. What most people don't always realize is that a helicopter ride over the Zambezi River and Victoria Falls also means that you'll enjoy an aerial safari.
The Zambezi is affectionately called the "River of Life," and supports a number of wildlife, including hippos, crocs, elephants, and a wide variety of bird life. So you'll score twice with a helicopter ride over Victoria Falls, as it entails a lot more than just a viewing of the falls.
Top tip: Make sure to bring your camera to capture some epic memories.
Helicopter Rides, Victoria Falls Tours, & More
We've finally reached the main event! Victoria Falls helicopter tours. This scenic adventure can be as short as 12 minutes or as long as 60 minutes. It all depends on your budget and preference.
Regardless of the duration of the flight, you're in for a superb time, we promise. Here are some of our favorite tours.
12-15 Minute Scenic Helicopter Flights Over the Victoria Falls
If you're short on time but refuse to miss out on a tour to Victoria Falls, then this tour is for you. The beauty of this tour is that while they might be short, they don't compromise on views and experience. So you'll still get to see the best of Vic Falls from multiple angles that just wouldn't be possible on the ground.
What we liked: Choose between 12 – 15 minute rides.
INCLUDES:
Hotel pickup in an air-conditioned vehicle
Stunning helicopter tour
EXCLUDES:
Fuel surcharge of $10
Park fees of $15
After being picked up from your hotel, you'll head to the Zambezi National Park – the starting point of the epic adventure that's about to begin. Once you hop on board, it will be a short one-minute ride to the falls.
Once you get there, you'll have the opportunity of a lifetime to take in the sights of the falls themselves, the Batoka Gorge, and the Zambezi National Park. Along the way, be sure to keep an eye out for the wonderful array of wildlife meandering around below you.
After that, you'll start your journey back to the park, where you can either head back to your hotel or visit the falls again – but this time on the ground.
Check Price & Book
---
Livingstone: Victoria Falls Helicopter Flights
If you're basing yourself on the Zambian side of the falls, you'll be happy to know that this tour departs from the wonderful city of Livingstone. You'll have the option of choosing between a 15, 22, or 30-minute flight, which will no doubt leave you with some very happy memories from your trip.
What we liked: This Victoria Falls helicopter ride has multiple options.
INCLUDES:
Helicopter ride
Hotel transfer from Livingstone
EXCLUDES:
Food & drinks
Aviation fee of $6
If you opt for the short yet memorable 15-minute flight, you'll circle over the falls and the nearby Livingstone Island before returning to the Maramba Airfield. On the 22-minute flight, you'll get to take in the stunning views of the Batoka Gorge along with the Zambezi River.
Now, we understand that 15 or 22 minutes might not be enough time to take in the falls in all their splendor. Luckily for you, with the tour, there's also an option of a 30-minute flight.
This is the ultimate scenic experience because, along with seeing the impeccable falls, you'll also fly over some local villages, Livingstone Islands, and Batoka Gorge before finally ending your tour at Rapid 26.
Regardless of the option that you go with, you'll have the fantastic opportunity to marvel at Victoria Falls and all the stunning landscapes that surround it.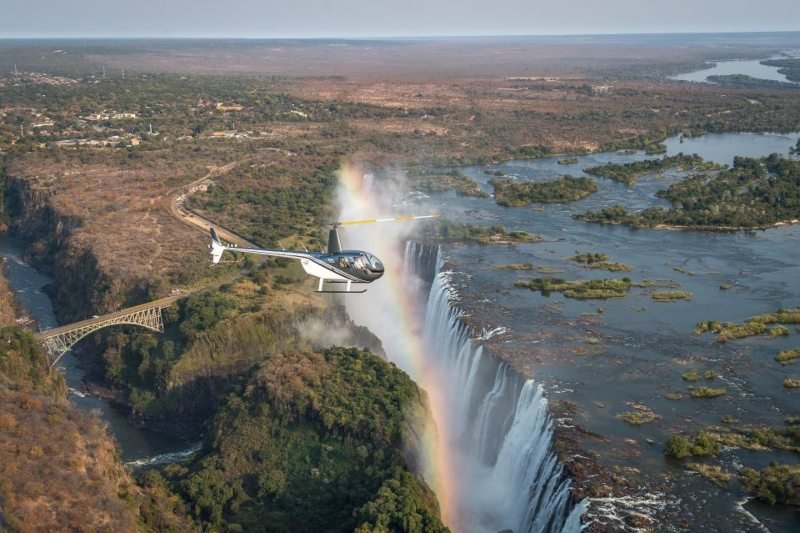 Check Price & Book
---
Victoria Falls: Scenic Day Tour, Lunch, and Helicopter Flight
This tour is great if you'd like to spend a whole day exploring Victoria Falls and all the surrounding areas. You'll have the wonderful opportunity to see the falls from the best possible angles – on the ground and in the air.
You'll have a knowledgeable guide tell you everything you need to know about the history of the area while soaking up the incredible atmosphere of this African gem.
What we liked: This is an all-inclusive tour that comes with lunch and a helicopter ride.
INCLUDES:
Guided walking tour of the Zambezi National Park
Lunch at the Lookout Cafe at the edge of the Batoka Gorge
Hotel transfer from Livingstone
EXCLUDES:
Gratuities
National Park entry fees
Once you've been picked up from your hotel, you'll head to the Zambezi National Park with your guide. From there, you'll enjoy an informative tour through the park, stopping at 18 of its incredible viewpoints.
After working up quite a sweat, we're pretty sure you'll be quite hungry. Fortunately, this tour includes lunch, so you'll be ushered to the Lookout Cafe that sits at the end of the Batoka Gorge. Here, you'll enjoy a scrumptious lunch while overlooking the awe-inspiring Zambezi River.
To end your day in the most epic way possible, you'll then head to a helipad, where you'll be whisked away on a flight over Victoria Falls.
Check Price & Book
---
Victoria Falls Helicopter Tours FAQs
Here are some answers to a few questions you might have regarding a helicopter tour over Victoria Falls.
Are Victoria Falls Helicopter Tours Available All Year Round?
Yes, they are. However, they are also weather-dependent and cannot operate during thunderstorms and bad weather.
What Happens if My Tour Is Canceled?
Ideally, the tour operator will reschedule if the tour is unable to proceed because of bad weather. In some cases, a refund will be provided, but that will be at the discretion of the tour operator.
Are Victoria Falls Helicopter Tours Worth It?
Yes, we believe so! A helicopter tour over Vic Falls is a great way to explore this unique African gem, as you'll get a unique vantage point.
A Victoria Falls helicopter tour is a fantastic way to visit one of the best waterfalls in the world and is a terrific activity for a solo traveler or a couple.
PROS
Short distance from Victoria Falls Town or Livingstone
Many ride options
Unique views and angles
Hotel pickup and drop-off
CONS
Not very clear differentiation
Not wheelchair accessible
Can be canceled due to unpredictable weather
Specification:
Victoria Falls Helicopter Tours | Scenic Aerial Ride Prices & More
| | |
| --- | --- |
| Accessible | Not wheelchair accessible |
| Duration | 12- 60 minutes |
| Inclusions | Helicopter ride, transfers |
| Excludes | Fuel levies, national park fees |
| Meals | Not included |
| Best Suited For | Most travelers |
Victoria Falls Helicopter Tours | Scenic Aerial Ride Prices & More