When you think of Greece, what comes to mind? Great ancient philosophy, phenomenal Mediterranean cuisine, and some of the world's most iconic landmarks, right? On all accounts, you'd be right. But another of Greece's offerings stands out altogether: the mesmerizing islands.
Thanks to the Aegean Sea and the Cyclades, traveling to this part of the world presents multiple opportunities for extravagant island getaways in dreamy locations. While islands like Santorini feature on almost any of the best islands in Europe lists, there are many hidden treasures to discover outside this popular island.
Serifos, in the western part of the Cyclades and 30 miles from Sifnos, is one such gem. It features impeccable beaches, craggy sea-facing hills, beautiful architecture, and mystic caves. If you love quieter destinations but don't want to compromise on charm, atmosphere, and culture, Serifos Island is the place for you.
Learn about 8 unmissable places to visit in Serifos Island for an unforgettable holiday.
8 Fantastic Places to Visit on Serifos Island
Although Serifos is a small island, it still offers 50 miles of pristine coastline, making it one of the best seaside spots to visit in Greece. What you choose to see will depend on how much time you spend on the island and your curiosity level.
Do you love immersing yourself in the village culture, soaking up the traditions? Serifos has got that covered. Do you appreciate admiring old churches, castles, and religious sites? You'll find that here. And it goes without saying: the stunning beaches will be a blissful escape from normal life.
Chora
Chora is the island's capital, and naturally, that's where all the action is. The main town is dotted with white sugar-cubed houses and sits on a mountain overlooking the sea. There are narrow roads and pathways throughout the town, making exploring its whimsical streets and alleyways quite the adventure.
For awe-inspiring island vistas, make your way to Chora's highest point, Kastro. Once a fortification in the 15th-century Venetiаn period, this landmark still features ruins and remnants of the old settlement.
It's a wondrous location to watch the sun set over the island and the port of Livadi.
A Must-Do Activity in Chora: Get Your Hands Dirty at Kerameio
There's nothing like a hands-on activity to mark your visit and help create lasting memories. At Kerameio Ceramic Studio, you get to do that and take home a unique Serifos souvenir afterward.
Stop by to check out some handcrafted creations. If you're in Chora during summer (June-August), you can join a pottery workshop and learn all kinds of cool sculpting, molding, and painting techniques.
Megalo Livadi
No more than eight miles from Chora is the picture-perfect village of Megalo Livadi. This significant part of Serifos has a long mining history, dating back to the 1880s.
Today, the neglected mines are a tourist attraction and worth meandering around when you're in the area.
Another spot is the secluded Avlomonas beach, which draws many visitors. It's ideal for a bit of sun and sand if you're tickled by the idea of a beach day.
Livadi Port is another important part of the village, with colorful shops and bars to socialize in and mix with the locals.
Brief History of the Livadi Mines
Livadi's mining industry was at its peak in the late 19th century when the village came into prominence. Thanks to the area's high bauxite deposits, the nearby communities thrived all the way until the early 1960s — when mining activity came to a halt.
You can still find old mining components on the grounds, including railway lines, a 90-year-old mining ladder, wagons, and loading ramps. A monument is dedicated to the area's metal workers.
Monastery of Taxiarches
The Monastery of Taxiarches, a devotion to Archangels Michael and Gabriel, is arguably the island's principal religious structure. It's more than 400 years old, having survived countless pirate raids.
The high-walled fortress design gives an impressive appearance, featuring marble and wood carvings and even a throne. Within the monastery are the monks' rooms, their dining quarters, a church, and the courtyards. There's also a library and a teaching room.
Warning: As a men-only monastery, women are not allowed inside the building. It's a splendid structure and a sacred place to visit, even if only taking pictures from the outside.
Taxiarches Special Event in November
You'd be surprised to learn there are several festivals and celebrations that take place throughout the year despite Serifos Island's modest size.
One of these is a festival paying homage to the Archangel Gabriel on November 8th. If you're in Serifos around this time (fall), consider taking part in this unique experience. Highlights include meals prepared by the monks and overnight stays in the cells.
Pano Piazza
Pano Piazza (or Agios Athanasios if you want to be one with the locals) is to Chora what Chora is to Serifos: the star attraction. This is the town's central plaza, bursting with character and activity right through the day.
This is the place to come and enjoy a light snack, a hearty Greek meal, or some drinks between your Chora explorations. The plaza's colorful tables and chairs provide a joyful setting full of cheery conversation and fresh culinary flavors from the surrounding tavernas.
Nearby are the Town Hall and Agios Athanasios Church — also worth seeing.
What to Do in Pano Piazza: Taste Authentic Greece
You cannot visit Pano Piazza without savoring a raki infusion of spices (like cinnamon) and honey, called rakomelo. It's usually served as a warm drink many prefer consuming during winter, but it's equally suitable as a mild alcoholic beverage.
Stou Stratou café and Gaidaros bar are two of the square's best eateries, where you can sample many other terrific Greek favorites.
Panagia Skopiani
Astounding Aegean sea views are a common theme when describing Serifos Island attractions, and Panagia Skopiani is yet another place to enjoy them. This magnificent church is perched on a slope, affording unobstructed sights of the coast and nеаrby islands.
Many visitors like to hike around Kallitsos village and trek up to Panagia Skopiani to behold the surrounding splendor as the cherry on top.
The church is made of solid white stone and features a blue dome — a symbol synonymous with Greece's famous landmarks. Make sure to visit the bell tower for wonderful snaps.
What to Do at Panagia Skopiani: Watch Sunrise
If you can activate the early bird in you and can mission to Panagia Skopiani early in the morning, you'll bear witness to a sublime sunrise. Travel includes moments of calm, reflection, and deep appreciation for the beauty of nature.
Sunrises and sunsets are a surefire way to steal enough of these moments, especially in locations like this that are hard to replicate anywhere else in the world.
Psili Ammos Beach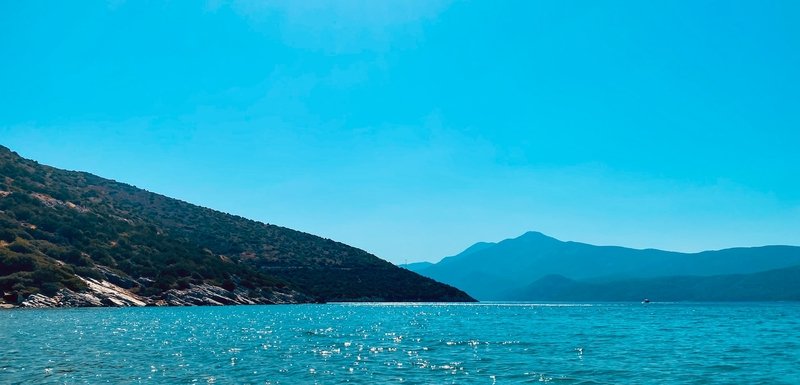 Is it a real Mediterranean holiday without the beach? Definitely not. When the weather permits, you have to hit the water for a fun day of frolicking seaside. Serifos Island has many beaches. Among the most spectacular is Psili Ammos ("soft sand") beach, about five miles from Livadi.
The silky sands (captured in the meaning of the name) and clear, blue waters give Psili Ammos its popularity. Not to mention, its Blue Flag accreditation means it's a safe and environmentally friendly area.
You'll relish the beach's peace and privacy. There are tourist facilities available and a taverna at the beach for your pleasure.
More of Serifos' Fabulous Beaches
So generous is Serifos' offering of beaches, you can take your pick from a marvelous list based on where you're located. Here are more top options for a balmy day in Serifos:
Agios Sostis – in the island's eastern region with a youthful scene
Livadi – in the southeastern Serifos portion with shallow waters
Sikamia – secluded beach northwest of Chora near Galanai village
Platis Gialos – in northeastern Serifos with clear but rocky waters
Vagia – beach near Koutalas with clear waters and colored sand pebbles
Ganema – large, tamarisk tree-adorned beach in the southern region
Folklore Museum
Museum experiences are effective ways to learn about an area's culture and history. In Chora, the Folklore Museum has Serifian heritage-inspired installations on display.
Browse through the artifacts and photographs to get a glimpse of how life on the island has changed over time. You'll see authentic Serifian household items, farming tools, traditional dress, and a famous rock collection.
If time allows, make your visit to the museum a three-in-one outing, as the Memorial of the Fallen and the Church of Saint Anthony (Agios Antonios) are close by.
Another Great Serifos Museum
Chora's Archaeological Museum showcases Roman and Hellenistic antiques, charting the trajectory of the island's history. There are fascinating exhibits of statues, fragments of ancient temples, and even burial columns. You can also see precious items retained from the White Tower (Aspros Pyrgos) and the Castle of Chora here.
Grias Castle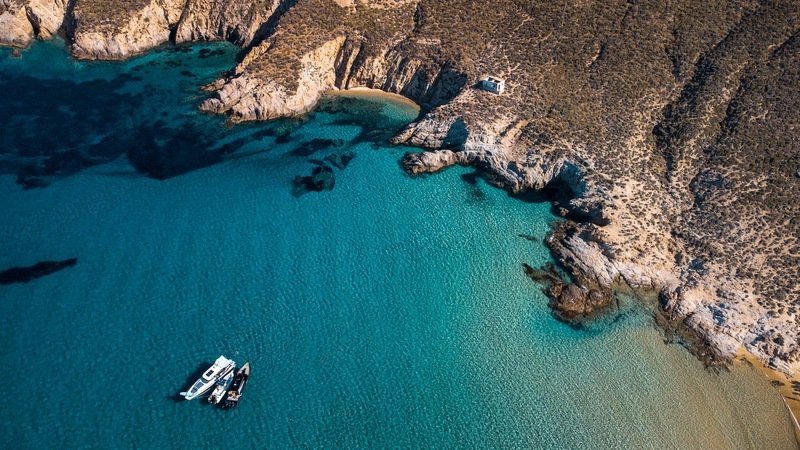 Grias Castle, which means "Castle of the Old Woman," is aptly named because the chances of spotting a cute elderly Greek nonna are high, especially in the village tavernas. This aged castle is actually a ruined settlement located above Koutalas in southwestern Serifos.
Like many of the island's must-see sites, Grias Castle allows panoramic views of the sea. The landscape is serene, best suited for quiet walks when you want to experience the gentle stillness of the Aegean atmosphere.
It is believed the castle was a fortress, typical of a few of the island's other ancient architectural remains.
The Importance of Serifos' Towers and Castles
The castles and towers of Serifos Island were built as part of strategic defense mechanisms to protect the region's rich mineral and mining assets (such as iron ore). This took place way back in the Middle Ages.
This includes iconic structures like Grias Castle, the Castle of Chora, the White Tower, and the Throne of Cyclops (Psaropyrgos Tower).
FAQs About Serifos Island
When you know what to expect before a big trip, you're more prepared and well on your way to a smooth vacation. The answers to these frequently asked questions will help ensure your Serifos getaway is one for the books.
When Is the Best Time to Visit Serifos Island?
Similar to the best time to visit Athens, you need to consider factors like budget, weather conditions, and your travel preferences for your Serifos Island trip.
Here's what to expect in each season:
Spring (March-May): less tourists, mild weather, the island is in bloom
Summer (June-August): hot, sunny, warm seas, more travel routes (e.g., ferries), higher accommodation prices, more crowds, many water sports
Fall (September-November): warm weather, calm sea waters, a popular time for hiking
Winter (December-February): rainy, cold, fewer accommodations and attractions open, villages still pleasant enough to explore
How Many Days Should You Spend in Serifos?
Two to three days are the sweet spot for Serifos Island escapes. When sailing in Greece, you might want to add an extra two days to get the full Cyclades experience. Chora and Livadi are excellent bases for the best hotels and restaurants.
What Is the Best Way to Get to Serifos Island?
The easiest way to get to Serifos Island is by flight, followed by a boat ride. The island doesn't have its own airport.
It's best to fly to Athens International Airport, which happens to be one of the world's best airports. You'll then hop onto a boat or ferry from Piraeus Port, taking up to three hours to get to Serifos (depending on the service).
If you're balling and not on a budget, consider a 40-minute helicopter ride from Athens.
Serifos Versus Sifnos Versus Syros Islands?
Serifos has lovely beaches and rugged mountain landscapes. It's more laid-back; it oozes old charm and has an authentic Greek vibe. Sifnos has more villages, with superb fine dining opportunities when 'tasting Greece' is your top priority. Syros Island is bigger, busier, and more lavish.
Final Thought on Serifos Island
When the travel bug bites and it's an island retreat you need, opt for Greece's Serifos Island. This remote but enchanting spot has many intriguing places to see.
This destination is ideal because you can incorporate island hopping into your itinerary as well, to places like Sifnos, Kythnos, Milos, and Syros.
A return trip is the perfect way to see more churches and museums. You could even indulge in a proper culinary tour around the island's villages.
Next Read: Island adventures never go out of style. Find out when the best time to visit Santorini is here.