Wine farm tours are nothing new. They've been around for many decades and have long been a popular attraction in South Africa. However, Spier Wine Farm in Stellenbosch is now offering a fresh and exciting new way to experience this type of tour and explore its gorgeous premises.
It turns out that Segway's are an ideal vehicle for wine farm exploration, and they're great fun too! It's faster than walking, but just as freeing, with the wind in your hair and the sun on your face. They are also serenely silent and can reach areas that aren't accessible with larger vehicles.
Spier Wine Farm
Spier is a beautiful, innovative, sustainability-oriented wine farm in the Cape Winelands, situated about a 30-minute drive from Cape Town. It has a rich history, great views, and a progressive ethical and eco-conscious approach to farming.
If you're looking to tour a western cape wine farm, Spier is certainly one of the most interesting in the region, and the best way to experience it is with one of their awesome Segway Tours. We also think this is one of the coolest Segway experiences in South Africa.
Segway Tours

The tours offer a great combination of absorbing the scenery and learning about Spier's operations while trying out the thrilling, novel experience of Segway riding. You'll glide around the farmland on quaint dirt paths, weaving amid the vineyards and soaking up the stunning mountain views.
All of the tours start with a fun 20-30 minute Segway training session. The friendly experienced guides will help you get familiar with the controls and assist you in honing your skills on an obstacle course.
Tour Options
There are three different tour options, each at different price points and offering different experiences. If you're looking for well rounded Spier activities, we highly recommend these tours.
The Farm Tour is a speedy 40-minute tour after the half-hour training session, bringing the whole experience to a little over an hour. This tour offers stunning views on a brief whip around the closest part of the farm, including the first vineyard block and Protea garden.
The Vinyard Tour and Sunset Tour are longer, each 2 hours in total. The Vinyard Tour takes place during the day, while the Sunset Tour starts in the early evening, and offers beautiful sunset mountain views. They both entail a 90-minute tour following the training session.
These longer tours are also both followed by a much anticipated complimentary Spier wine tasting (or grape tasting for kids).
The tours showcase some of Spier's sustainable biodynamic farming techniques and infrastructure, and are sprinkled with interesting information. You'll also meet some of the free-range farm animals, and stop by at the organic vegetable patches on the longer tours.
Spier's Sustainable and Ethical Approach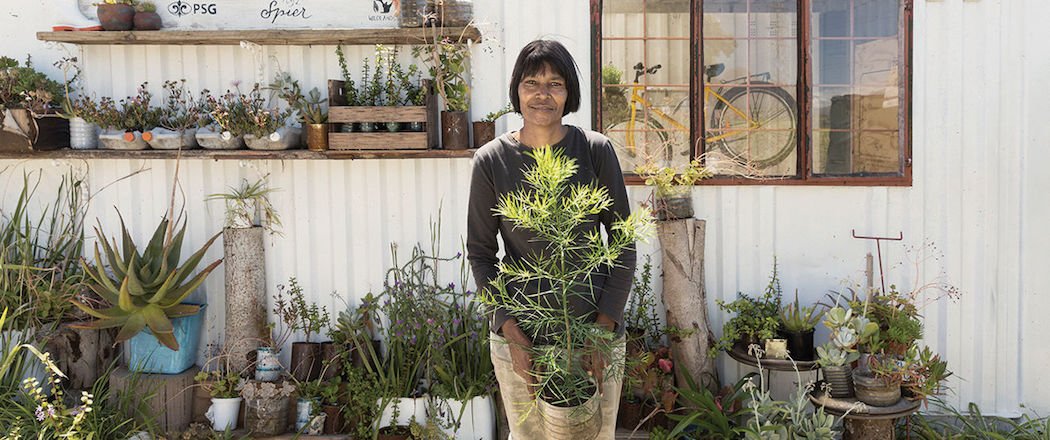 Spier is making great strides toward its ambitious sustainability goals. They recycle 100% of their water at their yin-yang water recycling plant, saving 50 million litres per year. They also recycle 95% of their waste, with their sights set firmly on bumping this figure up to 100%.
The tours all stop by the water-treatment plant so you can have a look and learn about it.
Food served at the restaurants is seasonal, with vegetables grown organically on site, and meat sourced from animals ethically raised at Spier by farmer Angus.
The cows are grass fed and hormone free, and the chickens are allowed to roam free and graze on the farm grounds. The wandering chickens also benefit the farm by distributing free organic manure to aid ground fertility. You'll get to meet these happy friendly hens on the tours too.
Spier is also home to a Tree-preneurs site, where economically disadvantaged individuals are taught how to care for indigenous trees, which they can later trade for food, clothing, and bicycles. The longer tours also make a stop at this site, where you'll learn a bit about the initiative.
Additional Information
A Segway is a self-balancing, two-wheeled personal transporter with pretty intuitive driving controls. You lean forward to go forward, lean back to stop, and tilt the handlebars to turn.
You'll be given a helmet before hopping on the Segway, and your instructors will coach you on the safety aspects of riding.
The tours start off relatively slowly (13km/h), but if you show competence on the Segway, your guide may bump up the driving speed, with a limit of 20km/h on the farm.
If you're going on a day time tour, remember to bring sunblock as you'll be out in the hot South African sun for the duration of the tour.
You can pretty much wear what you like (just no high heels), but we recommend closed shoes and comfortable, weather appropriate clothing.
Riders must be at least 10 years old for the Farm tour, but 12 and older for the longer tours.
Prices and Details
Please visit Spier's Segway Tour page for booking and availability.
Farm Tour
Price:           R375
Duration:      ±1 hour    
Vineyard Tour
Price:          R575
Duration:    ±2 hours
Sunset Tour 
Price:          R700
Duration:    ±2 hours
Conclusion
Spier Wine Farm is an ethically conscious and forward-facing farm, in an idyllic setting, and Segway Tours are an incredible way to explore what it has to offer. The tours offer a fun, exhilarating, and novel experience, immersed in scenic surrounds and full of interesting information.
Excellent Tour
These Segway tours are a great way of experiencing Spier Wine Farm's gorgeous grounds and scenic surrounds while learning about its sustainable farming approach.
PROS
Beautiful views
Very informative
Great stops and sights
Fun and novel
CONS
No kids under 10 (12 for longer tours)
No drinking before or during segway riding
Add your review
|
Read reviews and comments