So you're planning a much-needed getaway to Greece, and you settle on Syros Island as your destination. Syros is nothing short of breathtaking, so who can blame you? Found in the heart of the Cyclades islands, Syros offers jaw-dropping views of the Aegean Sea, music, culture, mouthwatering cuisine, and so much more.
Even with the perfect destination in mind, there is still a lot that goes into planning a trip, and you might have a lot of questions. When is the best time to visit? Which locations should you check out? What activities are there? Well, don't fret – this guide has got you covered.
Now, what are you waiting for? It's time to dive right into the best places to visit on Syros Island.
Top tip: If you like Syros Island, you should check out more of the best islands in Europe that are just as inviting.
Best Time to Visit Syros Island
Before getting into the best places to see on the island, you might want to know what time of year is best to get the most out of your trip.
The best time to visit for optimal weather is between April and June and between September and October. The weather during these months is pleasant and mild; not too hot that you'll burn up, but warm enough to make the most out of the unbeatable beaches.
But if you're more worried about the budgeting side of things, you can visit during the off-season in Greece, between November and March. The air still feels a little nippy as winter comes to a close and spring approaches, but this is a great time for good deals and skipping out on tourist crowds.
Places to Visit in Syros, Greece
When you think of Greek islands like Syros, what comes to mind? Probably the azure waters of the Aegean Sea that surround the island or the picturesque view of classic architecture. Perhaps your mouth is already watering at the thought of Greek gyros or kebabs.
Whether you want to explore the narrow streets in Ermoupoli or watch some of the most gorgeous sunsets on the hills of Apano Meria, this magical destination has something for everyone. Here are eight of the best and most incredible places to visit on Syros Island.
The Capital of Syros Island, Ermoupoli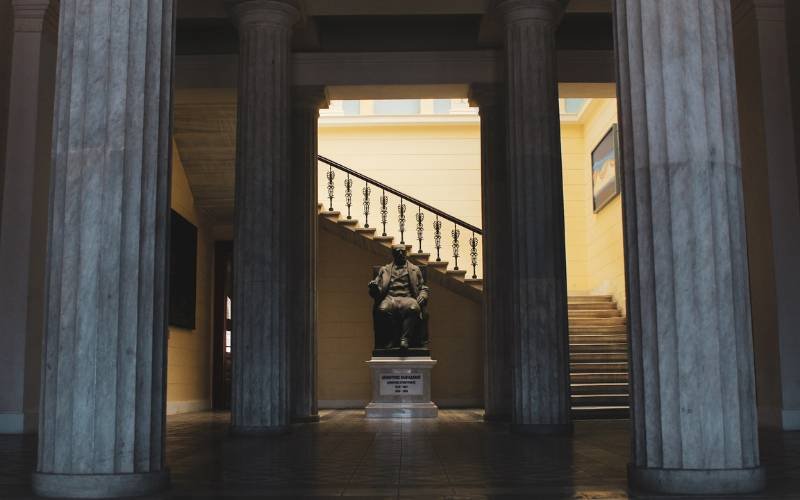 First, you can't go wrong exploring the capital town of Syros Island. Ermoupoli is a charming town that doesn't sport the typical blue-and-white building combination that you've come to know of Greek islands. Instead, stone brick walls and warm terracotta tones scatter across the town and make it truly unique.
There are plenty of things to do within the town, like visiting cinemas, restaurants, or theaters (more on that later), but the real showstopper is the Ermoupoli Town Hall. Designed in the 19th century by the incredibly talented Ernst Ziller, this building definitely stands out for its size and presence.
You should also remember to take a casual stroll along the paved streets to immerse yourself in the local culture and stunning scenery around you.
Best Places to Visit in Ermoupoli
Here's a quick breakdown of some of Ermoupoli's best spots that you have to check out while exploring the town:
The Archaeological Museum of Syros
The Cycladic Art Museum
Apollon Theatre
The Vaporia Quarter
Church of the Resurrection of Christ
Syros Beaches
Being on an island surrounded by Posiedon's domain, there is no possible way you could get the most out of your Syros trip without taking a trip to one of the island's beaches. Syros boasts plenty of choices along its coast. Feel the warm sand beneath your feet, catch a tan under the sun's rays, or dip in the crystal blue waters. What better way to enjoy a Greek paradise, right?
Best Beaches in Syros
Most beaches worth visiting are right under your nose if you're in and around the capital, Ermoupoli. That said, you might need help figuring out where to start. Here are five of the best beaches that Syros has to offer:
Galissas Beach
Kini Beach
Agathopes Beach
Delfini Beach
Finikas Beach
Kini Fishing Village
One of the best things about visiting islands like this is finding those little hidden gems that few people know about. Kini village is one of those places. This quaint fishing village sits about 6.2 miles (10 km) outside of Ermoupoli and has plenty of things to do while you're there.
Most notably, you'll want to take advantage of the spectacular seafood – it is a fishing village, after all. Once you've eaten, you can walk along the streets and admire the beauty of the town itself, including local art. Panagia Gorgona is just one of the artworks to expect – a gorgeous statue of a mermaid holding a saved fisherman.
Best Places to Visit in Kini
Kini is a small village, so you won't find anything too extravagant, but that doesn't mean you will be disappointed. Here are some fantastic local spots that you can enjoy in this quaint locale:
Delfini Beach Bar
Kini Beach
Assumption of the Blessed Virgin Mary (Church)
Panagia Gorgona
Kini Aquarium
Syros' Local Restaurants and Bars
Greece is undoubtedly home to some of the best European food you can find, and Syros is no exception since there are plenty of local delicacies to try. For some sweet treats, Syros is known for its loukoumi (Turkish delight) and halvadopita (nougat filled with nuts and fruits).
You can't visit Syros Island without experiencing the classic gyros and Mediterranean meals that it has to offer, so your best bet is to check out as many restaurants as possible. There are plenty of restaurants and bars to choose from no matter where you are in Syros, so you'll always find some new, exciting places to tickle your tastebuds.
Best Restaurants in Syros
If you're wondering what to expect from the Syros food scene, here are a few restaurants to choose from, where they are, and what they offer:
Seminario: Ermoupoli – This restaurant is for you if you're a vegan who wants to experience those classic Mediterranean flavors.
De La Gracia: Posidonia – This beach bar is for all you seafood lovers out there. De La Gracis focuses on cooking with fresh, local seafood – the cocktails are just a plus.
Maison De Meze: Ano Siros – This restaurant is a spectacular spot to try classic Greek-style meze platters.
Laoutari Kafreneio: Ermoupoli – Another great local option for classic Greek meals and gyros.
Apano Meria
Greece is known for its incredibly memorable sunset spots, mainly in Oia in Santorini or Little Venice in Mykonos. But don't give those locations all the credit, as Syros Island has its own little paradise tucked in the north.
Apano Meria boasts beautiful hillsides and coastlines that are the perfect perch to watch a sunset or sunrise. Once you find that ideal spot, you can sit back and relax while you watch the golden hues of the sky dance across the ocean floor or over the hills. It's a truly out-of-this-world experience.
Best Places to Visit in Apano Meria
While in Apano Meria, you can visit plenty of small settlements and locations to catch a quick bite to eat or enjoy the local culture and good energy. Here are just a few to check out:
San Michalis Village
Grammata Beach
The Kastri Archaeological Site
Lia Beach
Mytakas Village
Syros' Hiking Trails
Syros is great for its views of the coast and the surrounding hills, but how would you like to enjoy them while keeping your fitness in check? This little island is filled with plenty of nooks and crannies where you'll find hidden gems you can only access by foot. That is where hikes come in.
Syros has many impressive trails you can enjoy while there, ranging from easy to more difficult. For more of an easy time, you could hike down to Agios Stefanos Cave Chapel on a short 1-mile (1.6 km) trail.
If you want something more challenging, you could push yourself on a 5.5-mile (8.9 km) hike from Kampos to Americanou Beach.
Top tip: If you're an avid hiker, why not check out some more of Europe's best hikes?
Best Hiking Trails on Syros Island
No matter what fitness level you are, there are a few options if you want to relish a good hike, so here are some of the best trails to take a look at:
Varvarousa Beach: 5 miles (2.4 km), moderate difficulty.
Kini to Delfini Beach: 8 miles (2.9 km), moderate difficulty.
Viglostasi Lighthouse: 7 miles (4.3 km), easy difficulty.
Dani to Galissas: 7 miles (2.7 km), easy difficulty.
Posidonia to Finikas: 5 miles (8.9 km), moderate difficulty.
Apollon Theater
If you're a lover of the arts, then you'll find nothing more special than catching a play in Greece – the birthplace of theater. The best spot in Syros to watch a play has to be the Apollon Theater, nestled in Miaouli Square in Ermoupoli.
The building itself is gorgeous in its own right and certainly catches the eye, but it's what's inside that's the real treat.
What to Expect at the Apallon Theater
Apollon Theater hosts opera shows, cultural events, concerts, dance performances, and both local and internationally acclaimed theater productions.
It recently held the 19th International Classic Music Festival of Cyclades. The show ran from August 12th to August 19th and is just a tiny peek into the incredible shows you can enjoy while in Syros.
Syros' Local Markets
What's a trip without a bit of splurging on yourself or buying some keepsakes for your friends and family back home? Syros Island is home to vibrant culture and talented locals, so you have to check out the various markets and boutiques scattered across the island. While most are in Ermoupoli, you can still find more throughout the island.
Across the island's markets and specialty stores, you can find jewelry, ceramics, perfumes, oil, clothing, and more. So whether you're looking for gifts for the people back home or want to indulge and buy something pretty, Syros has it all.
The One Syros Market You Can't-Miss
Ermoupoli Market is a great place to find the best local ingredients, with grocers selling some of Syros's freshest and best foods. Try shops like Physis Keraloifi or Loukoumia Denaxa for more handmade artisanal crafts.
Frequently Asked Questions | Syros Island
There might still be a few things you aren't sure about, so here are a few frequently asked questions to set your mind at ease.
How Do You Get to Syros?
The two main methods to get to Syros are flying in or taking a ferry. You could catch a flight to the Airport of Syros, which takes flights from Athens on the mainland. Otherwise, if flying isn't your thing, you can reach Syros by catching a ferry from the mainland.
It's probably the easiest method for sailing in Greece. Prominent ferries run from different ports in both Athens and Kavala.
Is Syros Island Expensive?
Of all the Greek islands, Syros is one of the most affordable compared to its counterparts like Santorini or Mykonos, even during the off-season. Markets, food costs, and even gorgeous luxury hotels are more affordable than expected.
To put it into perspective, a solo traveler typically spends an average of €1,047 ($1,143.43) for a week-long stay in Syros.
How Safe Is Syros?
Syros Island is considered very safe, so much so that even nighttime explorers and solo female travelers can enjoy their stay without worry. The only thing you need to be on the lookout for is petty theft or purse snatchers, but even then, it's not nearly as common as the more crowded tourist destinations.
Is Syros a Party Island?
You might not have thought this serene destination has a booming nightlife, but it definitely does. Primarily concentrated in Ermoupoli, you can find plenty of music lounges, clubs, beach bars, and late-night cafés to enjoy after dark. This makes Syros a prime destination for young adults and partygoers.
Final Thoughts on Best Places to Visit on Syros Island
There you have it – the best places to visit on Syros Island. There's no doubt these activities offer something special for everyone. Whether you're feasting on the local cuisine or soaking up the sun at one of Syros's beaches, this Mediterranean locale is worth your while.
So what are you waiting for? It's time to set sail and make your way to this wondrous, mythical island. And if you want to make your Greek holiday even more special, check out some of these other spectacular places to visit in Greece that you can add to your itinerary.