The Giant's Causeway, Carrick-a-rede Rope Bridge, The Dark Hedges. If you have been or even plan to visit Northern Ireland, you are probably familiar with these tourist hot-spots. What is there to discover, however, beyond the much-trodden tourist trail? Journalist On The Run writers Lauren and Oisin spent a long weekend along the Causeway Coastal Route in search of Northern Ireland's hidden gems…those spots not reachable by tour bus, food not plastered across Instagram. Well, until they visited at least.
With words by Lauren McBride and photos by Oisin Feeney, dip your toes into this fun guide to unique things to do on the Causeway Coastal Route. Rated one of the top five road trips worldwide, this is one incredible trip you're going to need to take when visiting Ireland. Add it to the bucket list, you won't regret it!
Stay in a Luxury 5* B&B
"Luxury 5*" and "B&B" aren't usually two words that go together and as a girl who's stayed in all sorts of hotels around Ireland and at far flung corners of the world, I was very excited to find out what this meant. We booked into the gorgeous Blackrock House B&B, the first five-star bed and breakfast in Portrush. From the very outset, we realised we were somewhere very special as our happy and passionate host Nicola greeted us. The smell of freshly baked cakes filled the house and everywhere in our room there were tiny little details that made us feel right at home such as the kind little quotes dotted around the room, the authentic tea that would have been drank in the house one hundred years ago and the creamy homemade fudge on the bedside table Nicola left for us in our room.
WANT MORE LUXURY? Best Hotels in Northern Ireland: The Luxury Edition
Nicola has a lifetime of experience working in the tourism and hospitality industry and after living in London for ten years, she realised that there really is no place like home and returned to the North Coast. The mix of vintage furniture and beach theme isn't one you'd think would scream luxury but sitting on a plush velvet sofa in the Drawing Room or watching the stars through the telescope in The Snug says different! The attention to detail is what made our stay here really special and I don't think I could even begin to mention them all…but I will say is that there's really nothing like wearing white robes and slippers, sitting on the balcony overlooking the beach at Portrush Strand while sipping Bushmills Irish Whiskey from your very own private Bushmills bar!
Eat locally sourced food
Nicola sources all food from local suppliers and takes pride in presenting the award-winning food in her "mini-restaurant." Make sure to try the homemade fruit barmbrack with the hand-rolled Abernethy butter and Strawberry & Prosecco Jam – heaven!
Blackrock House B&B
£130.00 per room including breakfast
To book your stay, go to the website or phone 07779336885 or email 
info@blackrockbandbportrush.com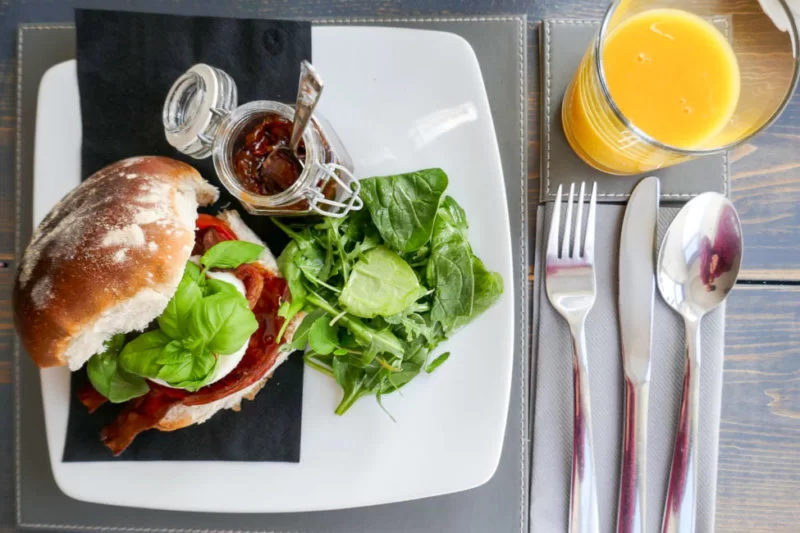 See Carrick-a-Rede from a different angle
When Richard Lafferty from Aquaholics took us out on a boat and asked us to pick where we wanted to go, we looked at each other unsure where to pick. Richard suggested going to see the Carrick-a-Rede rope bridge from the water and we leapt at the idea! Imagine missing all the queues of tourists AND getting the best view of one of the National Trust's most famous spots?! Being from Northern Ireland myself, I have spent a lot of time on the North Coast over the years but I have never seen it from this angle and the views were so stunning that they honestly took my breath. This is without a doubt, THE best way to see the North Coast.
Richard was super professional and really knowledgeable about the local area and seas. He took us over to show us the whirlpools in the middle of the ocean, which can be dangerous but they were just getting going and they were class!! Richard also took us over to Rathlin Island to visit the seals.
We anchored for a while, and were advised not to point our fingers at the seals as it scares them away, which I thought was hilarious!! Sure enough, Richard was right…if we waited long enough (and didn't point) the seals would get curious and come over for a closer look. It was hard to get great photos of them as they popped their heads up from the water for just a second before disappearing so I guess you'll just have to go see them for yourself!
Experience island vibes
As it was a clear day, we were able to see as far as Donegal in Ireland and the Hebrides Islands off the coast of Scotland. Richard can take you to one of these islands – Islay – for the day to go whiskey tasting and don't worry about feeling queasy on your way home as this was one of the smoothest boat rides I've ever had!
Aquaholics Sea Safari
Giants Causeway and Rathlin Island: £40

Game of Thrones Location Tour: £54

Islay and Ardberg Distillery: £65
You can book your trip directly through the website or email info@aquaholics.co.uk
Go on a Walking Food Tour in Bushmills
I have to be honest. I wasn't very excited about doing this as Bushmills (the town, not the Whiskey!) isn't exactly known for it's great food. Boy, was I proved wrong!! We met our quirky and enthusiastic tour guide, Caroline Redmond from North Coast Walking Tours on a beautiful, sunny Saturday morning. Sunny days are rare here in Northern Ireland, but Caroline informed us that her tours always bring the sunshine!
Our first stop was at Coopers Deli owned by Fiona Key, the grand-daughter and daughter of Coopers at the local Bushmills Distillery. Fiona welcomed us in with a pot of tea and we felt so at home here, we had to be reminded that this was only our first stop and to eat up as we could have sat chatting all day! We got to try what might be the best scones I've ever had as they are uniquely made with raisins soaked in hot toddy. A hot toddy is a drink made with whiskey and this particular recipe was passed down to Fiona by her grandfather when he passed away. The idea from putting it in the fruit came from her grandfather too but in a dream!! We also got to try something neither of us even knew existed – bacon made from a goat…and it was delicious.
We then walked through the local food shops (you'll not find a Tesco or Lidl here!) whilst learning about the fascinating history of Bushmills. Our guide Caroline then treated us to a picnic of the best salmon sandwich either of us have ever tasted at a table beside the Bush River, where the fish was caught. The roasted and smoked North Coast Smokehouse salmon, combined with The Woman Next Door's Beetroot & Dill chutney or The Bakehouse's melt-in-your mouth sourdough bread made it Oisin's favourite food of the day!
Whiskey tasting of a different kind
Next up, some whiskey tasting at the Bushmills Distillery. We've heard this whiskey is "allegedly" better than Jameson's and were excited to try this humble liquor. My highlight was being specially treated to a taste of the 21 Year Old – and at a £160 a bottle I clearly have some expensive taste! There was no time for a full tour but I'll definitely be going back to do it (and get some more free whiskey!).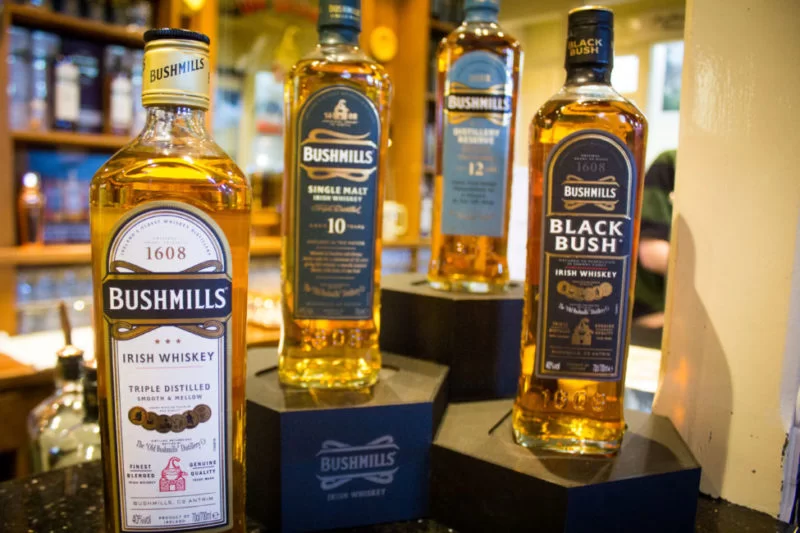 Guaranteed Irish – the best food in town
As a lady who appreciates the finer things in life, lunch at Tartine was my favourite stop of the day. The chef, Gary Stewart greeted us before rushing off to prepare a taster of his specialty – slow-cooked braised lamb with vegetables, served with a small glass of red wine. The lamb was honestly divine and tasted slightly salty which we were told is because of the sheep being reared in the fields beside the sea and breathing in the sea mist!
Finally – dessert time! Coffee served with mini crème brûlées and raspberry & almond cakes were on the menu in The French Rooms, enjoyed sitting by the fire surrounded by quirky décor and shoppers stopping for an afternoon break. There's also a deli at the front where you can buy much of the food tried and talked about on the tour, including the unique smoked sea salt and black pepper and smoked Dulse seaweed.
Go local at a chippie
Just when we thought we couldn't fit any more in our bellies, Caroline took us for a "snack" at The Hip Chip, the best local chip shop, or "chippie" as we call it in Northern Ireland, and definitely one of the unique things to do along the causeway coastal route! The friendly and generous owner, Jeffrey wouldn't take, "we're very full," as an answer and provided us each with our own bag of freshly fried chips – I only wish I could have eaten them all!!
We said goodbye to Caroline at the Bushmills Inn – be sure to check out the Secret Library while you're there. What the Secret is, you'll have to find out for yourselves!
North Coast Walking Tours – a Bushmills food tour only cost £40 but feeds you for a day! See website for prices of the Ballycastle and Rathlin Island Tours. To book phone 07718276612 or email credmondni@gmail.com
Bushmills Distillery Tour – prices from £4.50 for a child to £8.00 for an adult. See website for further prices. To book a tour phone 028 2073 3218 or email visitors.bushmills@bushmills.com
Eat until you explode in Portrush
Having just come back from a trip to Cuba (sadly not known for their cuisine!!), I can honestly say I haven't eaten as well as I did this weekend as I have in a long time. Harry's Shack was where we had our first meal. Whilst the freshly caught fish from the sea is delicious, the best thing about this gem is undoubtedly the view. With its perfect location right on the beach and panoramic windows, this is the perfect place to watch the sunset over dinner and a glass of wine.
The Ramore chain of restaurants is infamous in Portrush and all around Northern Ireland for great-tasting and good-value local food. The Ramore is particularly known for it's stunning range of desserts and we thoroughly enjoyed our Jawbox Gintails complete with massive melting homemade honeycomb! After dinner, we headed down to the Harbour Bar, and enjoyed a few pints of Guinness while listening to a great local acoustic guitar player/singer before heading upstairs to dance the night away with the locals!
Our absolute favourite meal of the weekend was Ochos Tapas Bistro. Never before would we have thought a pairing platter consisting of five shots of sherry with five mini starters would be such a great idea! The chef, Trudy Brolly, spent 19 years perfecting her skills in Spain and selecting wines from the local vineyards with her husband Sean before sharing them with the lucky people of the North Coast. Our top picks were the award-winning Goat's Cheese Croquettes with Beetroot Pannacotta and the Dates Wrapped in Bacon – my mouth is watering just thinking about them!
SUP out of Portrush Harbour
Hungover on a Sunday morning? A dip in the Atlantic Ocean will sort that right out for you!! The North Coast is pretty famous for it's amazing surf opportunities but did you know you can kayak and stand-up paddle board here too? TK from Portrush Surf School laughed at our hungover heads before taking us out on an obstacle course around the Portrush Harbour to master our skills. After a VERY wobbly start we were ready to paddle out into the ocean and enjoy the stunning views of the beach and coastline.
Portrush Surf School also provides surf lessons for surfers of all abilities, body boarding lessons and even Pilates lessons on the paddle boards!
Lessons Prices:
Stand Up Paddleboarding: £30 per three hour lesson

Bodyboarding: £40 per two hour session

Surfing: £30 per three hour lesson
For more prices, including special rates for groups, contact: www.portrushsurfschool.com
Martin TK Kelly, Tel: +447894854791,
Jump off a 40ft cliff in Ballintoy
If you're REALLY looking for something unique do do on the Causeway Coastal Route, this is it. If you found that the calm paddle-boarding lesson just wasn't refreshing enough then it's time to take yourself to Ballintoy Harbour and meet Bobby from Coasteering NI to go jumping off a cliff! Don't worry about feeling chilly as although the North Coast isn't exactly known for it's tropical weather, the guys will get you kitted out with booties, gloves and wetsuits to keep you warm – in case the adrenaline doesn't do that for you.
To reassure the nervous among you, these guys seriously know what they are doing and want to make sure everyone has a fun-filled day leaving with huge, "I'm so glad I did that," grins on their faces. To get to each cliff, you scramble over rocks and swim along the coast. Even if you're a nervous swimmer, like me, you can do this as you have all the safety kit you need of a lifejacket and helmet. The jumps off the cliffs start at 10ft and go up. Oisin took some awesome shots of the biggest jump, which is a ginormous FORTY FEET!!!
For a group of 13+, a trip costs £35 per person, a group of 1-4 people costs £45. Keep an eye-out for the Groupon deals too!
To book your adrenalin-filled experience, phone +447422506079 or email splash@coasteeringni.co.uk
Pretend you're the King of the Castle
So there are some SERIOUSLY kick-ass castles along the Causeway Coastal Route. Our favourite one was obviously the one that no one else knows about, and tour buses can't get to, the stunning Kinbane Castle . To find it you go to the town of Ballycastle and then just keep driving a little further and follow the signs. According to Nicola from our B&B, the castle is still owned by the British Royal Family and was even painted in watercolour by Prince Charles during one of his state visits! Check out the INCREDIBLE drone video Oisin shot while we were on the very edge of the cliff!!
For the Game of Thrones fans
Dunluce Medieval Irish Castle is probably the most famous of all the castles along the Causeway Coastal Route and is just a few minutes drive from the famous Giant's Causeway. It's very fun to explore these ruins during the day for a small £5.00 entrance fee, we loved coming back there later in the day to watch the sunset even more. The silhouette against the rainbow coloured sky was just stunning and it seemed every photographer in the vicinity agreed with us!
If you're a Game of Thrones fan and fancy staying in a castle, stop by the 4* Ballygally Castle along the Coast Road. Ballygally Castle is also home to one of the 10 beautifully crafted Game of Thrones doors that were carved out of the trees from the Dark Hedges that fell during a storm.
After taking a tour of the local Game of Thrones filming locations, you can enjoy a Game of Thrones Afternoon Tea for £22.00 or even a banquet! Prices for the Game of Thrones package including a luxury coach tour, afternoon tea and breakfast start from £140 per person sharing.
Another great one to check out is at the very start of the route – Carrickfergus Castle. This castle is still mostly intact and you can see John de Courcy on the loo and then dress up in chainmail before playing a game of giant chess!!
Explore the best beaches
Northern Ireland and Ireland are famous for being 'green' but the Causeway Coastal Route has some of the most stunning beaches on the island. The Blue Flag is awarded to beaches worldwide that meet the rigorous standards of the Foundation for Environmental Education and Northern Ireland has 10 of them – which is more than Puerto Rico!! One of the most famous, and my personal favourite, is the beach at Downhill Strand , also known as Benone Beach. I have fond memories of spending my summers as a child staying in my great-uncle's caravan nearby and walking to this beach every day to build sandcastles and eat ice cream.
The beach itself is 11km long complete with sand dunes, waterfalls and perched on the edge of the cliff overlooking the beach is the pretty Mussenden Temple (great for that Insta shot!) which was built as a summer library for the Bishop of Derry/Earl of Bristol in 1785. You may also recognise this beach as Dragonstone from Game of Thrones. In case you don't – this is the beach that the Seven Idols of Westoros were burned!
Speaking of great beaches and Game of Thrones, along the Causeway Coastal Route you can also find Portstewart Strand aka the Kingdom of Dorne and Murlough Bay otherwise known as Slavers' Bay. You can check out where all the filming locations are here.
Watch the Northern Lights
No, I haven't gone mad. You really can see them from the North Coast! Bonus – it's not as cold as Scandinavia!! Having been to Iceland and Norway and having STILL not seen them, I am particularly raging to have found out they were visible the night we left. RAGING.
The Aurora is best seen on a clear night away from any light pollution which makes the Causeway Coastal Route perfect as you won't have to go far to get away from the bright lights of the towns and villages.
I know that I'll be continuing my quest to see this stunning natural light show in real life, will you get to beat me to it?! You can check out the forecast for being able to see the beautiful Aurora Borealis.
Find the best hotels on the North Coast now.
Wildlife watching at Rathlin Island
Rathlin Island has a population of only 160 people but is populated with so much more wildlife. You can see seals chilling on the beach, basking sharks in the ocean and all kinds of beautiful birds including the rare black guillemot. The best one though – the PUFFINS!! Everyone is patiently awaiting their return to the island during our visit and I can't want to get back to see them in a few weeks as they'll be there from May!
To get to Rathlin, you can take any number of ferries that leave from Ballycastle, including the aforementioned fabulous Aquaholics. Rathlin is also a great local spot to do some diving as due to the treacherous rocks here, a lot of unexplored ship wrecks lie at the bottom of the sea and who knows what treasure you might find!
Get a history lesson
To learn about the history of the island while you're here, step into the Boathouse Visitor's Centre or rent a bike for £10.00 for the day from Soerneog Hostel and explore the island for yourself. The locals are always friendly and welcoming and proud to share their island with their visitors.
If you're lucky enough to be visiting in the summer you might be lucky enough to see the Rathlin Festival, complete with raft race in July or catch one of their regular model yacht races!
Make sure you check out North Coast Food Tours while you're there too as going by the Bushmills one, it'd be a great way to spend the day. Two private bus companies do bus tours of the island to the lighthouse, seals and RSPB Seabird Centre for £5.00 return.
You can stay at Soerneog Hostel on the island for just £20.00 per night or Coolnagrock B&B for £35.00 per night.
Soerneog Hostel: Phone Jennifer and John McCurdy on 028 2076 3954
Coolnagrock B&B: Phone Margaret McQuilkin on 028 2076 3983 or 07718124662