Ahhh Berlin. Germany's quirky capital which is possibly the only city in the country that doesn't actually "feel" German. With its alternative clubbing scene, cash (instead of card) loving society, rich history and diverse population, it's no wonder this city is one of the most loved destinations in Europe. Following 6 separate visits, and help from my friends, I've compiled this list of the most weird, unusual, quirky and fun things to do in Berlin – far from the usual tourist traps!
Best Time to Visit Berlin
Without a doubt, the warmer months are the best time to visit Berlin, specifically May – September. Sure, summer is more crowded just like any other European capital city but Berlin has the perfect climate during this time. Not too hot, but definitely warm enough to walk around without a jacket.
November – December during the Berlin Christmas Markets is also one of the best times to visit Berlin. Winter is bitterly cold in this part of Germany (you'll need layers on layers, and another layer after that) but the Christmas Markets are just beautiful.
If you want to save a few bucks and don't mind the cold then January-March is the cheapest time to visit Berlin. Just watch out for the huge Berlinale Film Festival and other events/conferences in February when accommodation costs might rise.
Flights to Berlin: How To Get There
Berlin has two airports: Tegel and Schoenefeld. Schoenefeld is the airport most European low-cost airlines fly into, so if you're hopping on a flight to Berlin from elsewhere in Europe that's probably the airport you'll fly into. Remain flexible with your dates and airports and you'll hopefully find the cheapest possible flights to Berlin. Use Skyscanner to search for cheap flights to Berlin.
Luckily, both airports are extremely well connected to Berlin city centre by Berlin's world-renowned metro system making it straightforward and cheap to travel to the centre of Berlin from either Tegel or Schoenefeld airports.
Berlin Metro: Using Public Transport
As I said, the Berlin metro is one of the most efficient and well-connected Metro systems in the continent, which is necessary to connect such a sprawling city like Berlin. It's definitely the only mode of public transport in Berlin you'll need to use! The Berlin Metro map can be a little confusing (is there even any difference between the S-Bahn and the U-Bahn?!) because Berlin really is such a huge city and there are so many stops. Have a look at the map before you go and maybe download a pdf of it to have on your phone.
It costs €2.80 for a single journey in the AB zones (which is where you'll be staying most days unless you're travelling to Schoenefeld airport which is in zone C) so it might be worth picking up a day pass for €9, or a 7-day pass for €30 depending on how long you're staying in Berlin and how long you'll be travelling for.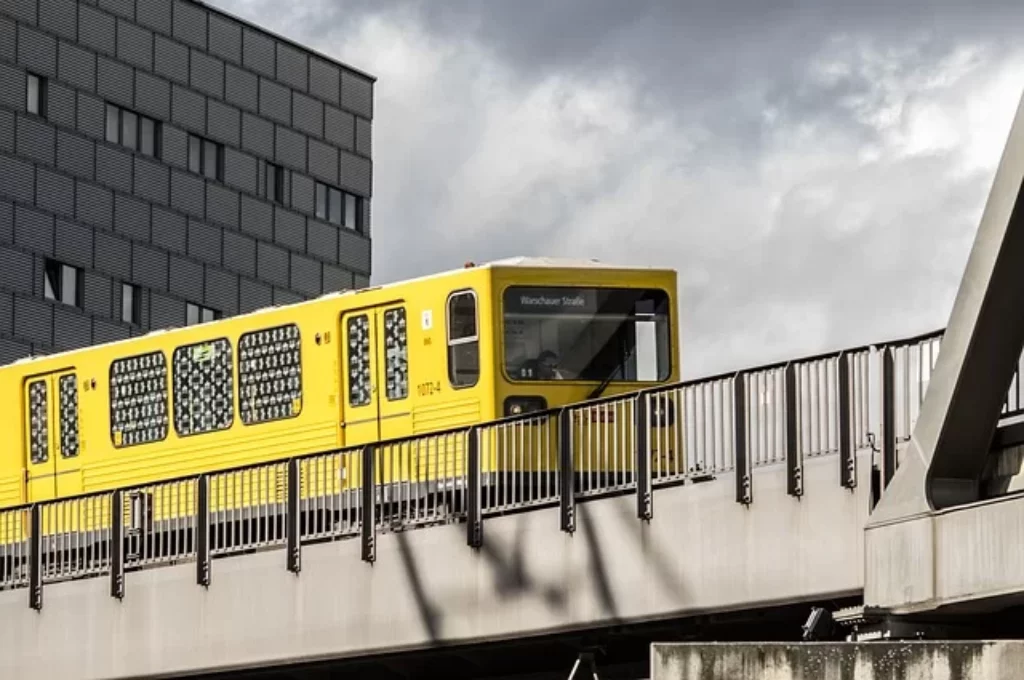 Where to Stay in Berlin: Cheap Hotels and Hostels
Berlin has an absolutely fabulous range of budget accommodation options and some of the best hostels ever. So, deciding where to stay in Berlin might be difficult, but only because you'll have so much choice. Berlin was my first solo trip and first time staying in a hostel so every time I stay in a hostel I'm comparing it to the great experience I had in a Berlin hostel. Honestly, no bunk beds and towels were provided!
Don't let the neighbourhood stop you from booking the perfect cheap hotel or hostel as the Berlin metro is so easy to travel anywhere. However, neighbourhoods near the East Side Gallery/Kreuzberg have that hipster vibe Berlin is so famous for and there are some great, modern hostels there. But there's nothing better than staying in boutique hotels in Berlin.
Fun Things To Do In Berlin
Shopping in Funky Holzmarkt
Suggested by Veronika from TravelGeekery
Holzmarkt is one of the cool hangout spots all other European cities can be just jealous of. This magic happens simply only in Berlin.
When you enter Holzmarkt, you'll be welcomed by a few buildings decorated with street art and a few shipping containers. If you feel lost, simply head to the left to the bar, grab yourself a drink and go sit by the river. It's allowed anywhere. As the evening turns into night, people gather by the bonfire. Sometimes they sing, sometimes they just watch the flames mindlessly. In any case, this is the place to be if you want to feel young and free.
There's also a high-quality (but pricey) restaurant located in Holzmarkt. I've heard great references. So if you fancy, book yourself a table at the Katerschmaus Restaurant.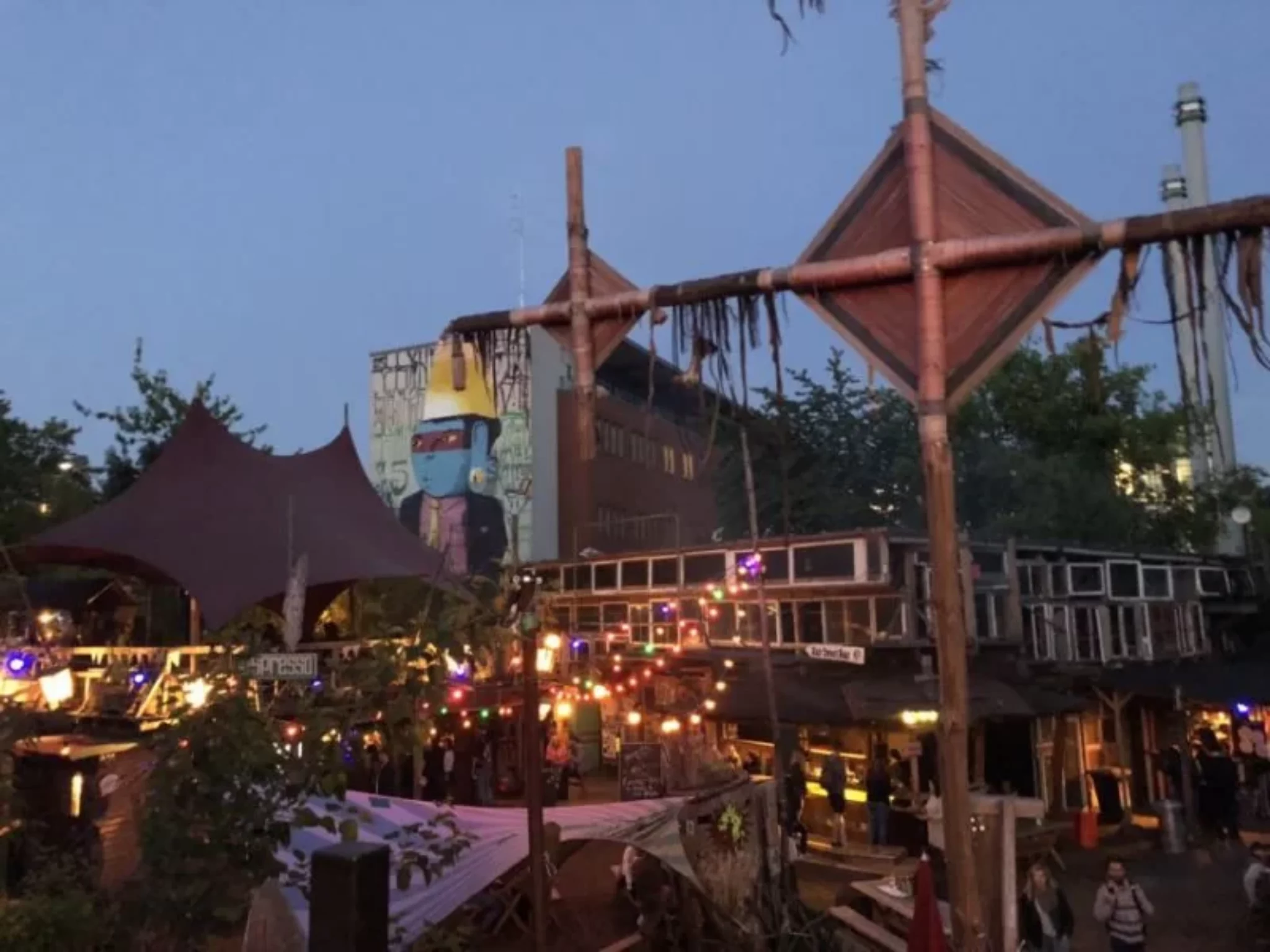 Snoop Around an Abandoned Amusement Park
One of the most fascinating, fun things to do in Berlin is actually just a wee bit outside of Kreuzberg in the southeast of the city. Spreepark (formerly known as Kulturpark Plänterwald) is a deserted amusement park that has been completely neglected and nature has started to take over the old rides and kiosks. It's open and free to visit and there are guided tours available if you want to hear more about Spreepark's history.
The park was built during Communist rule in 1969 and changed owners after the Berlin wall came down which eventually lead to its closure in 2002. Norbert Witte owned the park from 1991 and often smuggled cocaine from Peru concealed in ride equipment. The park was also used in the climax of the film Hanna (2011), so it's got a vibrant past. While visiting around an old fairground might not be one of the most adrenaline-fueled fun things to do in Berlin, it's going to be one of the most memorable strolls you'll ever have.
The CRAZIEST Round of Mini Golf
Suggested by James from This Travel Guide
You'll find mini golf courses all over Berlin, but the most unique one has to be Nuture Mini ART Golf in Tempelhofer Feld.
The course is made from all kinds of recycled materials including old bikes, brushes, toilets, pipes, shelving units, and anything else the owners can find to repurpose into part of the course. As well as being one of the most unique mini golf courses in the world, it's also fairly complicated and this makes it incredibly fun to try to complete.
Nuture Mini ART Golf can be found at the Columbiadamm entrance of Tempelhofer Feld, described in more detail below!
Tour an abandoned airport
Suggested by David from Travel With Little One
If you're looking for somewhere for the kids to burn off some energy, this is the place: the biggest park in Berlin, Tempelhofer Feld.
It was one of the biggest airports in Europe, and played a vital role during the Berlin Airlift from 1948 onwards, when West Berlin was blockaded by the East.
Now it's as vast a park as you could possibly imagine. The airport runways are now the biggest, widest cycle lanes you could ever hope to find, and parts are also used for skating and jogging.
Before it was turned into an airport Tempelhof was actually a parade ground, and a popular place for Berlin families to come for a picnic.  Almost a century later, it is once again used for the same purpose – and there's a massive barbecue area as well.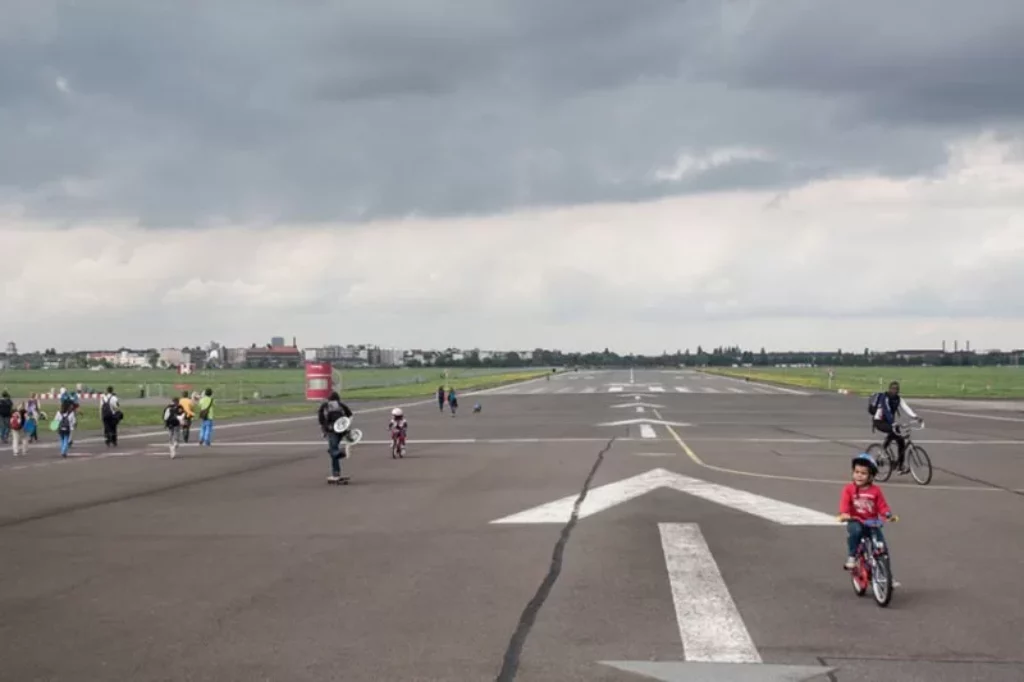 Eat burgers in a toilet
Suggested by Nat from Natpacker
Burgermeister is located in the Kreuzburg area of Berlin and is definitely a little quirky! On a traffic island between two busy roads and under the U1 metro tracks, burgers are served from an old public toilet. The building itself, is actually quite pretty and there are tables and chairs to eat your burger, which is great as you can really "tap into the city's pulse".
The menu s simple. A small selection of burgers and chips. Burgermeister stick to what they know and they do it well. The joint is popular with locals, and with good reason.

Visit a video game heaven
Suggested by The Crowded Planet
Berlin is not famous for its nice weather, but this is not a problem since there are so many cool museums and indoor sights, perfect when visiting Berlin in winter. One of my favourite places is the Computerspielemuseum located on Karl-Marx Allee in the heart of Friedrichshain, which also happens to be my favourite street in my favourite neighbourhood in Berlin!
The Computerspielemuseum is all dedicated to computer games from the origin of videogames to modern times, and it offers a journey through the history of gaming and the opportunity to play all the best arcade and vintage videogames without having to worry about spare change to feed the machine! Imagine playing Pac-Man, Tetris, Donkey Kong and all the other 'oldies' to your heart's content… if you're a nerd like me, you'll love it!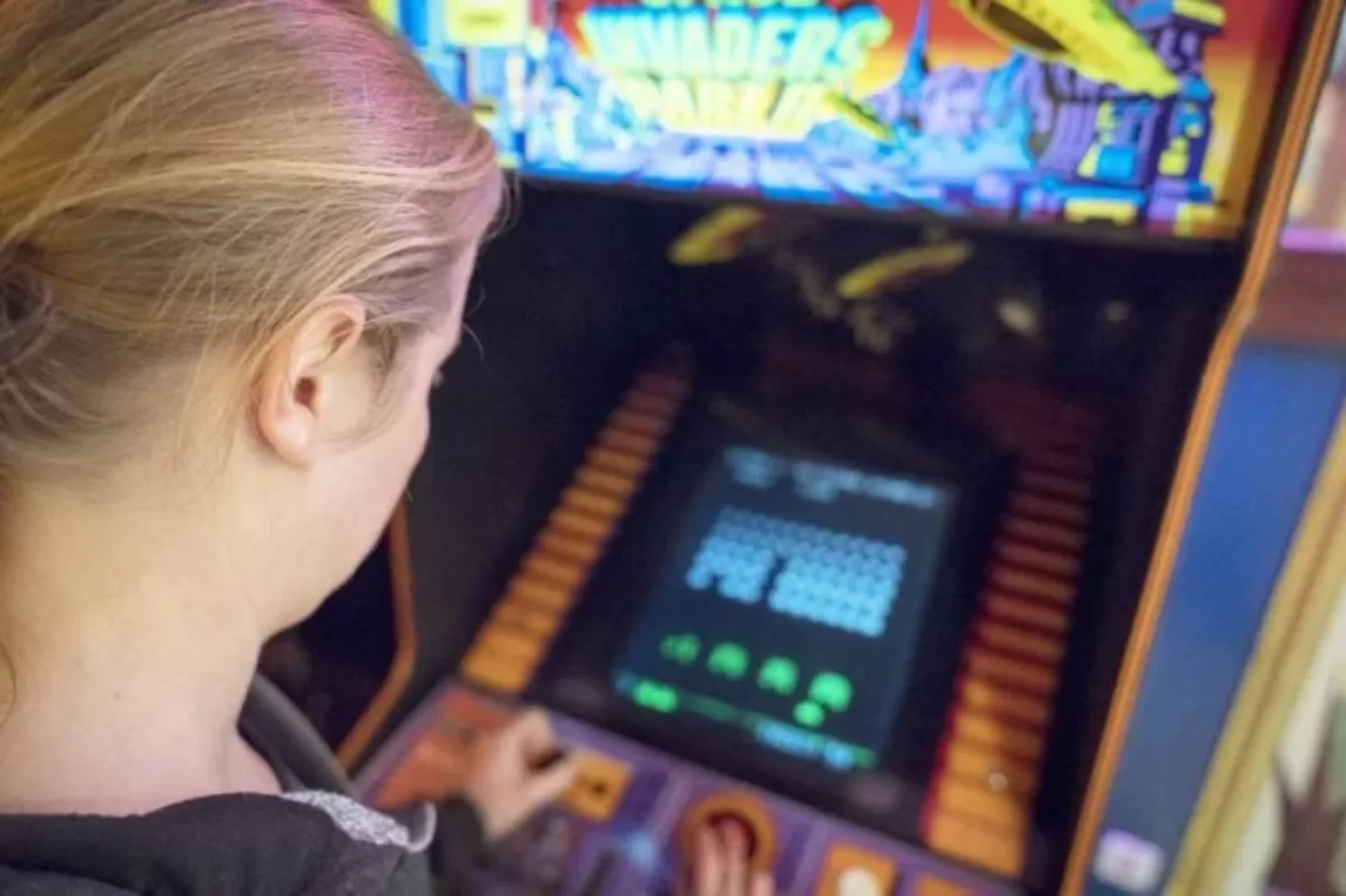 Party at the infamous Berghain
Suggested by The Nomadic Boys
One of our most unique nights out in Berlin was at the very exclusive and infamous Berghain. This is also the most popular club in Germany and one of the best in the world, based in East Berlin's Kreuzberg area in a former railway warehouse. 
The Berghain starts on Friday evenings and continues right up until midday on Monday. It's always full, with hour long queues to get in.
The door men of Berghain are notorious. Their word is final, no matter who you are – even Britney and Macklemore were turned away; no one knows the exact formula to get in – it's a gamble. Despite its huge popularity, it has retained a very underground vibe with a grimy atmosphere inside, with the lingering smell of weed and sweat. It's huge, with many different dance rooms, the focus on techno music. This is definitely a night out you'll never forget!
View this post on Instagram
The David Hasselhoff Museum and Quirky Hostel
Suggested by Bilyana from Owl Over The World
One of the
 coolest cities in Germany  (Hamburg is also up there!), there are endless 
unique
 things to do in Berlin. I've been to this happening city a few times and after one of my visits when I ended up in the Circus Hostel bar after a travel blogger conference, I decided to stay there the next time I go.
Why is it so cool? Well, which other hostel has its own microbrewery in the basement? At least I haven't heard of any. The microbrewery's right next to the Circus Bar and on the same level as the hostel, you can also find – wait for it – the David Hasselhoff museum! This is a hidden and unknown museum in the basement of the hostel, which also supports the campaign of naming the street in front of the hostel David Hasselhoff Strasse.
Sign up to a graffiti tour
The first thing we learned on this tour was the distinct difference between street art and graffiti, with graffiti involving tagging names and letters whereas street art looks like actual pieces of art painted on the side of buildings, tours and even trains. Street art is often commisioned and paid for by business owners, communities or local councils, whereas graffiti is often left as a sign of protest and rebellion.
What made the Berlin Street Art Tour with Alternative Berlin Tours so interesting was noticing tiny pieces of art that you would never notice normally. The guides are also oozing with charisma and character, and the cherry on top is the fact that everyone gets to create their own little piece of street art in a warehouse at the end of the tour. My friend and Amanda both agreed this was by far the best tour we've both done in Berlin, having visited the city about 6 times!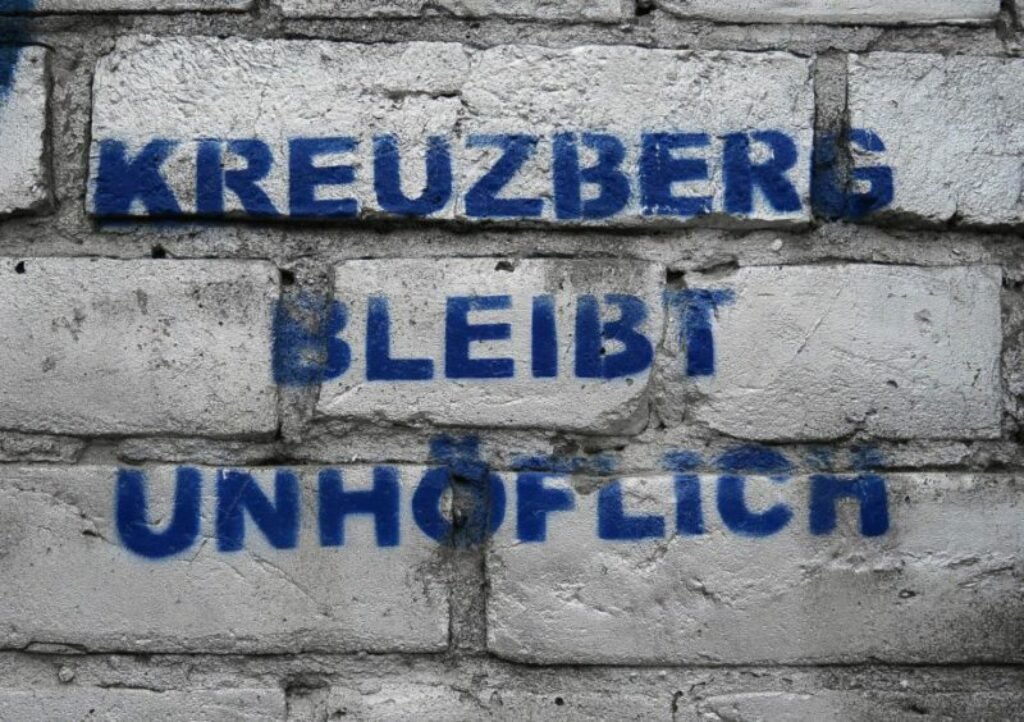 View this post on Instagram
Tour Berlin's underground war bunkers
If you're looking for one of the most quirky, and fun things to do in Berlin, then signing up for one of the slightly spooky Dark World tours with Berliner Unterwelten (Berlin Underground) is a must!
These small group tours bring visitors deep into the Berlin underground, below and next to the metro lines, in an effort to show them what life was like during war-torn Germany. You can see where civilians would have entered from, where they would have eaten and slept, as well as rooms full of old propaganda posters, weapons and old work documents. One of the most interesting tours I've ever done and a great insight into underground bunkers and how they worked.
Explore the castles in Potsdam
Suggested by Noel from Travel and travel photography
A short bus or train ride from Berlin is the wonderful city of Potsdam also the UNESCO heritage site for parks and palaces located all around the city. Stunning palaces made for the Prussian kings to show off their wealth and prestige, the gorgeous palaces of the Neues Palais and the intimate Sanssouci are worth a day trip.
You can also explore the charming downtown area and other scenic attractions around this wonderful city to explore and just a short day trip from Berlin. Check out my visit to Potsdam here for more images and inspiration to visiting the area.
What many people visiting Postdam don't know, is that it's also the birthplace of European Film production, considered by many as the "Hollywood of Europe"!
Do a Secret Food Tour
Suggested by Parampara Awara Diaries
On our recent trip to Berlin, we took the Secret Food Tour in Berlin for the love of local food. We thought this tour would be all about food, but we actually ended up discovering a lot more- the favourite eateries of locals, their regular hangout spots which included an abandoned bunker complex with lots of street art.
Our guide Margot, explained to us the meaning behind many of those graffiti, how the government reacts to them and how the locals stay on top of their rebellion with these. She also introduced us to some cool local entrepreneurs who run small shops out of Berlin and showed us the underground party spots in the city, instead of clubs.  This 'Secret Food Tour' turned out to be quite the fun and secret exploratory tour of the German capital, spilling many local secrets!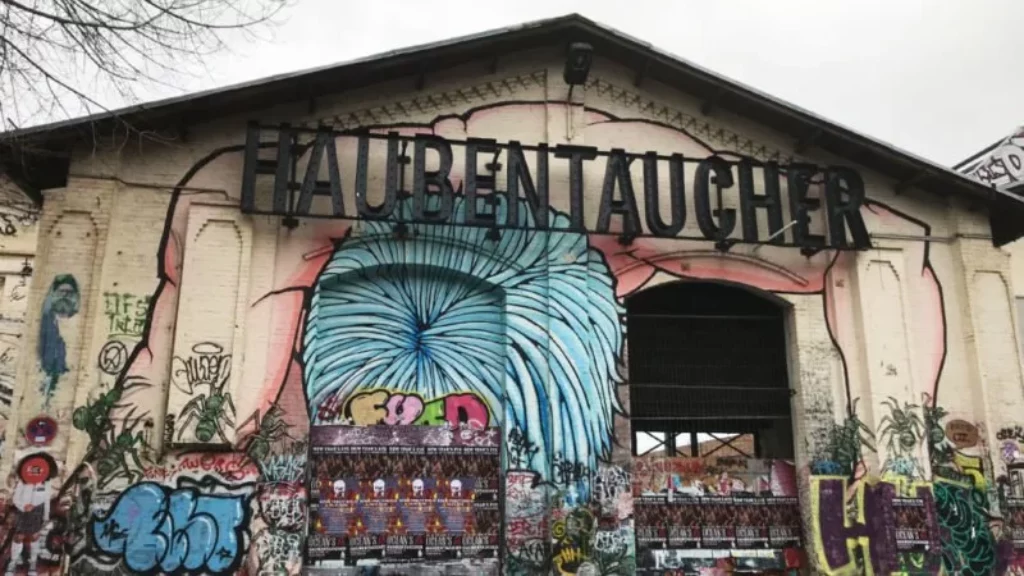 Climb the DDR Watchtower
Suggested by Lee and Stacey from One Step At A Time
You can't escape the divided history of Berlin as you tour the city and one of the quirkiest things we found to visit was a former GDR Watchtower on Erna-Berger-Straße.
Though not in its original location it is situated close to a preserved section of the Berlin Wall and, best of all, at certain times they open the tower to visitors.
Access is via a vertical ladder inside the concrete column and although there is little room inside the tower, it does allow you to get an idea of what the East German border guards would have seen and experienced when stationed inside.
An Alternative Pub Crawl of Berlin
Suggested by Or from My Path In The World
If you are looking for a fun and unusual way to experience Berlin's nightlife scene, an alternative pub crawl is your answer. Besides meeting other tourists from around the world, you get to visit bars and clubs with a unique concept or location. Amongst the places you might visit during the tour, you'll find a ping-pong bar, a goth bar, and an underground techno club.
For only 12 Euros you get an entrance to four different quirky concept bars and one club, and a drink in each one of them. For more information or to book a tour, enter the Alternative Berlin website. Bonus tip: Book a tour during the weekend, when the U-Bahn (Berlin's Metro) is working 24/7.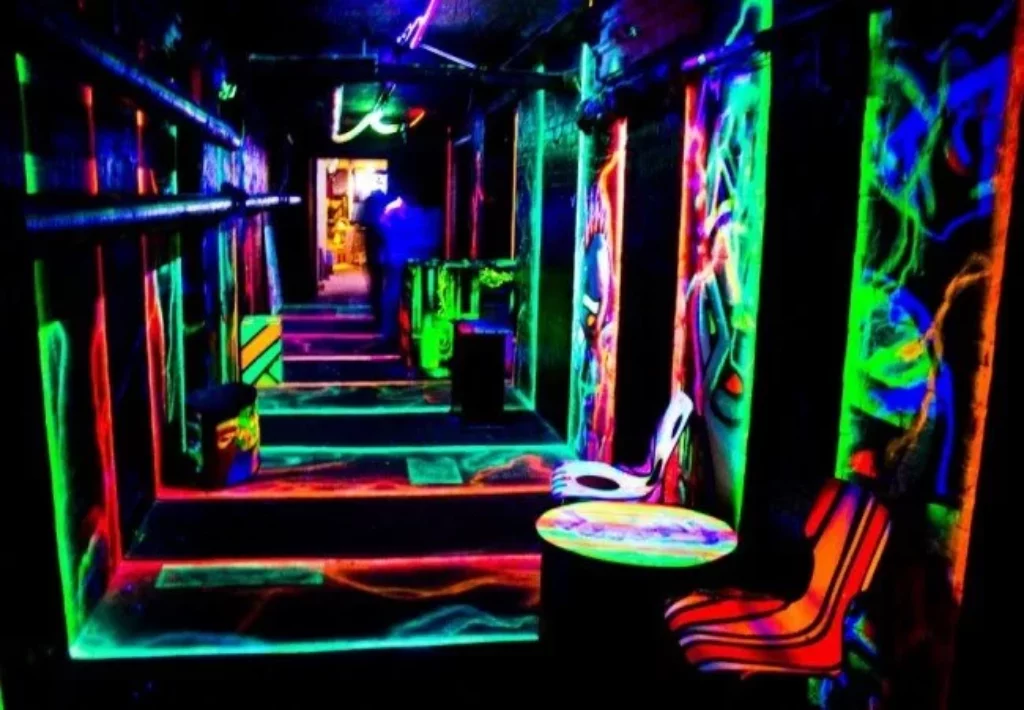 Support young artists at Haus Schwarzenberg
Suggested by Anna from My Travel Scrapbook
Haus Schwarzenberg would be easy to miss if you did not know where to look. Close to the commercialised mainstream shops and houses on Rosenthaler Strasse there is a little pathway which leads to a world of unpretentious art with a fascinating story.
Haus Schwarzenberg is run as a not-for-profit organisation by the Schwarzenberg Association. Their aim is to support young and unknown artists by giving them a space to create. Upon entering the courtyard, you are immersed by incredible street art and interesting sculptures. Each visit is unique as the outdoor art gallery is constantly changing.
The doors around the courtyards lead to artists' studios, shops, and an odd underground amusement park. There is a bar of course, an artsy cinema, a bookshop but also captivating museum exhibits. Haus Schwarzenberg in Berlin-Mitte has always been a little different.
During the third Reich Otto Weidt, a Berlin manufacturer, tried to save deaf and blind Jews by giving them jobs at his factory in Haus Schwarzenberg. There are exhibits telling this story as well as installations about Anne Frank.
A  Picnic in the Thai Park
Suggested by Kiefer from Anything Under Our Stars
Tired of all the overrated tourist spots? Visit the Thai park at Preussenpark! A tradition in Berlin for over 20 years that started as a get together among the Thai community to hang out and cook traditional Thai dishes. Due to popular demands by the local parkgoers to buy food from them, it then became a street food business. So the park got its moniker "Thai Park".
Dishes cost as low as 5€ and you get your self a decent meal. Their popular dishes are the dumplings, noodle soup,  spring roll and the meat skewers. Since it is a picnic setting there, don't forget to bring a blanket and get comfortable on the grass. If you have no idea what to do with 5€, this is the place!