Kyoto was Japan's capital city for 1,200 years. Kyoto is known to be the city where Japanese culture was born and shaped into what it is today. Thanks to this, Kyoto now has 17 World Heritage sites and about 2,000 temples and shrines across the city. It would take several trips, preferably in different seasons to full enjoy all the unique and unusual things to do in Kyoto! For something a little more quirky, think out the most Instagrammable spots in Kyoto!
With regards you Kyoto itinerary, you should plan at least 3 to 4 days in the city, one week if possible. Even if it means mixing up the rest of you Japan itinerary! Kyoto's original and sophisticated cultural offerings include not just World Heritage temples and shrines jaunts but unique Kyoto experiences such as tea ceremonies (sado), flower arranging (kado), incense ceremonies (koudo), paintings on wooden blocks or silk screens, music and other arts.
Instead of just visiting places the city, you can hire private guides that can help you understand and experience the culture of Kyoto better and teach you some etiquette such as what NOT to do on trains on trains! Here are 9 unique things to do in Kyoto to help you experience the city…
Unique Things To Do in Kyoto
Visit Kinkakuji or Golden Pavilion
The most iconic remnant of the city's imperial past is the outrageously gilded Kinkakuji, once a shogun's retirement villa and now a Zen Buddhist temple. It sits on the bank of a serene pond and casts a famed golden reflection in the water. The garden and buildings centered on the Golden Pavilion were said to represent the Pure Land of Buddha in this world.
Walk up the Fushimi Inari trail
Fushimi Inari Taisha is the head shrine of Inari, located in Fushimi-ku, Kyoto, Japan. The shrine sits at the base of a mountain also named Inari which is 233 metres above sea level and includes trails up the mountain to many smaller shrines which span 4 kilometers and takes approximately 2 hours to walk up. Since early Japan, Inari was seen as the patron of business, and merchants and manufacturers have traditionally worshipped Inari. Each of the torii at Fushimi Inari Taisha is donated by a Japanese business. Even if you don't go all the way up, you can spend an hour walking up the trail.
Taki a rickshaw in the Arashiyama bamboo forest
Arashiyama bamboo forest is another popular place to visit, which also means there will be lots of people walking around, including multiple tour groups, there will be no Zen to be found! You couldn't hear birds or the creaking of the bamboo in the wind – which is point of the bamboo forests that lead up to temples. Walking through a bamboo forest should help calm you and get you in a meditative state – which is hard to do when there are selfie sticks in every direction. Either go there really early or do a rickshaw ride. There is private pathway for rickshaws that's a little more quiet. There are also a few temples located inside the bamboo forest and you can hear gongs every now and then and smell the incense.
Look for geishas in Gion
Kyoto's Gion district, is one of the few areas where spotting these women in their exquisite kimonos is less of a rarity. You might see them walking in pairs between the okiya (geisha house) and the ochaya (tea house) to preside over a dinner meeting. Part diplomat, part entertainer, part cultural preservationist, the geiko (the maiko is her apprentice) is the product of up to five years of training.
Did you know Kyoto has no geishas; they are called geikos. Maiko is an apprentice geiko. If you are lucky, you can spot them near the Shirakawa Canal. Watch out for the little rectangular stickers stuck to a lantern near the bridge over the river, they are senjafuda, the business cards of some of the local geisha. By far one of the most popular things to do in Kyoto for virtually all visiting tourists! Read more about photographing Geisha here.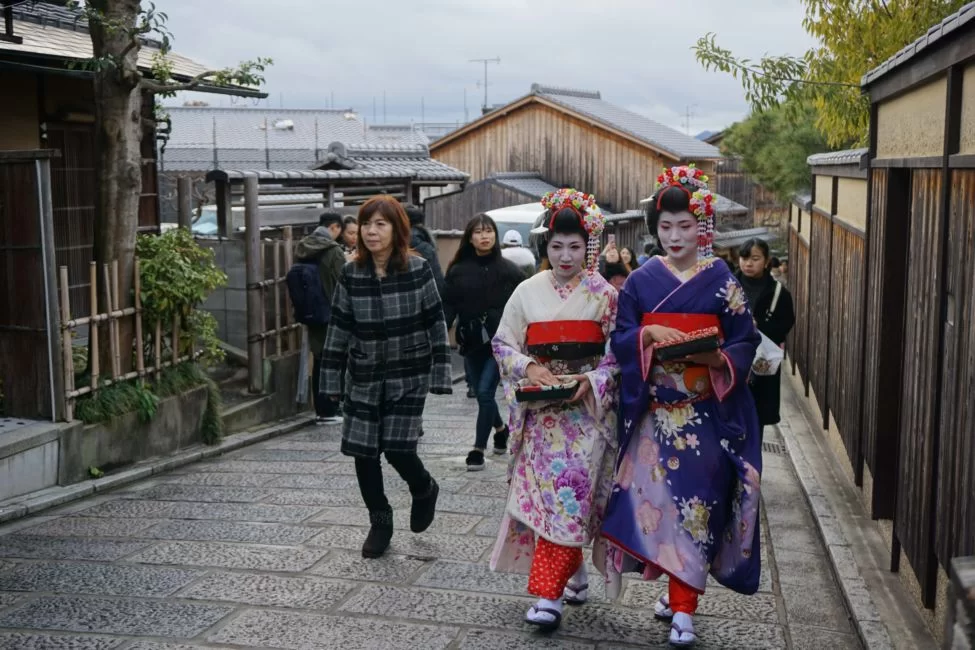 Participate in the activities at Kiyomizu-dera Temple
Of all the temples in Kyoto, this one is the most popular with children because it's a "participatory" temple – there's plenty to do here, including ringing bells, drinking holy water and walking from one famous "love stone" to another. And don't forget checkout the incredible underground passage known as the Tainai Meguri.
Day trip to Nara
Nara is an easy day trip from Kyoto. It is in the ancient capital of Nara where Buddhism was first introduced to Japan nearly 1,500 years ago. There are a lot of unique things to do in Nara. You can stroll through the lovely expanse of Nara Park, home to hundreds of freely roaming deer; in the ancient faith of Shinto, these gentle creatures are believed to be messengers of the Gods and the animals here have been designated as a natural treasure.
On the grounds of Nara Park, Todai-ji Temple is one of the largest wooden structures in the world. Inside, you will see an immense bronze statue of Buddha, towering nearly 50 feet high and flanked by two Bodhisattvas.
Throw ninja stars at an Authentic Ninja Training Experience
One activity kids and adults would be excited about is the Ninja Training in Kyoto. Where else can you dress up like a Ninja and throw shuriken, use the ninja sword and learn some stealth moves. Ninja Dojo and Store in Kyoto offers this unique experience in a traditional ninja training class – a tatami dojo where adults and kids can learn Ninja meditation 'Kuji-In', Ninja breathing, Ninja walking, Introduction gimmick and also experience a ninja trick house. If you're looking for one of the most quintessential Kyoto experiences, this is it!
Splurge on a Kaiseki meal
During a Kaiseki, diners kneel on tatami mats and sample a series of small dishes made from seasonal ingredients, cooked in the most regional way possible in order to best bring about their flavors. Another meal you can find in Kyoto is Shojin ryori or Zen Buddhist temple cuisine – which is a vegetarian meal prepared by the Monks.
Stay in a Ryokan
Just like experiencing local food you have to experience the other elements of Japanese culture and customs like staying in a room with rice straw Tatami floors, sleeping in futon beds and taking an Onsen hot spring bath. You can stay in a luxury ryokan like Kanamen Nishitomiya or you can find other Ryokans in Kyoto in different budgets that offer an authentic experience.
Where to stay in Kyoto
I recommend splurging and check into the beautiful Four Seasons Kyoto. For a full review of my stay, read on here.
Author Bio
This guest post was compiled by the talented Priya Vin a travel blogger over at Outside Suburbia. You can follow her on Instagram and Facebook to read more about her Japanese adventures and other travel escapades.