Virginia City is one of the most vibrant towns that the state of Nevada has to offer. This historical town is famous for 1859's Comstock Lode silver ore discovery and the wild events that followed.
There are a multitude of shopping centers, restaurants, saloons, souvenir shops, and historical venues. These amenities are undoubtedly perfect for a summery day trip or extended vacation.
Here are some fun and exciting Virginia City activities for you to try out.
What To Do In Virginia City Nevada
Whether you want to explore a fascinating museum or watch a thrilling theater show, you'll find all the top things to do below.
Wild West Day Trip and Train Ride
Step back into the danger and intrigue of the Wild Wild West with Nevada's Wild West mining history tour. This voyage is captured on the Pony Express, where a knowledgeable tour guide will lead you on the path of the 18th-century dwellers of Nevada in a classic relic of the notable steam train.
The path sets out from South Lake Tahoe to Virginia City on the Virginia & Truckee Railroad. There is plenty of scenery to enlighten those keen on finding out about the area's local animal life, plant life, geology, and mining history during the days of the Wild West.
A local guide is also there to help you gauge your exact location on the track and lead you into some noteworthy tales that date back to as early as 1869. Don't neglect to make your way into the historical landmarks as well, such as the opera house and historical saloons.
There are many sights to be enjoyed in Virginia City's time capsule, and what better way to enjoy them than on a fancy mode of transport?
Horseback Riding Stage Lines
The vast history of Virginia City allows you to travel back in time to the late 1800s, where horses served as the main source of transportation. There's an air of authenticity that the drivers aim to provide to their customers, so the horses will ride relatively fast. Rough, bumpy rides were ultimately the norm for getting around these parts.
The guided tour also includes a brief history lesson on what to see in Virginia City and the history that still dwells in the buildings and streets you walk on. There's a sense of pride in the effort the drivers and tour guides take to make this trip enjoyable. So, don't be afraid to tip them and thank them for their active duty.
The rides are likely to be short-lived, but the experience is one that is guaranteed to last a lifetime.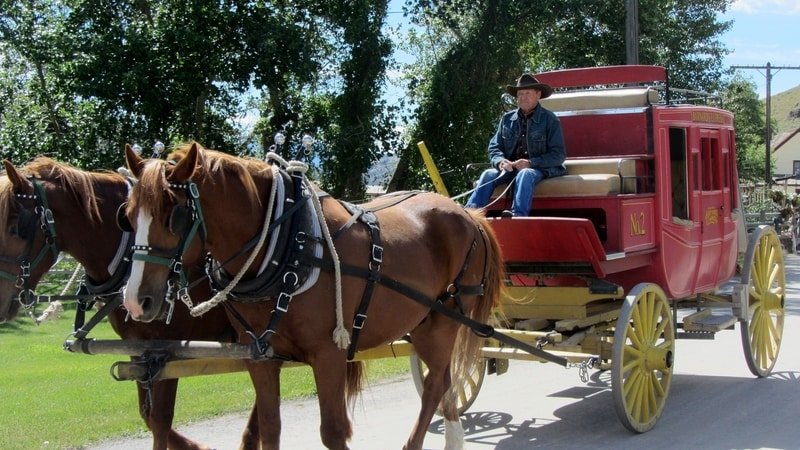 Virginia City Outlaws
The Virginia City Outlaws is a well-crafted show with gunslingers, fancy gun tricks, and funny bits. This Western-themed theater hosts a variety of outlandish characters that appeal to people of all ages. It's also a brilliant showcase of the Western-movie theatrics that we've come to know and love.
The show is a bit long and does take place in an open area, so plenty of sunblock and water is needed. The live show does allow a bit of audience engagement, so you're sure to expect a lively experience. But, it's a great piece of history to experience, and you can bring in your own drinks.
 Tip: It's best to get your tickets early as they sell out quickly.
St. Mary in the Mountains Catholic Church
The oldest church in Virginia City is a beautiful, old, and detailed structure. The antique Catholic Church also carries a splendid small museum filled with interesting little artifacts and realia located on its bottom floor. The first thing that enchants you to visit St. Mary's is the beautiful architecture of stained glass windows and carved wood.
Then, as soon as you enter, an air of prayer and reflection fills the room. This is mostly a time to introspect and encompass yourself with the beauty and relics of the spirits who came before you. There's also a deeper guided tour given by the maidens of the church.
The Catholic Church has contributed a great deal to history and has continued to influence society for generations to come. This historical landmark graces you with the opportunity to pay tribute to the world that once was and the new age.
The guided tour is completely free. You can, however, purchase some wine or make a small contribution towards uplifting and maintaining the church.
Virginia City Visitor Center
The Visitor Center is the first place to go in Virginia City when you're a newbie. The center provides you with a detailed map outlining every attraction and site, operating hours and days for each one, and special deals on prices. They make the visit more enjoyable and comfortable because they prepare you for the whirlwind that's about to come.
Here, you're at the heart of everything Virginia City has to offer, and it might become overwhelming, especially on busy days.  So, having someone to give you a few tips and tricks on navigating this strange but oddly satisfying little town is worthwhile.
There's not much to do in these parts but look around, buy a few souvenirs, and admire the buildings, the people, and the atmosphere. The main reason the center exists is to simply make your life as a tourist a little easier.
Chollar Mine Tour
The Chollar Mine Tour offers a real glimpse of what life on the Comstock lode was all about. This historical landmark serves as the gateway into exploring the mines that helped to fund the Civil War and establish Nevada as a state. The Chollar Mine was one of the leading producers on Comstock.
This tour allows you to journey deep underground and uncover how the miners extracted the wealth that made Virginia City famous. The gold and silver unearthed from these shafts brought thousands across America to seek their fortune, with its riches first located in 1859. Over the next 80 years, miners carted out about $17 million in gold and silver.
The site pays tribute to how the mines were built, the men who worked tirelessly under these mines, and the geological significance of Comstock Lode.
Chollar Mine historic mine tour is one item you can't afford to miss on your next trip to Virginia City, NV.
Historic Virginia City and Carson City Tour
This narrated excursion is hosted on a comfortable tour bus following the Pony Express Trail to the Comstock Lode founded in 1859. This journey allows you to enjoy the scenery of the Western-themed town in the buildings, landmarks, and artifacts that you encounter along the way.
The tour guide narrates the history, geography, geology, flora, and fauna of Carson City to Virginia City. In the 18th century, everybody wanted a piece of the "richest place on Earth". This is even where the brilliant writer, Mark Twain, roamed the streets and came to be.
There are several convenient stops along the way, so you're welcome to cut your guided tour short if something piques your fancy. The tour includes a visit to The Way It Was Museum, just in case you need a visual refresher.
The bus ride is extensive and could last as long as two to three hours. But every minute of it will be filled with quaint and cheerful onlookers and a burst of knowledge and history about these vibrant cities.
Ghost Town Virginia City Nevada
The ghost towns in Virginia City are places that used to be filled with the families, homes, and communal lives of its 18th-century residents. These now abandoned towns have slowly deteriorated over time, although they still possess the beauty and allure of that time.
If you're usually fascinated by hauntings, and feeling a little adventurous, then this is the road trip for you.
It's important to be mindful that the buildings are in a delicate condition and hold an important place in our state's history. So, tread carefully.
After all, what good is history if it doesn't scare you once in a while?
Marshall & Mint Museum
The Marshall & Mint museum caters to those with a taste for finer things. The exhibits reveal the secrets behind gold pressing and the history of gold and silver mining in Virginia City.
The museum offers an extensive collection of coins and rare forms of US currency. You're also welcome to browse through the great variety of jewelry and china from around the world.
The semi-precious stones, raw gold, turquoise, and various old coins are also fascinating specimens in their own right. A shiny souvenir from here is definitely worth the trip.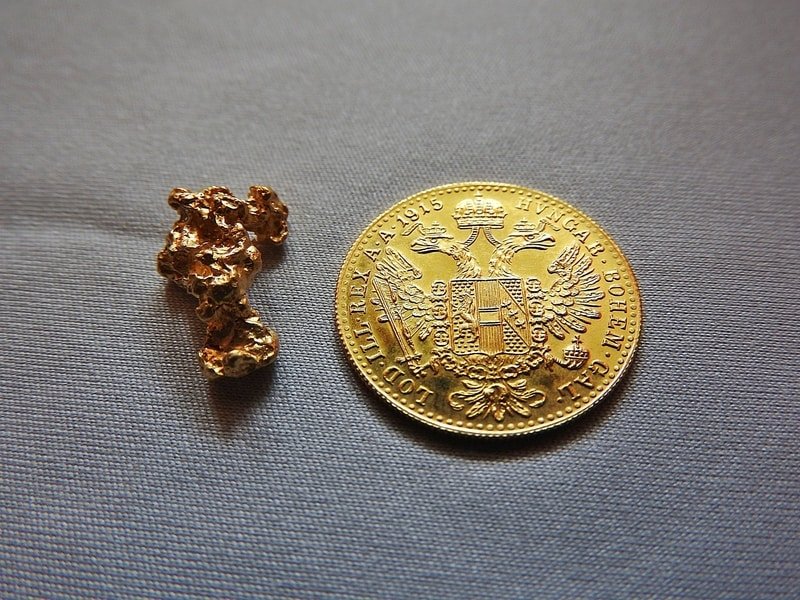 Final Thoughts on Virginia City Attractions
The industrial boom of Virginia City has unearthed a great deal of historical landmarks in Nevada and the United States. There is an abundance of tours and trips that Virginia City has on offer, so you'll never have to ask yourself what to do in Virginia City.
A trip to Virginia City, Nevada is a guaranteed burst of adventure, so what are you waiting for? History awaits.