New Orleans is a melting pot of different cultures and people influencing each other. It is a vibrant, colorful, and nocturnal city with various activities for everyone. If you are looking for things to do at night in New Orleans, look no further.
Nicknamed the "Big Easy," New Orleans is known for its party atmosphere, embodied by Mardi Gras and cuisine inspired by French, African, and American cultures. The city is also famous amongst people interested in voodoo and the supernatural as there are many haunted spaces.
No matter what type of person you are, there are plenty of New Orleans sightseeing opportunities to enjoy after the sun sets.
Things to Do at Night in New Orleans
There are endless activities when it comes to late nights in New Orleans. New Orleans comes alive at night with many fun things to do. Whether you're into jazz music, being scared, or experiencing a quiet night, New Orleans has it all.
Attend a Live Jazz Concert
When you think of New Orleans, one of the first things you think of is the birthplace of jazz music. The city was home to many famous musicians like Louis Armstrong and Sidney Bechet. Frenchman Street hosts many live music venues where local musicians play. If you don't feel like going into a club, there are also live street performers.
Jazz at the Park hosts one of New Orlean's free things to do every Thursday evening. It is held just outside the French Quarter in Louis Armstrong Park. The event also has a market where local artists showcase their jewelry and artwork.
Take a Ghost Tour
New Orleans is famous for its haunted houses and supernatural occurrences. If getting scared is something you enjoy, why not take a ghost tour? New Orleans offers tours of cemeteries, the city's French Quarter, and even haunted pub crawls.
A resounding favorite is the Lafayette Cemetery Tour which takes you around the oldest cemetery in New Orleans. The cemetery is home to New Orleans' most notable elites.
The cemetery has also appeared in famous tv shows and movies like Interview with the Vampire and, The Vampire Diaries spin-off, The Originals. This is a must-see for anyone interested in the paranormal.
Karaoke at Kajun's Pub
Why not visit a karaoke bar if you fancy yourself somewhat of a songbird? New Orleans' Kajun's Pub is internationally acclaimed and has quickly become the city's most beloved karaoke bar.
Owner Joann Guidos built the pub from nothing, opening it for business in 2004. Since then, it has become a haven for hurricane Katrina victims, LGBTQ+ folks, marginalized people, and service industry workers.
If you're looking for a fun night in New Orleans, Kajun's Pub is your spot. The pub is especially great if you are visiting with friends or out for your bachelorette party.
View the City From Pontchartrain Hotel
If city views and cocktails are more your scene, the Hot Tin Rooftop Bar is perfect. Located on the rooftop of Pontchartrain Hotel, the bar has a 270-degree view of downtown New Orleans and the Mississippi River.
Named after the Tennessee Williams play, the bar is an homage to the playwright who wrote his other famous play, A Streetcar Named Desire, while staying at the hotel. The bar feels like a 1940s artist loft with dark wood furniture, busts, and handwritten cards decorating shelves and walls.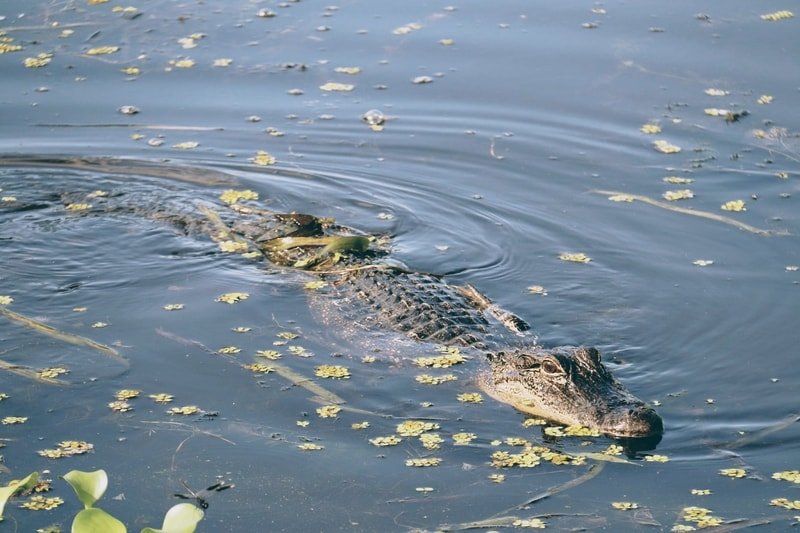 Take a Night Swamp Tour
A swamp tour is perfect if you're a fan of snakes, alligators, and other reptiles. You're most likely asking how can you visit a swamp in New Orleans at night? But many tours go into the night. Swap the buzzing streets for tranquil waters and maybe the chance to spot some of New Orleans' native fauna.
The Louisiana Bayou is an American treasure with its mysterious, dark waters, tall trees, and creatures like turtles, alligators, and bobcats. The Cajun Pride Swamp Tour provides an immersive experience of the bayou on a flat bottom boat.
Note: Night tours are during the peak season (May to October), so keep this in mind when planning your trip!
See a Burlesque Show
As the 20th century drew to a close, the burlesque scene in New Orleans started to grow rapidly. Today, burlesque is still prevalent in The Big Easy, with famous performers like Trixie Minx and Bella Blue still having weekly shows. The best places to watch a live burlesque show are House of Blues, One Eyed Jacks, and the AllWays Lounge.
Burlesque shows are great if you're looking for fun things to do in New Orleans at night. These shows are enjoyable if you are planning a Girls' Night Out or are looking for romantic things to do in New Orleans with your significant other.

Wander Around Bourbon Street
Located in the heart of the French Quarter, Bourbon Street is one of New Orleans' most historic streets. This 13-block stretch is known for its many bars and strip clubs. It embodies the fun and party-centric atmosphere of the city.
There are bars, restaurants, and strip clubs amongst the flashing neon lights and pulsating music. Since drinking alcohol on the street is legal, you can also buy a cocktail in a to-go cup and wander around, listening to the many buskers that occupy the street.
Warning: Although New Orleans is safe for kids, Bourbon Street is for adults only as people are drunk and loud, especially at night.
Take a Carriage Ride Around the French Quarter
There are carriage ride tours offered throughout the day for the romantics, which means you can experience New Orleans at night without walking. The tours are narrated by a local guide and last an hour. You are taken around the French Quarter and surrounds while being told the city's rich cultural history.
The tours take you past the Louisiana Supreme Court Building, Bourbon Street, and The French Market, to name a few. The carriage rides are a perfect way to see the French Quarter and get away from the crowds of people. Sit back, relax and enjoy the history of New Orleans.
Cruise Along the Mississippi River
Cruise America's most iconic river while enjoying some live jazz and dinner. Watch the lights of New Orleans pass you by as you float along.
The most famous steamboat is the Natchez, which was built in 1975 but resembles 19th-century sternwheelers. The cruise also includes a tour around the Steam Engine Room, live music, and Creole food.
Have Coffee and Beignets at Café du Monde
Your trip to New Orleans will be incomplete if you don't visit Café du Monde and try their world-famous beignets. Beignets are a delicious deep-fried pastry dusted with powdered sugar and usually accompanied by black coffee. French settlers introduced the sweet treat to Louisiana, closely associated with New Orleans.
If you've had a long day and need a little pick me up, Café du Monde is the perfect solution. Their light, fluffy treats taste great when you dip it in your coffee.

Nightlife in New Orleans
There is a neverending list of what to do in New Orleans at night, and when you visit, you will be spoilt for choice. The city is a party capital and comes alive at night with the French Quarter lit up and overflowing with people even during weeknights.
What is the Nightlife Like in New Orleans?
New Orleans is a buzzing city throughout the day, but it really becomes busy at nighttime. The nightlife in New Orleans is lively and welcoming. Although famous for its parties and drinking, other activities are more suitable if you consider yourself an introvert.
New Orleans is popular amongst top musicians, comedians, and theatre groups. Most places stay open after 2 am, so you can even visit multiple places in one night.
Where to Visit in New Orleans
The city's French Quarter is the busiest region, with Bourbon Street being a famous party spot. If you want to get away from the crowds, visit the swamps. Or take in the views from the Mississippi River.
New Orleans is overflowing with things to do at night and places to visit. You can try the Creole cuisine or take a cocktail to-go as you listen to street musicians.
What to Expect on a Night Out in New Orleans
New Orleans is often crowded, and places like Bourbon Street are usually filled with tourists. Pickpockets might take advantage of intoxicated tourists, so stay alert in the more crowded areas. Overall, New Orleans is a safe city, and the local people are very welcoming to tourists.
When is the Best Time to Visit New Orleans?
New Orleans is a city you can visit at any time in the year, but the best time to visit New Orleans is between February and May. The spring months in New Orleans are pleasant with warm, sunny days. This time of the year is when most festivals, including the popular Mardi Gras Carnival, occur annually.
Final Thoughts on New Orleans at Night
New Orleans is a bustling nocturnal city filled with different types of people. There are many activities that you can do in New Orleans, whether you're old, young, married, or just looking for a good time.
New Orleans offers entertainment, mysticism, exhilaration, and a little bit of mystery. We're sure your trip to New Orleans will be memorable with our suggestions.
If the buzzing city doesn't attract you, why not check out our list of day trips outside of New Orleans.