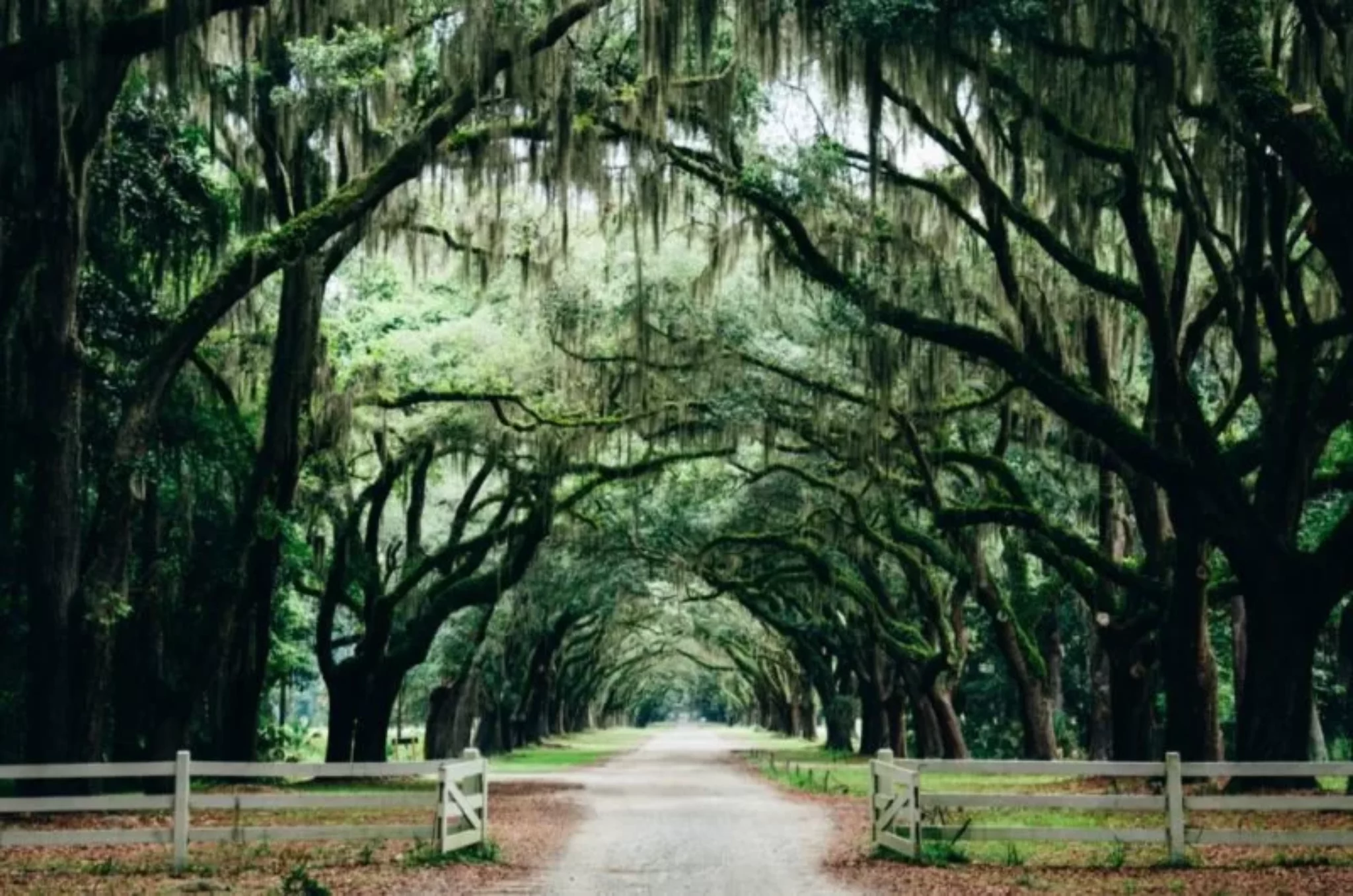 Savannah, Georgia is the alluring southern town of your dreams. Loaded with southern charm, rich American history and streets lined with gorgeous oak trees draped in idyllic Spanish moss. If you're heading south and looking for things to do in Savannah, check out these restaurants, tours and spots that guarantee a fabulous Savannah getaway.
Come to Savannah with an empty stomach, a zest for history and get ready to shop 'til you drop. Savannah has a beautiful historic downtown district full of intriguing cemeteries, lush green parks and sophisticated southern architecture perfect for photography lovers.
Fun Things To Do in Savannah, Georgia
Savannah is laden with sights, activities and entertainment to keep you occupied all day. Here are some insanely fun options for you to consider:
Get Spooked During a Ghost Tour  
For those who like to walk the line with the paranormal, Savannah is the ideal place to gather to experience a fright. Savannah is one of the most actively haunted cities in America, filled with haunted cemeteries, hotels, neighborhood bars and century-old family homes. With its extensive history in America's wars, over 1000 soldiers are buried underneath the city of Savannah.
One of the best things to do in Savannah, Georgia involves drinking a cold beer while hearing the hair-raising tragedies that happened across Savannah's downtown bar scene. Other famous ghost tours include gruesome murder mystery experiences that include the scene of the crime and take you along the storyline that follows. Here's a spooky tour that allows you explore the darker side of Savannah, from haunted locations to gravestones.
Support Local Businesses at the Forsyth's Farmers Market
If you're in Savannah on a Saturday and looking for things to do, take a trip down to Forsyth Park for a morning of shopping at the local farmer's market. The local market includes local Savannah produce and prepared food vendors. The perfect Saturday morning breakfast date!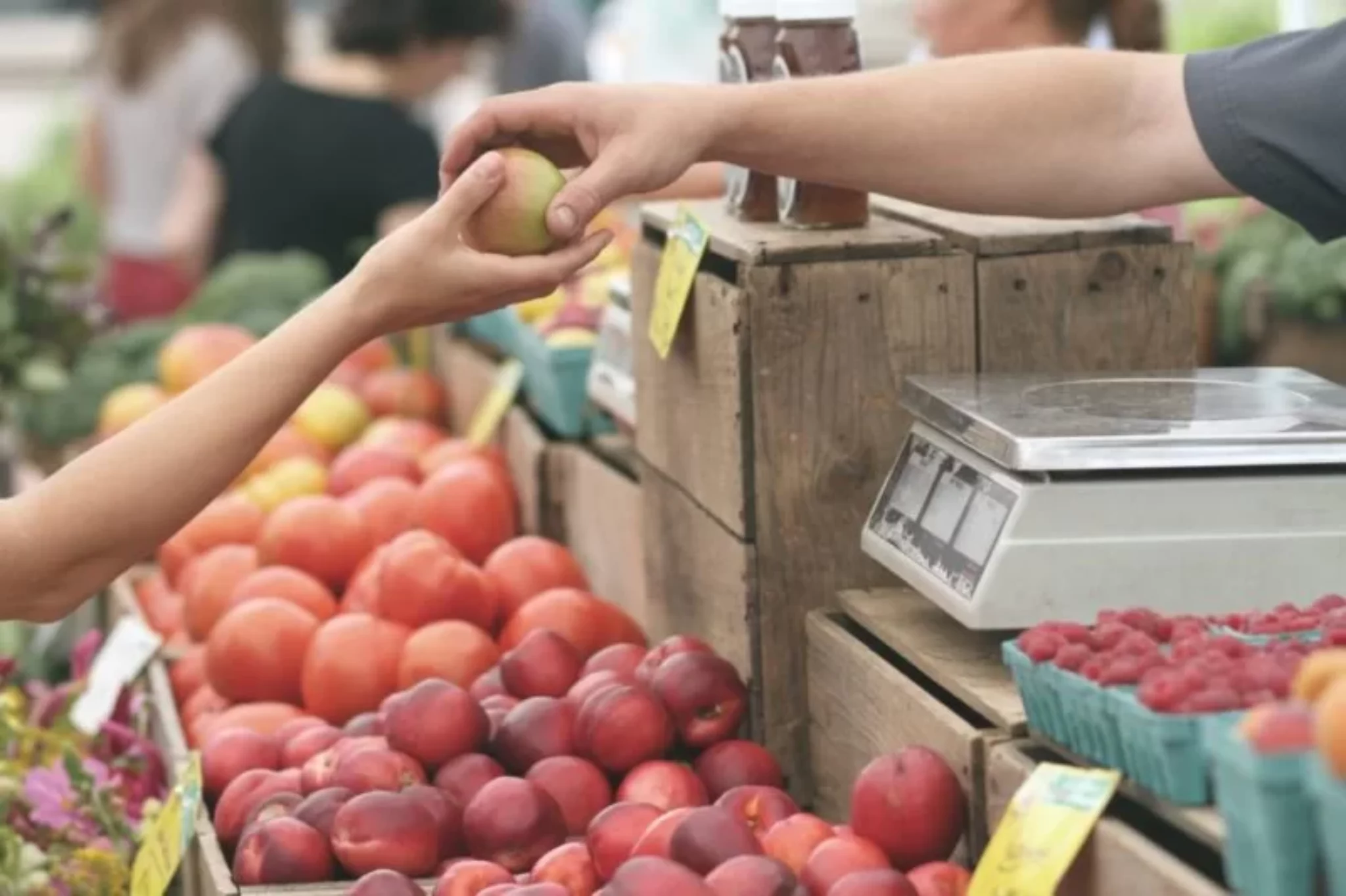 Eat Southern Cuisine at The Lady and Sons Restaurant
Indulge in the reigning southern cooking queen Paula Deen's local Savannah restaurant. Prepare yourself for a southern food coma and join in on the southern buffet at dinner time. Pile your plate high with crispy fried chicken, fried okra, buttered green beans and fluffy buttered mashed potatoes. Don't forget the dinner rolls!
courtesy of The Lady and Sons
A popular dinner destination in Savannah, be sure to get a reservation as the place fills up around dinnertime. Stretchy pants highly encouraged!
Try One of the 300 Funky Martinis at Jen's and Friends Bar
In Savannah's historic downtown district is a true gem of a bar concept — specialty martinis for all taste buds. Jen's and Friends Bar is the perfect place to visit when you're ready to put down the beer and old fashions and take on a new drinking habit. Rice Krispies martini? They've got it. Snickers martini? Served with a twist. Or how about a birthday cake martini? Coming right up!
With over 300 flavor combinations to choose from, you can keep it classic or go a little crazy and it's a great place for a nightcap during your time in Savannah!
Watch the Sunset Over the River at Rocks on the Roof
Read for a swanky night out in Savannah? Follow the live music up to the stairs of the Bohemian Hotel before the sun sets. This eclectic rooftop restaurant and bar overlooks the Savannah River, the perfect backdrop for a beautiful Georgia sunset.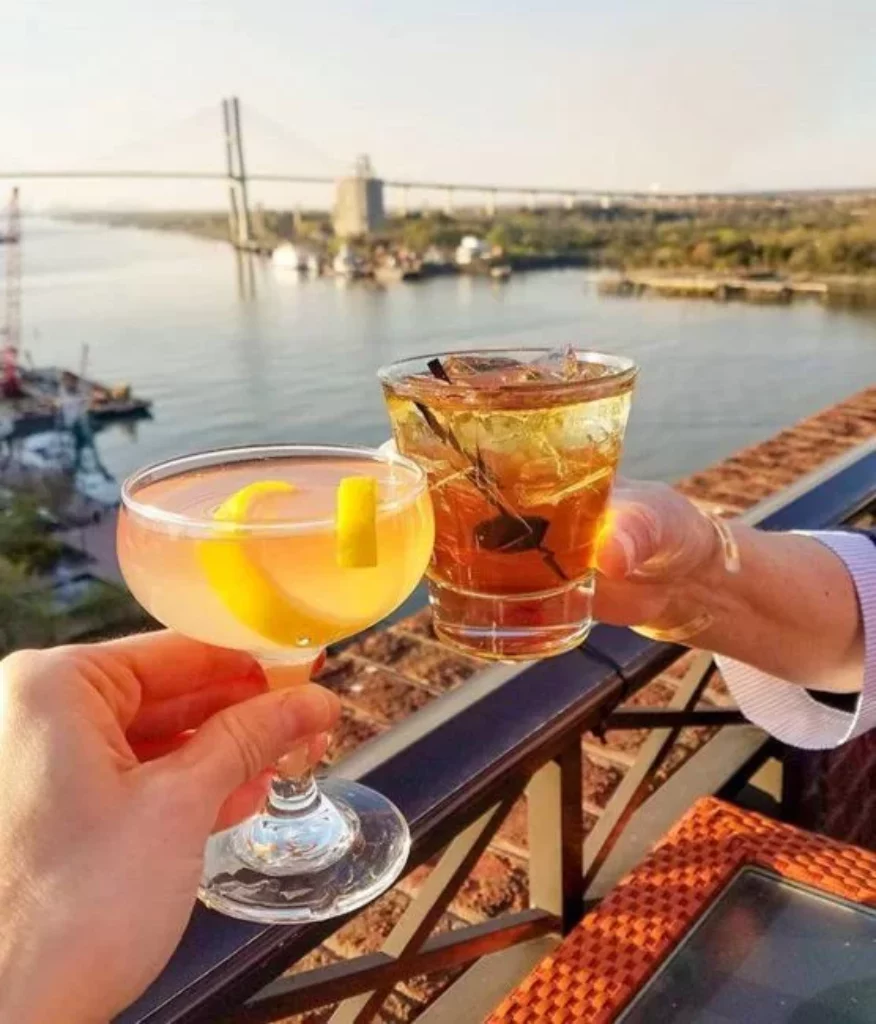 Photo courtesy of The Bohemian Hotel
Order an array of tapas and tasty cocktails to accompany your sunset. With live entertainment from Wednesday to Sunday evenings, it's a great place to unwind from all the exploring of the historic downtown! All while feeling like a true VIP.
Visit Lulu's Chocolate Bar
If the sugar-packed martinis didn't fix your sweet tooth, a trip to Lulu's Chocolate Bar will guarantee a sugar high. Voted as the best dessert in Savannah for 11 years in a row, Lulu's Chocolate Bar has no shortage of decadent treats.
photo courtesy of Lulu's Chocolate Bar
Lulu's has a constantly changing rotation of flavors. You'll never be bored with their dessert selection! With cheesecakes, cakes, fondue, ice creams and creme brulees…the list goes on and on. Rotating flavors include double chocolate peanut butter, white chocolate and s'mores. Drool.
Take a Beautiful Photo at Wormsloe Historic Site
Straight out of the scene of a Nicholas Sparks' book, the Wormsloe Historic Site is the ideal location for a dreamy and romantic photo shoot. This Georgia plantation starts with an avenue of century-old oak trees on either side and appears to never end. The scenery at the plantation is an absolute dream.
Tip: Go on this scenic tour around the Wormsloe Plantation and Bonaventure Cemetery to learn more about this site.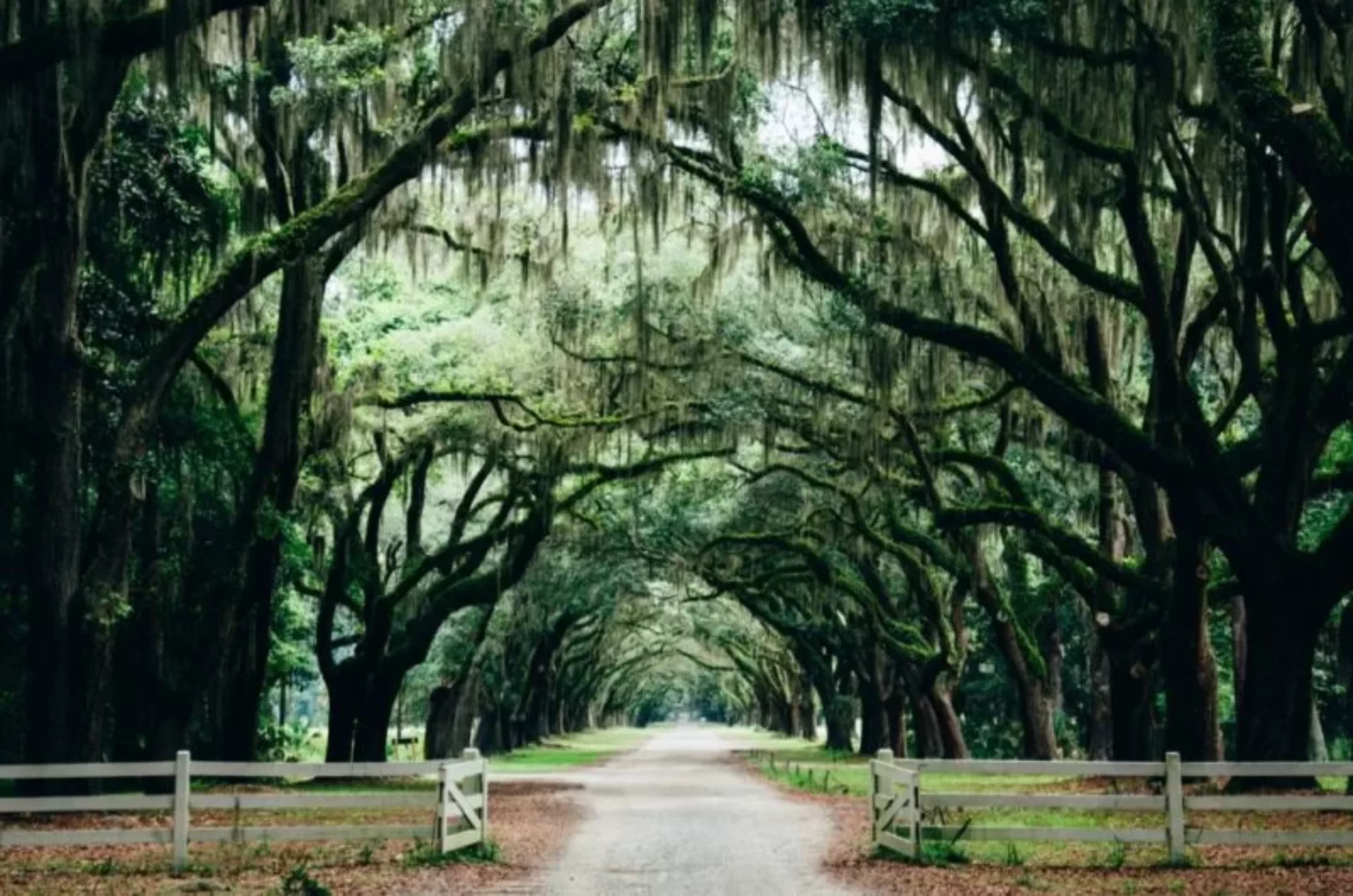 Visit an Iconic Forrest Gump Filming Location
Not exactly a Nicholas Sparks love story — but did you know that they shot most the famous film Forrest Gump in Savannah? The bus-stop bench where Forrest gave the iconic "life is like a box of chocolates" line was filmed at the Chippewa Square in downtown Savannah. The park bench is where Forrest spends about 80% of the film telling his life story to whoever has the pleasure of sitting next to him.
The bench itself was a prop for the film and is on display at the Savannah History Museum and not on location in the park but still makes for a cool photo-op!
Tip: Here is a fantastic tour that takes you through Savannah's history and the Forrest Gump filming location.
Take a Historical Tour
If a haunted Savannah ghost tour isn't high on your list of things to do, maybe you'll enjoy a historical tour instead! With over 300 years of U.S. history, Savannah is a great city for history buffs!
What's your preferred method of transportation? By foot? Trolly? Horse-drawn carriage? There's a Savannah history tour for you! The spots you visit in the historic Savannah depend on what your historical interests are. Tour types include African-American history, historic home & architecture, Civil War and movie tours.
Shop 'Til You Drop on River Street
One of the most popular streets in Savannah (and for good reason). Located along the Savannah River, River Street is home to a handful of restaurants, stores and shops made for a day of shopping and strolling.
Almost everyone's first stop on River Street is River Street Sweets. Need to get your blood sugar prepared for an afternoon of walking! You'll smell the fresh fudge a few buildings away, so don't be worried about not being able to find it. After you've loaded up on sweets, take a stroll down the street and pop into the different souvenir shops. Don't forget to wave at the boats passing by on the river while you're visiting, they'll honk back!
Unusual Things to Do in Savannah
Enjoy being on the quirky side of life? Well these unusual things in Savannah will surely interest you.
Go Honey Tasting at the Savannah Bee Company
Face masks made with honey, whipped honey with cinnamon, roasted honey coffee, hydrating honey conditioner…just a small list of items you can check out at the Savannah Bee Company.
The store offers honey tastings while educating the public on the importance of bees for our food supply. They also offer mead tastings — alcohol from fermented honey. It's incredibly tasty and you'll leave the store with a whole new appreciation for the bees! Buzz, buzz.
Visit One of the Many Savannah History Museums
Savannah is an iconic location for huge turning points in US history, with many local narratives to be told. You can learn more about Savannah's tale in the different American wars and Civil Rights movements at the local museums. Museums in Savannah range from historical to cultural and you'll have no shortage of ones to visit. If you're short on time, make sure to visit the Savannah History Museum.
Tip: This guided historic walking tour is the perfect introduction to Savannah's colorful history.
Nurse Your Hangover With Build Your Own Bloody Mary Bar
Kevin Barry's Irish Pub has been serving up hangovers for over 35 years. Thankfully, they also have the best hangover cure: a build your own Bloody Mary bar.
Opening their doors at 11 am for a filling lunch, offering live music nightly at 8 pm then closing down at 3 am after the drinks stopped flowing — Kevin Barry's is a must visit brunch and nightlife spot while visiting Savannah.
Smell All the Things at the Spice and Tea Exchange, Savannah
This city loves its free samples and tastings and The Spice and Tea Exchange on Broughton Street is no exception.
The Spice and Tea Exchange welcomes you with a nose-full of scents like chai, ground Vietnamese cinnamon and fragrant licorice root. You're fully immersed in a sensory experience where you're able to open the jars, take a whiff and talk to the knowledgeable staff about the different spices.
Head to Tybee Island for a Beach Getaway
Once you've seen all downtown Savannah has to offer, take a trip to Tybee Island, a nearby beach town. Only 20 minutes away from downtown Savannah, Tybee Island is perfect for anyone looking for an afternoon or a few days of sunny beach time! Enjoy the beach and take surf lessons or hang back in the town to do a little boutique shopping. Everything moves a little slower here, enjoy it!
Watch a Film in the Historic Lucas Theatre
The Lucas Theatre owned by the Savannah College of Art and Design was the first public building to offer air conditioning in Savannah. Opened in 1921, today the theatre operates as a viewing location for the Savannah Film Festival and a handful of festivals throughout the year. In its prime, it was one of the most luxurious places in Savannah!
Savannah Georgia Things To Do: Final Thoughts
There you have it! — only the best things to do in Savannah. Not only do these activities offer you unique experiences, but ever-lasting memories from the south. From honey tasting to bloody mary making, you won't run out of options. So which one will you try first?