Antelope Canyon in Arizona is a place that has been on my bucket list for many years. Ever since I first saw a photo series of the canyon featured on National Geographic I have been slightly obsessed with this unique geological formation. On my two month trip across the United States, visiting Antelope Canyon Arizona was the one thing I was looking forward to most so you can imagine my panic when it looked like we might not get to visit this natural phenomenon!
If you're planning to visit, it's essential that you read this quick guide first so you don't make the same mistakes I did. Turns out you can't just "show up" to one of the most popular (Instagram, I'm blaming you for this surge in visitors!!) places to visit in the whole of the United States! It also turns out it's not just one slot canyon, it's divided into two very distinct sites and tours.
Here's everything you need to know about booking Antelope Canyon tours, Antelope Canyon hotels, best part of the canyon to visit, when to visit, what to wear and tips for getting the best photographs.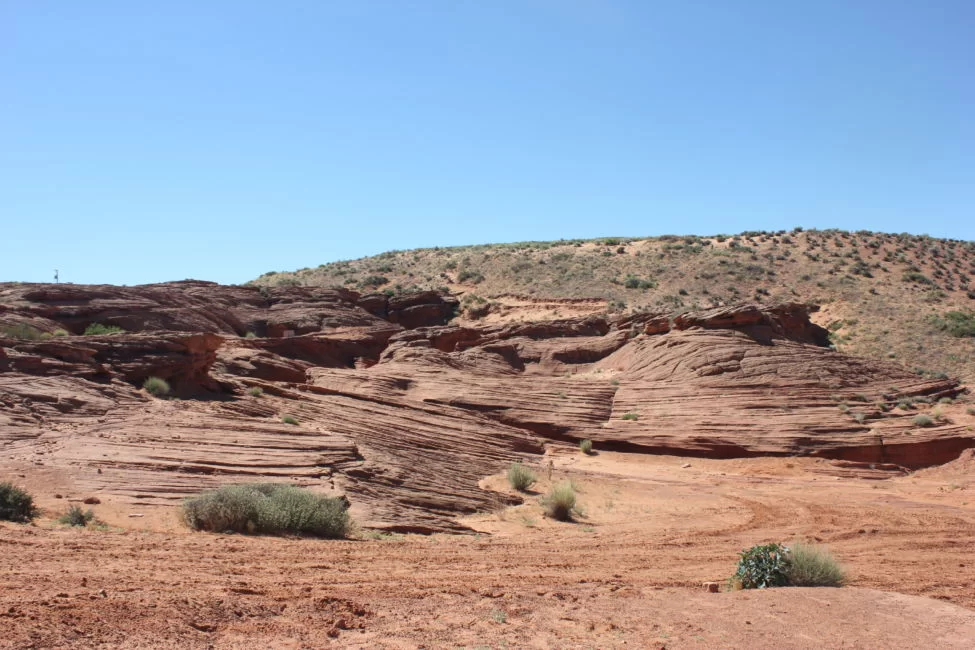 Where is Antelope Canyon?
Antelope Canyon is located a few miles from the town of Page in Arizona. It's a popular place to stop on a tour of the American Southwest, a road trip that brings intrepid travelled through California, Nevada, Arizona and Utah. The canyon is actually located on Navajo land, which means all tours are operated by the Navajo people (second largest group of native Americans in the USA) rather than by a state or national body. The Navajo people still consider Antelope Canyon to be a sacred place, and treat it with a lot of respect.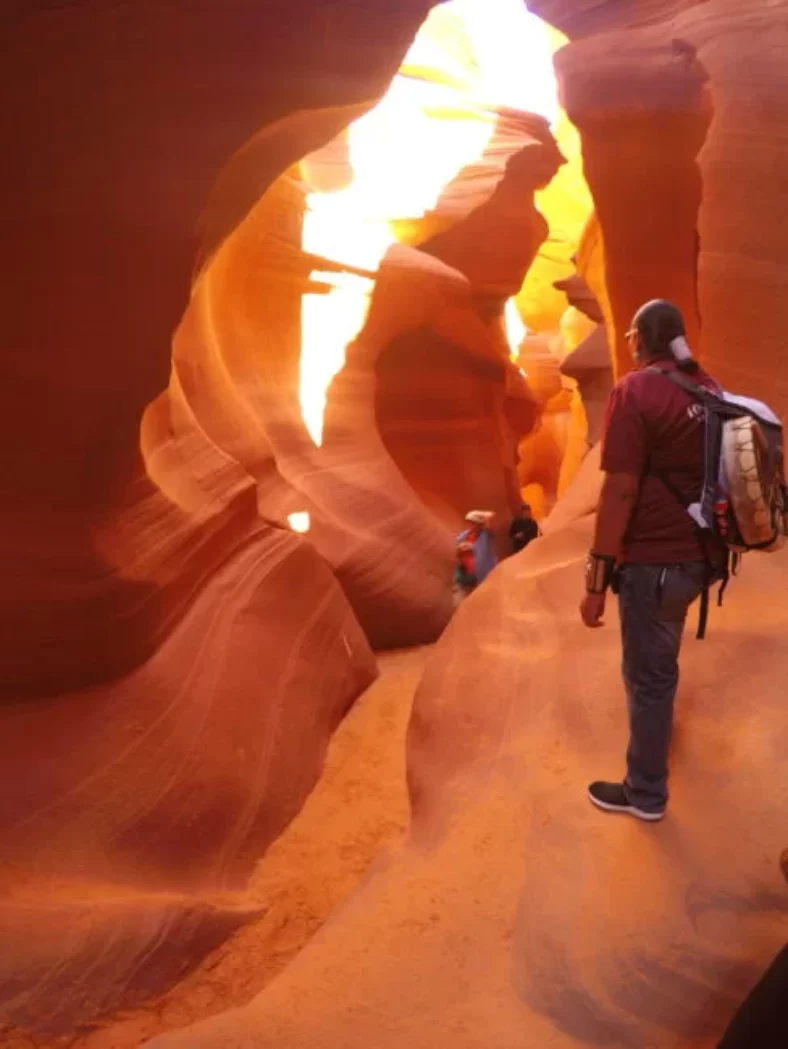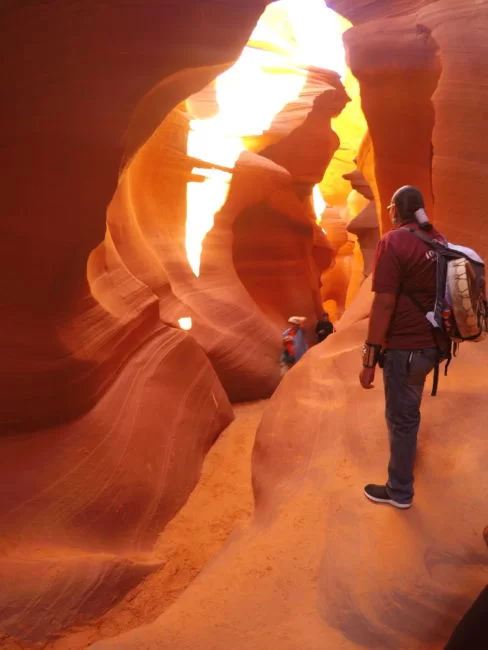 What's the nearest town to Antelope Canyon
The closest town to Antelope Canyon is Page, the perfect base for exploring the canyon, Horseshoe Bend and other attractions in the area. There's a good choice of accommodation in the area, with lots of cheap options for those on a budget. We stayed at Hampton Inn and Suites which was the closest hotel we could find to Horseshoe Bend (we went 3 times to catch sunrise and sunset!) and just a 10 minute drive to Antelope Canyon. There's lots of restaurants around the town, although admittedly most are fast food joints which sucks.
When is the best time to visit Antelope Canyon?
When you visit will depend on what you are looking to get out of your visit. If you want to avoid the crowds of tour buses and tourists during the busy summer months, it's best to try visit in quieter winter months between October and April. Mornings are also quieter, so booking the first tour of the day at 9am will mean you won't have big groups of tourists ahead of you ruining your photos and your experience.
That said, if you're intention is take breathtaking photos, or if you are a very serious photographer and want to capture the light rays beaming through the holes in the canyon, then you will need to be inside during the midday sun. There are photography tours you can sign up to that will help you get those much desired shots – more on that later. The sun is too low in the sky in the winter months so if you are after the sunbeams, you will need to visit between March and October, with the best light between June and August.
Do I need to book a tour in advance?
This is where we messed things up and the reason I travelled all the way to Arizona and almost didn't get visit Antelope Canyon. During high season (the summer months) it's really important to call ahead to book a tour. Regardless of whether you decide to visit Upper Antelope Canyon or Lower Antelope Canyon, it really is best to book a tour.
There are only a handful of tour companies, all ran by the Navajo people, and you can either call or book a tour online. We booked a tour of Lower Antelope Canyon with Dixie Ellis tours and you can book Upper Antelope Canyon tours here.
How much do tours cost?
Upper Antelope Canyon
Sightseeing tours of the upper canyon cost $45 for most tours but $58 for the 11.30am tour when the light in the canyon is best. Prices drop in the off season between November and February.
Photography tours cost $108 per person and start at 11.30am when the light is best. No children allowed on photo tours and photographers are expected to have a decent tripod and DSLR camera.
Lower Antelope Canyon
Tours of the lower canyon are cheaper, costing just $25 per person for the tour and an extra $8 for entrance to the canyon. Photography tours start from $45 per person and similar to the upper canyon only serious photographers are welcome.

Should I visit Upper or Lower Antelope Canyon?
Best things about Lower Antelope Canyon
Less people visit lower than upper which means the crowds are slightly smaller and it's easier to get a tour last minute. While it is advised to book tours at least 24 hours in advance, you can actually show up at 9am and try get yourself on a tour that day. Lower Antelope Canyon is also longer than upper so tours last longer and you get to see more of the slot canyon. As you can see with the prices about, it's a lot cheaper to visit lower than upper.
Best things about Upper Antelope Canyon
Most people that choose to visit Upper Antelope Canyon are serious photographers keen to photograph those perfect light beams, which you can see in the two photos below. You will probably get bet photos here, especially if you sign up for a photography tour.