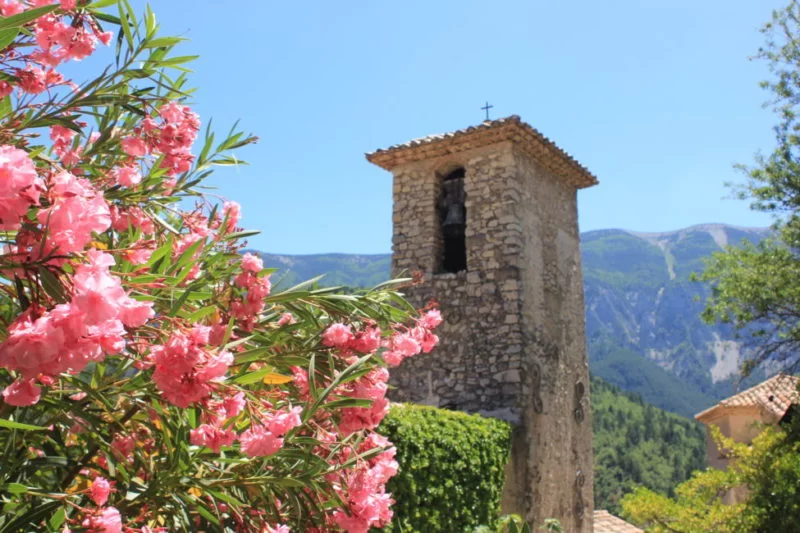 All I could think about was lavender fields. Field upon field of purple flowers, a photographers dream. When I got an invite to travel to Provence during lavender season, lavender was pretty much the only thing on my mind. I had tunnel vision and forgot to research what else there was to see and do in Provence. Big mistake. Huge. It turns out that Provence is one the most picturesque regions in all of France and most of the towns in Provence have been picked straight from a fairytale picture book.
Just when you think you have wandered aimlessly through the most beautiful town in Provence / the world, you come across a tiny village perched on the side of a mountain, complete with flower boxes hanging from old stone buildings, and views more spectacular than the Swiss Alps. I'll let the photos do the talking as I guide you through my favourite towns in Provence in this short photo post. If you're looking for more natural attractions, check out this post about things to do in Provence for nature lovers.
READ MORE: Why Annecy Is A Real Life Fairytale Town
Most beautiful towns in Provence
1. Gordes
While travelling through Provence friends and fellow travellers kept telling me there was one town I had to check out and that it was absolutely magical. i was actually worried I would not have time but on my last day in Provence my wonderful guide and driver Sophie (can't recommend her enough – you can book on her site here!) decided to drive me there en route to the train station. Even though our time there was brief, it was a highlight of my entire time in the region. Gordes has been named one of the most beautiful towns in France many years in a row and it's not difficult to see why. Perched high on a hill top, every building in this spectacular town is built from locals stone and even new buildings must use terracotta roof tiles.
TOP TIP: The best view of Gordes is from the D15 road leading into the town. There are a few photo spots here, and this is where most of the spectacular photos of the town have been taken over the years.
View this post on Instagram
View this post on Instagram
2. Fontaine du Vaucluse
This town use to be called Vaucluse, but as the entire region now falls under that name they changed it to Fontaine De Vaucluse, named after the "mythical" fountain that feeds the village water. While there is a small, and very pretty moss-covered fountain in the village itself, this is not the fountain the town was named after. You must hike for about 15 or 20 minutes, following the river uphill until you get to a dead end where the river seems to disappear under a cliff. In summer the water level is quite low, but it is the colour that is truly captivating. The town itself is very picturesque, with the river rushing right through the centre and lots of nice cafes and restaurants to be discovered.
TIP TIP: Check into the charming Hotel Du Poete, the breakfast is in a super cute outdoor setting, the river runs right under the hotel and there is even a swimming pool for those hot, summer days!
View this post on Instagram
View this post on Instagram
3. Gigondas
Gigondas is a very picturesque town in Provence, most famous as a wine producing region. Although the village itself is tiny, there are over 150 wineries in the area, so no matter how long you plan to stay you will never get around to tasting all that delicious French wine! It's mainly a wine wine producing region, but as with most places in Provence, you will find some great Rose wines too, perfect for summer. This village, build on a hill, is a photographers dream with lots of stone buildings, colourful balconies and window shutters and brightly painted doors. There's a great pizza place hiding down one of the alleyways, too.
View this post on Instagram
View this post on Instagram
4. Avignon
The third biggest city in Provence, I am including this in my list as although it is technically a city and not a town, the ancient old town in the city centre only has a population of 12,000, and has the same charming atmosphere as the other towns and villages on the list. Most famous for the Pont D'Avignon, which dates back to1177 is a UNESCO World Heritage Site, and the Palace of the Popes, where seven successive Popes lived in the 1300's, Avignon old town is steeped in history. Be it getting lost down winding alleyways, enjoying a coffee or an ice-cream on the main square or attending a wine festival (we were lucky enough be be there for one of these in June!), there's is no shortage of interesting things to do in this picturesque city.
View this post on Instagram
5. Brantes
Oh Brantes, you absolute beauty. I'm not going to lie, this tiny mountainous village has captured my heart and is without doubt one of the most picturesque and charming town in Provence. As you drive the winding, mountainous road up to this tiny village, you can't help but feel you are living in a real life fairytale…or have just arrived on set for a new French movie. The population of this village is less than 100, but my goodness do those inhabitants take care of this place. There are colourful plants and flowers around every corner, old stone buildings, colourful doors, church towers with bells ringing and even a tiny library and gift store.
TOP TIP: Book yourself in for a day of cooking and exploration with Les Aventurières du Goût, two local ladies that will help you forage for food around the village, picking local flowers ad herbs, then teach you how to cook a feast with your findings!
View this post on Instagram
6. L'isle sur la sorgue
Bigger, more lively and with a very special atmosphere, L'isle sur la Sorgue is definitely one of the most interesting towns in Provence to visit. In some ways it reminds me Annecy, another fairytale town in France, with its river running around the town and pretty cafes and flower boxes lining the river promenade. What makes this town unique, however, is that almost every second shop in the town is full of antiques! Nobody quite knows why, but over the years L'isle sur la sorgue has become the go-to destination to buy antiques in Provence, and maybe even France. This picturesque town is also home to some great boutiques, souvenir shops and delicious ice-cream parlours!
TOP TIP: There is a weekly market every Sunday so that's the best time to visit! You can buy anything from local produce and souvenirs to a real gem of an antique at the market, and it attracts a really nice mix of locals and tourists.
View this post on Instagram
View this post on Instagram
7. Valréas
If you are in Provence in late June or early July, like I was, then you are most likely in search of lavender fields! While there are many beautiful lavender fields in Provence to choose from, some have much more tourists than others! Valréas is a really quiet village, and the lavender fields here are a but further from the main road and more "in the wild" which meant we were the only tourists there! Just remember that the farmer won't be too happy with if you ruin or pick any of the lavender, so stick to the edge of the field and don't enter if you're not supposed to.
View this post on Instagram
View this post on Instagram
View this post on Instagram
8. Flassan
While I only spent a very brief amount of time here, it was enough time to see the charm of this tiny village and how lovely the surrounding community is. We actually did a morning cycle with a local company called TerraVentoux (it's a winery that also runs bike tours!) that brought up around the surrounding countryside, through vineyards and field after field of fruit trees, ending up in this quaint town. TerraVentoux had an amazing wine tasting session for us as we sat around the town fountain eating fresh goats cheese and some delicious locally-produced snacks truffles!
View this post on Instagram
View this post on Instagram