I was always under the impression that there wasn't that must do in Nara, and that most people simply came here for a day trip from Kyoto or Osaka. Turns out you could easily spend a week here, eating your way around the city, hiking in the nearby sacred mountains, visiting temples and museums and soaking up the beauty of a city inhabited by adorable wild deer! Having spent 5 days in the Nara Prefecture, before heading up to snowy Hokkaido, here's my pick of the top 17 things to do in Nara for the adventurous visitor.
Disclaimer: Not mentioned in this post are many of the most famous temples in Nara, because any Google search will lead you to them. I've tried to concentrate on some of the more UNIQUE things to do in Nara. Remember, you'll need FAR MORE than just a day trip to see the true beauty of this wonderful region.
VIDEO: Unusual Things To Do in Nara
What to eat in Nara
As with every region in Japan, there are certain speciality foods that Nara city and Nara prefecture are famous for. If travelling here for a few days, you must research what to eat in Nara and try out some of these delicious dishes and restaurants!
Manju steamed buns: You will find a lot of cute sweet shops in Nara city, especially in the older more traditional parts. Here you can taste yummy Manju which are steamed buns with stick fillings.
Somen noodles: these delicious hand stretched noodles are a must eat dish when visiting Nara. While they did originate from China they are now a popular food in this region.
Narazuke pickles: a speciality pickle loved by the people of Nara (although I wasn't a fan personally!!)
Kakinoha sushi: Every city in Japan is famous for its sushi in some form and Nara is no different! The rice and raw fish is actually wrapped in a persimmon leaf instead of seaweed which makes it quite unique.
Asuka nabe: I ate this twice while in Nara prefecture and it's a very warming and welcome dish, especially during the cold winters. It's a hot pot full of vegetables and meat and usually using check broth as the base. Great for sharing!
Where to stay in Nara
If you're just doing a one- or two-day trip to Nara city, then the best place to stay in Nara would be a super central hotel or hostel close to the station and Nara Park. I stayed in a pretty fancy hotel called "Nara Hotel" or sometimes called "Nara Royal Hotel" as it has welcomed many important figures and members of the Japanese Royal family! 
Right next to this hotel though, walking distance from the station, I spotted many great hostels and cheap guest houses. the tourist information office in town is very useful and the staff speak great English and can give you some advice or recommendations if you arrive without a booking!
Nara Japan Map
As you can see from the map of Nara below, Nara is super close to the popular cities of Osaka and Kyoto and it's very easy to do a day trip here by train.
Nara Prefecture is much bigger, and there are a lot more amazing cities than just Nara to discover when visiting this region. Examples include Doragowa Onsen, Asuka and Kashihara which are all mentioned in this guide.
Free things to do in Nara
Like all Japanese cities, visiting Nara can be an expensive affair. However, you can certainly see the city on a budget as there are so many fun and free things to do in Nara.
You will see in the list below that probably half the things listed are free, and other things you can make free by not hiring a guide, visiting the deer but not feeding them or simply photographing the outside of temples and palaces instead of doing a tour!
Nara Park, many of the temples, shopping streets, markets in Nara and the forest are all fun free places to visit in Nara.
Unique Things To Do in Nara
1. Forest Bathing in Kasugayama Primeval Forest
Let's start with something I've only ever heard or experience in Japan! If you're looking to get back to nature and explore the mountain and forest right on Nara's doorstep, then you can sign up for a "Forest Bathing" experience in Kasugayama Primeval Forest in Nara – walking distance from Nara Park!
Here a qualified guide will take you on a 3-to-4-hour hike through the forest, explaining the benefits of being back in nature, allowing you to inspect plants and insects up close with a magnifying glass (moss looks pretty freaky up close) and encouraging you lay down on the soft, cushion-like bed of moss, close your eyes and listen to the sounds of the forest.
You'll be treated to lunch from a local (and famous) bakery and hot tea to warm you up on your way back down – much appreciated as I visited during January and it was freezing cold!
If you're interested in more quirky activities like this, then Sado island might be another good place to visit.
2. Do a farm homestay in Asuka
While many people encourage doing a temple stay and staying in an onsen hotel while in Japan (I did both in Nara too, which you can read about below) few people opt to do something as unique as a rural farm stay. I signed up to do this in Asuka, and my hosts couldn't be more welcoming. A husband-and-wife duo who had moved from Osaka to Asuka as they craved as simper life and better upbringing for their only son.
They grow vegetables on their small farm, the husband enjoys hunting deer (lucky he stays away from Nara Park) and they welcome guests with open arms. You'll sleep inside their home, sharing a room with others would there be other guests – traditional Japanese style with lots of blankets and thin mattresses on the floor.
The food in phenomenal – the host trained as a barista in Tokyo and sure know her coffee – so you'll leave after a night's stay having had an absolute feast for dinner and a simple but delicious Japanese breakfast, served on a low table while sitting cross legged on the floor.
This is a very authentic and unique experience, and one of their top things to do in Nara if you want to interact with locals and explore an area not frequented by international tourists. Here's a link to the farm stay if you want to book!
3. Meet the deer in Nara Park
This is one of the most obvious, and popular things to do in Nara – but no matter how many people write about it or take photos of these adorable deer, it will still remain an incredibly special activity. There are over 1,500 wild deer roaming Nara and the story of how this city became a home to so many deer is an interesting and mystical one.
A deity enshrined in Kasuga Taisha Shrine, one of the other main places to visit in Nara, is Takemi Kajichi no Mikoto, who is said to have ridden to Nara upon a mystical white deer from Kashima Shrine in Ibaraki Prefecture. Because of this legend, the deer were considered divine and sacred and right up until World WAR II, killing a deer in Nara was punishable by death! That all changed and now the deer as seen as natural treasures, and locals very much appreciate that the deer are the main draw for tourists and thus really value their presence.
You can buy deer crackers from vendors in the park and feed the deer, with caution, and if you bow your head to the deer, they bow their heads right back in the most adorable way.
If you don't want to tour all these places alone, and would like a little more info, then I recommend finding a local guide to show you the best sites in Nara. I thought this tour looks good.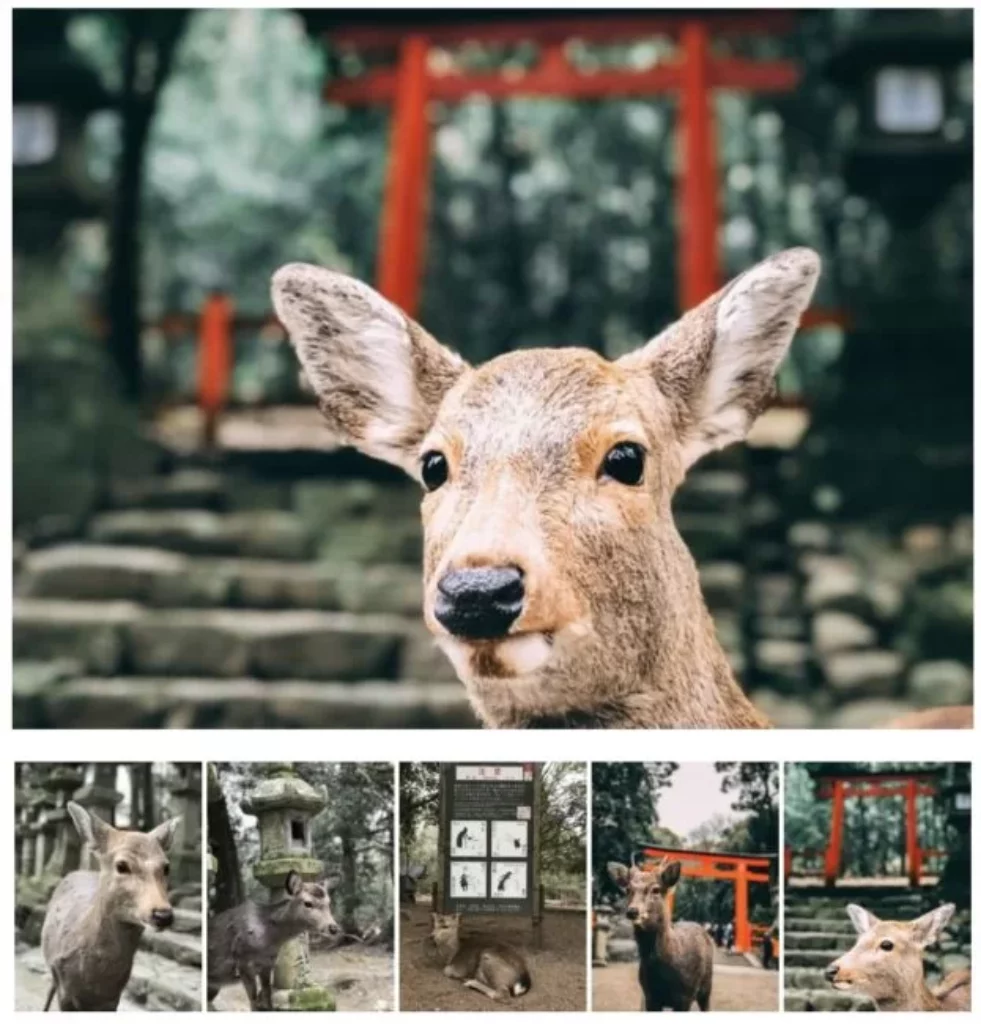 4. Eat traditional hot pot
Japanese hot pot is a very popular dish in the Nara Prefecture, and all over Japan during the cold winter months. You can't travel to Nara without enjoying one of these delicious, warming meals. I had a few different hot pot dishes while in Nara – and loved how you could choose what type of meat went in – from duck, to beef, to pork or other more exotic meats that I should not mention. 😉
They bring a big bowl of vegetables, a plate of meat, some sauces and few plates of side dishes such as fish, rice and raw marinated vegetables and you sit and wait while your dinner cooks slowly right on the table in front of your eyes. Best enjoyed with a cold beer!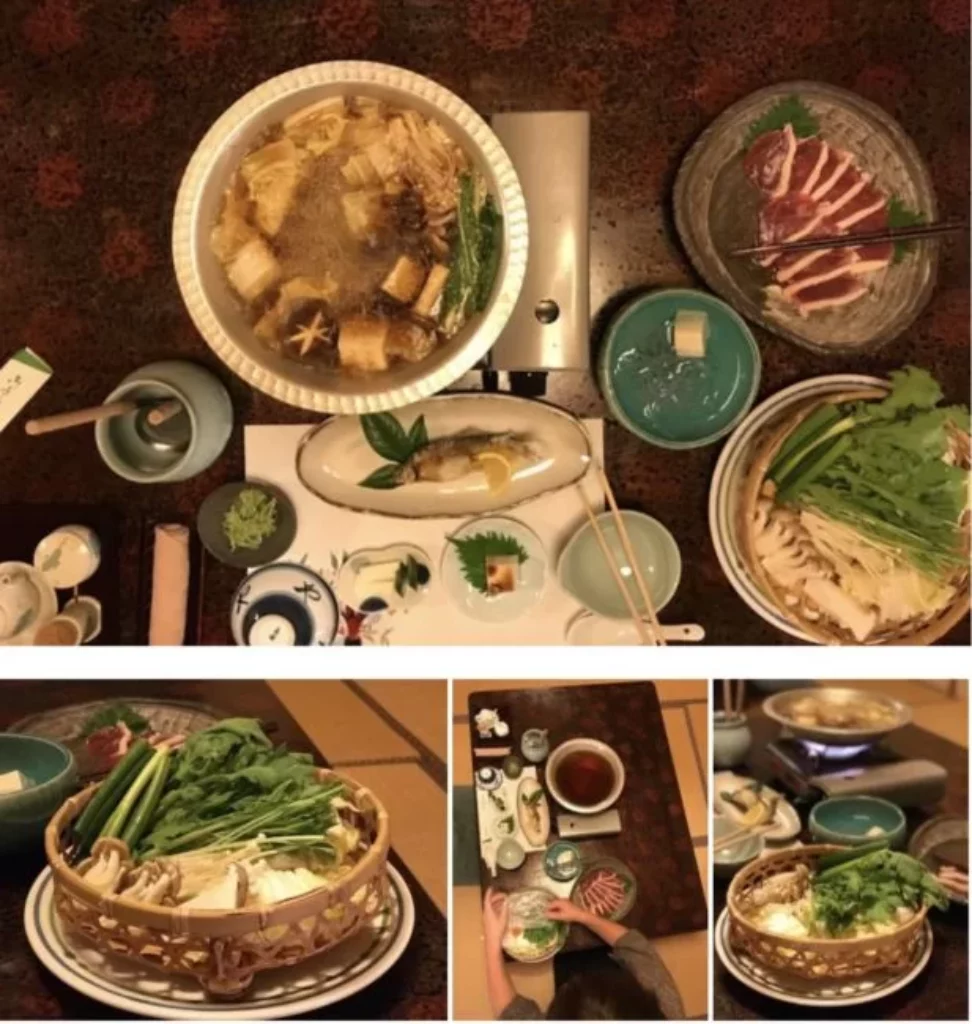 5. Explore Kasuga-Taisha Shrine
You can't travel to Nara one not visit the Kasuga-Taisha Shrine – one of Nara's most famous attractions and the reason Nara is so over run with deer, as explained earlier in the article.
This extremely important, and architecturally stunning, shrine also has a lot of activities to offer the visitor. Apart from roaming around and petting or bowing to the inquisitive deer that roam the shrine grounds, you can admire the thousands of stone and bronze lanterns which have been donated by worshipers, explore the botanical gardens, walk up to the nearby Kasuga Primeval Forest or visit the museum on site. If you want to visit this and a few other museums in Nara, it's best to sign up to a walking tour of the city with a local and knowledgable guide.
Want to see what shrines in Japan look like in the snow? Read about Wakkanai here.
6. Stay in Royal Nara Hotel
If budget isn't an issue than you simply HAVE to stay at Nara Hotel, sometime preferred to as Royal Nara Hotel, thanks to its many distinguished guests. Past emperors, members of the road family and many celebrities and international presidents have stayed in this historic hotel, and a piano once played by Albert Einstein sits in the relaxed hotel drawing room.
The food in their restaurant mouth-watering – I ate both dinner and breakfast here- and simply getting to walk (or sleep) in the footsteps of so many great people is a privilege in itself.
7. Go shopping in Higashimuki
Like all great cities in Japan, both big and small, Nara has a pretty lively shopping district. Even if you're just window shopping, or keen to experience the energetic atmosphere in the area, I highly recommend spending an afternoon shopping in Higashimuki.
There are some super funky shops, including one selling magnets and other small trinkets where everything is food-themed, and hand made to look like miniature food items. You can stop by to see locals making traditional rice sweets, famous in this region, and can even try your hand at making some yourself.
From sweet shops to souvenir shops, themed cafes, vintage clothes shops and costume stores where you can don traditional Kimonos and walk the streets of Nara, this district is a top Nara attraction.
8. Do a temple stay
Out of all the amazing things to do in Nara, sleeping the night in a. Buddhist temple will forever remain my favourite. I was actually speechless after the head priest showed me to my simple room and I opened the balcony door to be greeted by one of the most magical room views I've ever had in my life.
I loved eating the perfectly colour coordinated vegetarian temple food, attending morning prayers before sunrise and even getting to watch a very special fire prayer ceremony at 5am in the morning.
I made a video about my experiences, which show off how beautiful Gyukuzoin Temple is and why everyone should add this activity to their Japan bucket list! You can book your temple stay here.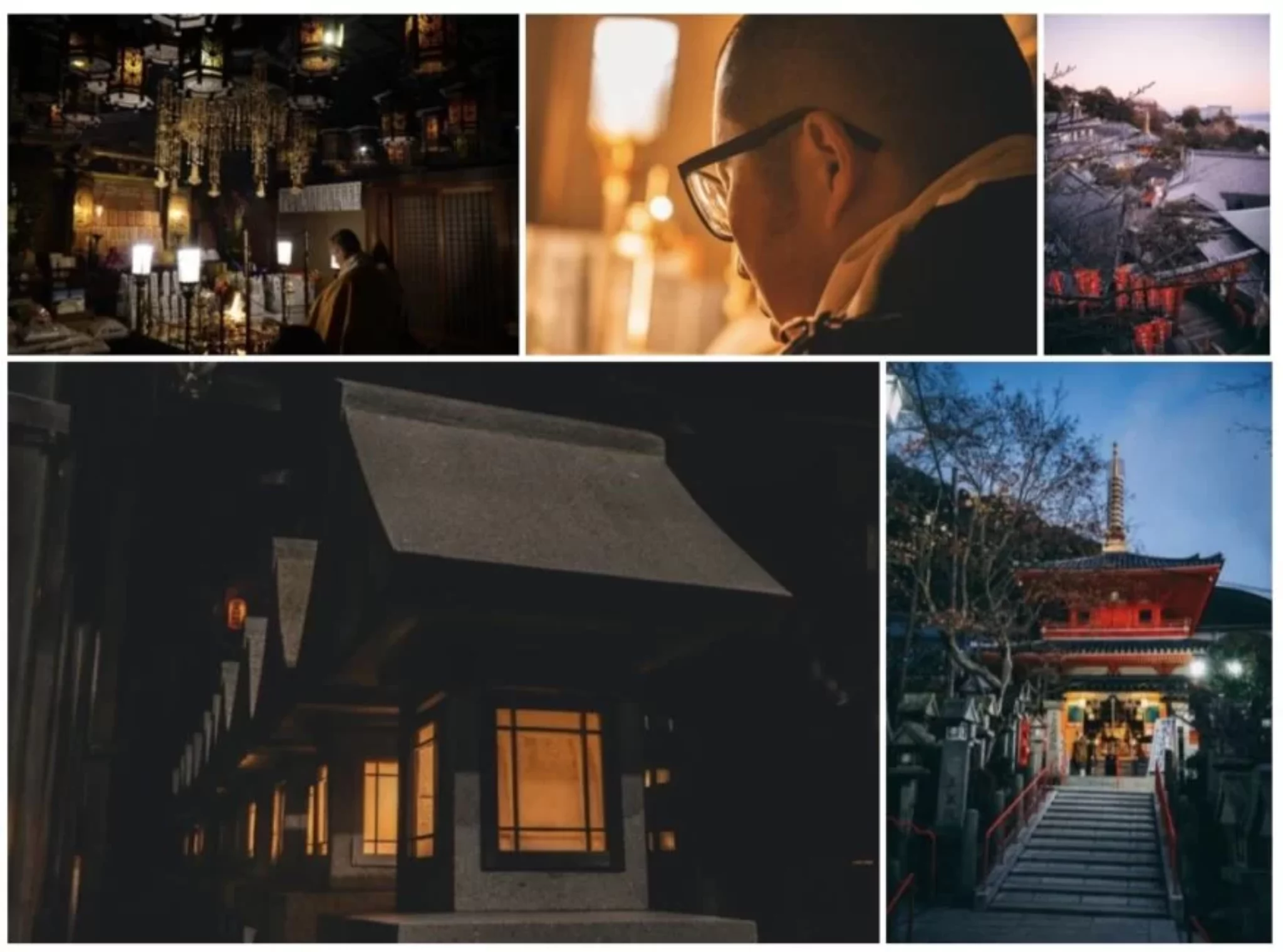 9. Get lost in super cute Naramachi
Naramachi District was by far by favourite area in Nara city. I absolutely loved getting lost down the narrow streets, making way for a hand pulled rickshaw containing two dolled up and excited tourists hanging on every word of their guide was saying, popping into tiny, nondescript house museums, trinket shops, artists galleries or cafes and simply just wandering and absorbing the atmosphere.
This area is the former merchant district in Nara, which explains why there are so many beautiful house and buildings. You'll feel as you have travelled back in time as you pass by men in traditional dress, exquisitely decorated house fronts and small temples and sweet shops with pretty red lanterns hanging on strings outside. This is the Japan of your dreams, if your dreams are the same as mine.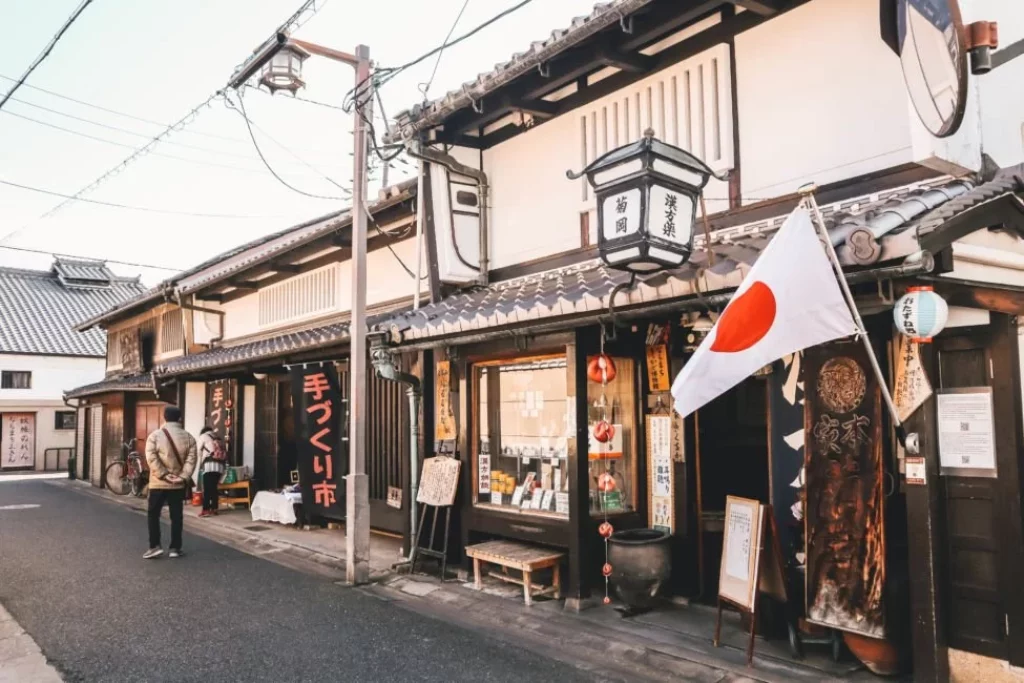 10. Explore magical Dorogawa Onsen
This where I spent my first day in Nara, wandering the quiet streets that are lit up at night with beautiful strings of lanterns. Famous for the local hot springs, the small temple in the village, and the numerous brightly painted bridges that criss-cross the river joining one side with the other – Dorogawa Onsen is a unique place to spend one day (and maybe one night) while in Nara.
You can hike up the nearby suspension bridge, one of the largest in Japan, that crosses the beautiful Mitarai Valley and has beautiful views of the town. It's quite a sacred area, with many pilgrims coming to hike here, and the surrounding mountains contain mining trekking paths, and stunning rivers and waterfalls best explored in spring or summer. For more ideas on what to do while here, read this travel guide.
11. Stay in an Onsen Ryokan
Staying in a Onsen Ryokan, a traditional-style Japanese hotel where you sleep on the floor and there's a shared bathhouse in the basement, is a must while in Nara Prefecture. I had the pleasure of staying in one for a night while in Dorogawa Onsen, a small village famed or its hot springs and the sacred mountains that surround it.
The entire experience was one I will never forget – to wearing the Pyjamas they supply, bathing naked with other guests, sleeping on a mattress on the floor being treated an amazing hot pot dinner to warm the soul. See my video below to understand more about my experience there.
12. Visit Nara Cultural Centre
I sort of discovered this place by accident when walking from Nara Hotel to the train station but was so glad I did. The Nara Cultural Centre and Tourist Information offers lots of free activities that I loved.
For kids, there's origami, colouring and even Japanese calligraphy lessons – while for adults you can dress up in funny sumo suits or a kimono for free and do a fun photo shoot. They also have a luggage storage facility, free WiFi and tonnes of information about places to visit in Nara which could provide helpful.
Well worth dropping in for sure! There are lots of other places in Nara where you can get dressed up in cultural costume – and you can even book your session online in advance.
13. Visit Kasihara Shrine
I visited many shrines and temples while exploring Nara Prefecture, but this one was my favourite. Not necessarily because it was more beautiful or more impressive than the others, but because there were less tourists around (in fact I believe I was the only tourist here!) which made the experience a lot more authentic.
The shrine was also next to a large lake you could walk around, which was very peaceful, and the town itself is a pretty nice place to walk around if you have some free time.
I even made a video about my visit here, and some etiquette for visiting a shrine in Japan.
14. French Cuisine at L'Auberge de Plaisance
One of the most unforgettable meals I ate while in Japan was at the phenomenal L'Auberge de Plaisance – a French and Japanese fusion restaurant with panoramic views of Nara.
This is a pretty fancy restaurant, I certainly felt very underdressed, and at one stage I was so unsure of what I was eating or how to eat it, I had to call over the waiter and ask for help.
They serve a set 7 course lunch menu, and I promise you won't need to eat for the rest of the day. the presentation and taste of each unique dish was exquisite, and I honestly think this was one of the most memorable meals I had during my 16-day trip across Japan.
It is a little pricy but would be ideal if you are looking for someplace special to break the budget for one day, or if it's a special occasion like a birthday, honeymoon or anniversary!
15. Try some famous Asuka nabe
One the must-try culinary dishes that originate in Nara Prefecture is the Asuka nabe – similar to a hot pot dish but much crazier and with chicken as the meat of choice. A very soothing dish in winter, I had the pleasure of tasting this dish at my homestay in Asuka – and was delighted to later learn this is where the dish is most famous.
16. Visit the Owl Cafe
I've always been a huge fan of themed cafes, having visited some funny animal cafes in South Korea and various Anime and Cartoon character cafes in Taipei, Taiwan. While most themed cafes in Japan can be found in cities like Osaka and Tokyo, I did discover a super cute Owl Cafe just a 5-minute walk from the JR Train Station in Nara City.
You pay a small fee to enter, buy a coffee or small snack and go around checking out their beautiful, fluffy residents – usually you'll see 4 or 5 owls at any one time. One of the quirkier things to do in Nara!
17. Visit Buddha's Nostril
Saving the weirdest for last, right?
If you've got some time to spare and want to participate in one of the weirdest things to do in Nara Prefecture, you can visit Buddha's Nostril! Located inside Todai-ji Temple, this hollowed out piece of wood is said to symbolise the nose of buddha. Visitors who crawl through the small holes at the bottom, the nostrils, are said to find a degree of enlightenment! All else fails, at least the temple is pretty to visit!
This article was compiled thanks to a sponsored trip funded by Nara Prefecture. You can find more information about visiting Nara at the official site here or their sightseeing website. #VisitNara