Famous as the best rice producing region in Japan, a spectacular coastal city backed by jaw-dropping, snow capped mountains and epic ocean views – Niigata is a city that belongs on everyone's Japan bucket list! Secretly a haven for foodies and sake lovers, there are plenty of unique things to do in Niigata to keep the curious traveller occupied for a few days.
Here's my pick of the top places to go, based on my brilliant trip to Niigata…
Top 11 Things To Do in Niigata
1. Take a dumpling-making class
The rice that is grown and produced in Niigata is said to be the best rice in Japan, coveted by all. It comes as no surprise then, that Niigata is also quite famous for its sweet rice dumplings.
Known locally as Sasadango, which translates to "Bamboo leaf dumpling", these much loved rice dumplings are made from stick rice and red bean based, wrapped up in 3 bamboo leaves and steamed for up to 15 minutes before being served hot and sticky.
In Niigata city, you can visit some local rice dumpling shops and spend an hour or two learning how to make Sasadango yourself – and believe me wrapping the bamboo leaves around the dumplings is much more difficult that you realise!
One place to try your hand at making these aromatic dumplings is go to Tanakaya Minato Kobo – here you can buy your own small packages of Dango, watch the experts wrapping them and take a short dumpling making class upstairs.
2. Private dinner with a Geisha
While cities like Kyoto are probably most synonymous with Geisha and Gion districts, it turns out the Furumachi district in Niigata is one of the top three most respected districts in Japan for Geisha. The other benefit of visiting a Geisha while in Niigata instead of Kyoto is the much smaller price tag!
We had the rare and exciting opportunity to sit down and have an exquisite dinner with a Geisha on our first evening in Niigata. Housed in a 300 year old building, we were ushered into the very traditional Japanese-style and family-run restaurant and pretty garden area with many smiles and bows, and then into our own private room with floor to ceiling windows.
Presented with a hand written menu designed just for us, written in English in beautiful, swirling calligraphy – I knew this was going to be a dinner to remember.
An older lady sat down on the floor in the corner of the room, with a small Japanese-style guitar called a shamisen and began strumming traditional Japanese sounds as a young Geisha floated into the room and started dancing as we sat at our small dinner table, entrapped by the performance.
The music, dancing and of course stunning white makeup and colourful kimonos are probably what draws people in at first, but it was our ability to sit with the Geisha for half an hour after dinner, chatting about her life, her training, the hair and makeup procedures, where she's from etc. that made it such a special and unforgettable experience in my eyes.
She presented us with hand written business cards, and was happy to pose for photos with (and without) us before she shimmied away, work finished for another night.
The meal, as always in Japan, consisted of many small, perfectly presented side dishes – a mix of meat, vegetables, egg and fish dishes – each more tastier than the last. A meal to remember for more reasons than one and definitely one of the absolute top things to do in Niigata.
3. Niigata food tour
While Niigata is most famous for its Koshihikari rice, which is grown here and loved all over the country, I quickly discovered that's it is not rice alone that makes this an excellent, if not somewhat unknown, foodie city!
A fun, and fairly recent, tourism initiative involves a food tour on foot around the city's main nightlife district. First you go to a small office to purchase vouchers and a map of all the restaurants in the area. For a certain (and fair) fee, you receive 3 different vouchers which means you can eat 3 dishes in 3 restaurants of your choice – almost like a pub crawl but with food!
In some places, once the voucher is presented, a set dish has already been chosen and is placed on your table along with a drink of your choice – sake or beer! In other places, there's a small menu to choose from and you can pick whatever food tickles your fancy.
Noppe Stew
We started off very local – eating a cold, vegetable soup-like dish called Noppe Stew – a famous and much loved dish in Niigata despite in not pleasing my Irish taste buds! It consists of lotus root, mushrooms, potato jelly and other root vegetables served in a cold,soy-flavored dashi broth. Sometimes in is served warm, but all of ours was cold – which was interesting to say the least.
Tonkatsu
This was followed by Tonkatsu, which is a breaded pork chop – much more to my liking and washed down with an ice cold beer.
Niigata Sushi
Our second stop was for sushi – because you simply can't do a food tour in Niigata, a city famous for its rice, without eating a little sushi. We were each presented with a plate of sushi, with maybe 4 or 5 different pieces each – oh which I ate all except the salmon balls and washed it all down once again with a cold beer.
Beef and Sake Mojitos!
Our third and final stop was in search of meat and mojitos – and interesting mix which we found in a super small bar down a side street. We dined on marinated beef strips that were melt in the mouth delicious, and special mojitos made with local sake instead of rum. The perfect end to a fun food tour of Niigata!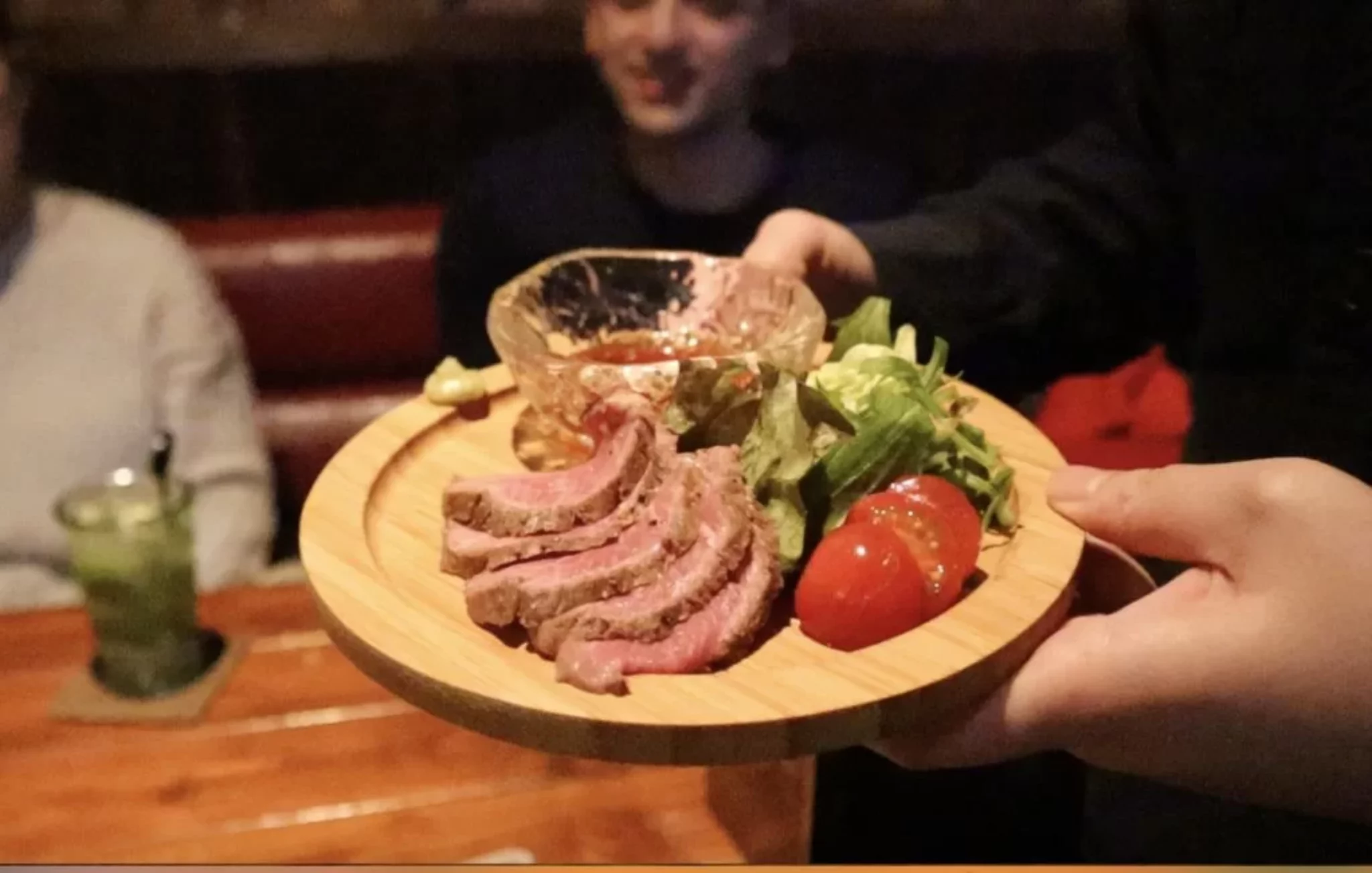 4. Sake tasting
A region famous for its rice is, naturally enough, also famous for its Sake – local Japanese rice wine made using fermented rice!
In fact, there are more Sake distilleries in Niigata Prefecture than any other region of Japan – making it the Sake capital of the world! You can't come to Niigata city and not taste the sake – not least as it's available in the strangest of places.
Sake Vending Machines
While we did drop by one of the most famous Sake Breweries in Niigata, we also popped into the main train station where we found one of the most unique sets of vending machines in Japan – all dispensing shots of sake for the bargain price of 100 Japanese Yen. You can buy 5 tokens for 500 yen, then insert your tokens into the small, shot-dispensing vending machine of your choice – there are names of the sake and maps where it come from on each individual machine – and then drink to your hearts content.
If you still have a token left, and don't fancy another shot, you can hand it over in exchange for half a cucumber – a strange treat that the Japanese enjoy dipping into owls of salt and spices and eating as if its the most delicious treat in the world!
If you're a BIG fan o sake, than you must visit Niigata in March for the annual Sakenojin Sake Fair – where you can taste more varieties of delicious sake than you could ever dream about.
5. Bandai Pier market
Thanks to to its unique coastal location, in a region where two important bodies of water meet, Niigata is home to one of the top fish markets in Japan – selling fish unique to this region.
Another fun reason to drop by the Bandai Pier Market is that you can pick out what you want to eat for dinner, fresh off the boat, and then cook on one of the markets large outdoor barrels grills and eat in then and there.
There's also a large meat market, so if you're more into beef than fish, you can also pick out the perfect cut and have it cooked before your eyes – washed down with lots of cold sake of course.
Some must try fish dishes in the Niigata Fish market include: Snow crab (can be eaten with ramen!), soy-sauce flavored squid and Kamburi – yellow tail fish famous in this region.
6. Take a boat trip to Sado Island
Just a 2 hour boat trip from Niigata city is the stunning Sado Island, a haven for beach lovers and exporters during the summer months in Japan and home to dramatic landscape, pretty fishing villages, Geo Parks, unique rabbit temples and turtles rocks – along with plenty of local culture, music and traditional to ensure you have a memorable stay.
You can also take a ride in a traditional Tub Boat, captained by a local and very hardy fisherwoman – and feel as if you're an extra in the movie Spirited Away. Sado Island is an absolute gem off the coast of Japan and has to be seen and experienced with your own two eyes.
Give yourself at least 2 days on this island to explore – as there is way more to see and do on Sado than first meets the eye and my only regret is that I didn't have more time to explore the beaches and mountains in the far north.
7. Walking tour of the city
If you have a spare hour or two, use it to do a self guided walking tour of the city. There's lots of flashing lights, trees covered in fairy lights and neon signs in the centre – but you can also find peace and quiet down by the port as you walk by the old customs house and court house buildings – some of the most beautiful in the city and an easy walk from Bandai Pier.
8. Visit the Northern Culture Museum
This is one of the must visit museums in Niigata and probably one of the top things to do in Niigata, especially if visiting in Spring. We were there in January but could easily visualise just how beautiful the gardens would look covered in cherry blossoms and a very old and very large Wisteria tree – quite famous in the region.
There is a lot of history to be understood here, many unique shaped buildings, sculptures cut out of trees, dedications to people who helped set the museum up and of course lots of insight into the past in the form of old baths, kitchen ware, paintings etc.
The museum makes for an interesting visit but it's no doubt the stunning gardens that attract most people!
9. Eat some Niigata rice
While at the Northern Culture Museum, we stopped off for some lunch in their picturesque restaurant – a far cry from some of the museum restaurants rot be found in Europe or America. Serving up exquisitely presented traditional Japanese dishes – included Noppe stew (cold, of course!), vegetable tempura, miso soup and lots of delicious Niigata rice – this was a meal to remember.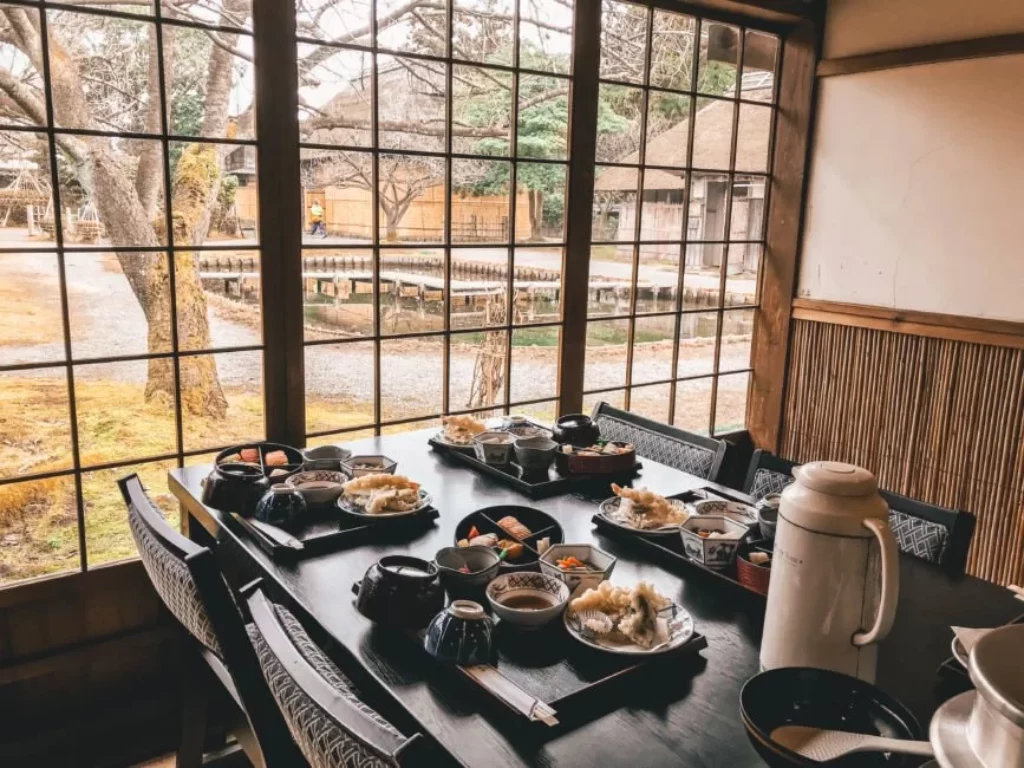 10.
Panoramic views from Hotel Nikko
If you're looking for a hotel with a view, then you must check into Hotel Nikko Niigata – without doubt the only hotel in the city with 360 degree panoramic views of the ocean, the city and the nearby snow-capped mountains.
Even if you're not staying here, you can still take the elevator up to the top floor and enjoy the views from the cute cafe up here. A great place to go on your first day to get your bearings and take in views of the city.
Looking for more snowy landscapes? Why not make the trip up to Higashikawa in Hokkaido, Japan's "town of photography"?
View this post on Instagram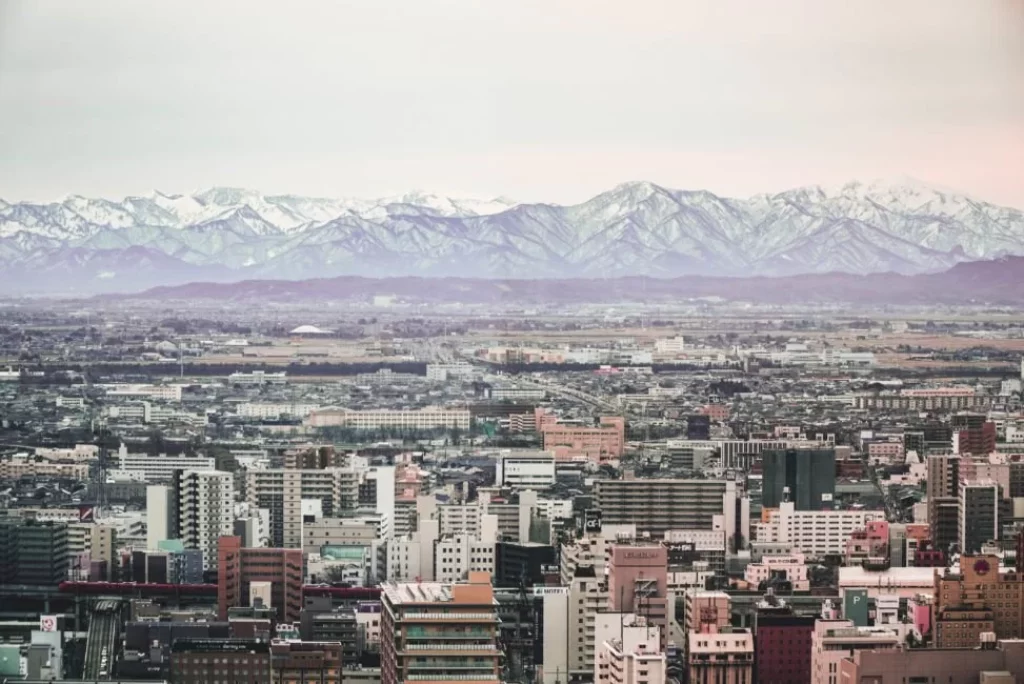 11. Attend the Fireworks Festival
Turns out there are lots of amazing festivals to attend in Niigata, from fun snow festivals in winter to Sake festivals, music festivals and an annual fireworks festival said to be one of the largest in Japan.
The Fireworks Festival takes place at the beginning of August usually – and up to a million people flock to Niigata to attend.