Sri Lanka has one of the most beautiful and diverse landscapes out of anywhere in Asia. It's a country I find myself returning to again and again, and with people as friendly as the Irish and food as tasty as their Northern neighbors, it's a destination that should be on everyone's bucket list. There and endless beautiful places to visit, but let me start with my pick of the top 21 things to do in Sri Lanka.
Why Visit Sri Lanka?
A haven for wildlife, a paradise for hiking, home to a rugged coastline and pristine beaches and an absolute dream to travel around, I honestly believe everyone should visit Sri Lanka at least once in their lives.
It's safer and much easier to travel around than India, but just as cheap and definitely as diverse and beautiful. From adventurous activities to luxury hotels, safaris withe elephants and whales, to relaxing on pristine beaches or lush tea plantations, this country has it all.
Do you need a visa for Sri Lanka?
If you're an Irish citizen visiting Sri Lanka, you will need to apply online for an ETA (Electronic Travel Authorization) before arriving. This should be done at least one week before you are due to travel as it can take a few days to process. Depending on your nationality, the visa terms and conditions vary so be sure to check what needs to be done before you travel.
You can apply for a visa for Sri Lanka online here and just ensure your passport still has 6 months validity.
Fun Things To Do in Sri Lanka
Here's my pick of the top places to visit and things to do in Sri Lanka. Having visited 5 times travelled almost every inch of the country from North to South, here's my pick of the best spots in this beautiful land.
1. Visit Dalawella Beach
If you've researched your trip to Sri Lanka on Instagram at all you most definitely will have seen this swing. It used to just be a swing used by locals hanging out this gorgeous stretch of coastline, but the minute a few visiting tourists got some sick sunset shots on the swing and posted them on the 'gram, it's been a top spot to visit in Sri Lanka.
2. Get cultured in Kandy
If you're lucky enough to be in Sri Lanka in late July or early August, then you need to experience the famous Esala Perahara Festival (also known as the Festival of The Tooth Relic). It takes place in Kandy and is the largest Buddhist celebration in the county, attracting up to a million people over the ten-day festival period.
Think decorated elephants, fire jugglers, dancers, drummers and fire breathers taking to the streets to form one spectacular and super colourful parade.
3. Take to Kandy to Ella train
The most famous train ride in Sri Lanka is the train from Kandy to Ella, that winds cross country and past hundreds of acres of super green tea plantations. The train can be quite crowded with many people hanging out the train doors and trying to squash into the train carriages and standing for long periods.
Overcrowding aside, it's one of the most beautiful train rides in the world and ends in Ella, a picturesque town in Sri Lanka's hill country.
4. Check out the beaches in Jaffna
With over 800 miles, or 1300km, or uninterrupted coastline, one of the absolute best things to do in Sri Lanka is to go on a beach hopping adventure.
Whether you go north or south, east or west, there are secret beaches, fun beach bars, surf spots and coconut lined stretches of sand in every direction. Some of my favourite beaches were up North of Jaffna, where there wasn't another tourist to be found.
5. Go surfing in Weligama
In English Weligama translates to "Sandy Village" which sums up this beautiful bay in the South of Sri Lanka perfectly. Weligama, and nearby Midigama, is one of the best places in Sri Lanka to go surfing thanks to perfect waves sets and a long, untouched coastline.
Beaches here are a little more wild than on the East coast, which only adds to the charm of the area. It's also famous for the fishermen who stand on stilts in the water, and are probably some of the most photographed people in Sri Lanka!
Weligama is also home to the Cape Weligama Hotel, one of the most luxurious hotels in the country with the most beautiful half moon swimming pool, perched on a hill and overlooking the ocean.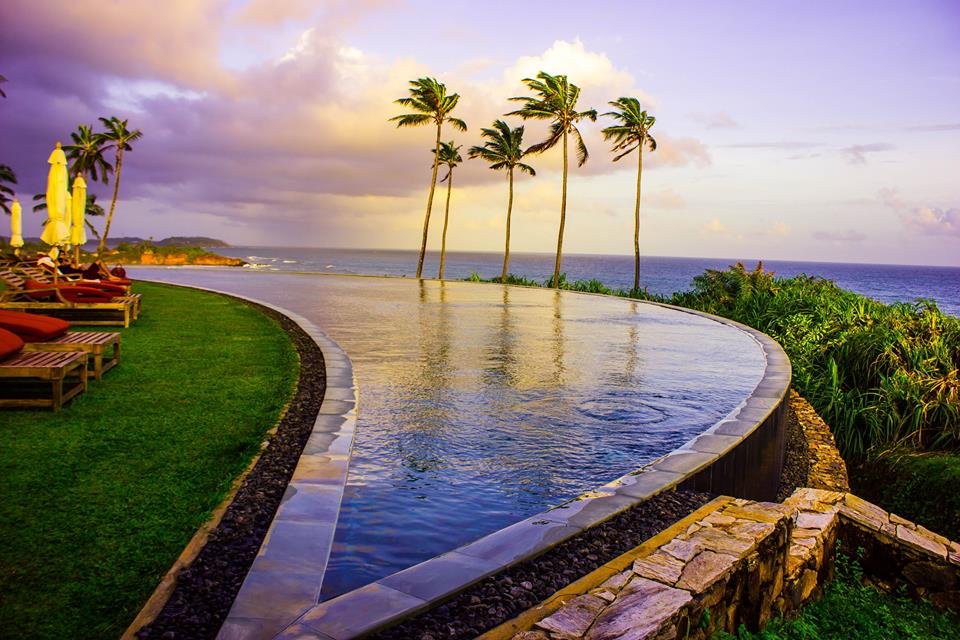 6.Visit historic Dambulla
Just a 20-minute drive from Sigiriya is the important town if Dambulla, also part of Sri Lanka's cultural triangle. Dambulla is most famous for The Golden Temple and the Dambulla Cave complex which tourists can visit.
The temple and caves have been a sacred pilgrimage site for over 22 centuries and according to UNESCO it's the most well-preserved cave temple in the country. The cost of tickets to visit is just $10 per person.
7. Hiking in Knuckles Mountain Range
The Knuckles Mountain Range is one of the lesser known places to visit in Sri Lanka, a factor that makes hiking here all the more special. You will be lucky if you come across even one other tourist, with most people visiting the area locals who consider this their little hidden gem.
The views are beyond spectacular driving up through the mountains, past smaller hills, waterfalls, rivers and even tea plantations. It can get very windy up here but the hiking is out of this world and the views will honestly make you realise why Sri Lanka is one of the most beautiful countries in the world.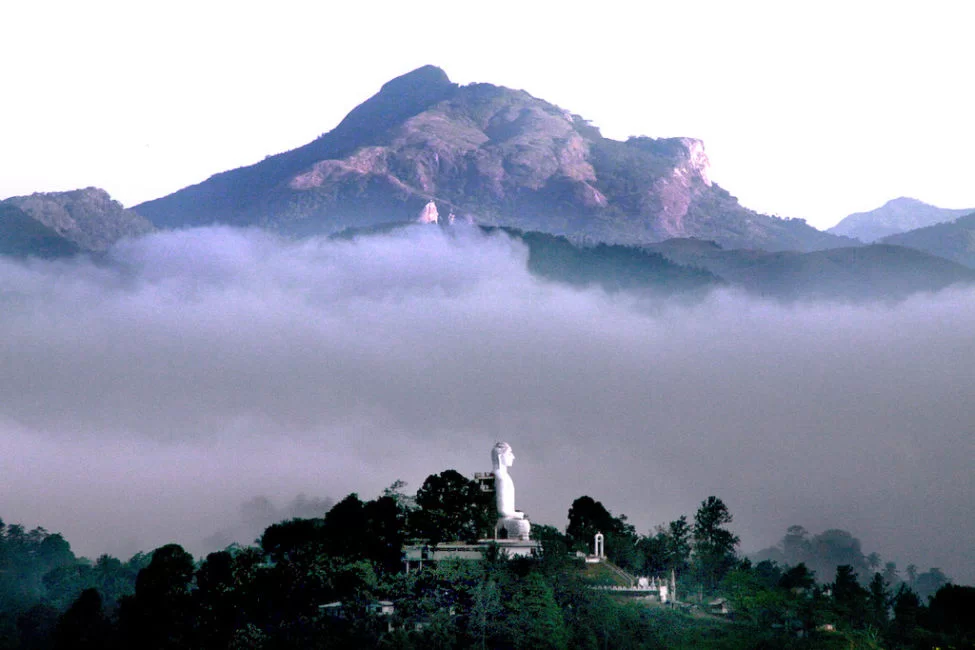 8. Climb Pidurangala Rock
Opposite Sigiriya is Pidurangala Rock, which I think is the best place to hike for spectacular views of Sigiriya. You can also do a relaxing boat trip in the area, across a lake filled with lily pads and with gorgeous views of Sigiriya in the distance.
It only takes 30 minutes to hike up Pidurangala but the views are spectacular and it's worth the climbing over rocks and sweat it takes to get put here!
9. Climb Sigiriya Rock
No visit to Sri Lanka would be complete without visiting the country's most famous rock fortress, Sigiriya. Whether you visit for sunrise or sunset Sigiriya Rock Fortress is a view to behold.
The site itself is teeming with history, from the ancient fortress at the top, to the famous Lion rock and the sprawling water gardens.
11. Check out Colombo's rooftop bars
If you're planning to stay in Colombo on arrival or before flying out, you need to check out some of the city's spectacular rooftop bars. These can be found on the top floor of Colombo's most luxurious hotels – including the gorgeous Movenpick Hotel Colombo with its multicoloured infinity pool and killer cocktail menu.
With panoramic views of the Colombo coastline and city skyline, this is one of the coolest places to stay in Colombo!
12. Explore rural Jaffna
What makes Jaffna one of the most unique places to visit in Sri Lanka is that it only opened up to tourism 9 years ago. This means there aren't too many tourists around, and you'll probably have the main sights, town and beaches all to yourself.
There is so much history to be learned in the area, be it the ancient story of the Buddha tree and how it came to be planted here, to learning about the Sri Lankan civil war between the government and the Tamil Tigers.
While in Jaffna there are a few top sights everyone should visit, including the Jaffna fish market. Teeming with both fishermen and shoppers, it's full of characters and is a fun stop first thing in the morning. Keerimalai are famous hot springs in the Jaffna region, located next to a beautiful Hindu temple.
13. Visit the Nuwara Eliya Tea Plantations
While most people take the train direct from Kandy to Ella, I highly recommend stopping off in Nuwara Eliya too. It's a gorgeous town that's most famous as the top tea producing area in Sri Lanka.
You can visit a tea plantation and learn about interesting sustainability programmes, how the plantations help their workers with education and housing and of course learn about Sri Lanka's long history and relationship with te. End your visit by enjoying a cup or two, and buying some tea leaves to bring home. Spend the night in a village that reminds many of a Little England – complete with beautiful colonial architecture.
14. – Find Sri Lanka's best beaches
With over 800 miles, or 1300km, or uninterrupted coastline, one of the absolute best things to do in Sri Lanka is to go on a beach hopping adventure. Whether you go north or south, east or west, there are secret beaches, fun beach bars, surf spots and coconut lined stretches of sand in every direction.
Some of my favourite beaches can be found on the Southern coast next to Mirissa and the quieter eastern beaches like Pasikuda, where you'll have miles and miles of remote sandy beaches all to yourself.
15. Do a cooking class
Sri Lankan food feels like a fusion between Indian food and Indonesian food with Dutch and Indian Ocean influences. With a lot of spices and coconut used, its home to delicious curries, a spicy stir fy like dish called Kottu and hoppers – their favourite breakfast dish.
We did a cooking class close to Sigiriya to learn how to make hoppers – a pan-fried dish made from rice flour, coconut milk and various spices – which often has an egg fried in the middle. It's one of the most delicious things you'll ever eat!
For one of the bust culinary experience in Sri Lanka, I recommend checking into Cinnamon Bey Beruwala.
16 – Take the train to Galle
I absolutely adored taking the local train from Colombo to Galle. It's fun to travel with locals, for many of whom this is actually their daily commute. The train hugs the coastline as it travels south, passing by beaches, towns and cute fishing villages along the way.
It's a fun way to travel and a great way to get to historic Galle, home to a UNESCO world heritage site and an amazing city to spend a day or two in exploring.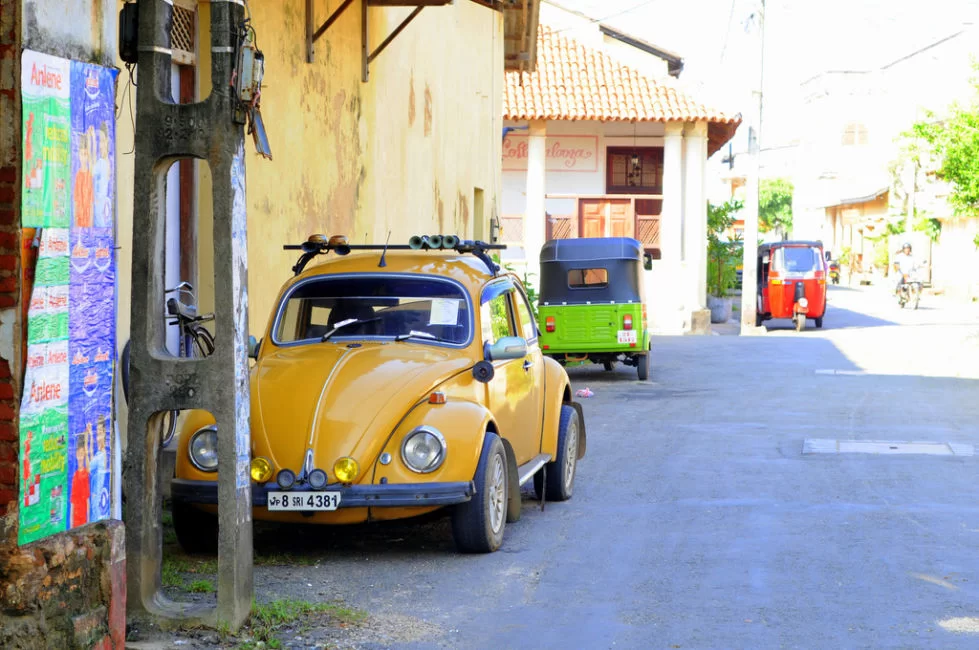 17. Whale watching in Mirissa
You'll also spot dolphins, pilot whales and a whole range of other marine life, if you're lucky.
18 – Chase secret waterfalls
If you're a fan of chasing waterfalls or swimming under them, then you will love Central Sri Lanka. Destinations like Nuwara Eliya and Ella are home to of the largest waterfalls in Sri Lanka, with some better known than others.
Sometimes talking to locals and getting insider information, will lead you to waterfalls with no other tourists where you can chill out or go swimming with no one around but you and your friends.
19.  Stay in a luxury villa
You might not associate Sri Lanka with luxury hotels, but it's actually one of the coolest places to splash out on a luxury hotel as you get much higher quality and service for a fraction of the price you would pay in the US or Europe. One of the best luxury hotels in Sri Lanka that I stayed in was Watergarden Sigiriya – where every guest gets their own villa complete with private pool and insane views of Sigiriya Rock!
Waking up and jumping in my private pool for a morning swim was one of the most memorable experiences of my trip – and something everyone (if you can afford it!) should experience!
20. Go hiking in Ella
One of the most fun and adventurous things to do in Sri Lanka is to spend a day hiking in beautiful Ella – exploring waterfalls, clinbing up Ella Rock or Little Adam's Peak, as you enjoy panoramic views of tea plantations and the hills below.
Ella is one of the most popular destinations in Sri Lanka for backpackers, too, so you'll find loads of amazing hostels, a few bars and cafes on the Main Street and a cool atmosphere in general.
21. Take a plane ride
If you're looking for a REALLY unique activity to do in Sri Lanka, why not sign up for a plane ride in a tiny Cessna plane, where the pilot even lets the front passenger to have a chance at flying the plane!
Cinnamon Air and a few others companies offer domestic flights within Sri Lanka, making it easier to get from places like Jaffna to tourist hotspots such as the beach es down south or the cultural triangle in the middle of the country. We flew from Jaffna to Sigiriya and it was one of the coolest things I've ever done in Sri Lanka!