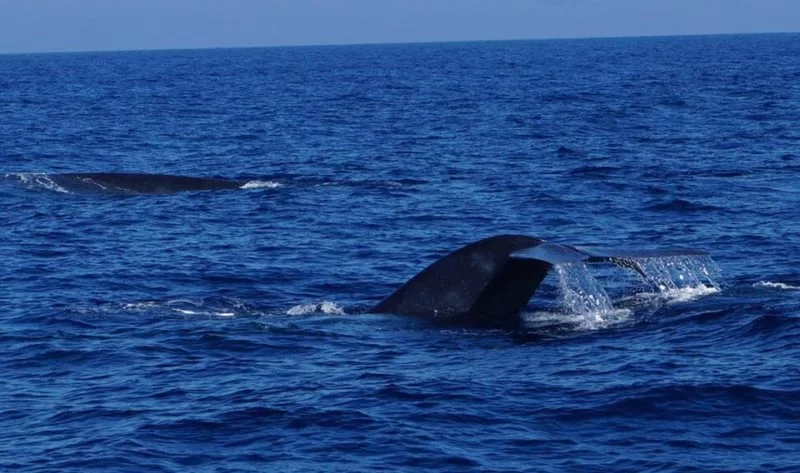 I don't know if any of the amazing places I've visited and amazing activities I've done around the world will ever compare to my morning whale watching in Sri Lanka!
I've written extensively about my travels in this breathtakingly beautiful country, and most of my readers will know by now it's one of my favourite places in the world! I thought I had seen everything Sri Lanka had to offer – fascinating history, amazing architecture, breathtaking scenery, wild elephants, leopards, mountains, waterfalls, unforgettable train rides and of course beautiful, wild beaches and endless miles of untouched coastline. Then I heard you could go whale watching in Sri Lanka, right down near the Southern tip of the island and I was beyond excited.
PRO TIP: If you're planning to travel in Sri Lanka, be it on a budget or on a luxury tour, I can't emphasise enough how important it is to have decent travel insurance – especially if you plan to tour by bike or scooter. I always use World Nomads, as they're known as the best insurer for backpackers and long-term travellers.
Travel Inspiration: For more tips on fun things to do in Mirissa, check this great post about Mirissa.
Whale watching in Mirissa Video
Whale watching in Sri Lanka
Picking the right tour
We set out just after sunrise on a boat with two levels. You have to pay a bit more to sit on the top deck but it's definitely worth it because the views are better and you can soak in the morning sun. The staff on board were amazing, handing out hot coffee, tea and biscuits to keep our energy levels up. They even handed out sandwiches later in the morning when everyone was feeling peckish.
We saw lots of other boats in the harbour, also heading out, that looked TOTALLY overcrowded with up to 80 people on board one small boat. If I can give any advice it would be to pay that bit more, be sure to sign up with a responsible whale watching company, and pay to sit on the top deck!
The boat ride was quite long but very enjoyable. They just head straight out to sea, for around two hours, and the captain always seems to know where to find pods of dolphins and of course lots of whales.
Some groups get luckier than others and the captain seemed to think we were the luckiest group he had taken out in a longtime as we saw an insane amount of dolphins and whales throughout our trip.
Getting seasick
Some people didn't take to the water very well, despite the fact that I found the ride very smooth, and at least 4 people were seasick for the duration of the trip. This resulted in  them lying down on the thin cushions and mattresses on the top deck and missing the entire show!
If you suffer from seasickness or don't deal well with boat rides, I recommend taking some seasickness tablets about an hour before the tour starts.
Dolphins and Blue Whales!
After almost two hours of sailing out to sea, we spotted some dolphins in the distance. There were at least 4 other whale watching boats in the area, all of us searching the horizon for the sight of a big blue whale! The captain shouted to look out to the left where we spotted a pod of short-finned pilot whales – these look like dolphins but apparently their behaviour is more like that of a large whale.
I'll never forget the excitement experienced the moment we first laid our eyes on a blue whale. The largest animal in the world, with some growing to almost 30 meters long, seeing the massive dark shadow of the Blue Whale in the water near the boat had all of us scrambling to get a closer look.
To get a better idea of how large these beautiful creatures are, we were told that their tongue alone can weigh the same as an elephant! We were lucky enough to see now one, not two but THREE blue Whales while whale watching in Sri Lanka – which is why our captain concluded we were the luckiest group he had taken out in a very long time!
The most fun part of whale watching, especially once you've spotted a Blue Whale, are those few moments when you the whale is swimming underwater and you can barely make them out, then you waiting and hoping and praying that it will leap up out of the water, splashing its tail as it dives back under.
The captain and staff on the boat, and soon all of the passengers, were shouting "TAIL UP, TAIL UP" hoping for that magical moment the Blue Whale throws his tail up in the air and unknowingly puts on a show!
We were all snapping away with our cameras, the guys with the super zoom lenses getting much better shots than the rest of us, but everyone enjoying every last moment.
View this post on Instagram
It's actually a very addictive hobby / experience and no matter how many times we saw the Blue Whale emerge from the water, all we wanted to do was to see it happen one more time.
We eventually had to head back to land, with the whale watching fanatics (that's now me!!) moaning that they wanted to stay longer and the poor seasick souls cheering that they could soon crawl back into their beds and try to recover from this traumatic experience!! It was an amazing experience and I would recommend everyone add whale watching in Sri Lanka to your never-ending bucket list.
After all, it's one of the few places in the world where you can the largest land mammal (the elephant) and the largest sea mammal (the whale) all in one day!
The Details
The best company to go with is the family run Raja and The Whales. The tour starts at 6.30am from Mirissa Harbour and lasts anywhere between 3 and 5 hours, and costs 6,500 Rupees per person, which is about €35 or $40.
Try get a seat on the top deck, bring some water with you or course your camera and the best camera lenses you own!
P.s. Make the most of that sunrise ride to the harbour – that's when I snapped these beautiful sunrise pics below!
READ NEXT: Fun Things To Do in Ella, Sri Lanka.

Last updated on October 13th, 2023 at 01:36 pm