Rome Day Trip Activities
Showing all 3 results
St. Peter's Basilica is known as one of the most popular tourist attractions found in
Rome
and throughout the world. From pilgrims to historians, this ancient landmark has become the cultivator for many an individual's life-changing experiences. More than just a beautifully designed structure, Saint Peter's Basilica also represents the center of the Catholic Church. Home of the Pope and many catholic dignitaries, one can also find some of the most sought after historical texts ever written and some of the most prestigious pieces of art ever made. So whether you are a pilgrim, a historian, an artist, or just really want to have your socks blown off, you won't find a better place to visit. Seeing the Vatican and St. Peter's Basilica will be like nothing you have ever experienced, this we can guarantee!
More details +
A fantastic opportunity to see the home of the Catholic faith in all its historical abundance. You'll get to see the Basilica from its main halls, from below, and from the roof as you look over Rome. Try to stay for as long as you can as you will want to take in as much of it as possible!
PROS:
Get to see the Vatican in all its glory
Bypass any and all the queues
Have access to special locations
CONS:
Often not enough time to take it all in
No wheelchair access
Could be canceled at any time due to religious functions
Welcome to the Colosseum! One of, if not the, most iconic landmarks found anywhere on our planet, and one of the New 7 Wonders of the World. Situated in the center of Rome, tours of the Colosseum are both well suited to your itinerary needs and conveniently located to some of Rome's other attractions! Below we list a variety of different options you can choose from when looking at Colosseum tours and travel guides. From the standard Colosseum guided tour to a tour of the gladiator's dungeons and a nighttime experience, there are options for families, couples and single tourists alike!
More details +
Rome is a city so entrenched in ancient history that you could spend years delving into its crypts and never find all its secrets. The Colosseum is no different, and we believe that these are some of the best tours to best encapsulate this! From its archways to its well-trodden cobbled roads, the Colosseum stands as a testament to man's ingenuity and capabilities. A marvel to behold!
PROS:
See one of the greatest man-made landmarks in the world
Skip the thousands of queuing people
Get an insider's guide into the history of the monument from local professionals
CONS:
Lots of walking
No hotel pickup
No wheelchair accessibility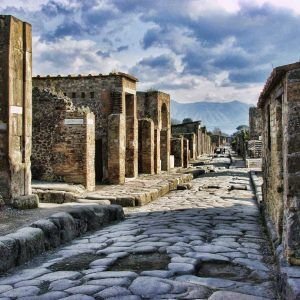 Visiting Mount Vesuvius and Pompeii Ruins are on the top of many travelers' bucket lists - and for good reason. The fascinating, ancient ruins of Pompeii will tickle any history lover pink, and a short 8 km away, Mount Vesuvius stands tall as a mesmerizing natural wonder. Both sites are known to be iconic points of interest in Italy, attracting travelers from all over the country. If you can tick off both Italian attractions in one go, it will help streamline your Italy itinerary, helping you fit in everything on your list of things to do in Italy. The following three activities offer the convenience of visiting these sites - with your family, your partner or alone.
More details +
As long as you avoid the crowded times, a visit to Pompeii Ruins and Mount Vesuvius will leave you feeling enriched, enlightened and exhausted after an unforgettable day of sightseeing!
PROS:
All transportation included
A combination full-day tour
Expert guides that speak English
CONS:
Can get very crowded at times
Not accessible for those with disabilities