Ancient Monuments of Rome Tour With Skip-the-line Pass | Express Tickets 2023
Last updated on September 3, 2023 5:00 am
Add to wishlist
Added to wishlist
Removed from wishlist
0
Add to compare
The city of Rome is a snapshot of intricately preserved ancient history. A trip down its streets can be like taking a journey through time. Scattered throughout Rome, you will find pieces of ancient civilizations frozen in time.
The city boasts about 50 landmarks that each hold a significant historical value. The famous Colosseum is a brilliant feat of architecture. The 1,943-year-old structure is still standing since it was founded in 80 AD.
Another landmark is the Pantheon. This ancient marvel as we know it today was built in 125 AD and stands tall today at 1,898 years old. There are other structures to look at in wonder that date back thousands of years and remain. They give us amazing opportunities to experience the past tangibly.
There are different ways we can enjoy an experience at these places. We list various different options, from a quick visit to a long journey through time.
Highlights:
Learning about the history of each location
Skipping the long queues
Expert professional guide
Know before you book:
Have comfortable shoes to wear
It gets very loud, so consider a tour with headphones
Not all tours include a Colosseum underground visit
Rome is a significant place, not just because it is the capital city of Italy. Rome's significance dates back millennia. It was founded on 21 April 753 BC and became one of the most important places in the world at one point.
The Romans erected monuments, forums, arenas, and more. Architects are in wonder to this day at the brilliance of Roman architecture. The structures' resilience to stay intact for this long comes from the fact that they are "self-healing". The constructions repair the cracks that scar them; scientists have only recently figured out how this is done.
Monuments in Rome continue to stand the test of time, carrying with them the memory of what happened in a past era. The Roman Forum was a place of congregation. People would come to witness a criminal trial, be part of an election, and do their trading.
Now it is an archeological site you can visit as you tour the ancient monuments. You can visit the Roman Forum on its own or make it a part of a guided tour of several monuments of Rome.
Rome has so much to offer. Touring more than one site will be a good idea if you want to experience more.
Ancient Monuments of Rome Tour with Skip-the-Line Pass Prices 2023
The cost of tours can start at around €32 (34 USD) and go up to €195 (208 USD). This depends on the number of locations you will visit on a single tour. Another factor is the time since the length of tours varies.
A further consideration is the inclusion of a tour guide. A combination of these factors influences the price.
Compare prices across the ticket providers below: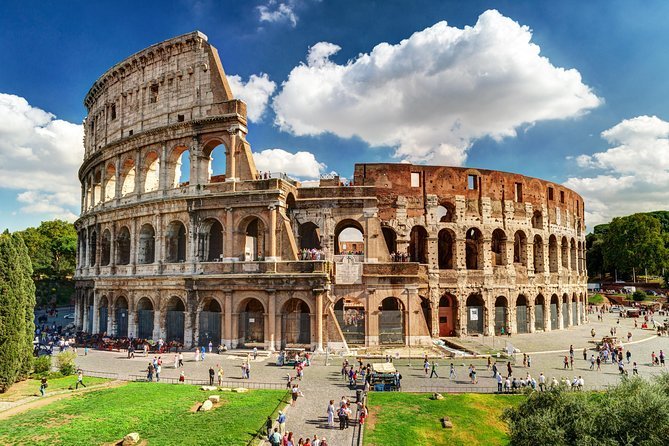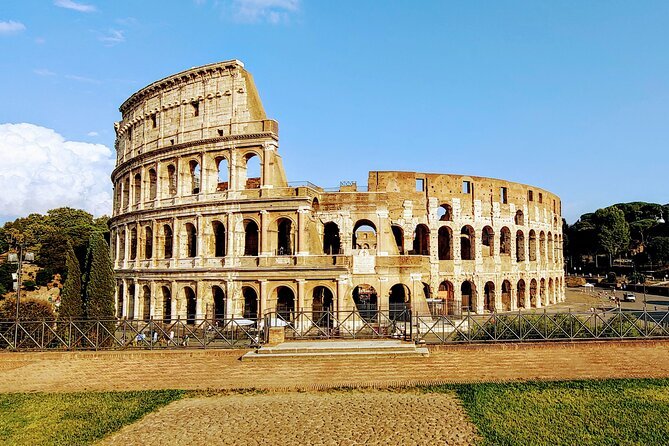 Times
Tours take place during the day, but the longer tours can start earlier in the day. These tours are available year-round, so you don't need to worry about booking outside the summer peak season.
Best Time to Go
The best time to visit Rome would be during the shoulder seasons, such as fall or spring. This way you can avoid the large crowds who make it difficult to fully enjoy the tour without possible separation from your tour group or difficulty hearing your tour guide.
Ancient Monuments of Rome Skip-the-Line Tours | Tickets & Packages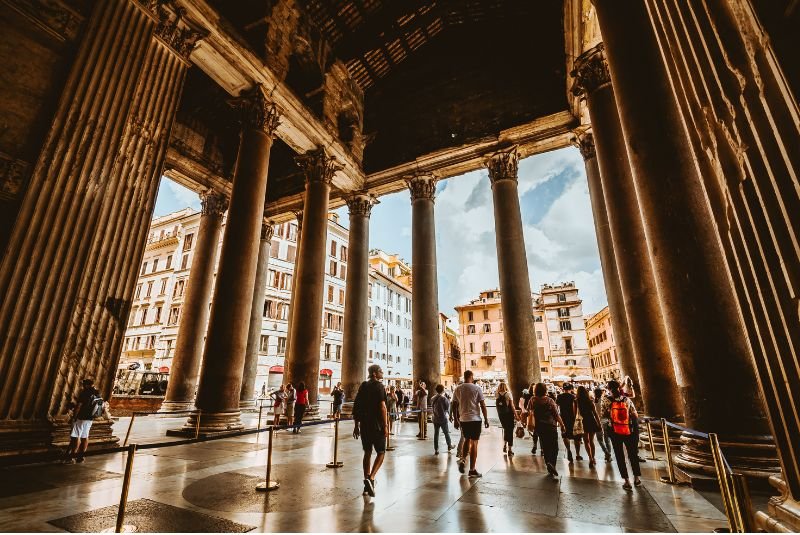 Rome skip-the-line tours allow you to avoid the tiredness and frustration that can come with standing in long queues, especially during peak season. They make your tour experience more seamless as entering a tour destination is easier .
You can either move to the front of the queue or use a separate entrance. A Rome skip-the-line pass lets you see more monuments at a go. If you have a tour guide, you can learn so much when you are in each area.
There are several options when it comes to choosing a tour. You need to know precisely which monuments you would like to see and determine whether there is a tour that caters to that need. The most sought-after is the Colosseum skip-the-line tour. This tour can be paired with other monuments, as seen in the following tours.
Rome: Skip-the-Line Colosseum, Forum, and Palatine Hill Tour
This is a three-hour-long tour that includes visits to three different ancient monuments. The tour begins at the Colosseum, where it will take you to explore the first and second levels of the arena. You will get to skip the line by going through another entrance and will enjoy having priority access.
You will move forward to the Roman Forum. The Forum has sites such as the Arch of Titus and the location where Julius Caesar was buried. You'll then move on to Palatine Hill. Here you will see more ruins, such as the Imperial Palaces.
This tour is best suited for someone who wants to learn more about Roman history and is fit enough to keep up with the tour.
What we liked: Great for if you want to immerse yourself in ancient knowledge and experience a lasting piece of history.
---
INCLUDES:
Colosseum skip-the-line tickets
Tour guide
Tour of the Roman Forum and Palatine Hill
EXCLUDES:
Underground access to the Colosseum
Food and beverages
Transportation
Be prepared for the tour. It is best to make the journey in comfortable clothing and shoes. Make sure to bring a water bottle, as beverages will not be provided.
Check Price & Book
---
Self-Guided Tour Colosseum Skip-the-Line Ticket
This self-guided tour will take you on a journey throughout the Colosseum without the guidance of a tour guide. You are free to navigate the space however you like. This tour is best suited for people who want to avoid the confusion of a group tour. You can also control the speed at which things move along.
What we liked: Great for if you don't want to stick to a fixed schedule.
---
INCLUDES:
Skip-the-line Colosseum entrance ticket
Access to Roman Forum and Palatine Hill
Local taxes
EXCLUDES:
Access to the underground and arena of the Colosseum
Live guide
Audio guide
You will be added to a small group of a maximum of 30 people who have the same ticket, taken through the security checks, and then allowed to roam the Colosseum by yourself. You can upgrade your ticket to include a moonlit, guided tour of the Colosseum. You can do this without combo tickets.
Check Price & Book
---
Skip-the-Line Colosseum Ticket with Optional Tour Guide Access Upgrade
This tour has a skip-the-line ticket to the Colosseum and includes access to Palatine Hill and the Roman Forum. It is only offered as a self-guided ticket, but you can upgrade to include a guided tour. You will form a part of a small group for the tour.
What we liked: Great for if you want access but aren't sure about taking a live guided tour.
---
INCLUDES:
Privileged Colosseum entrance fees and tickets
Palatine Hill and Roman Forum fees and tickets
Available tour upgrade
EXCLUDES:
Underground access
Access to the arena floor
Wheelchair accessibility
Your ticket allows you to move from the Colosseum to the Roman Forum and, finally, to Palatine Hill. You can spend close to an hour at each location. The Roman Forum and Palatine Hill have tickets on a fixed-time schedule, so someone will inform you about how your visit will go about.
Check Price & Book
---
Rome Colosseum and Roman Forum VIP Guided Tour
This tour gives you VIP access to some of Rome's most notable monuments. With this ticket, you will get skip-the-line preference on entrance to the Colosseum and the Roman Forum. You will also have access to Palatine Hill. It is a long tour, so bring your comfy shoes.
What we liked: Great for if you want to gain in-depth knowledge about Roman history.
---
INCLUDES:
English-speaking guide
Complimentary headphones
Skip-the-line ticket to Colosseum and Roman Forum
EXCLUDES:
Hotel pick-up and drop-off
Beverages
Rest time during the long tour
It is essential to arrive early at the meeting place because they will show a 25-minute long video that prepares you before seeing the monument.
Check Price & Book
---
Colosseum, Piazza Pantheon and Roman Forum Small Group Tour Skip-the-Line
This tour includes visiting the Colosseum, the Roman Forum, and the Pantheon. With this guided tour, you will learn a lot about ancient Rome and the history of the Romans during each monument you visit. You will be in a small group so you can have a more personalized experience.
What we liked: Great for if you want to avoid getting lost in a large group.
---
INCLUDES:
Professional tour guide
The guarantee that you'll skip long lines
Small group of max 15 people
EXCLUDES:
Beverages and food
Gratuities
Pick-up and drop-off from hotel
The tour will begin at the Colosseum and advance to the Roman Forum. It will come to an end at the Pantheon. You will also have the option of visiting the Palatine later in the afternoon.
Check Price & Book
---
Editor Review
Taking a trip to tour the ancient monuments of Rome is a wonderful adventure. It's best enjoyed when you skip the line and avoid the crowds. Go ahead and marvel at the monuments without the hassle. It'll be worth it!
PROS
Faster access to monuments
Knowledgeable tour guide
Can visit multiple monuments in a day
CONS
Requires a level of fitness to complete
No food or beverages provided
No wheelchair accessibility for some tours
Specification:
Ancient Monuments of Rome Tour With Skip-the-line Pass | Express Tickets 2023
| | |
| --- | --- |
| Accessibility | Not every tour is wheelchair accessible |
| Duration | 45 minutes to 3 hours |
| Inclusions | Skip-the-line pass, professional tour guide |
| Exclusions | Food and drinks |
| Meals | None |
| Pick up | None |
| Suitable for | Fit, able-bodied individuals |
9 reviews for
Ancient Monuments of Rome Tour With Skip-the-line Pass | Express Tickets 2023
Ancient Monuments of Rome Tour With Skip-the-line Pass | Express Tickets 2023