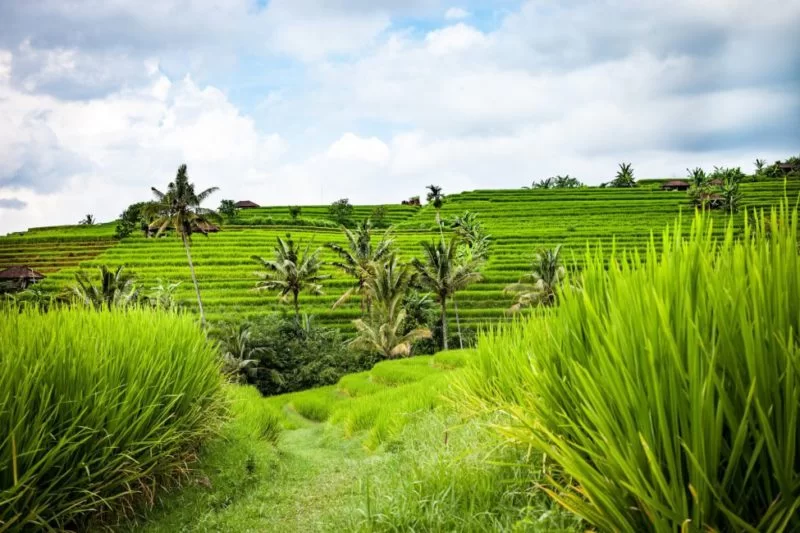 If you have fallen in love with Bali after watching/reading 'Eat Pray Love' or browsing through my photos on Instagram, and you are looking forward to visiting this exquisite tropical island, then this article is just for you. Though Bali is the beauty that stands true to everything you have heard and more, it can be tricky to plan a vacation to Bali for the very first time so below are 10 things you need to know before visiting Bali – to make your trip stress free!
Peak season
Bali welcomes a high number of tourists from June to August as this is when the weather is mostly dry and the days are sunny. December and January are also busy as this is when all the Ozzies come over for their Christmas break – even descending on digital nomad paradises like Canggu. This means bustling streets, crowded beaches, and higher prices (except for maybe the hostels, which are always cheap!) for every little thing…especially hotels! If you are okay with shelling out, then the dry season is the best for you. And, at the end of the day, it's still pretty cheap! While the weather in November can be dodgy, it's cheap, the best beaches are quiet and the waterfalls are at their best!
Rainy season
If you are travelling on a budget, then consider going during wet season that is from November to March. You will need to tackle heavy downpours on a daily basis and it might rain so much that you will wish you had never left Ireland!! Bali does become a lot cheaper during this season, however, and the cool days can be a welcome relief. Prepare for crazy thunder storms and pack a poncho – you WILL get wet.
Renting a scooter
Now that you have decided when to go, it is time you know how to explore. Renting a bike is seriously the only way to explore Bali and is one of the most fun things to do on the island. Technically you need an international drivers' license to rent a vehicle but I was never asked and i rented about 4 bikes while living in Bali. It's also illegal to ride without a helmet and will get stopped and fined if you go anywhere outside of Canggu without one.
Traffic
The streets of Bali are infamous for traffic congestions and chaos…the downside of mass tourism and being a playground for young Australians. Wandering around may take a little more time than you have ever anticipated, even if on your bike. It's advisable to talk to locals and get a rough idea about daily traffic conditions and how much time it will take to reach a site because 40km could mean 30 minutes or two hours depending on traffic.
Gas stations
It is hard to find gas stations in the countryside but you will always find roadside shops selling petrol filled in old vodka bottles. You stay classy Bali! don't fret about the quality and buy one… if you don't you'll end up running out of gas in the middle of nowhere – which is what happened to me on WAY too many occasions.
Bargaining
Buying lovely souvenirs on the streets of Bali is irresistible but don't forget that bargaining is an essential part of shopping here. When buying something from local vendors, you can easily ask for 30% to 50% discount. And, do not buy anything from the very first shop. Walk around, and see what other places are offering.
Stray animals
This beautiful island is home literally hundreds of thousands of stray dogs, cats and many cheeky wild monkeys. Though these animals are adaptable to human presence, it is advisable not to pet them or get too friendly. You never know what you'll catch!
Monkeys are notorious thieves while street dogs can pass on disease. Many tourists adopt animals from the streets, but only do this if you are going to commit. It's difficult to take dogs out of Bali, as well as very expensive, so think twice before adopting!
Drinking Water
Tap water is available easily around the cities and villages but it is not safe to drink  and you'll probably end up with a nasty case of Bali Belly of you drink it. Carrying your own water bottles or purchasing bottled water is the way to be safe, even better if you can buy a life straw bottle that will filter tap water for you and save on plastic bottles!
Local Language
Everyone in Bali speaks English so getting by won't be a problem. It is nice to learn some basic words and phrases in Balinese though – the locals will really appreciate it. Locals find it delightful when you try to communicate in their language and it warms their heart.
ATMs
Though ATMs are available around every corner, often many  machines won't accept your card. It also takes a lot of time to dispense the cash and there have been known card scimming scams in Bali in the last few months. Certain ATMs will only give you 1.5 million (less than €100) and charcge you €5 just to take the cash out so look around for an ATM that gives you 3 million and always go back to the same one.
Also they give cash first, then your card, so don't forget to take your card out before leaving the ATM!! For a full list of the most important things to bring with you, read my Bali packing list.
Local Culture
Last, but not the least, always respect Balinese culture. Know what to wear when you are visiting temples, how to behave, and what to do to offer your prayers in a right way. Covering your shoulders and knees is always appreciated and don't drive around on your bike in a bikini unless you're going straight to the beach.
If you wouldn't do it at home, don't do it here!
Food
Indonesian food is some of the tastiest and cheapest food you'll find anywhere in the world. in Bali, however, you can also find an incredible selection of western food and more cute, organic cafes selling smoothie bowls than you can throw a stick at. There's also a lot of vegan food to be found, but prices for this food is way, way higher than eating local.
Visiting such a beautiful island can only be fun when you follow the rules and respect nature and people around you.